This 20-Minute Skinny Sriracha Shrimp and Broccoli is exploding with flavor! This healthy meal is ready to eat in just 20 minutes and is always a hit with my family. Skip the takeout and make this  easy shrimp and broccoli stir fry instead.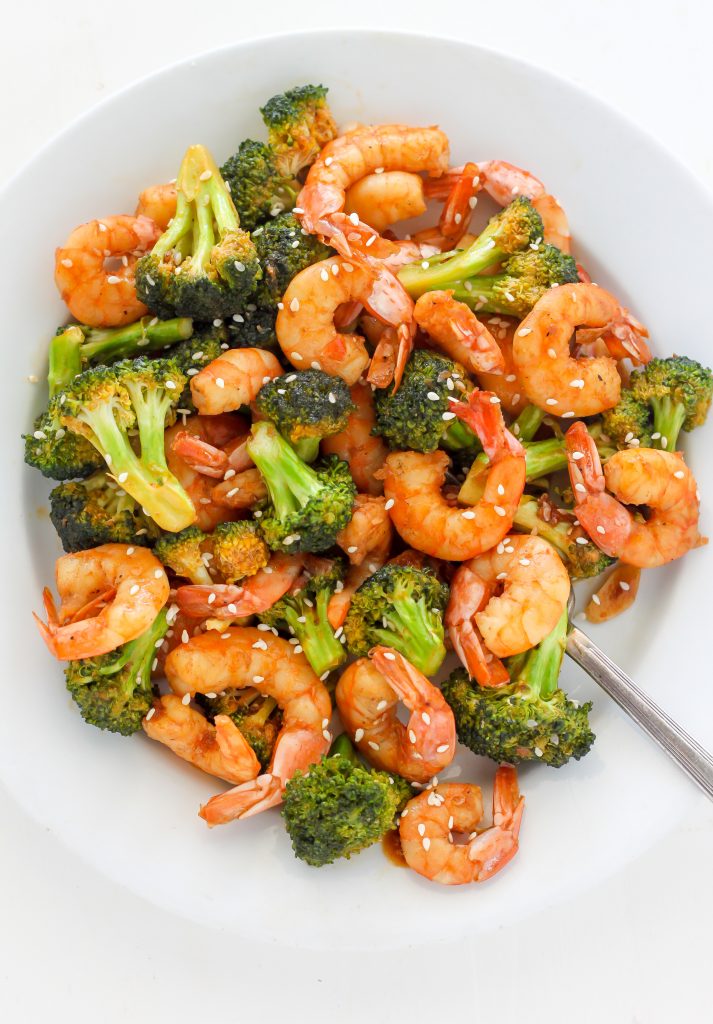 Spicy Shrimp and Broccoli Recipe
Today's new recipe is one near and dear to my heart. It's got shrimp! It's got sriracha! It's healthy, hearty, and even boasts a pop of green thanks to the crunchy broccoli. Basically what I'm saying is this dish right here… it's everything ♡♡♡ And you should totally make it for dinner tonight!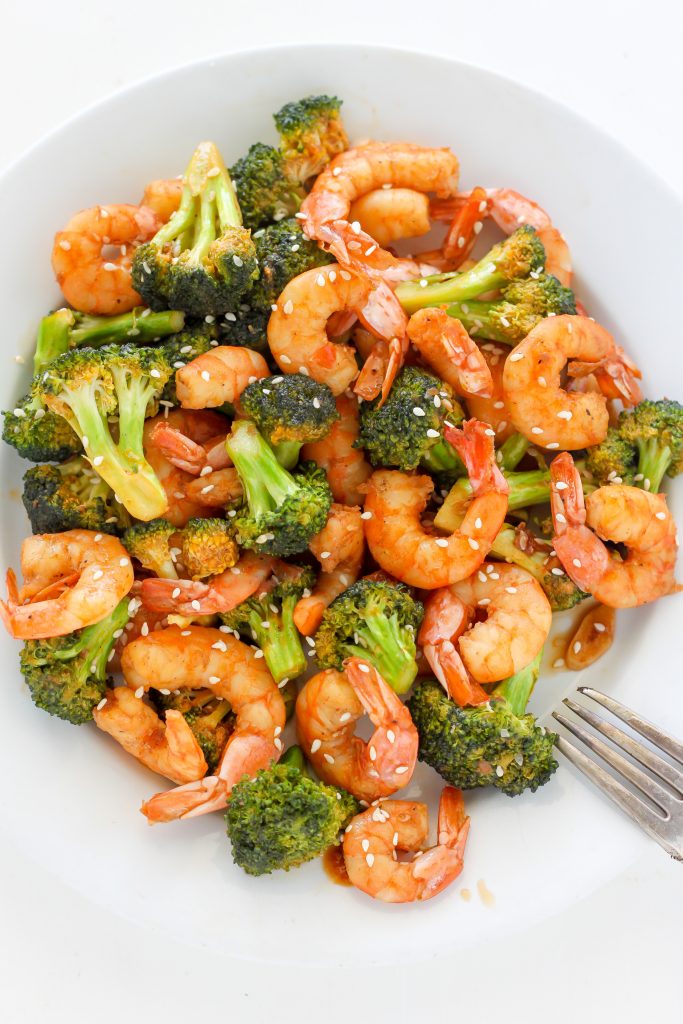 This 20 Minute Skinny Shrimp Stir-fry is truly a 20 minute meal, which is great for days when you don't want to be chained to the stove for very long. To keep the cook time as short as it's intended to be, I recommend purchasing shrimp that have already been peeled, as indicated in the ingredient list below. If you prefer to use shrimp with shells, you'll want to add an extra 7 minutes or so to the total time this will take you. Peeling shrimp is easy, but time consuming.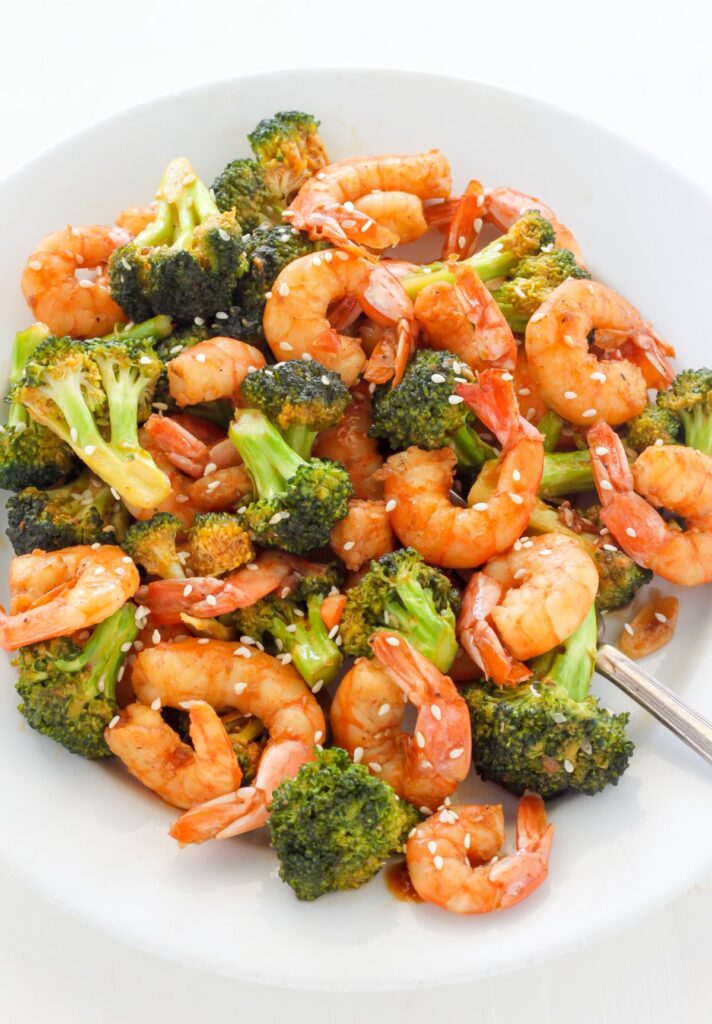 Lately I've been serving this easy meal with a simple side salad, but rice or even lo mein noodles would make wonderful meal additions if you want to create something a little heartier 😉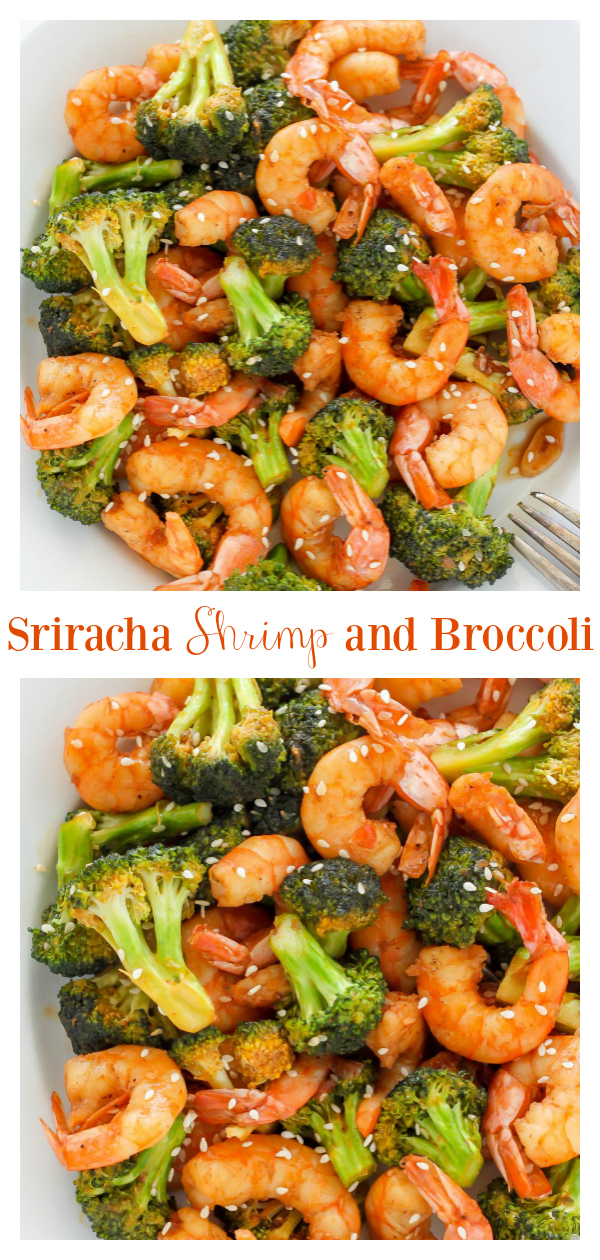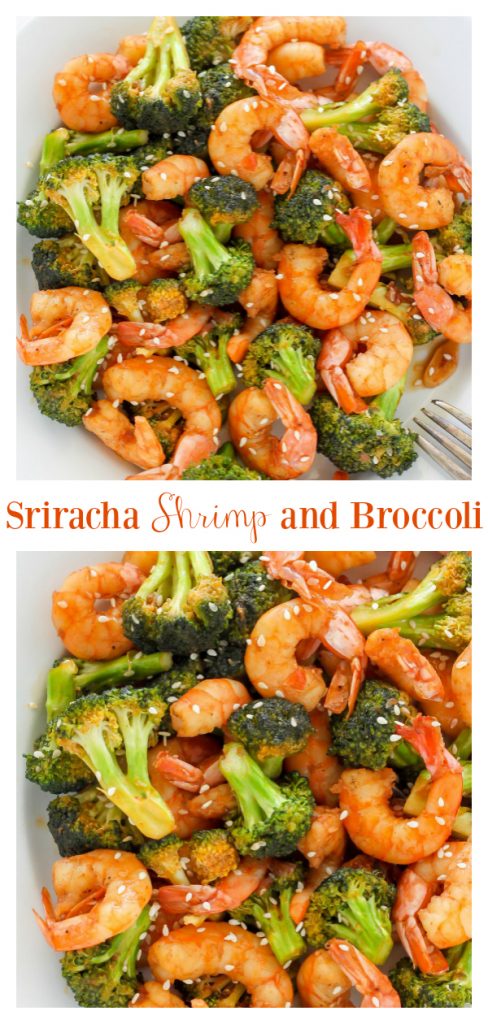 Ditch the take-out tonight! This shrimp and broccoli is calling your name – and trust me, you want to answer. xoxo
More Sriracha Recipes: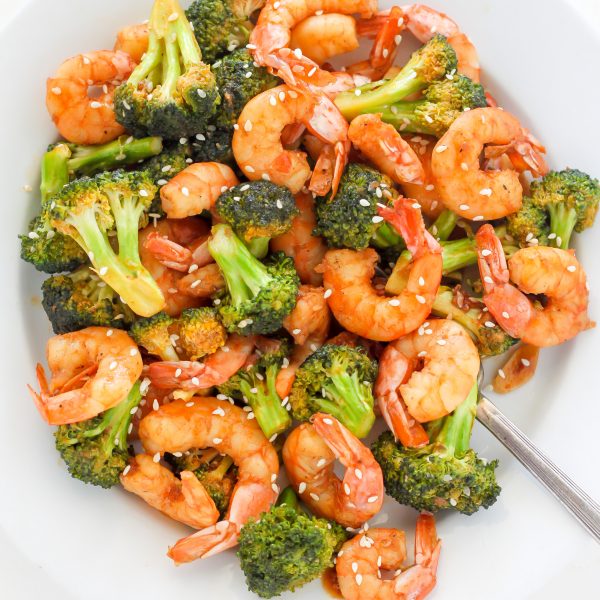 20-Minute Skinny Sriracha Shrimp and Broccoli
Plump shrimp and crunchy broccoli are cooked in a delicious sriracha soy sauce. A quick and easy meal you're sure to love!
Ingredients
For the brown sauce:
4 tablespoons low-sodium soy sauce
1 tablespoon orange juice (fresh, preferably)
1 1/2 tablespoons sriracha hot sauce
1 tablespoon light brown sugar
1 tablespoon ginger, grated (you may also use bottled ginger if you cannot find fresh)
5 cloves garlic, minced
2 teaspoons sesame oil
1 teaspoon cornstarch
Additional Ingredients:
1 1/2 tablespoons sesame oil
2 pounds medium shrimp, peeled and deveined (try to buy them already prepared this way to save on time)
4 cups (about 2 large heads) broccoli florets
Instructions
For the Brown Sauce:
In a small bowl combine the soy sauce, orange juice, sriracha, brown sugar, ginger, garlic, sesame oil, and cornstarch; whisk well to combine; set aside.
To cook:
Heat the sesame oil (1 1/2 tablespoons) in a large skillet over medium-high heat. Once warm, add in the shrimp and cook - flipping them once - until pink; about 3 minutes. Add in the broccoli and continue cooking the mixture, stirring frequently, until the broccoli is bright green and tender; about 3-4 minutes. Add in the sriracha soy mixture, stir well to coat the shrimp and broccoli, and cook for another 1-2 minutes, or until the sauce has thickened. Remove from heat and serve at once! This goes great with a small salad, rice, or even pasta (like lo mein).