Loaded with tender strips of flavorful beef and a delicious rainbow of veggies – this outrageously easy 30-Minute Sriracha Pepper Steak is going to blow your mind! It's quickly become one of our favorite meals. 
Hello dear friends! Today I'm keeping this suuuuper short because it's Sunday and well, I really need to r-e-l-a-x. We are just getting home from a fun filled holiday vacation, and with a ba-jillion and one tasks to complete before the New Year, today I just want to kick up my feet, indulge in some good old TV watching, and eat-eat-eat.
Question: What are you up to this weekend? Any special plans for New Year's Eve?
My favorite thing to eat lately? This 30-Minute Sriracha Pepper Steak. I've made it twice it 24 hours! Yes… it's that good. And that easy. Win win, baby!
You guys know I love a 30-Minute Meal (have you tried my Healthy 30 Minute Sriracha Teriyaki Meatball Bowls? Or this 30-Minute Sriracha Chicken and Broccoli Lo mein? These 30-Minute Mozzarella Stuffed Turkey Meatballs with Homemade Marinara are a must!), and this pepper steak is definitely at the top of my favorite list! It's loaded with flavor (think soy, ginger, sriracha, and garlic), and packed with a colorful bounty of vegetables, so you can feel pretty darn good about every bite you take. Love that!
Tender steak + tons of peppers + a pop of red onion + a handful of spinach = a meal sure to please every palate! I find the sriracha is pretty mild in this recipe, but I would definitely take a taste for yourself before serving it to kiddos. Just a warning 😉 Enjoy!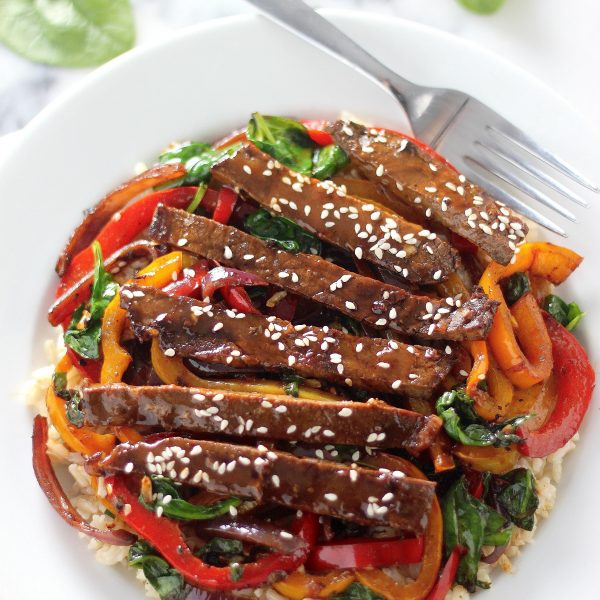 Sunday Suppers: 30-Minute Sriracha Pepper Steak
Healthy and delicious, this 30-Minute Sriracha Pepper Steak is sure to become a new favorite meal!
Ingredients
For the Marinade:
1 clove garlic, minced
1/2 tablespoon brown sugar
1/3 cup soy sauce
1/3 cup water
1 tablespoon balsamic vinegar
2 teaspoons corn starch
1 1/2 tablespoons sriracha hot sauce
For the Pepper Steak:
1 tablespoon unsalted butter
1 lb. thinly sliced flank steak, cut diagonally across the grain into thin strips
2 1/2 tablespoons sesame oil, divided
1 large red bell pepper, deseeded and thinly sliced
1 large orange bell pepper, deseeded and thinly sliced
1 large yellow bell pepper, deseeded and thinly sliced
1 medium red onion, thinly sliced
2 tablespoons fresh ginger, grated
6 garlic cloves, minced
2 handfuls of fresh baby spinach
*Rice, quinoa, or couscous recommneded for serving
Instructions
For the Marinade:
In a small bowl combine all of the marinade ingredients; whisk well to combine. Pour the marinade into a large ziplock bag, and add the sliced steak; toss in the marinade to endure all pieces of steak are coated. Seal the bag and refrigerate for at least 10 minutes.
When ready to cook:
Heat 1 1/2 tablespoons of sesame oil in a large skillet over medium-high heat. Add the peppers and red onion, ginger, garlic; saute for 5 minutes, stirring occasionally. Transfer mixture to a clean plate.

Add the butter to the skillet. Using a slotted spoon (reserving the marinade) remove about half the steak from the marinade and saute in the butter for about 4 minutes, or until nicely browned, stirring occasionally. Using a slotted spoon transfer steak to plate with the vegetables. Add the remaining steak to the skillet, repeat the cooking process, then transfer to the same plate.

Add the remaining sesame oil and reserved marinade to the skillet and cook for about 1 minute, or until thickened. Add the steak, veggies and baby spinach into the sauce, stir to combine, and cook for an additional one to two minutes, or until spinach has wilted. Remove from heat.

Serve with rice, quinoa, or couscous.