Juicy mozzarella stuffed meatballs are coated in a hearty homemade marinara sauce and ready in just 30 minutes! This is a meal you'll want to make over and over again!
Raise your hand if you're ready for the easiest, cheesiest, tastiest meatball recipe around!
I hope your pretty little hand is waving wild and high in the air… because easy, cheesy, tasty meatballs is what we're all about today.
I'm talking crispy on the outside, tender on the inside, super flavorful, STUFFED WITH CHEESE (squee!!!) and swimming in the best marinara sauce to eva hit your lips >>> These 30-Minute Mozzarella Stuffed Turkey Meatballs with Homemade Marinara Sauce are sure to be a new go-to meal at least once a week 😉 I seriously can't make them enough!
Meatball love is intense like that.
Let's dive right into the nitty gritty with some step by steppies, eh?
First thing you're going to do is grab your meatball ingredients and throw them in a big (maybe neon green?) bowl.
Then it's time to get your hands messy.
And no prissy poking or prodding…
get your hands in there and give that meat a massage! Rub all that garlic and herbs in reeeeal good because lots of yummy ingredients in your meat = lots of yummy flavor in your meatballs. That is what we want!
Once your meat is ready, you'll quickly chop your cheese into bite-sized chunks.
Fight the temptation to go BIG here and keep them about a 1/2 inch or even smaller. Any bigger and the cheese will overtake the meatball and seep out while frying. Lost cheese is a sad sad thing. Let's fight against it the best we can!
And yes… that is string cheese. It works in a pinch 😉
Now, time to put that cheese to action. You're going to stuff it in the meatballs.
How (you ask)? Well, quite easily my dear friend.
Just scoop a little smidge of meat in your hand, place the cheese smack dab in the center, then add another little bit of meat on top of it. Roll the meatball around in your hands a few times to seal the deal, and repeat with the remaining meatballs and cheese. This will only take a few minutes if you work fast – if you have a husband/girlfriend/kid/or parent that's down for helping here, it'll go even faster!
Now it's time to fry. In olive oil. For just a few minutes on each side. I recommend letting your olive oil get nice and hot while your doing your prep work so it's ready to go. In hot oil, the meatballs only need about 2 minutes on each side. You're not fully cooking them here, just crisping the outsides. If you've never had a crunchy meatball, you haven't fully lived… just saying.
The crispy but not completely cooked meatballs take a quick (10 minute) trip to the oven to finish baking. During this time you'll make your marinara. That's right… 10 minute marinara. Rejoice!
The marinara is easy as can be. Olive oil, garlic, italian seasoning, crushed tomatoes, salt, and pepper. They get combined in the meatball pan (minus the meatballs; they're in the oven, remember?) and simmered down for 10 minutes.
Once the meatballs have emerged from the oven, simply plop them in the sauce, and serve! You can serve with crusty bread, on an Italian hoagie roll, or over spaghetti, of course. To be honest, they're so good I sometimes simply eat them with a spoon. Yes… me, a spoon, and whole bowl of saucy meat-a-balls. Add a glass of red wine to that equation and I am in pure bliss.
The best news? You can be in meatball heaven too. 30-Minute Mozzarella Stuffed Turkey Meatballs with Homemade Marinara Sauce …  Get after it 😉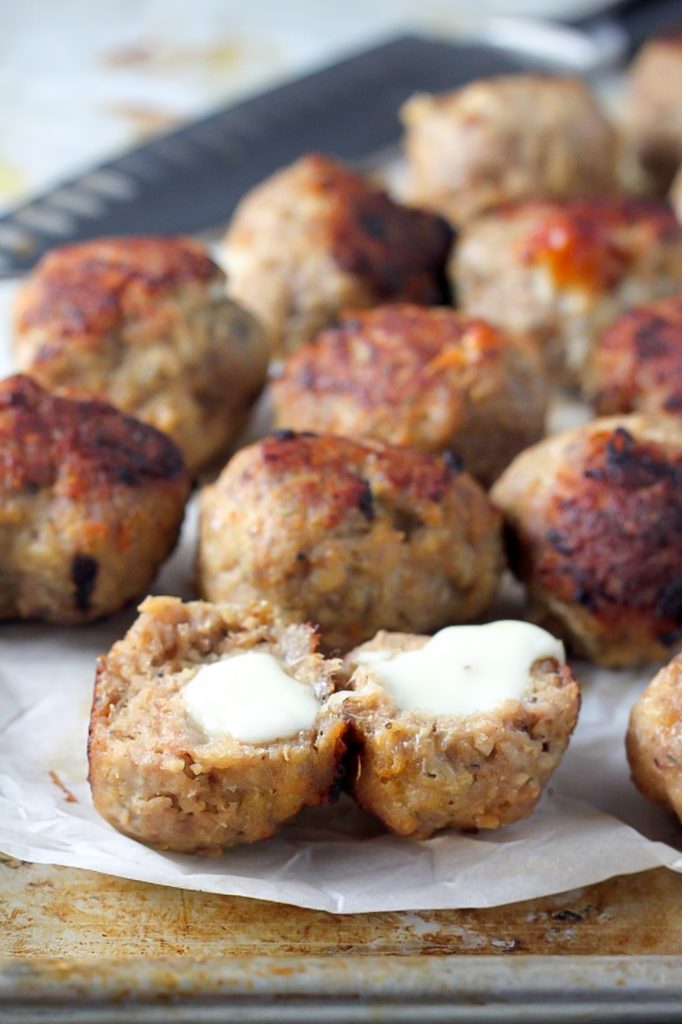 I hope you love these 30-Minute Mozzarella Stuffed Turkey Meatballs with Homemade Marinara Sauce as much as I do!
If (or better yet, when!) you make this recipe, I'd love for you to snap a picture and share it on instagram using the hashtag #bakerbynature – seeing your kitchen magic makes my day! xoxo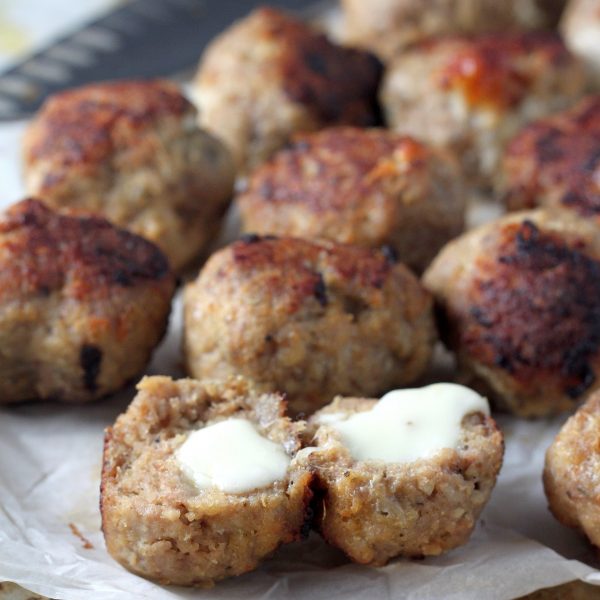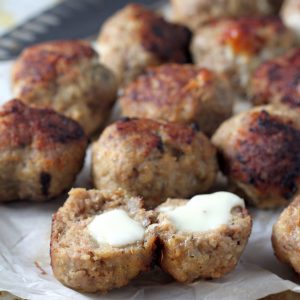 30-Minute Mozzarella Stuffed Turkey Meatballs with Homemade Marinara Sauce
Hearty and healthy mozzarella stuffed meatballs are coated in homemade marinara sauce and ready in just 30 minutes! You'e going to love these!
Ingredients
1 pound ground turkey meat
5 garlic cloves, minced, divided
1 egg
1/2 cup freshly grated Romano cheese
2 teaspoons Italian seasoning
2 teaspoons fresh parsley, chopped
Salt and ground black pepper, to taste
1 cup whole wheat panko bread
1/2 cup lukewarm water
4 ounces mozzarella cheese, cut into bite sized cubes (you can use 4 (1 ounce) string cheese pieces, too)
6 tablespoons olive oil, divided
1 (28-ounce) can crushed tomatoes
1 teaspoon salt
1/2 teaspoon black pepper
1/2 teaspoon sugar
2 teaspoons Italian seasoning
1/2 teaspoon crushed red pepper flakes
Instructions
Preheat oven to 400 degrees (F). Line a large baking sheet with parchment paper; set aside.

Heat 4 tablespoons of olive oil in a large skillet over medium heat. Allow the oil to simmer (you want it very hot) while you prepare the meatballs.

In a large bowl combine ground turkey meat, half of the minced garlic, egg, cheese, parsley, Italian seasoning, salt and pepper, and panko. Slowly add the water, a few tablespoons at a time. The mixture should be very moist but still hold its shape when rolled into meatballs.

Scoop one tablespoon of meat into a small ball. Press a piece of cheese in the center, then cover it with another piece of meat, roll to seal in the cheese. Repeat with all meat/cheese.

Fry meatballs in batches in the hot oil, 2 minutes on each side.

Place semi-cooked meatballs on prepared baking sheet. Once all meatballs have been panfried, place the baking sheet in the oven to bake for 10-12 minutes, or until they're cooked though.

While the meatballs bake, make your marinara!

Add remaining oil to the same pan the meatballs were in, then add the remaining garlic and sauté for one minute, or until the garlic is golden and fragrant. Add the crushed tomatoes, salt, pepper, sugar, seasoning and crushed red pepper flakes, mix well to combine. Simmer the sauce for 9 minutes, stirring occasionally. Season with additional salt and pepper to taste.

When meatballs are done cooking, add them to the sauce, stir to coat, and serve!
Notes
*Serve with pasta, rice, or crusty bread!