Insanely EASY and decadent Almond Fudge Shortbread Bars!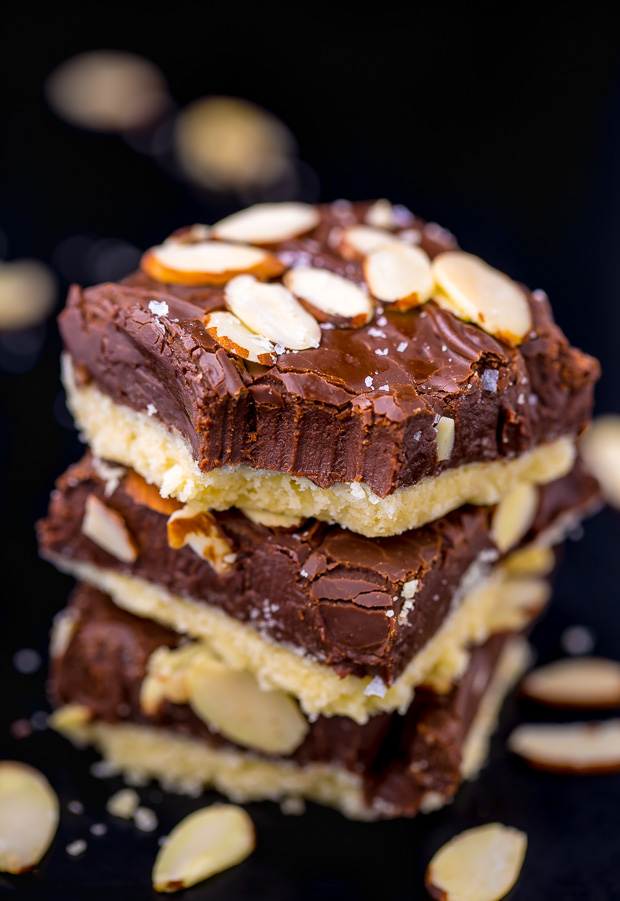 Chocolate Almond Shortbread Bars
Happy Friday, my friend! Are you ready for the weekend or what? After an insanely busy (and amazing) week, I'm so ready to Netflix and chill tonight. I'm also ready for a hearty glass of red and some pizza…
But before we embark into our weekend routines, let's share a little dessert! I made us Almond Fudge Shortbread Bars and they're the perfect dessert to try out this weekend. The recipe itself is insanely simple. The shortbread base comes together so quickly and only needs about 15 minutes in the oven. And the fudge topping is made in the microwave! The hardest part is definitely waiting for them to chill… which does take about two hours. I suggest running errands, getting your weekend cleaning out of the way… or watching a movie (best option in my opinion) to distract yourself 😉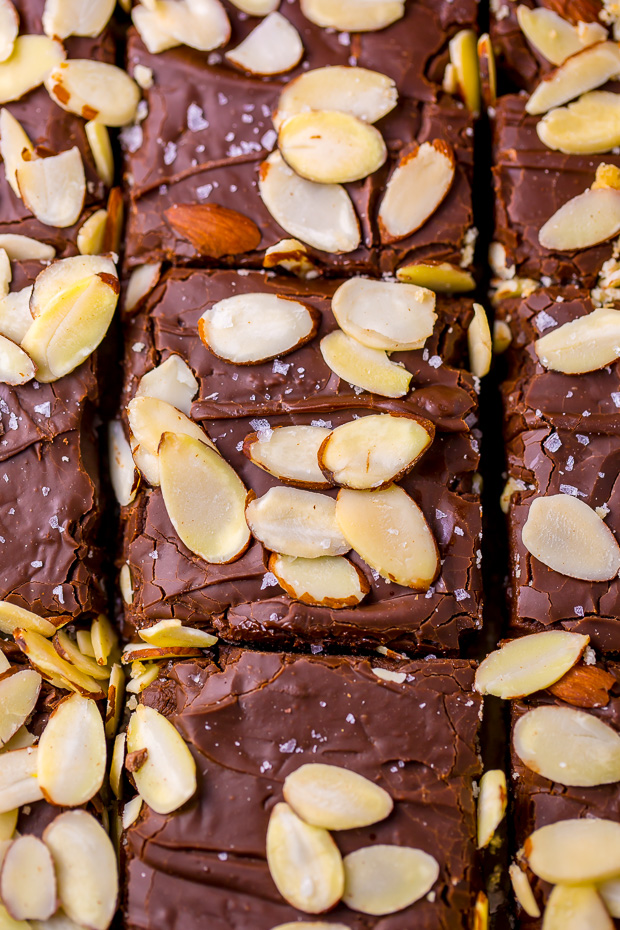 Tips and Tricks for Recipe Success:
The shortbread dough will be a little crumbly. Don't fret – this is totally normal. Here's what you want to do: dump it into the prepared pan and press it into an even layer. I like to wrap my hand in a piece of saran wrap to make this step really easy, but this is totally optional. You can press it down with the bottom of a measuring cup or just use your bare hands.
Be sure not to over bake the short bread layer. I recommend starting to check it around 12 minutes.
If you don't own a microwave, or prefer not to use one, the fudge layer can be made in a double broiler.
Be patient while melting the chocolate. Doing this step slowly, and on low heat, ensures your chocolate won't burn or become gritty from overcooking.
I recommend using high-quality chocolate for this recipe. I used Lindt 70% chocolate, but use any brand you know and trust. Just be sure not to use chocolate chips, which have inferior flavor and texture for a recipe like this.
Use real almond extract! This is my favorite organic almond extract.
These Almond Fudge Shortbread Bars will need to set for about 2 hours in the fridge, so be sure to plan ahead time wise 😉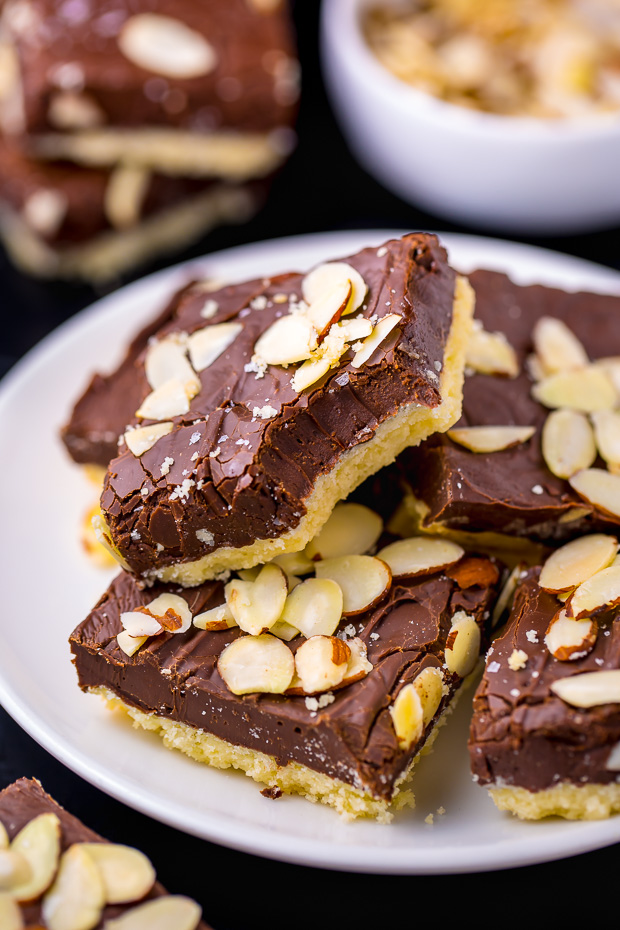 Soft, fudgy, chocolatey…
these Almond Fudge Shortbread have it going on! Give them a try this weekend. I can't wait to hear what you think of them!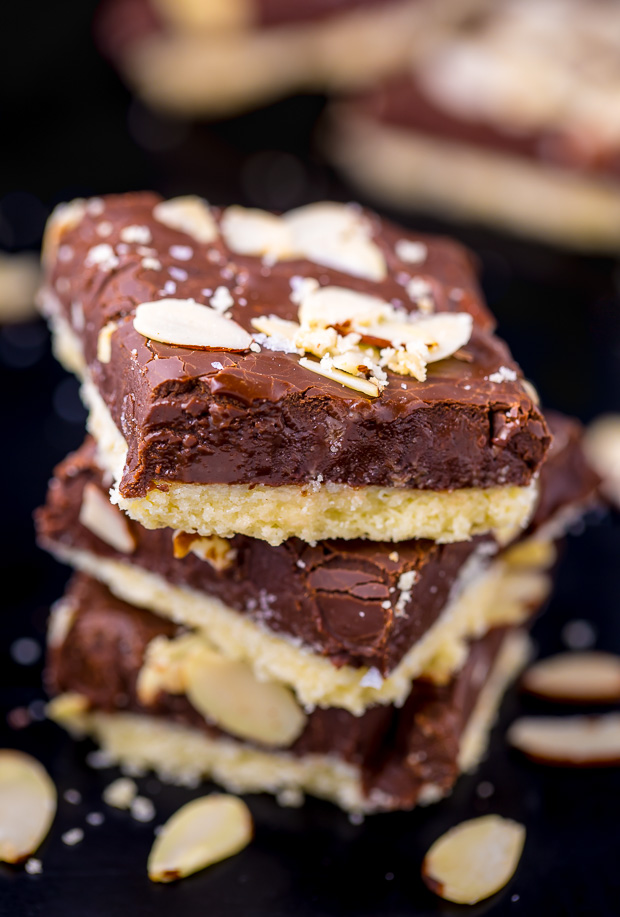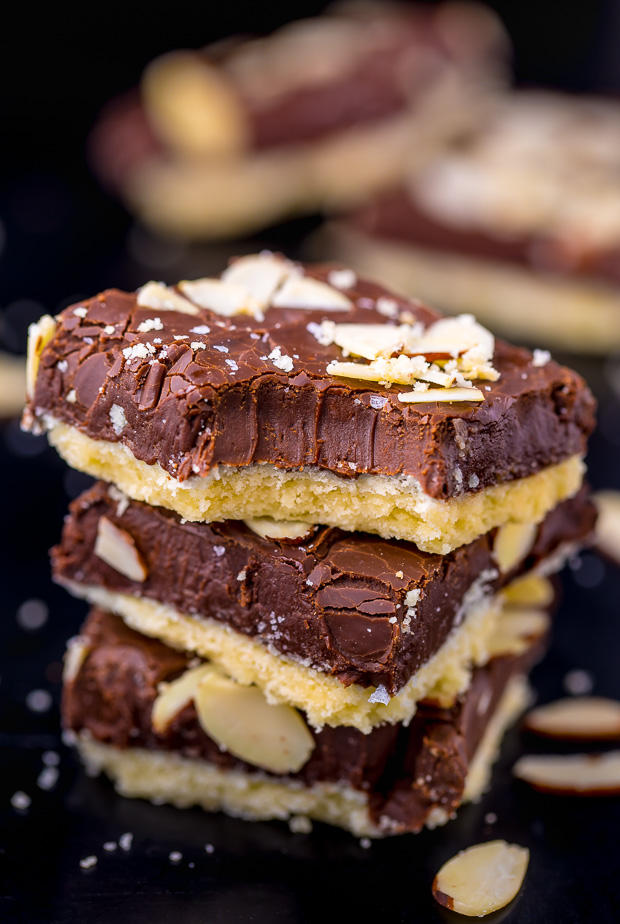 More Fudge Recipes:
If you try this recipe for Almond Fudge Shortbread Bars, let me know what you think! Leave a comment below, and don't forget to snap a pic and tag it #bakerbynature on instagram! Seeing your creations makes my day ♥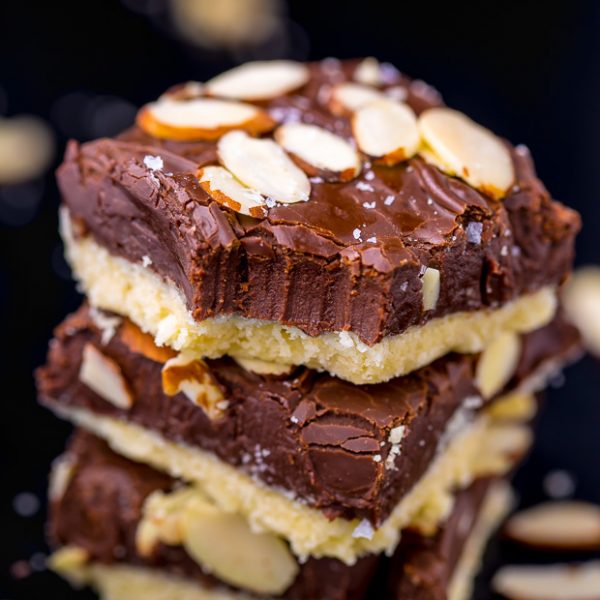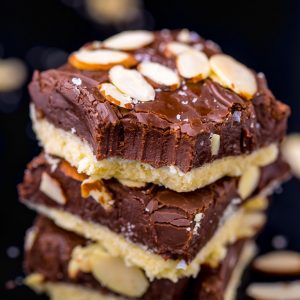 Almond Fudge Shortbread Bars
Incredibly decadent Almond Fudge Shortbread Bars are perfect for picnics, potlucks, holiday cookie parties, and more!
Ingredients
For the Shortbread Base:
1/2 cup unsalted butter, at room temperature
1/4 teaspoon almond extract
1/4 cup confectioners' sugar
1/4 teaspoon salt
1 cup all-purpose flour
For the Fudge Topping:
16 ounces semi-sweet chocolate, chopped
(1) 14 ounce can sweetened condensed milk
1 tablespoon unsalted butter, cut into small bits
3/4 teaspoon almond extract
1/3 cup sliced almonds, toasted
Instructions
For the Shortbread Base:
Preheat oven to 350 degrees (F). Line an 8x8-in baking pan with parchment paper, allowing two of the sides to overlap. Spray the parchment - and any exposed pan - with non-stick baking spray; set aside.

In the bowl of a stand mixer fitted with the paddle attachment, or in a large bowl using a handheld electric mixer, beat the butter, almond extract, confectioners' sugar, and salt until light and fluffy; 2 to 3 minutes. Gradually beat in the flour, mixing just until combined. The mixture will be a little crumbly.

Dump the mixture into the prepared pan and spread (or press firmly, if need be) it into an even layer. Bake for 13 to 15 minutes, or until lightly browned. Set aside to cool while you prepare the fudge topping.
For the Fudge Topping:
In a microwave-safe bowl, combine the chopped chocolate, sweetened condensed milk and butter. Microwave, uncovered, on low in 30 second increments, stirring in between, until the chocolate is completely melted; stir mixture smooth. Stir in almond extract. Spread mixture over the shortbread, smoothing with a spatula into an even layer. Sprinkle with the toasted almonds and press down on them slightly so they stick. Refrigerate until firm; about 2 hours. Cut into small squares and serve.