Bacon and Cheddar Stuffed Jalapeno Soft Pretzels! <———- What a beautiful thing! Melty cheese; plenty of crispy bacon; and just enough fresh jalapeno to keep you on your toes. These stuffed pretzels are a game changer ♡♡♡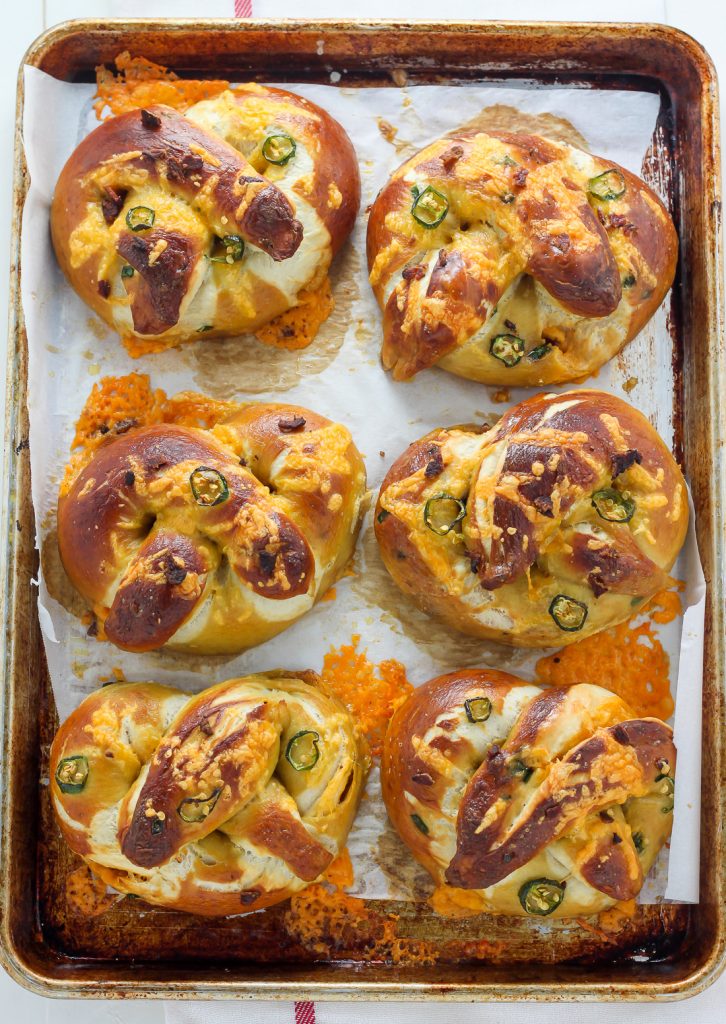 Once upon a time – many maaaaaaaany posts ago – I had an idea to stuff homemade soft pretzels with ham, swiss, and jalapenos. Do you remember those? They've been a fan favorite since day 1, and I make them religiously whenever we have friends coming over.
Meaty… cheesy… and just a little kick of spice… all wrapped up in a pretzel! Can you think of a more perfect snack?
Last week I decided to take that famous pretzel recipe and shake it up a little. Instead of ham I added crispy bacon (OMG) and in place of the swiss I used tons of shredded cheddar (!!!). I also infused the pretzel dough with chopped jalapenos (spiiiiiiiicy) and topped each pretzel with a few thin slivers. To say these pretzels are anything short of epic would be a bold faced lie.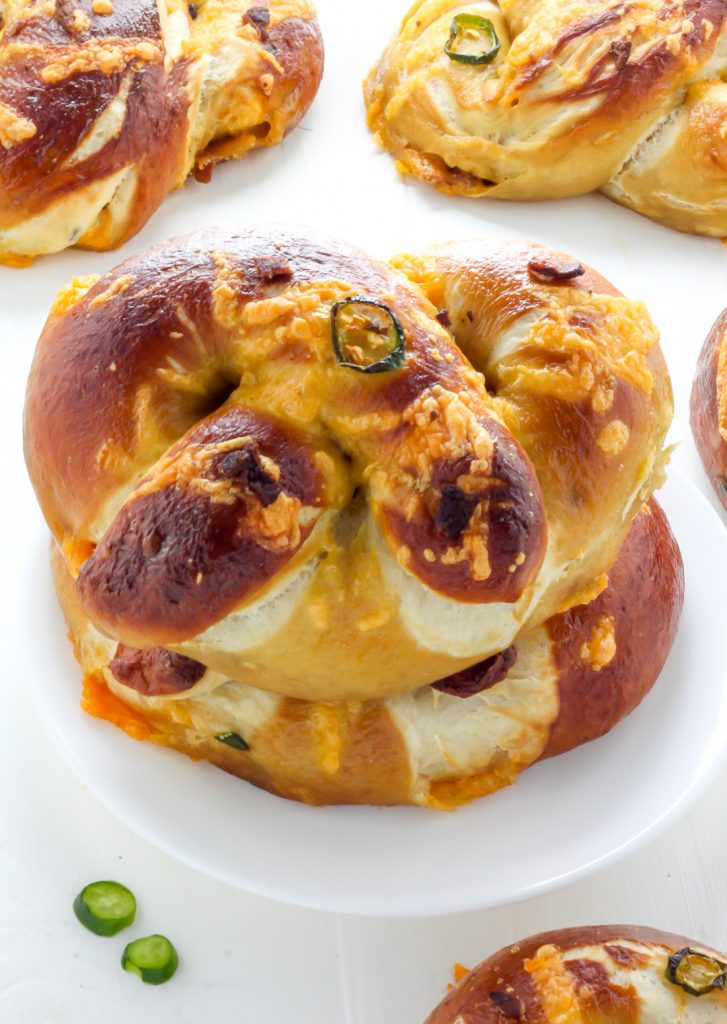 Making these pretzels are easy, fun… and a little time consuming 😉 If you've never made homemade pretzels before, don't panic! The hardest part really is the waiting! If you have a stand mixer these pretzels come together with very little effort on your part – the dough hook and electric motor do 99.9% of the work for you. If you don't, I'm sure you could still make them, but get ready to pump that elbow grease. The dough needs to knead (pun intended) for 10 minutes on medium-speed or 15 minutes by hand. I know, I know… those are a lot of minutes! But your hard work will be rewarded with warm, gooey, Bacon and Cheddar Stuffed Jalapeno Soft Pretzels. #worthit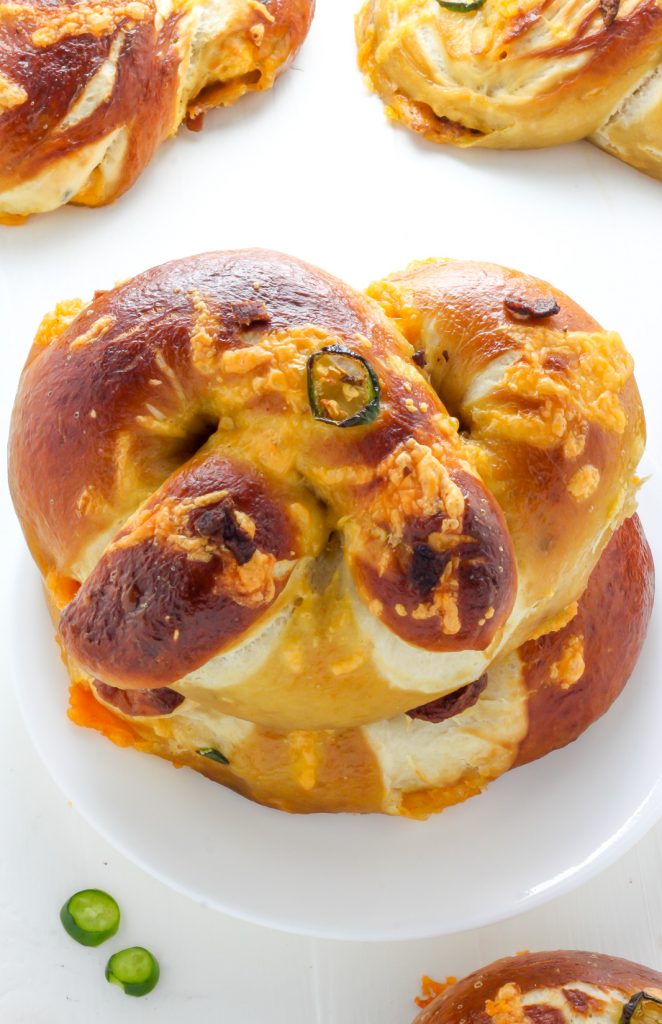 The great thing about this recipe is you can easily adapt it to perfectly fit your own taste.
Hate bacon?  Leave it out. Not a fan of cheddar cheese? Swap it out for another variety. Not into spicy food? Toss the jalapenos and add in a little rosemary! I think you get the gist.
Pick the fillings you love, stuffed them in my master pretzel dough, and bake them to gooey, golden perfection.
Not necessary but recommended: serve pretzels warm, on the patio, with extra cold beers and good friends <—– this has been our weekend life lately and we're loving it!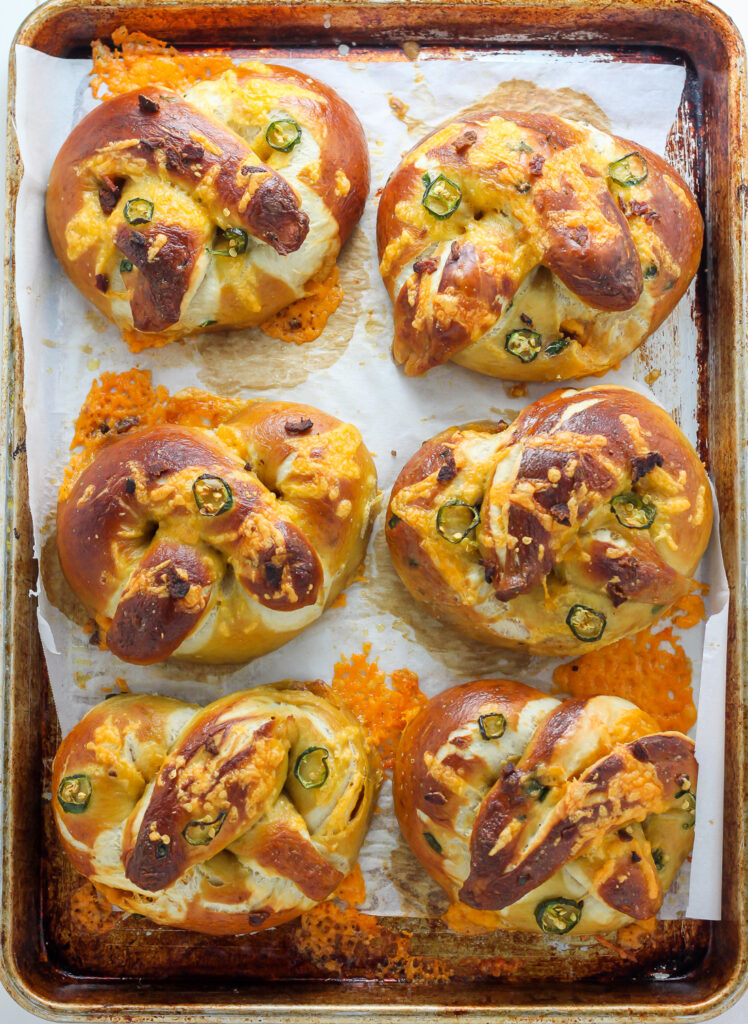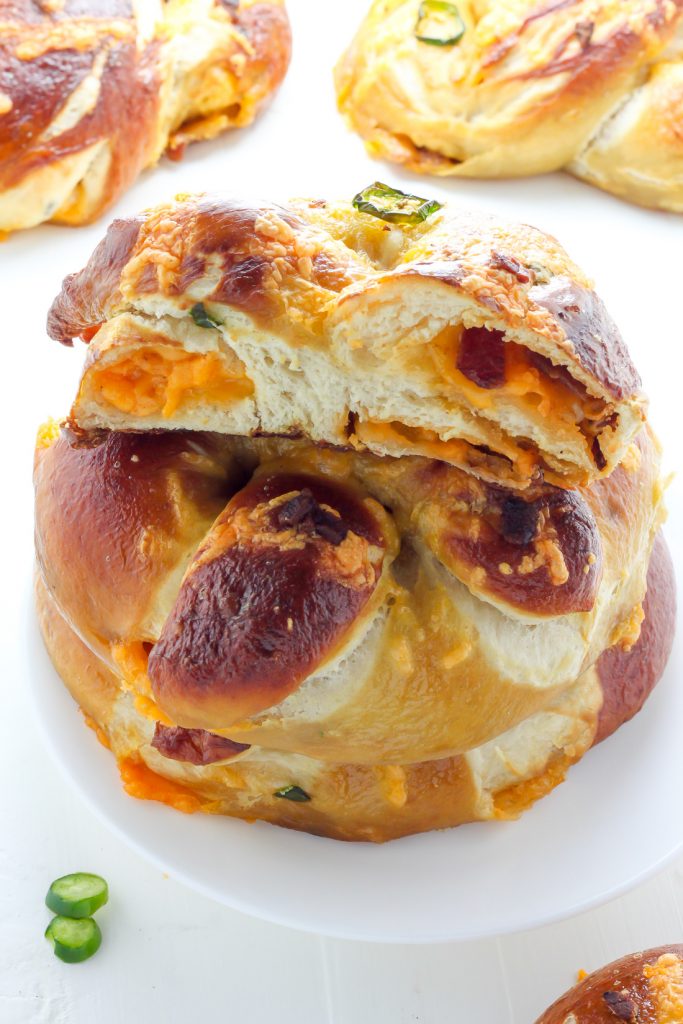 These Bacon and Cheddar Stuffed Jalapeno Soft Pretzels deserve a spot in your weekend plans! They'll fly off the tray and if – somehow(???) – there are leftovers, they freeze like a dream. xo.

Bacon and Cheddar Stuffed Jalapeno Soft Pretzels
Homemade Jalapeno Soft Pretzels are stuffed with Cheddar Cheese and Crispy Bacon! These are incredible.
Ingredients
1 1/2 cups warm water (between 110-115 degrees F)
1 package instant yeast
1 1/2 tablespoons sugar
2 teaspoons salt
4 1/4 cups all-purpose flour
6 tablespoons unsalted butter, very soft
2 small Jalapeños, minced (use only one for a less spicy pretzel)
Cooking Liquid:
8 cups water
1/2 cup baking soda
Fillings:
12 strips bacon, cooked until crispy and roughly chopped
8 ounces cheddar cheese, shredded
Egg wash:
1 egg, beaten
1 tablespoon water
Toppings:
Extra cheese, bacon, and slivered jalapenos (optional)
Instructions
For the dough:
Combine water, yeast, sugar, and salt in the bowl of a stand mixer fitted with the dough hook attachment. Let stand for 10 minutes, or until mixture begins to foam.

Add in the flour, butter, and jalapenos; knead on medium-speed for 10 minutes.

Cover dough with a warm damp cloth and place in a warm area of your house to rise for an hour, or until dough has doubled in size.
Assembly and Cooking:
Preheat oven to 425 degrees (F). Line a large baking sheet with parchment paper; set aside.

Add water and baking soda to a large pot of dutch oven and bring to a boil.

Divide dough into 8 equal rounds.

Roll each round out into a 16" rope.

Roll each rope out so it's 4 inches wide.

In a small bowl combine bacon and cheese. Add 3 tablespoons of filling evenly along the rope.

Tightly roll the dough back into rope, jelly roll style, pinching the edges tightly together.

Make a U shape with each rope of dough, holding the ends.

Cross the ends over each other, pinching ends onto the bottom of the dough.

Place pretzels - one at a time - into the boiling cooking liquid. Cook for 30 seconds each.

Transfer cooked pretzels to prepared baking sheet.

Once all of the pretzels have been cooked, brush the tops of each with egg wash, then sprinkle with additional bacon, cheese, and jalapeno, if using.

Place pan in the oven and bake for 17-18 minutes, or until golden brown and firm.

Eat warm, or transfer to a rack to cool.