Moist and extremely flavorful, this Hummingbird Cake is pure perfection! Perfect for Easter or Mother's Day!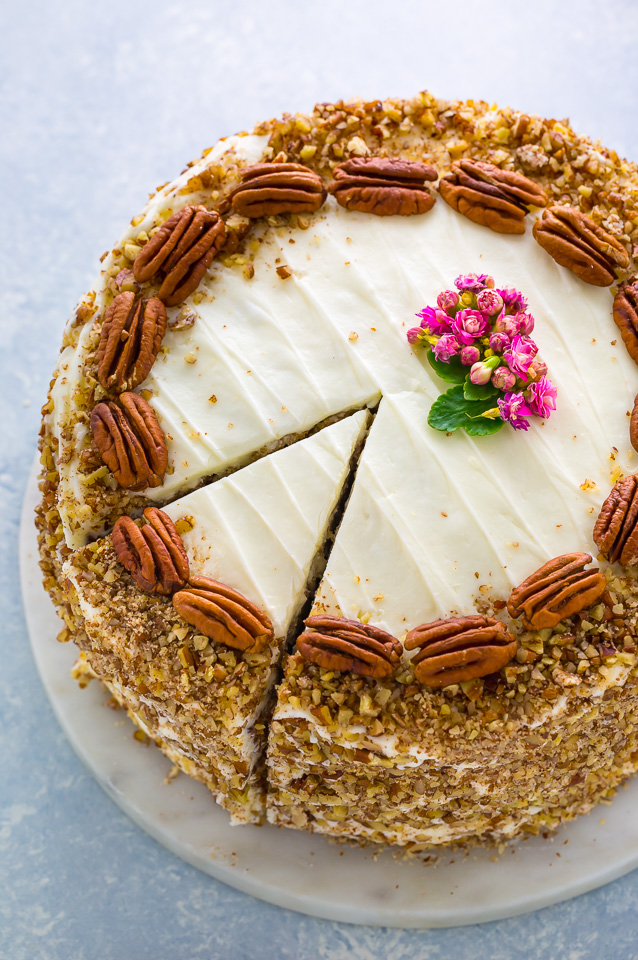 Hummingbird Cake Recipe
Have you ever had a slice of hummingbird cake? I ask because I find it's not as widely known as chocolate, vanilla, or even red velvet. It has more of a cult following. Like Twin Peaks… or Office Space. But I'm here to change that! It's high time we make this moist and luscious banana-pineapple spice cake a household name.
HUMMINGBIRD CAKE FOR ALL! My campaign begins now. But first, a little story…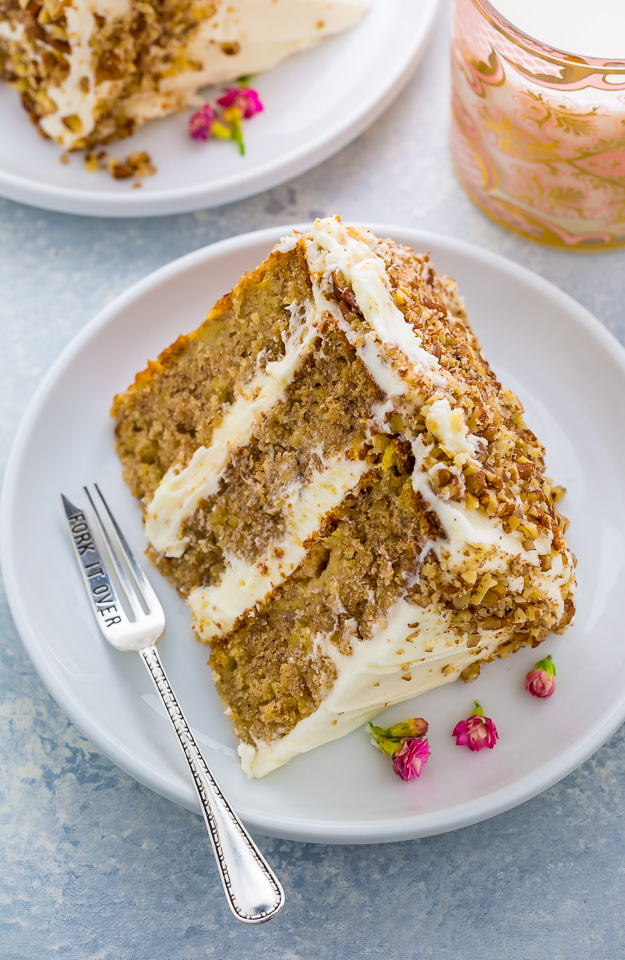 I still vividly remember my first time trying hummingbird cake.
I was vacationing in Pigeon Forge, Tennessee. What a fun little town! We rented a cabin waaaaay up in the hills, and spent most of our days exploring wild hiking trails. It was on one of those hiking expeditions that we stumbled upon the cutest little diner we'd ever seen! It was by no means fancy. It didn't have a sign… or even seats! But what it lacked in decor it made up for in heart. We glanced over the humble paper menus with hungry eyes, and ordered enough food to feed a small army. 20 minutes later we were blessed with a feast of pulled pork, fried green tomatoes, buttery biscuits, and – you guessed it – hummingbird cake! I won't lie, I barely noticed the cake when the trays were set in front of us. It's not exactly a showstopper. But what it lacks in looks it more than makes up for in personality! After taking one bite I was HOOKED. "What is this?" I exclaimed in between bites. I didn't share a single crumb that day, and we ended up ordering 2 more slices to-go. It wasn't just dessert…. it was an experience!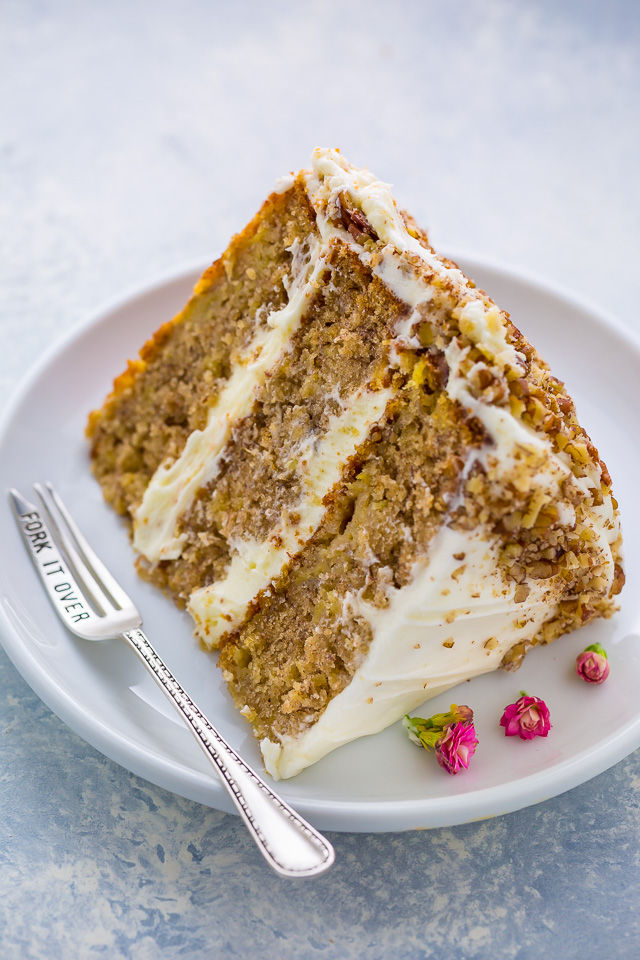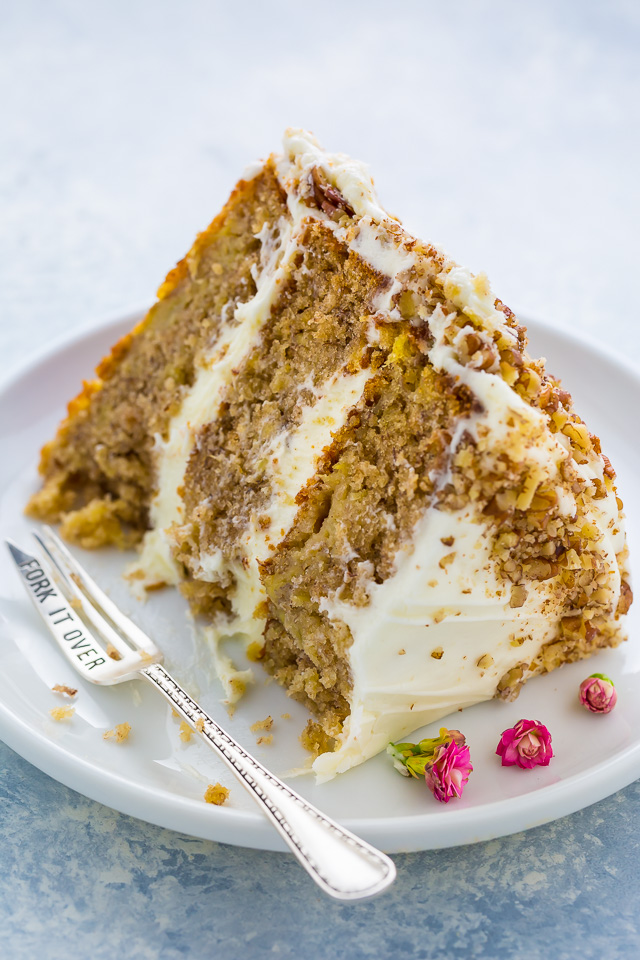 Hummingbird Layer Cake
I've spent many years trying to recreate that hummingbird cake. No lie… I've probably made over 25 versions! Some were awful, some were fine, and some were very, very good… but none of them lived up to the memory I held. That little diner set the hummingbird cake standard high and I was determined to meet it.
And last week, I finally did!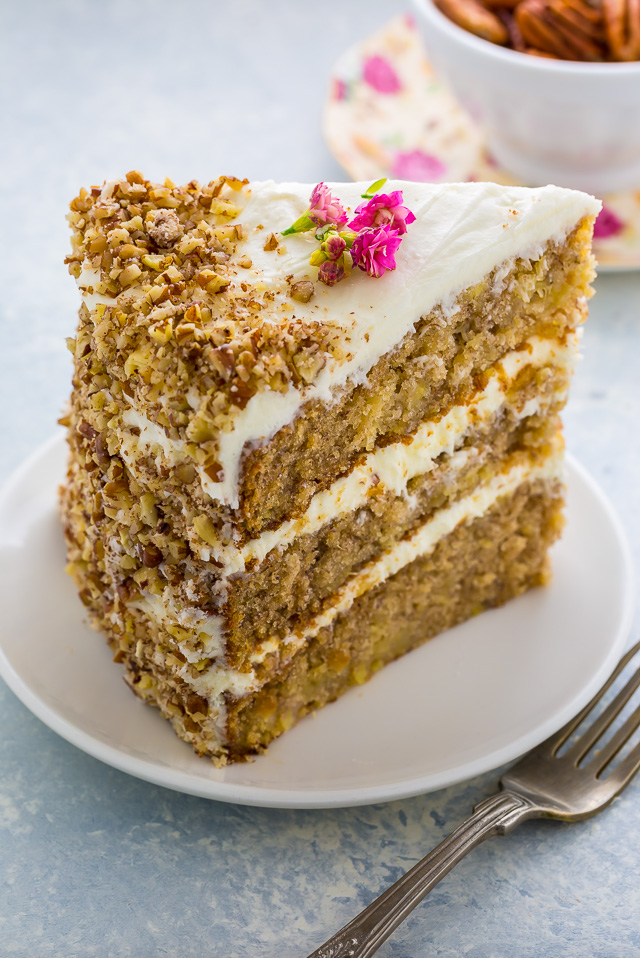 Tips and Tricks for Recipe Success:
This recipe calls for cake flour. Cake flour is extra finely ground and gives this cake its silky soft texture. In most grocery stores you can find cake flour in the baking aisle. If you can't find it – don't fret! Making your own cake flour is easy, and only requires two ingredients: cornstarch and all-purpose flour. Here's what you do: For every 1 cup of flour called for in the recipe, remove 2 Tbsp of flour. Then add in 2 Tbsp of Cornstarch for every 1 cup of flour (you're replacing the tablespoons of flour taken out with cornstarch). Sift this mixture a few times (you want it well combined) and that's it – you just made ready-to-use cake flour.
When you measure your flour, be sure you're not packing it into the measuring cup. Packed flour will yield a dense and heavy cake.
Make sure your bananas are extremely ripe! The cake draws moisture, flavor, and sweetness from the ripe bananas, so the blacker the better.
This recipe calls for 3 cups of mashed bananas, which is usually about 7 or 8 medium bananas. Always buy one or two more than needed. It's better to be over prepared than under prepared ingredient wise 😉
The cake layers should all be baked on the middle rack of your oven. If there's not enough room in your oven to bake them all in an even row at once, you can bake them in two batches.
Don't over bake! I baked this cake in two different ovens and found in my home oven it was done at 35 minutes, while at my friends house it took about 41 minutes. Every oven is a little different, so start checking on your cakes around 33 minutes.
To ensure you reach the proper frosting consistency you'll want to make sure your butter and cream cheese are very soft before beginning. I suggest setting them out on the counter for at least an hour before unwrapping them and getting busy; they may soften faster or slower depending on the temperature of your house. You'll know your they're soft enough when you can press your finger into the top and a deep indentation is effortlessly made. Cold butter and cream cheese, as well as melted butter and cream cheese, should never be used when making this frosting; it will not work.
You'll need an electric handheld mixer or a standmixer to make the frosting.
For an extra pretty presentation, try topping your hummingbird cake with extra pecans and edible flowers!
If you'd like to press chopped pecans around the sides of the cake, be sure to do this right after you frost the cake.
Are you ready to welcome hummingbird cake into your dessert life?! I just know you're going to LOVE it. Especially if you have an inclination towards banana flavored desserts.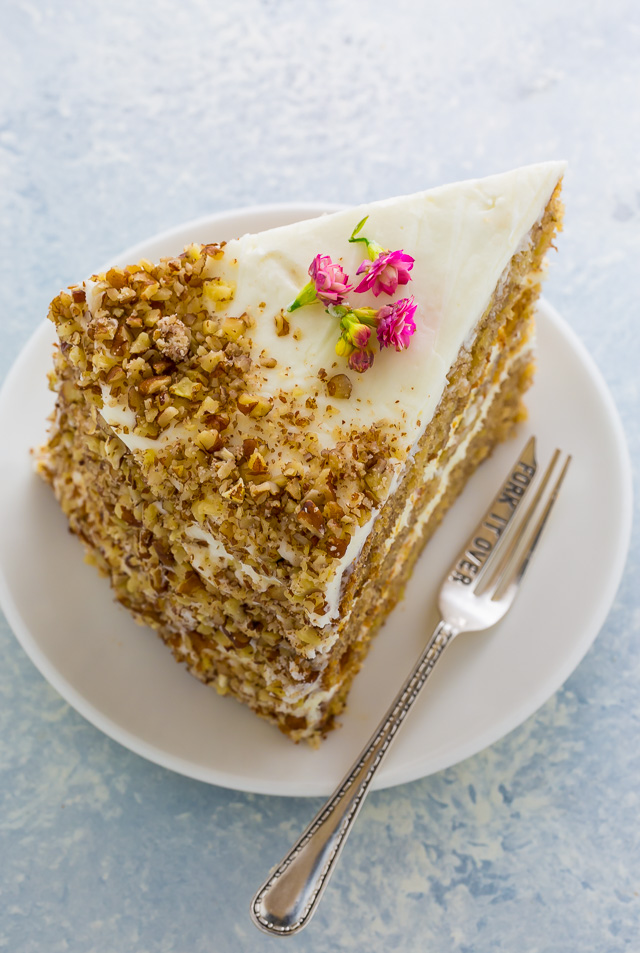 If you try this recipe for Hummingbird Cake, let me know what you think! Leave a comment below, and don't forget to snap a pic and tag it #bakerbynature on instagram! Seeing your creations makes my day ♥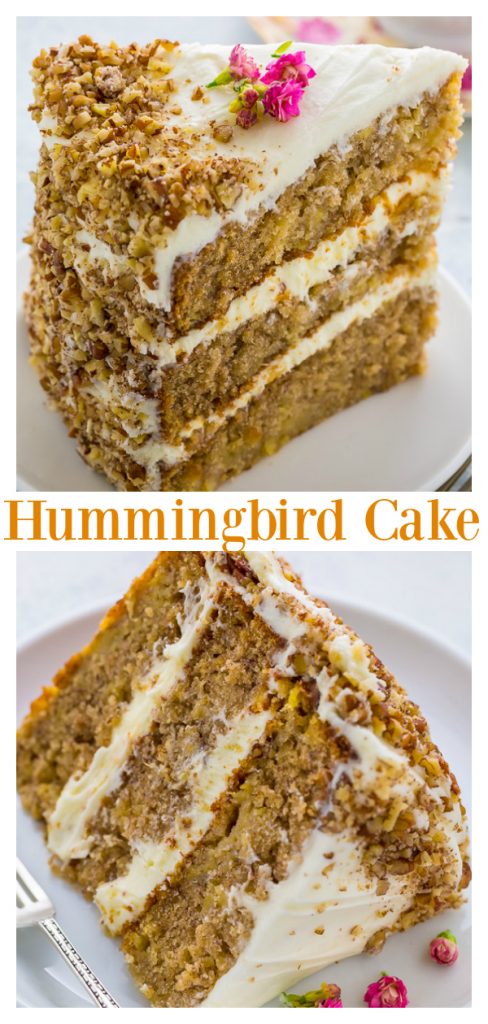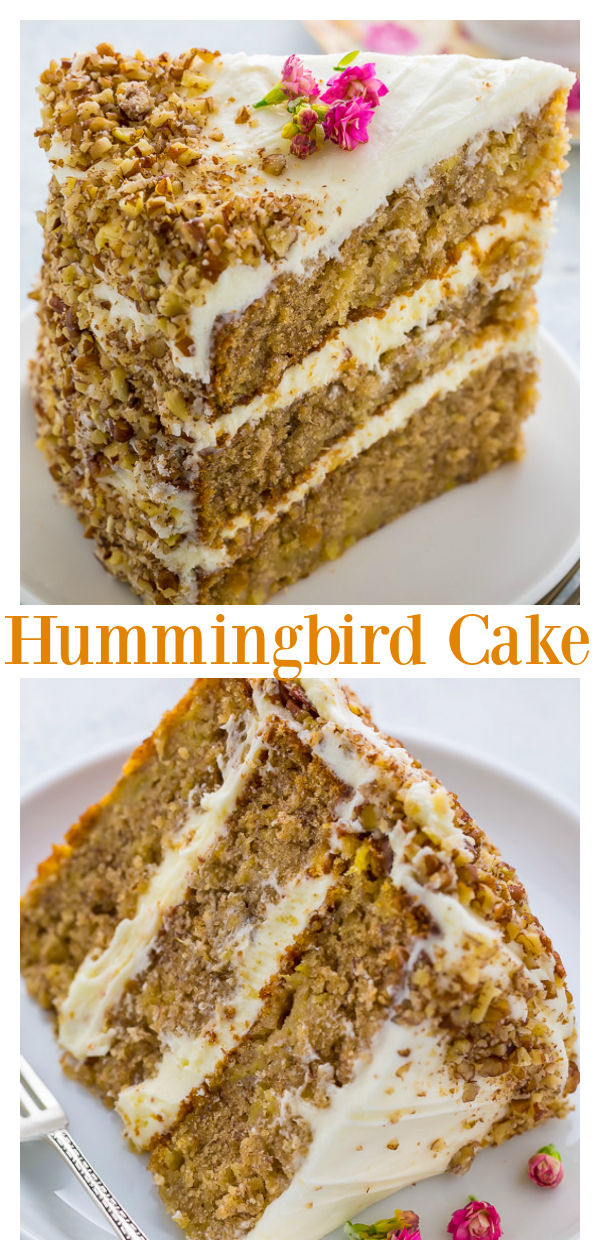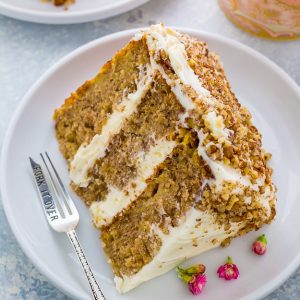 Hummingbird Cake
Moist and flavorful Hummingbird Cake! Flavored with banana, pineapple, and rich spices!
Ingredients
For the Hummingbird Cake:
4 and 1/4 cups cake flour
1 and 1/2 teaspoons baking soda
2 and 1/2 teaspoons ground cinnamon
1/2 teaspoon nutmeg
1 teaspoon salt
1 and 1/2 cups granulated sugar
1 and 1/2 cups light brown sugar
1 and 3/4 cups canola oil
5 large eggs, at room temperature
1 tablespoon vanilla extract
3 cups mashed very ripe bananas
12 ounces crushed pineapple, drained
1/3 cup 100% pineapple juice
1/2 cup chopped pecans
For the Cream Cheese Frosting:
16 ounces full-fat cream cheese, VERY soft
8 ounces unsalted butter, VERY soft
1 tablespoon vanilla pure extract
6 cups confectioners' sugar, sifted, more only if needed
Instructions
For the Hummingbird Cake:
Preheat oven to 350 degrees (F). Cut out three 9-inch round segments of parchment paper to line your cake pans with. Spray each pan generously - sides and bottom - with nonstick cooking spray, then place the parchment paper cut out in the bottom of the pans and spray again. It's important to make sure every bit of pan and paper are sprayed so your cakes don't get stuck. Set pans aside.

In a large bowl add the cake flour, baking soda, cinnamon, nutmeg, and salt; whisk well and set aside. In the bowl of a stand mixer fitted with the paddle attachment, combine both sugars and oil; beat smooth, about 2 minutes. Add in the eggs, one at a time, beating well after each addition. Add in the vanilla, mashed banana puree, crushed pineapples, and pineapple juice; mix on low speed until combined. Add the flour mixture in thirds, beating on low speed until just combined. Fold in the pecans. Be sure not to over mix the batter!

Divide the batter evenly among the pans and smooth the tops with a spatula. Bake for 35 to 40 minutes, or until a cake tester inserted in the center of each cake comes out clean. Cool in pans for 15 minutes, then carefully remove the cakes from the pans and place them on a cooling rack to cool completely.
For the Cream Cheese Frosting:
In the bowl of a stand-mixer fitted with the paddle attachment, or in a large bowl using an electric handheld mixer, beat the cream cheese, butter, and vanilla on medium-high speed until completely smooth; about 2 minutes. Reduce the speed to low and gradually add the sifted confectioners' sugar. Once all of the sugar has been added beat on high-speed for 1-2 minutes. Once the cakes have completely cooled, place one round on a cake stand or large plate; spread the top and sides evenly with frosting. Gently place the second cake layer on top of the frosted one and press down very lightly to seal them together. Repeat with the final cake layer, then continue frosting the cake, using a thin spatula, offset spatula, or whatever you have that works best, until the top and sides of the cake are evenly frosted. Decorate with additional nuts, if desired, then slice and serve! Store this cake in the fridge, covered, for up to 3 days. Bring to room temperature before serving.