These Black Lime Scones are flaky and loaded with fresh blackberries! The lime glaze makes them extra delicious. So good with a cup of coffee!!!
Blackberry Scones
Well, hello gorgeous. Seriously, how fun and fruity and… slightly psychedelic do these scones look?! Hard to believe, but they taste 1,000,000 times better than they appear.
I had a few of my girlfriends up for the weekend (packed 8 people into my tiny lil' 2 bedroom… ha!) and we made an epic brunch Sunday before everyone departed. There was fresh squeezed orange juice, blueberry waffles (recipe coming soon!), crispy breakfast potatoes, and my favorite smoked salmon frittata, but the real star of the show ended up being these blackberry lime scones! I made 2 batches just to be safe, and in the end, found myself wishing I had made a third! Suffice to say, my girl squad knows how to do some serious damage when it comes to scones 😉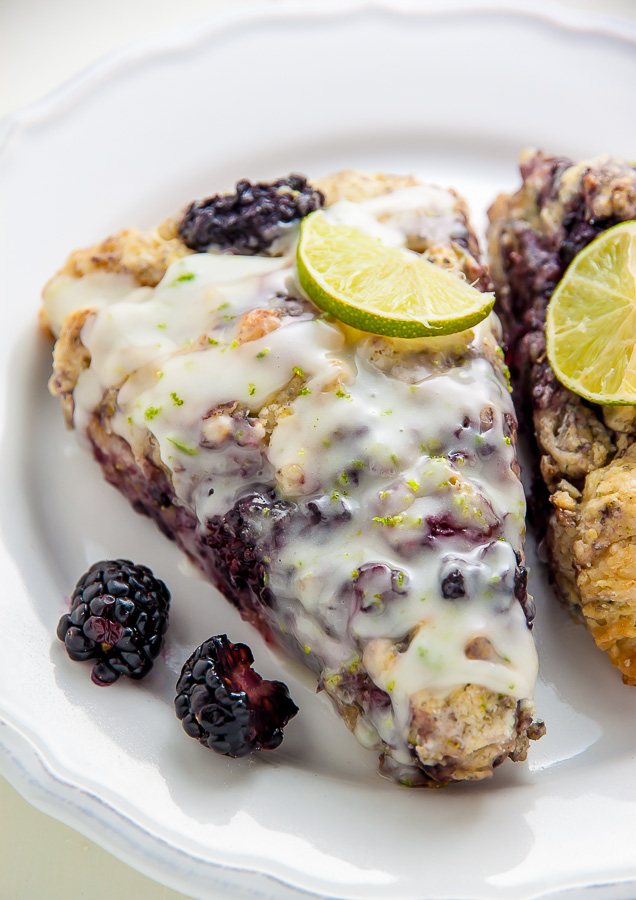 This recipe is very simple, but as always, should be followed exactly as written and read over in entirety at least once. This ensures you know exactly what you need and exactly what you need to do. Plus, it will give you time to ask me any questions you may have before you begin baking.
There are three simple parts to this recipe: the black lime scones, the egg wash, and the fresh lime glaze. Ingredient wise you're going to need flour, salt, baking powder, baking soda, granulated sugar, lime juice and zest, unsalted butter, eggs, milk, blackberries, and confectioners' sugar.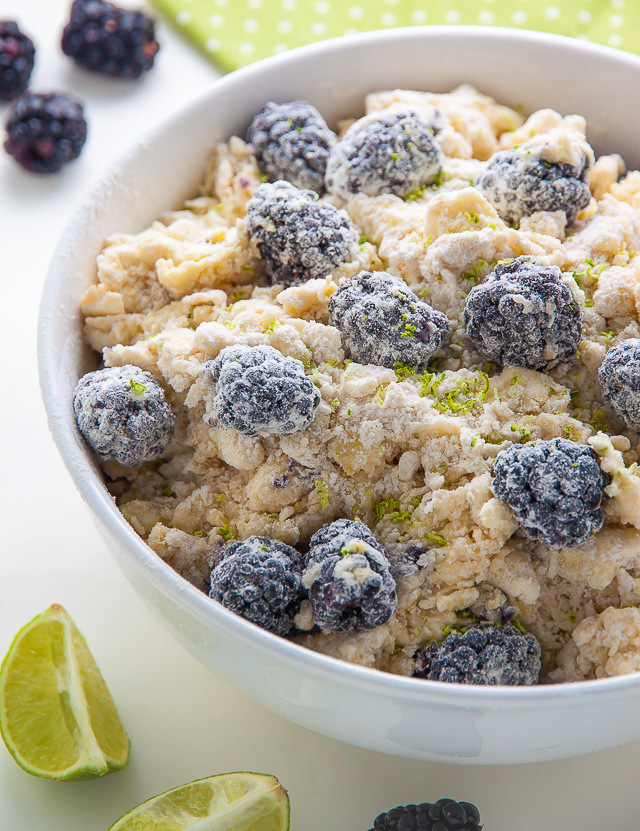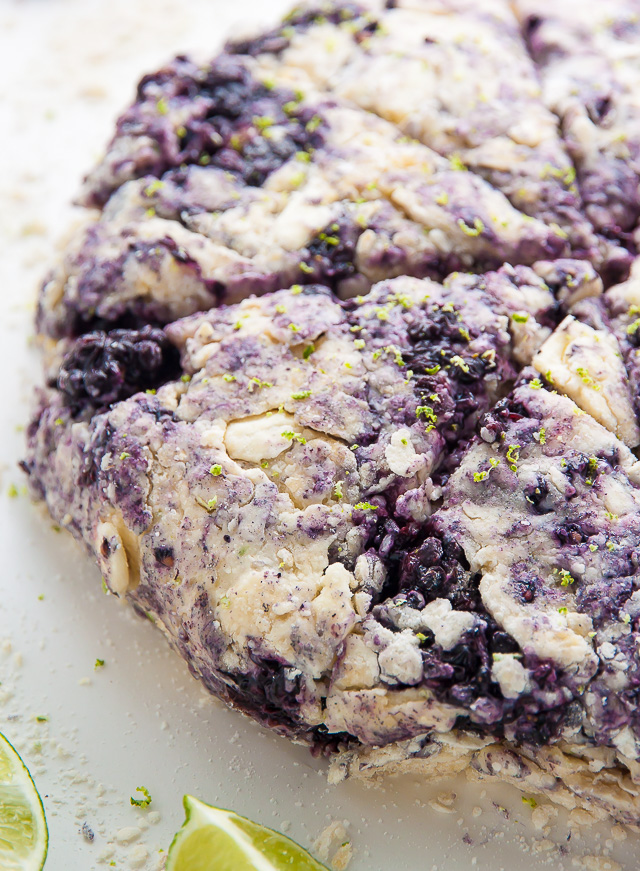 Blackberry Lime Scones Recipe
Tips and Tricks for Recipe Success:
Fresh or frozen blackberries may be used; if using frozen, do not thaw before using. Also, don't worry if the berries break up a little when you fold them into the batter. This is normal and gives the scones a gorgeous purple hue.
Your butter should extremely cold. I like to pop my stick in the freezer for 5 minutes or so before adding it the dough; this extra step ensures it doesn't melt too early. Cold butter = flaky scones.
If you find your dough is warm and/or sticky, pop it back into the fridge or freezer for a few minutes and let it chill, then get back to work.
Scones are very forgiving treats, so don't fret if yours come out of the oven a little rustic looking 😉 Nothing a little glaze can't fix!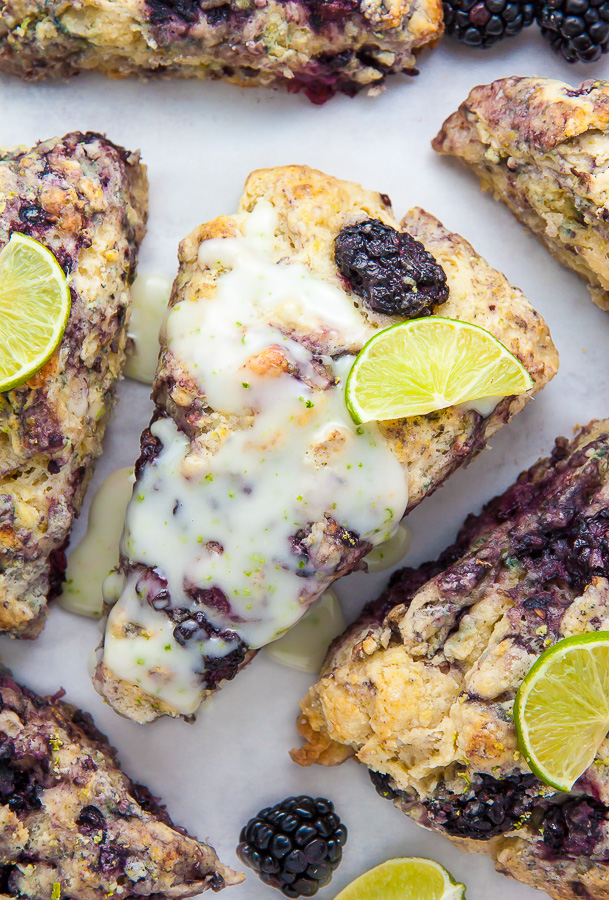 I love that these scones can be made ahead of time and frozen for up to two months (minus the lime glaze, of course). Super convenient – especially on busy mornings!  Pretty, delicious, and so much better than the bakery – these blackberry lime scones are a WIN all around.
More Scone Recipes:
If you try this recipe, let me know! Leave a comment below and don't forget to snap a pic and tag it #bakerbynature on Instagram! Seeing your kitchen creations makes my day. ♥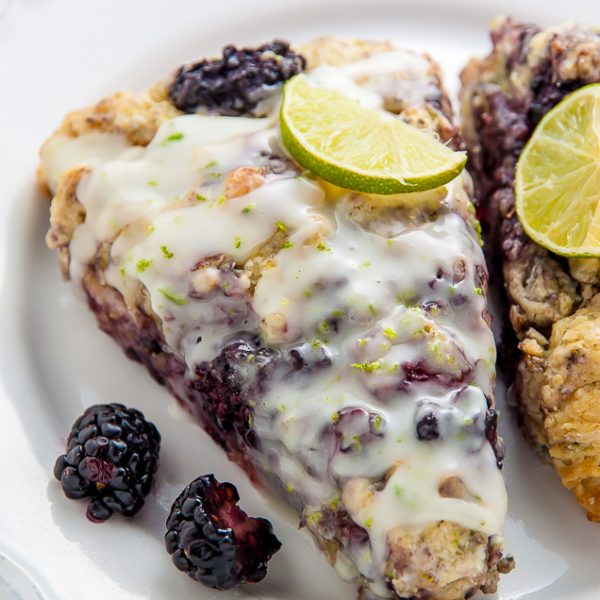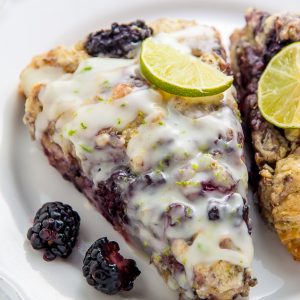 Blackberry Lime Scones
Fresh blackberries and a vibrant pop of lime make these scones irresistible!
Ingredients
2 and 1/2 cups all purpose flour
1/2 teaspoon salt
2 teaspoons baking powder
1/2 teaspoon baking soda
1/3 granulated cup sugar
2 teaspoons lime zest
1 stick (4 ounces) unsalted butter, VERY cold and cut into tiny pieces
1 large egg, beaten
1/2 cup + 2 tablespoons whole milk
1 cup blackberries, fresh or frozen (If using frozen, do not thaw first)
For the egg wash:
1 large egg, beaten
1 teaspoon milk or water
2 tablespoons granulated sugar, for sprinkling
For glaze:
2 tablespoons fresh lime juice
3/4 cup confectioners sugar
Instructions
Preheat oven to 400°(F). Line a large baking sheet with parchment paper; set aside.

In a large bowl, add flour, salt, baking powder, baking soda, sugar, and lime zest; whisk well to combine. Quickly cut the butter into small cubes then work them into the mixture (using your fingers, two forks, or a pastry cutter) until lit resembles a coarse meal. Set aside.

In a small bowl, whisk together the egg and milk, then add to flour mixture. Use the fork to stir everything together until just moistened.

Add blackberries and gently stir into dough. Don't worry if some of the berries break up a bit.

Empty the loose dough out onto a clean, floured work surface, then shape the dough into an 8-inch circle.

Cut the dough into 8 wedges and carefully transfer to the prepared sheet.

Lightly brush each scones with the egg wash, then sprinkle the top of each scone with sugar.

Bake for 18-20 minutes, or until light golden brown.

Allow scones to cool on the baking sheet while you make the glaze.
For the glaze:
In a small bowl whisk together the lime juice and confectioners sugar. Drizzle over warm scones and serve at once.
Notes
Fresh or frozen blackberries may be used, if using frozen, don't thaw first. If scone dough feels wet or warm, place it in the fridge for a few minutes.