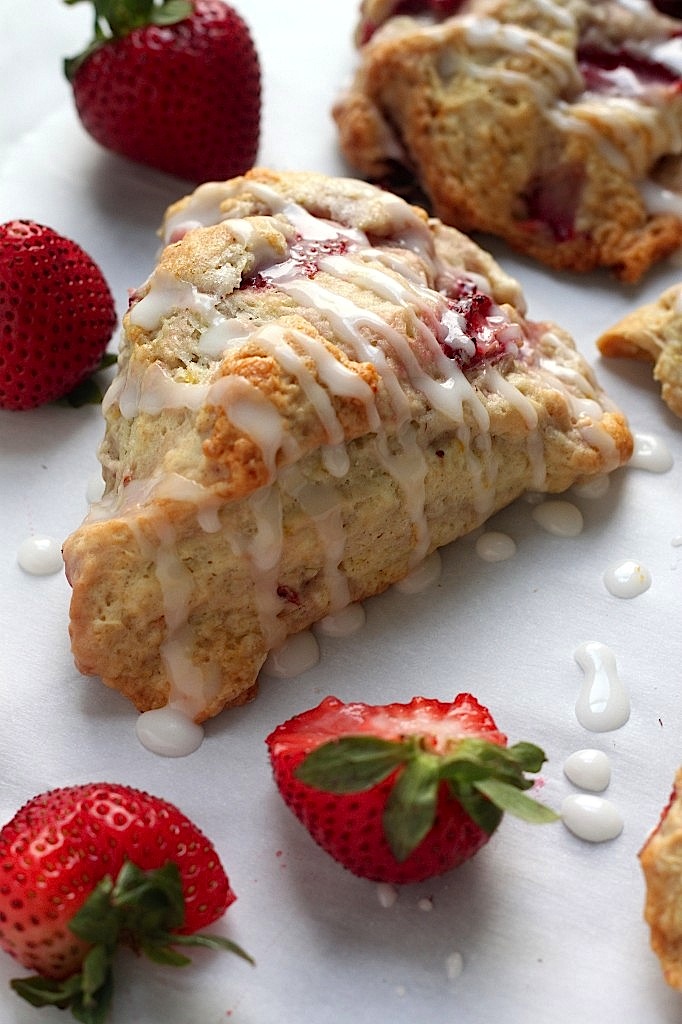 Like many fruit lovers, I have a weakness for anything involving sweet, juicy Summer strawberries! This week I'll be sharing with you a few of my favorite fresh strawberry recipes, and today, we're talking scones. Fresh strawberry scones with a light and lovely lemon glaze, to be exact. Mmm!!!
I've baked A LOT of scones over the past few years, and every time I pull a batch out of the oven I fall in love with the quirky treat all over again. I know a lot of people are either huge fans of the scone, or completely disregard them as a dry flaky biscuit, so I'm curious, are you a fan? Even if you're not, I hope you'll keep reading… I having a feeling these sweet, flaky treats could sway you to their side 😉
What I love about this particular recipe is that it yields a scone even a scone hater would love! Trust me – I live with one… and he was ALL over these babies 😉 I think it was the glaze. In my opinion, a little glaze makes everything better.
The scones themselves are actually REALLY delicious in their natural naked form, and I ate one fresh out of the oven with zero regrets! FYI – scones straight from the oven ———> pure heaven! Just be sure not to burn yourself while in the act 😉
Light, buttery, and packed with fresh berries, these scones are sure to be a new favorite for breakfast, brunch, or snack time! If you're making these ahead of time for a party/ event, I highly suggest waiting to glaze them until right before serving, as the glaze will eventually make the scone soggy if it's sitting on them for too long, and we don't want that. Enjoy! xoxo
Fresh Strawberry Scones with Lemon Glaze
Ingredients
2 3/4 cups all purpose flour
3/4 teaspoon salt
2 teaspoons baking powder
1/2 teaspoon baking soda
1/3 cup sugar
1 teaspoon lemon zest
1 stick (4 ounces) unsalted butter, VERY cold and cut into tiny pieces
1 large egg, beaten
1/2 cup whole milk
3/4 cup fresh strawberries, roughly chopped
For the egg wash:
1 large egg, beaten
1 teaspoon milk
2 tablespoons sugar, for sprinkling
For glaze:
2 tablespoons fresh lemon juice
3/4 cup confectioners sugar
Instructions
Heat oven to 400°(F). Line a large baking sheet with parchment paper; set aside.
In a large bowl, mix flour, salt, baking powder, baking soda, sugar, and zest.
Cut the butter into small cubes then work it into the mixture (using your fingers) until lit resembles a coarse meal.
In a small bowl, whisk together the egg and milk, then add to flour and butter. Use the fork to stir everything together until just moistened.
Add strawberries and gently stir into dough. Don't worry if some of the berries break up a bit or don't stick in the dough; just shove them back in.
Empty the loose dough out onto a clean, floured work surface, then shape the dough into an 8-inch circle.
Cut the dough into 8 wedges and carefully transfer to the prepared sheet.
Lightly brush each scones with the egg wash, then sprinkle the top of each scone with sugar.
Bake for about 16 minutes, or until light golden brown.
Cool for about 10 minutes, then make your glaze.
For the glaze:
In a small bowl whisk together the lemon juice and confectioners sugar. Drizzle over warm scones and serve at once.