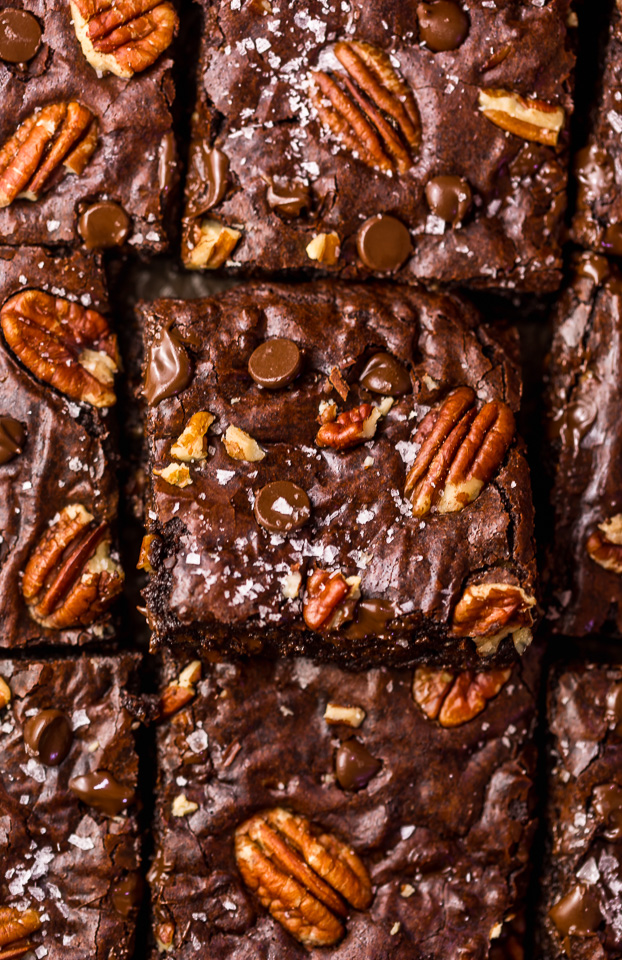 Bourbon Pecan Brownies
Yield 9" Pan
These Bourbon Pecan Brownies are going to blow your mind! They're thick, chewy, and loaded with crunchy pecans, a pinch of cinnamon, and a touch of bourbon! The ultimate special occasion brownie recipe! 
Ingredients
1 cup (120 grams) all-purpose flour
1/2 cup (43 grams) unsweetened cocoa powder
1/8 teaspoon ground cinnamon (optional) 
1/2 teaspoon salt
3.5 ounces dark chocolate, finely chopped 
3/4 cup (170 grams) unsalted butter
2 Tablespoons (25 grams) oil 
1 teaspoon vanilla extract
3 Tablespoons (43 grams) bourbon 
1 cup (198 grams) granulated sugar 
1/2 cup (106 grams) dark brown sugar, packed 
2 large eggs, at room temperature
1/2 cup (57 grams) toasted pecans, roughly chopped
3/4 cup (128 grams) semi-sweet chocolate chips 
1/4 teaspoon flaky sea salt, optional 
Instructions
Preheat oven to 325 degrees (F). Line an 9x9-inch metal baking pan with parchment paper, allowing two of the sides of slightly overlap. Spray with non-stick spray and set aside.
In a medium-sized bowl, whisk together the flour, cocoa powder, cinnamon (if using), and salt, set aside.
In a large, microwave safe bowl, combine the chocolate, butter, and oil. Heat them in the microwave, on low power, in 15 second increments, mixing in between each, until mixture is HOT and butter and chocolate are completely melted. Whisk smooth.
Whisk in the vanilla and bourbon, then whisk in both sugars, beating until well combined. 
Beat in eggs, one at a time, beating well after each addition.  
Fold in the dry ingredients, stirring just until combined. 
Using a rubber spatula, gently fold in the pecans and chocolate chips. 
Scrape the batter into the prepared pan and smooth the top. Sprinkle a few extra pecans on top of of the batter, if desired. 
Bake for 34 to 36 minutes, or until the edges are firm and the top is shiny and slightly cracked. 
Place pan on a cooling rack and cool completely, about 2 hours, before slicing. 
Sprinkle with sea salt, if using, right before serving. 
Notes
For the oil, canola oil, vegetable oil, or melted coconut may be used. 
If you'd like extra chocolate chips on top, press them on top of the baked brownies right when they comes out of the oven. 
Courses Dessert
Cuisine American
Recipe by Baker by Nature at https://bakerbynature.com/bourbon-pecan-brownies/