Made with brown sugar, apple pie spices, and browned butter, these Cinnamon Apple Oatmeal Cream Pies are bursting with flavor! Rolled oats and a cinnamon spiked cream cheese filling add incredible texture, too. This fall treat is a family favorite!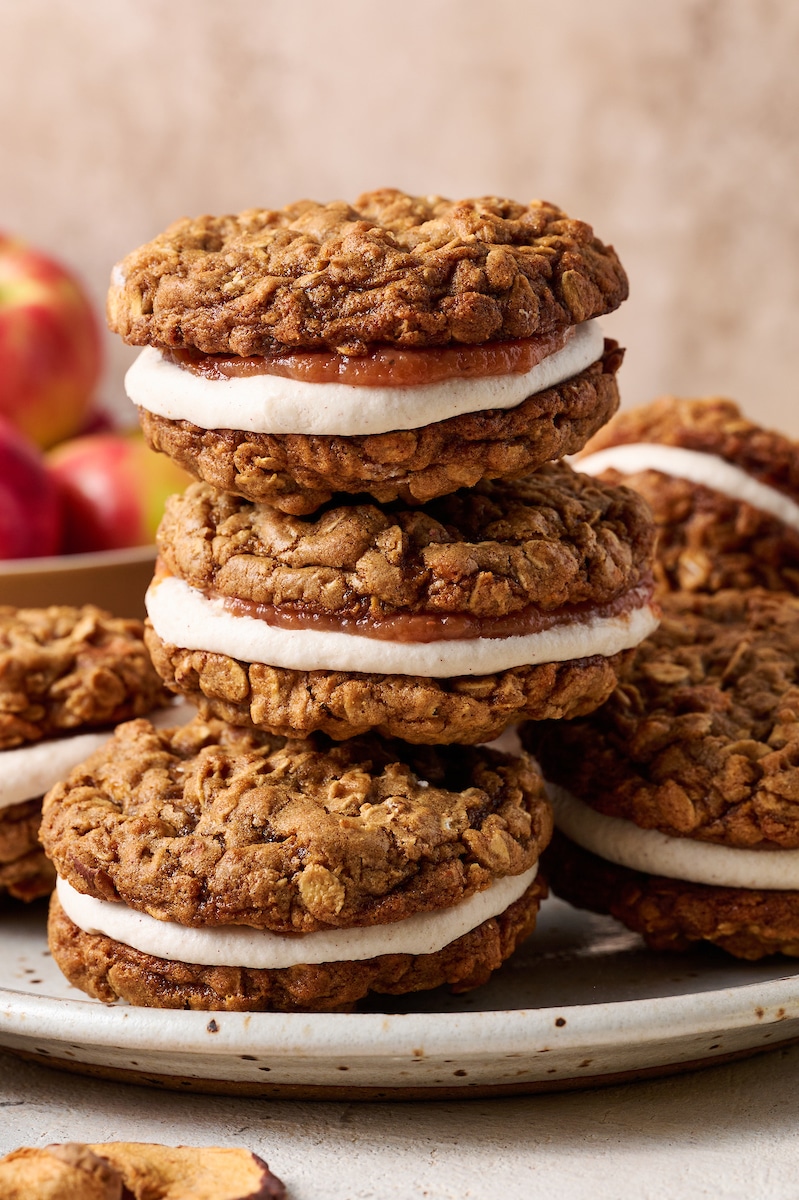 Apple Oatmeal Creme Pies
We're no stranger to homemade oatmeal cream pies! In the past we've whipped up gingerbread oatmeal cream pies and molasses cream pie cookies… and now, we're adding a cinnamon apple version to the family!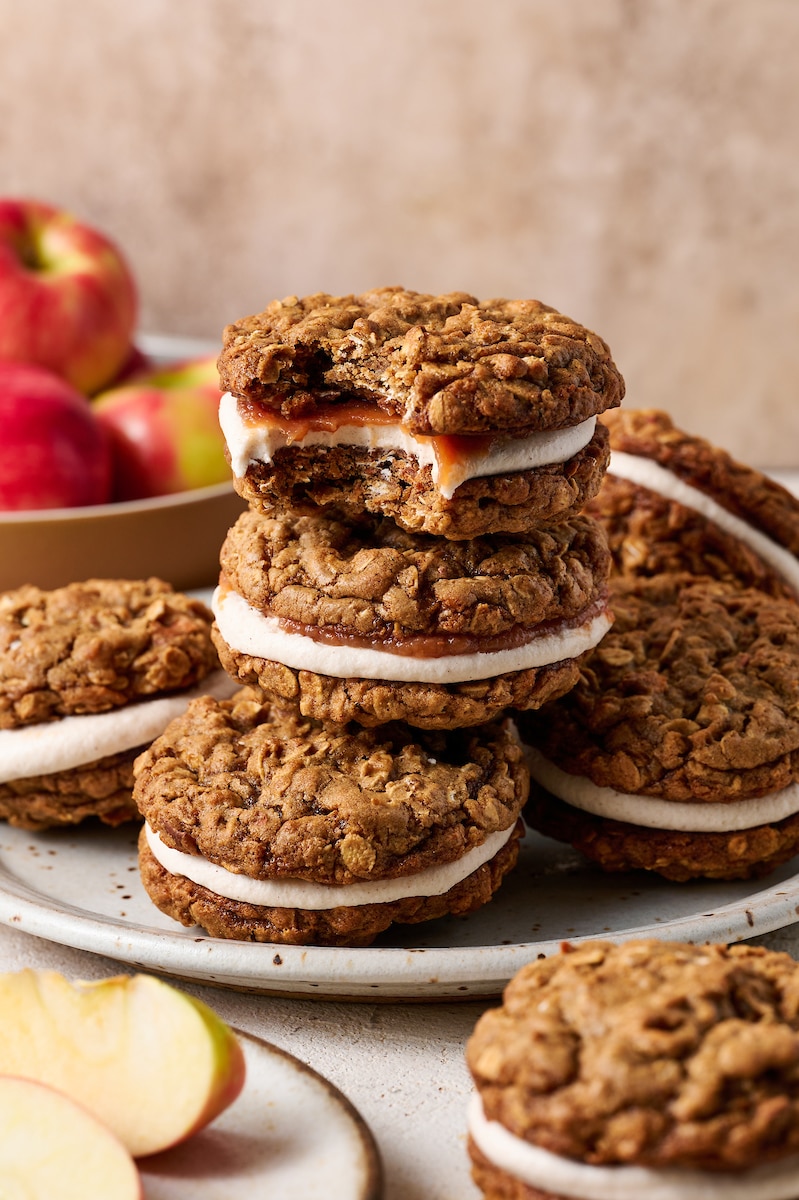 Cinnamon Apple Oatmeal Cookies
The secret to adding tons of apple flavor without making the cookies mushy from fresh apple or applesauce? CRUNCHY DRIED APPLES! They add a ton of flavor and are easily available at most grocery stores or big box stores like Target/Walmart.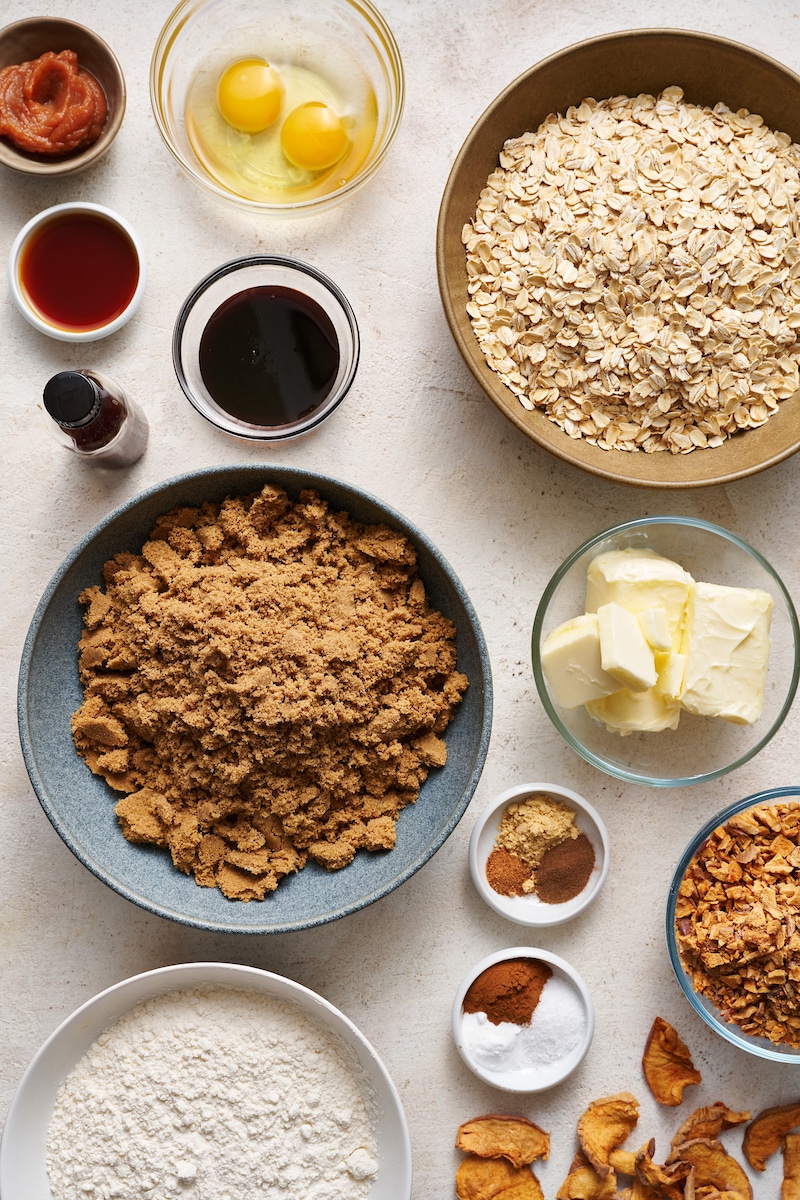 You'll also need:
Flour: The only flour I recommend using is all-purpose flour. That being said, a 1 for 1 gluten free flour might work if you're open to experimenting.
Oats: Old-fashioned rolled oats work best here! I don't suggest using quick oats or instant oats.
Spices: Cinnamon, ground ginger, ground nutmeg, and ground all-spice make up our homemade apple pie spice blend. If you prefer, you may sub 1 and 1/2 teaspoons of apple pie spice instead.
Baking Soda: Make sure yours is fresh! Helps the cookies spread.
Salt: Balances the sweetness and enhances the other flavors in the cookies. If you use salted butter, omit this ingredient.
Butter: Unsalted works best, but salted butter may be used in a pinch. Simply omit the salt called for. You'll brown the butter, which enhances the flavor x10!
Sugar: Dark brown sugar is my recommendation, but light brown sugar may be used if that's what you have on hand. But note this change will alter the color and texture slightly I don't suggest subbing granulated sugar.
Molasses: Adds flavor and gives the cookies their signature chewy texture.
Apple Butter: Adds even more apple flavor! And makes the cookies moist and chewy.
Vanilla Extract: As always, I suggest using real pure vanilla; not imitation or artificial.
Eggs: Be sure to use large eggs, and bring them to room temperature before use.
Baked Crunchy Apple Chips: I suggest the baked brand, but use whatever variety you can find. If the sizes vary, you can always weigh them to ensure you use the same amount called for.
P.S. I definitely put more cookies than this than seen below, but I only put a few here so you can really see what they should look like before and after baking!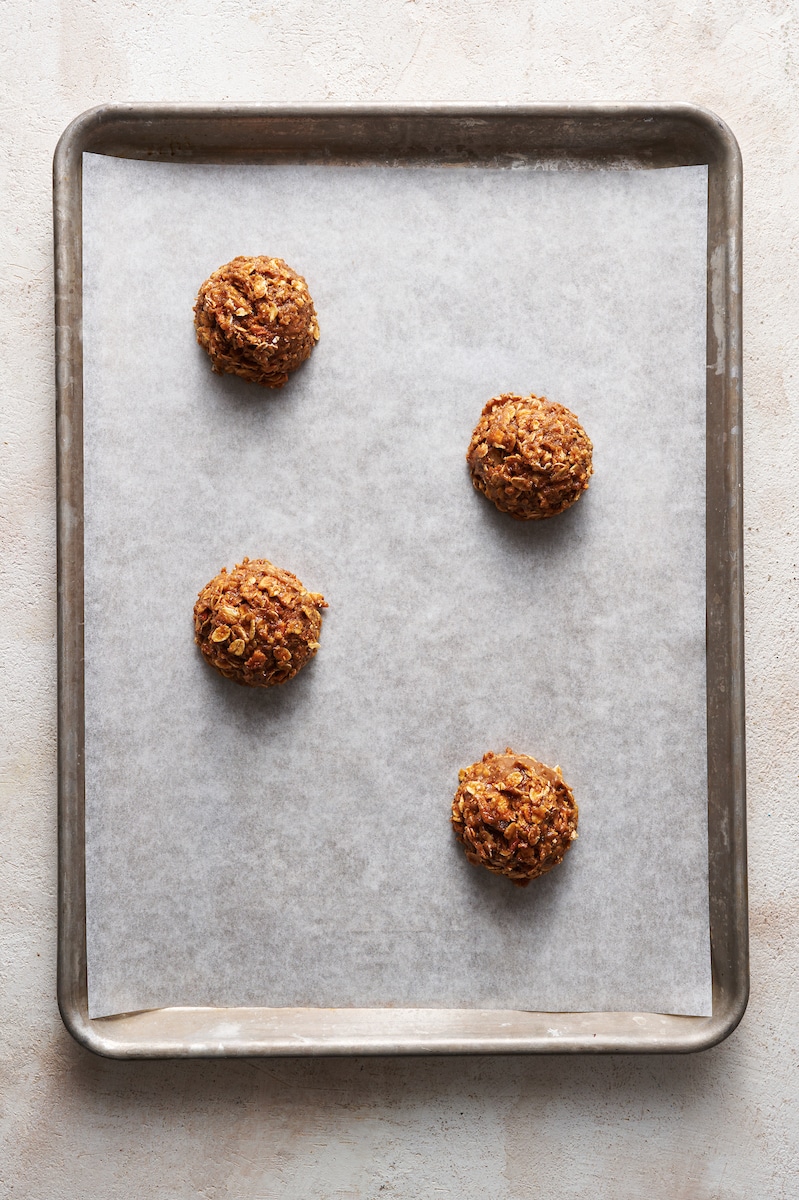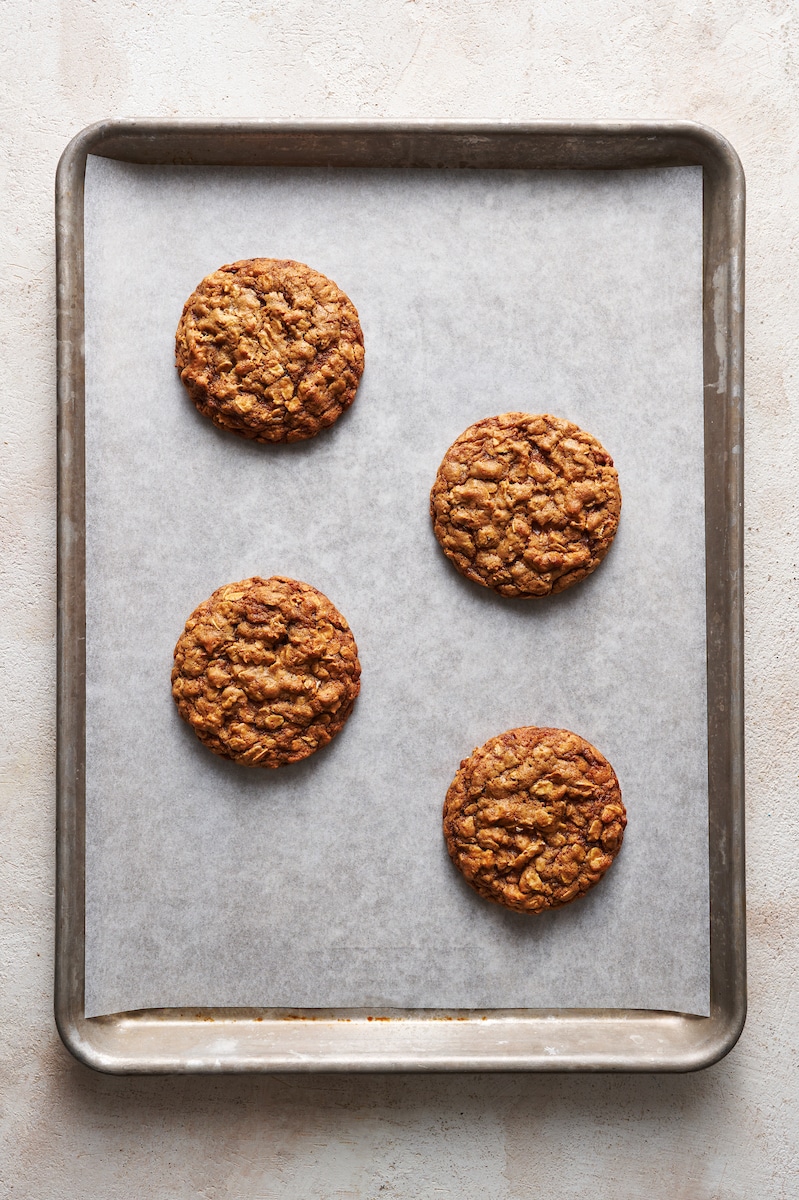 These cookies bake at 350 degrees and are so easy! No electric mixer needed. You'll just need two large bowls!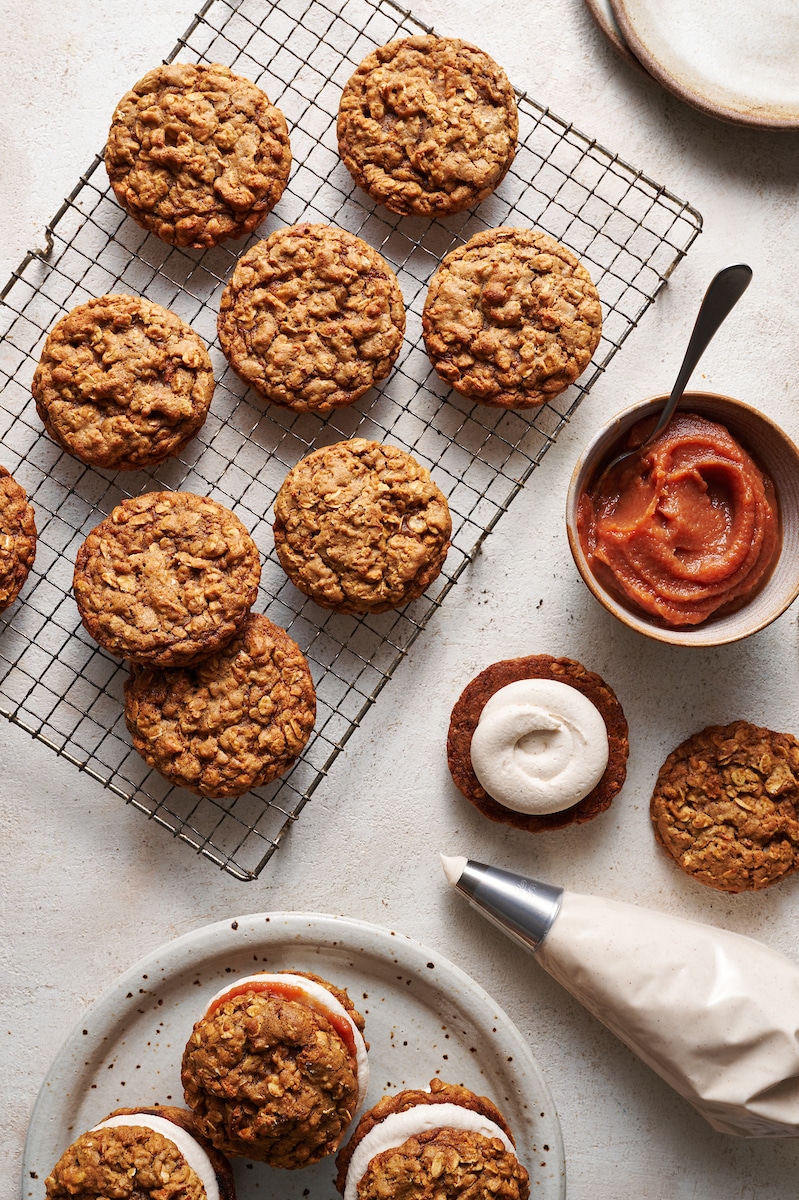 Cream Cheese Filling
Cream filling is literally what turns cookies into… well, cream pies! Here's what you'll need to make it:
Cream Cheese: Be sure to use full-fat cream cheese and that it's at room temperature.
Butter: Unsalted works best, but again, salted will work. Just omit the salt called.
Confectioners' Sugar: To ensure your frosting is silky smooth, sift it before your add powdered sugar to the frosting.
Vanilla Extract: Just a small touch to add flavor.
Salt: Balances the sweetness. If using salted butter, omit.
Milk: I suggest full-fat milk aka whole milk. Heavy cream will work in a pinch although you may need to add a little more.
Cinnamon: Adds the perfect touch of flavor to the cream cheese frosting.
Apple Butter: Gets spread on top of the cream cheese for another apple pop! So delicious and pretty!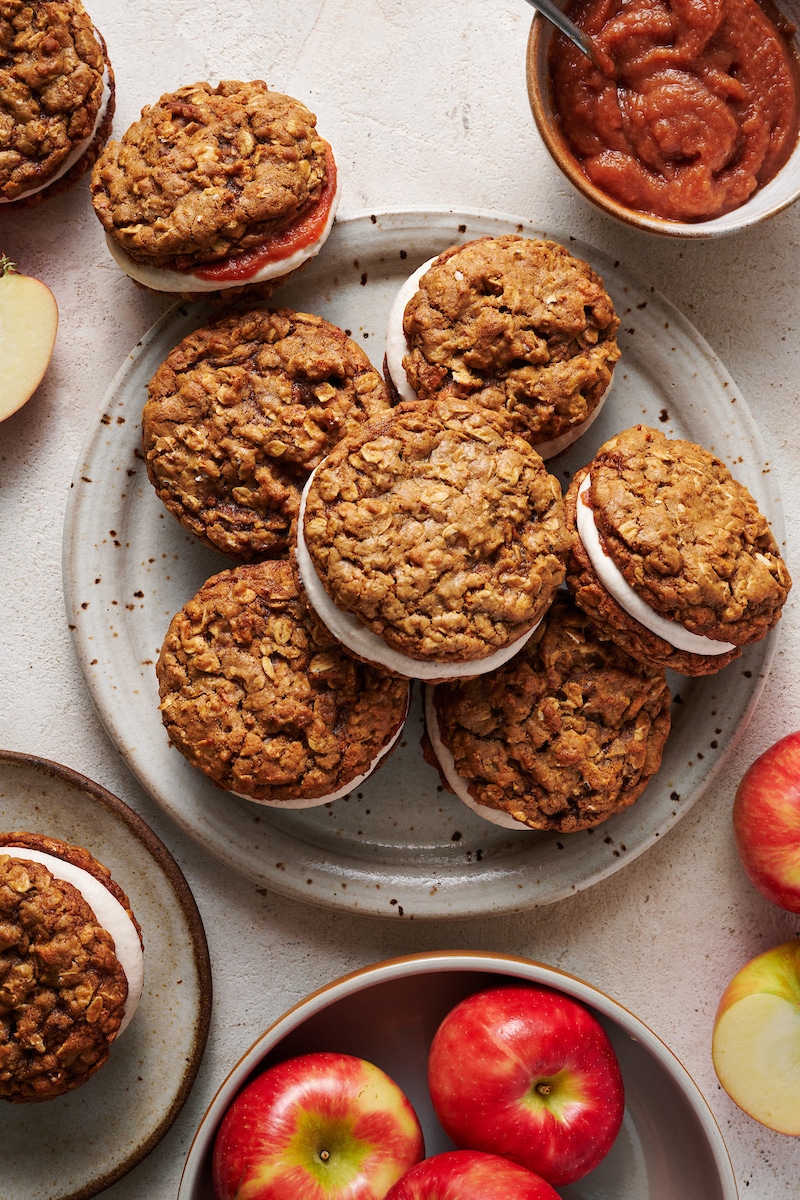 I like to scrape the creamed mixture into a piping bag and pipe it onto the cookies, but you could also use a large ice cream scoop to divide it among the cookies.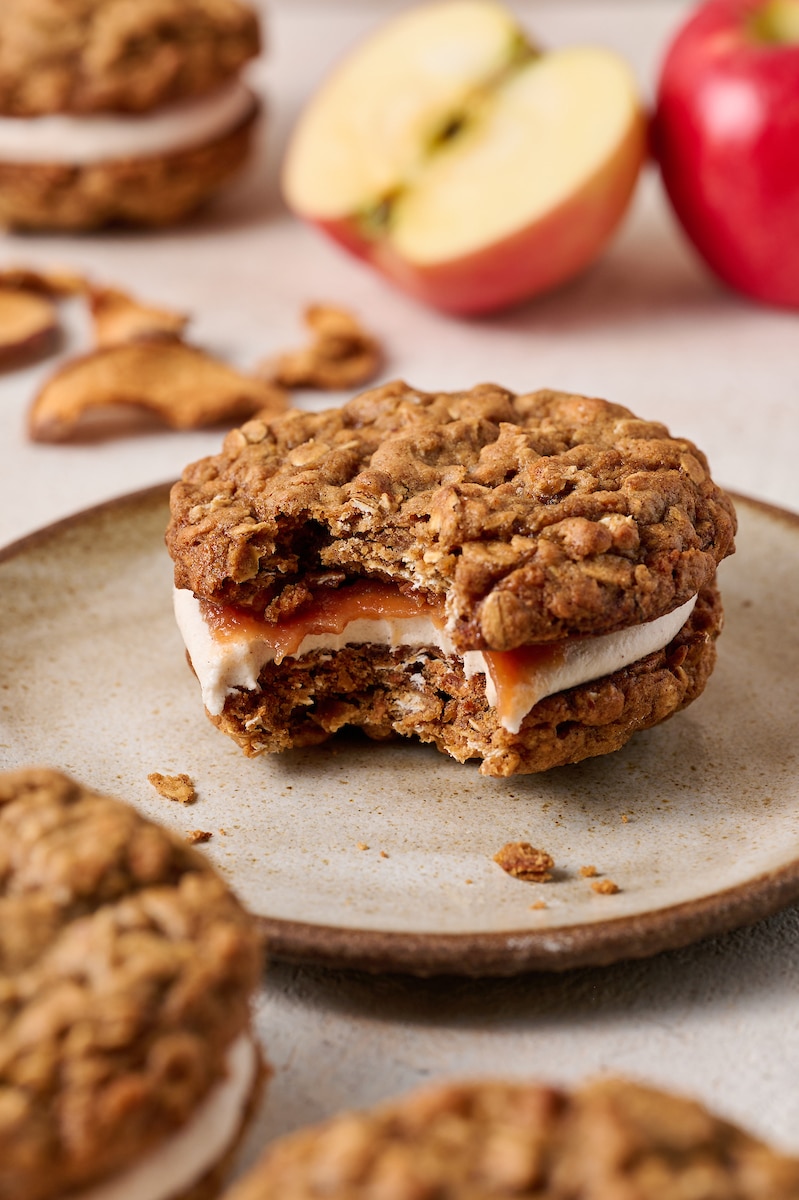 More Apple Recipes: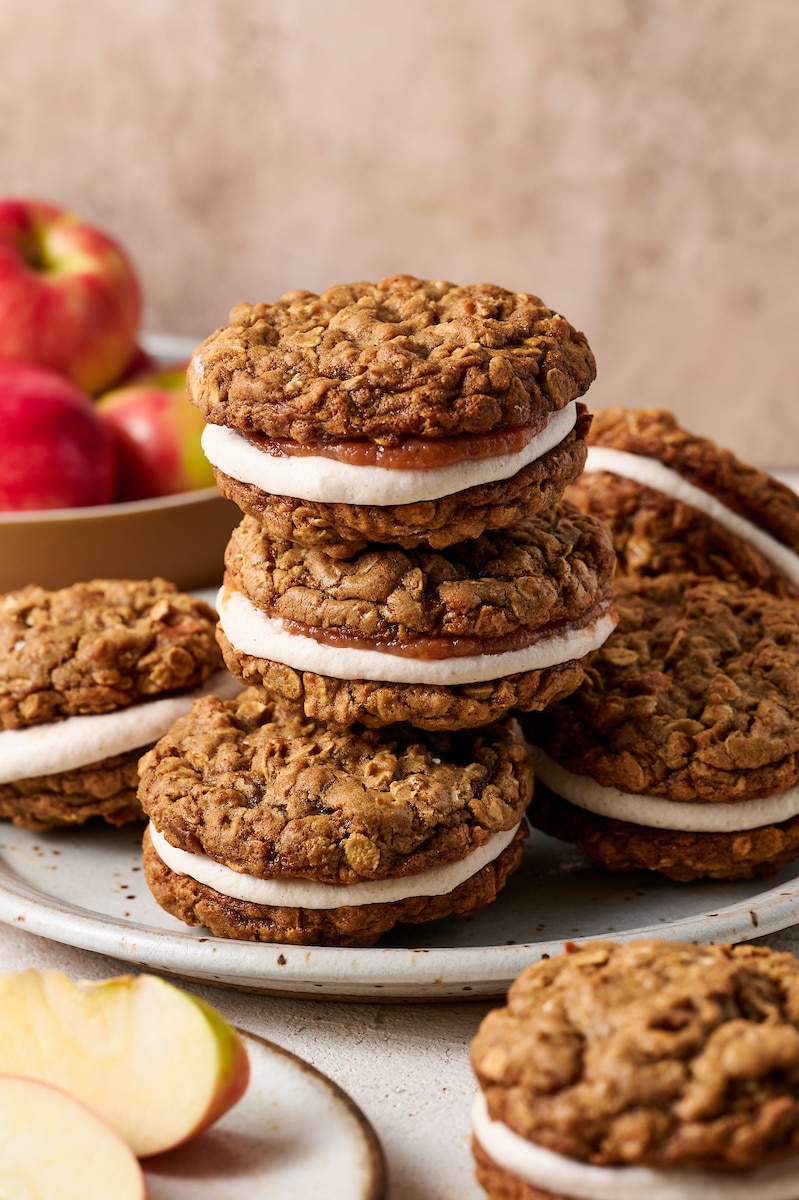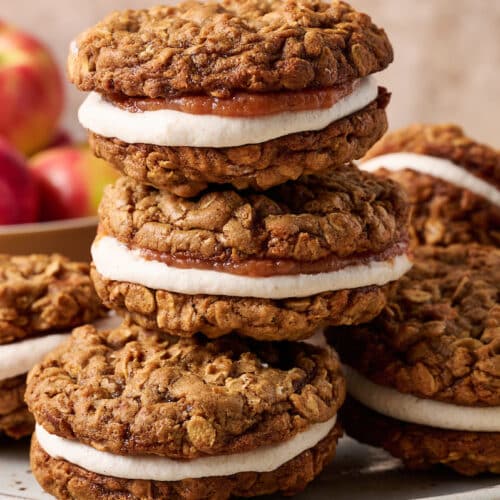 Cinnamon Apple Oatmeal Cream Pies
Made with brown sugar, apple pie spices, and browned butter, these Cinnamon Apple Oatmeal Cream Pies are bursting with flavor! Rolled oats and a cinnamon spiked cream cheese filling add incredible texture, too. This fall treat is a family favorite!
Ingredients
For the Cinnamon Apple Oatmeal Cream Pies:
2 cups (240g) all-purpose flour
3 cups (280g) old-fashioned rolled oats
2 teaspoons ground cinnamon
1 teaspoon baking soda
1 teaspoon salt
1 teaspoon ground ginger
1/2 teaspoon ground all-spice
1/4 teaspoon ground nutmeg
1 cup (227g) unsalted butter
2 cups (426g) dark brown sugar packed
2 and 1/2 Tablespoons (50ml) molasses not blackstrap
2 Tablespoons (41g) apple butter
1 Tablespoon (14ml) vanilla extract
2 large eggs room temperature
1 3.4 ounce bag regular baked crunchy apple chips roughly chopped
For the Cream Cheese Frosting:
1 cup (227g) full-fat cream cheese room temperature
1/2 cup (113g) unsalted butter room temperature
4 and 1/2 cups (513g) confectioners' sugar sifted
1 teaspoon vanilla extract
1/8 teaspoon salt
2 Tablespoons (28ml) whole milk
1 teaspoon ground cinnamon
1/4 cup (82g) apple butter
Instructions
For the Cinnamon Apple Oatmeal Cream Pies:
Preheat the oven to 350 degrees (F). Line two large baking sheets with parchment paper and set aside.

In a medium bowl, combine the flour, oats, cinnamon, baking soda, salt, ginger, all-spice, and nutmeg. Set aside until needed. 

In a large saucepan over medium heat, melt the butter. Continue cooking, stirring frequently with a wooden spoon, until the butter smells nutty and is a light golden brown color with tiny golden specks on the bottom of the pan. 

Remove from heat and scrape the butter, and all brown butter bits that have settled on the bottom of the pan, into a large mixing bowl.

Whisk in the brown sugar and beat well to combine, about 3 minutes. Whisk in the molasses, apple butter, and vanilla, beating until everything is well combined, about another minute. 

Whisk in the eggs, one at a time, beating until eggs are fully incorporated into the batter.

Using a rubber spatula, fold in half of the dry ingredients. mixing just until everything is combined. Mix in the remaining dry ingredients and apple chips, mixing just until combined, and be sure to scrape the sides and bottom of the bowl a few times to ensure the batter is evenly combined. 

Do not chill cookie dough! This cookie dough is best baked right away. Using a large spring loaded scoop, drop 3 tablespoon-sized portions of cookie dough (70 grams) onto the prepared baking sheet. Repeat with all cookie dough, leaving 2-inches between each cookie for spreading. 

Bake, one tray at a time, for 11 minutes, or until spread out and lightly golden brown in color. 

As soon as the cookies come out of the oven, use a spatula to gently press in any edges that spread too much while baking, creating perfectly round cookies. 

Cool on the baking sheet for 10 minutes then transfer to a cooling rack to cool completely. Turn the cookies over so they're ready to be filled.  
For the Cream Cheese Frosting:
In the bowl of a stand mixer fitted with the paddle attachment, or in a large bowl using a handheld electric mixer, beat the cream cheese and butter on medium-speed until completely smooth. 

Reduce the speed to low and gradually add in the confectioners' sugar, beating until all of the sugar is completely combined. Add in the vanilla, salt milk, and cinnamon and beat smooth. 

Once all of the ingredients have been incorporated, increase the speed to medium-high and beat for a minute, or until very fluffy. 

Scrape the frosting into a large piping bag fitted with a large open round piping tip.

Pipe a swirl of frosting onto the bottom side of one cookie, piping it in the center of the cookie and leaving a ¼" border around the edges (the frosting will spread when pressed). Then top with a teaspoon of apple butter. Place another cookie on top and lightly press to seal them together. Repeat with all cookies. 
Notes
You may make these cookies smaller if desired. You may need to reduce the baking time by a minute or two if reducing the size.