The only thing better than apple pie is cute little apple hand pies!!! Featuring apple shaped homemade pie crust and gooey apple pie filling, these individual apple pies bake up in about 15 minutes! The perfect apple hand pies to for share with loved ones this holiday season.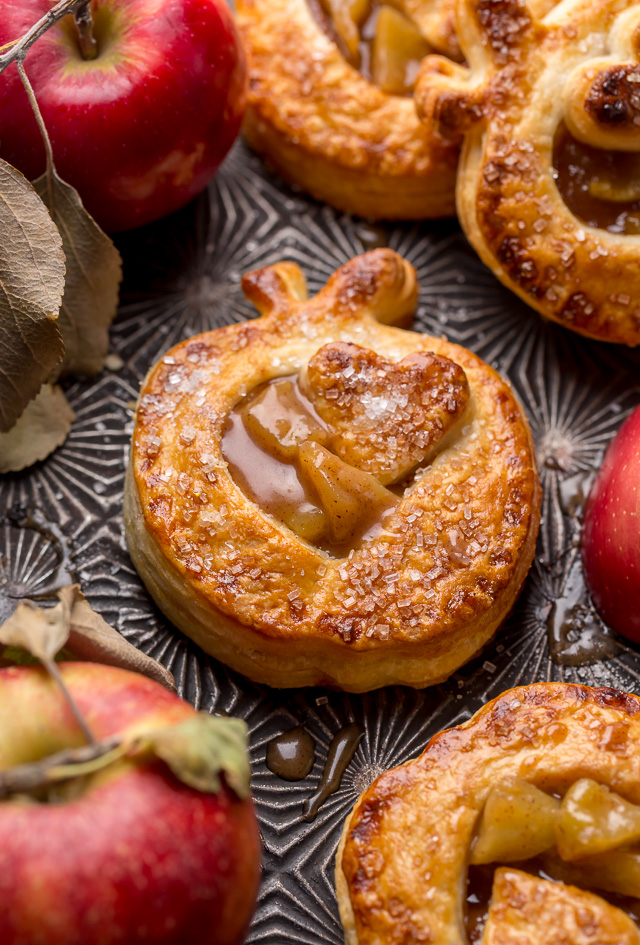 Apple Hand Pies
Here in the Hudson Valley, Fall is in full swing! And it has me feeling inspired to bake all things apple! Starting with these mini apples pies.
I picked up the a few pounds of apples at the Rhinebeck Farmers Market on Sunday, and was thrilled to see several of them still had leaves attached. So pretty, right?
To make the pies themselves extra adorable, I used an apple shaped cookie cutter to cut out the pie crust, and a mini heart shaped cookie cutter to make the vent on top of the pies. But if you don't have said cookie cutters on hand, you can simply cut the dough into squares! They won't be as cute, but they'll still be a super delicious apple hand pie recipe! If you cut them into squares, they'll look a lot like these cinnamon apple bourbon hand pies.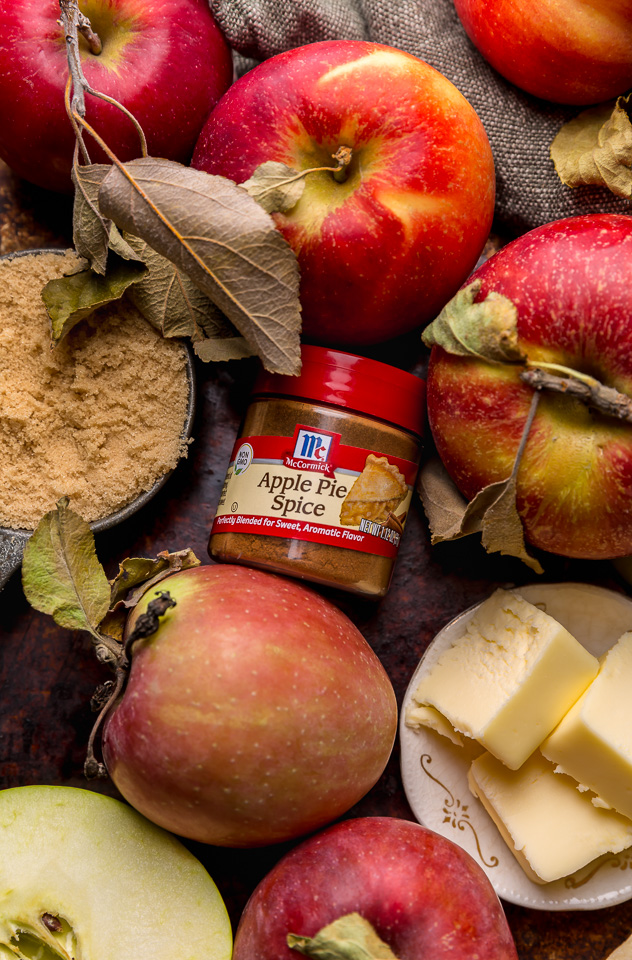 Apple Hand Pie Filling
fresh apples: you can use almost any apple to make apple pie, but my favorites are Granny Smith and Honeycrisp apples! Jonagold, Golden delicious, and Northern Spy are also great choices! No matter what the variety, you'll need to peel, core, and dice the apples. You should dice the apples pretty fine.
butter: I prefer using unsalted, but salted butter will definitely work in a pinch! It will just add a touch of saltiness to the filling. But it's such a small amount it won't be very notable.
spices: Apple pie spice is the easiest way to add apple pie flavor. But if you don't have any on hand, just add 1/2 teaspoon of cinnamon, and 1/4 teaspoon of nutmeg, and allspice. Both options add warmth and depth of flavor!
lemon juice: Cuts the sweetness with a pop of acidity. Don't worry, you won't taste the lemon!
sugars: Dark brown sugar and granulated sugar add sweetness and depth of flavor. 1/4 cup of each is the perfect combination!
flour: our thickening agent! be sure not to add this too soon, or the apple pie filling will be lumpy.
You'll cook the apple pie filling over medium heat and it will take about 10 to 12 minutes in total.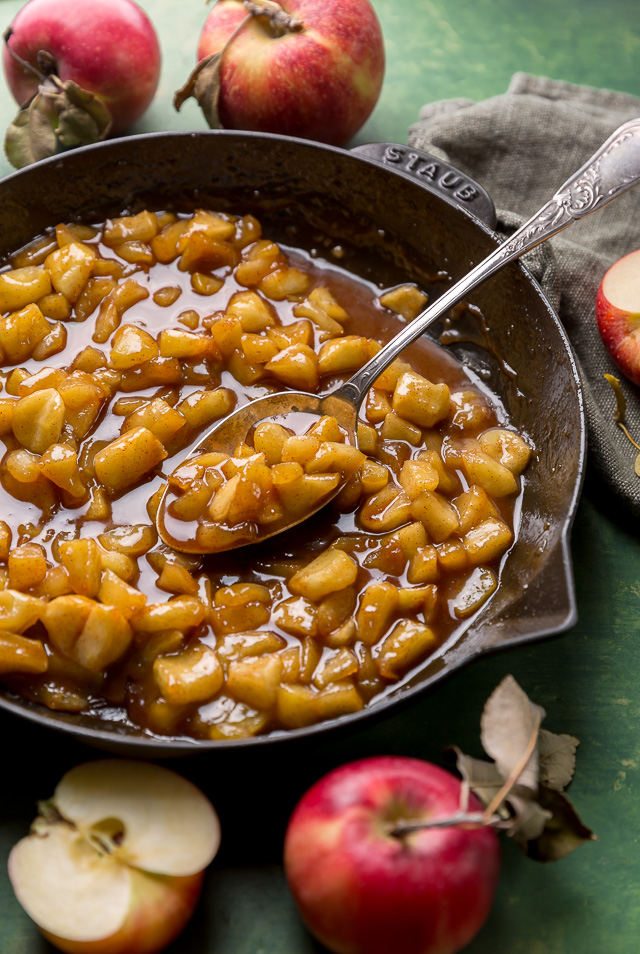 Pie Crust Recipe
Our hand pie crust is made with common pie crust ingredients like flour, butter, sugar, and salt. And a few unexpected ingredients like baking powder and sour cream. The combination? A dream come true! It's quite easy to work with, but if you're completely new to pastry, check out the recipe video for my cherry hand pies which has a step by step tutorial on making the crust (it will load at the top of the page) .
P.S. The pie dough does need to be chilled for at least an hour before being rolled out! So be sure plan according time wise.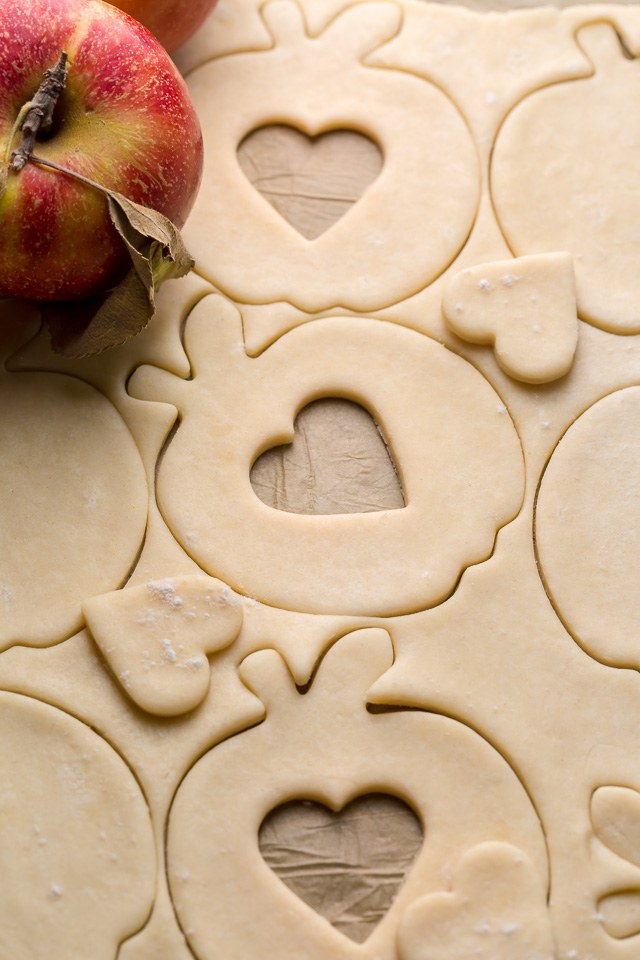 Assembling your Apple Hand Pies
Preheat your oven! And line a large baking sheet with parchment paper.
Roll pie crust out into a large square. About 18×18 inches.
Using a pastry cutter or cookie cutters, slice the rolled dough into 16 squares or shapes. You may be able to get 18 if you roll the dough thin enough!
Divide the apple filling among 1/2 of dough pieces. About 1 Tablespoon is a good amount of filling. Too much and it'll seep out and burn in the oven.
On the other half cut a small vent in the center. You can use a tiny heart shaped cookie cutter like I did! Or use a paring knife to create a tiny X like I did with these blueberry hand pies. 
Brush the edges of apple filled pies lightly with egg wash, then top each filled pie dough with a vented piece of pie dough. Use the tines of a fork to crimp the edges shut.
Bake until golden brown! About 15 to 20 minutes.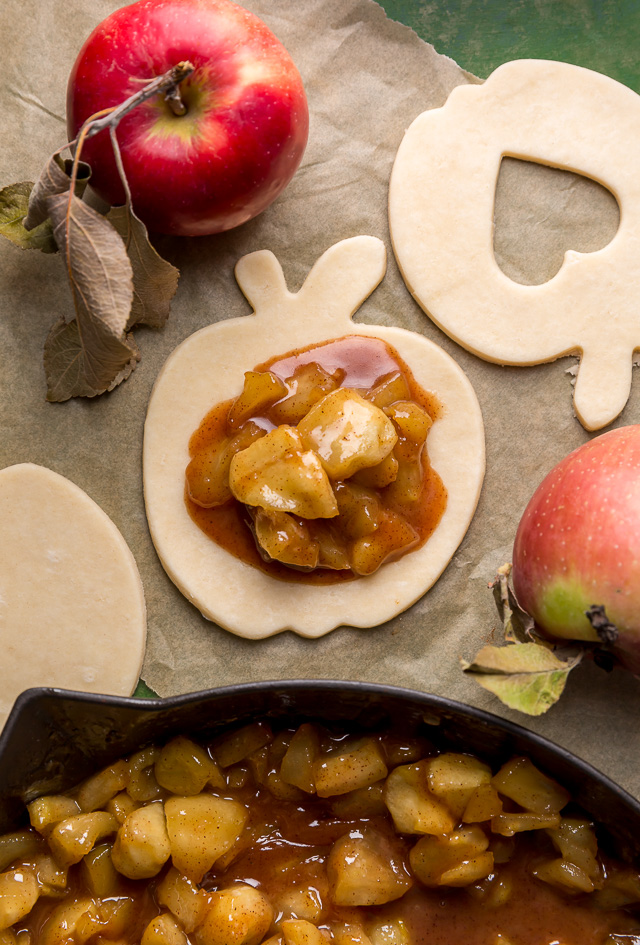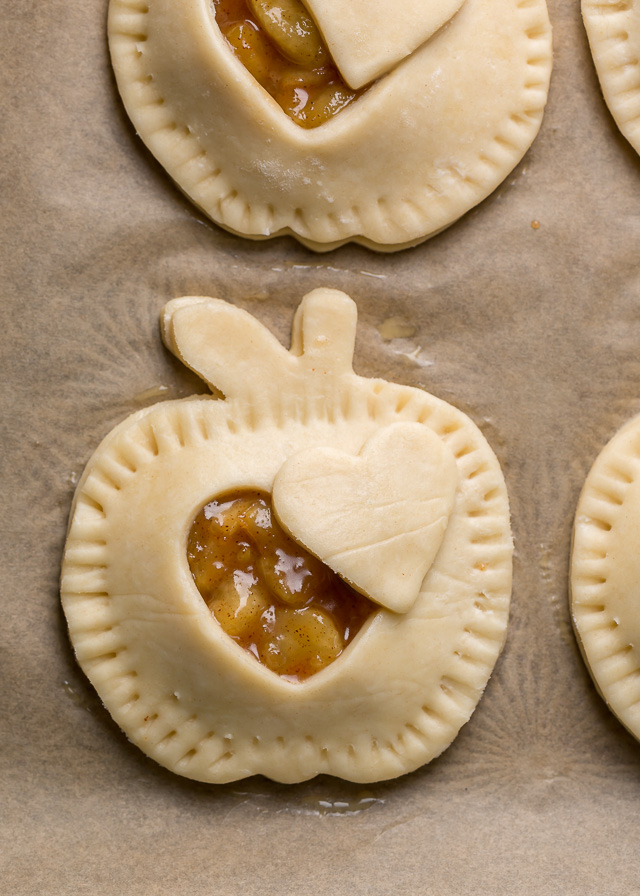 These are delicious warm or at the room temperature! But my favorite way to serve is fresh from the oven with a giant scoop of ice cream! The perfect Fall treat and so much easier than making a whole pie!
More Apple Pie Recipes:
Serving a Crowd?
If you're baking these apple hand pies for a larger gathering or celebration, may I make a tiny suggestion? DOUBLE THE RECIPE! Because trust me when I say these fly off the dessert table. And I've seen people eat 2 or 3 in one sitting!!! Thankfully this recipe can be doubled or even tripled. Just make 2 or 3 portions of the crust and double the apple ingredients. I do recommend making the crust one at a time to avoid overworking the dough. But thankfully it can be make up to 3 days in advance and stored in the fridge. You can also pop it in the freezer for up to 2 months. Just be sure to remove the night before you want to use it and thaw in the fridge overnight. The apple pie filling can be made up to 48 hours in advance and stored in the fridge.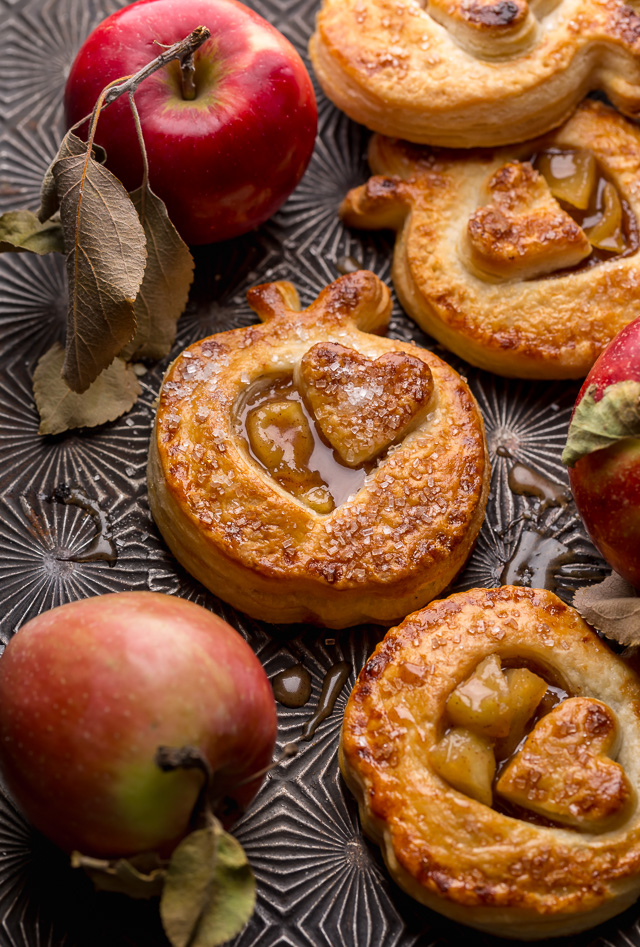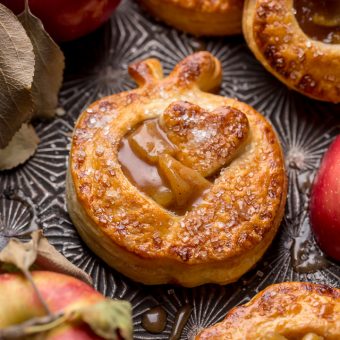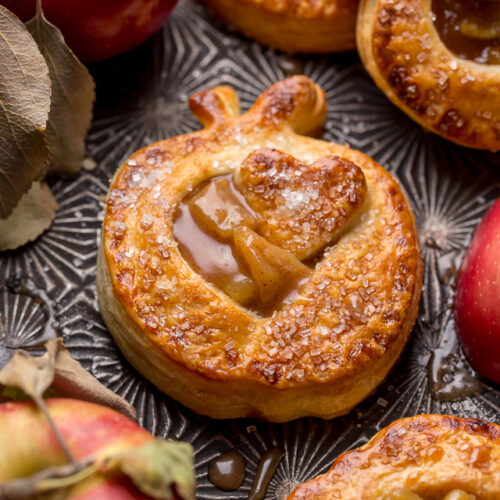 Cute Little Apple Hand Pies
The only thing better than apple pie is cute little apple hand pies!!! Featuring apple shaped homemade pie crust and gooey apple pie filling, these individual apple pies bake up in about 15 minutes! The perfect apple hand pies to for share with loved ones this holiday season.
Ingredients
For the Crust:
2 cups all-purpose flour
1/2 teaspoon salt
3/4 teaspoon baking powder
1 and 1/2 tablespoons granulated sugar
1 cup (8 ounces) unsalted butter, VERY cold, cut into cubes
1/2 cup FULL FAT sour cream, cold
For the Apple Pie Filling:
4 large apples, peeled and cored
3 tablespoons unsalted butter
1/4 teaspoon salt
1/4 cup white sugar
1/4 cup brown sugar
2 teaspoons apple pie spice
2 Tablespoons fresh lemon juice
2 Tablespoons all-purpose flour
Instructions
For the Crust:
In a large bowl whisk together the flour, salt, baking powder, and sugar.

Add the butter, working it in with your hands or a pastry cutter, until it's a coarse meal. The butter should still be in large, pea-sized pieces.

Using a rubber spatula, stir in the sour cream. The dough will be very shaggy at this point. Turn it out onto a well floured work surface, and bring it together with a few quick kneads.

Pat the dough into a 10 inch log, then roll it out into a 12" x 14" rectangle. Dust both sides of the dough lightly with flour, and starting with the shorter end, fold it in three - like a letter. Flip the dough over, and roll it again into a 12" x 14" rectangle. Fold it in three again. Wrap the dough in saran wrap, and chill for 1 hour.
For the Apple Pie Filling:
Peel and core apples. Dice them into tiny pieces and set aside.

Melt the butter in a large skillet over medium heat. Allow the butter to brown into a light golden color; about 1 minute.

Add apples into hot butter; sprinkle with salt and both sugars. Cook, stirring occasionally, until apples are completely softened, about 8 minutes. Mix in apple pie spice and lemon juice and continue cooking until apples are soft and sticky, 1 to 2 more minutes. Sprinkle the flour on top and mix well, allow mixture to thicken, about 2 minutes. Remove from heat and let cool for at least 15 minutes. 
Assembly:
When you're ready to make your pies, preheat the oven to 425 degrees (F). Line a large baking sheet with parchment paper and set aside.

Roll the dough out into a 16" x 16" square. Using apple cookie cutters, cut out sixteen apples. Or use a pastry well to slice the dough into 16 squares. 

Divide the apple filling among 8 of the squares, using about 1 heaping tablespoon for each. Brush some of the beaten egg along the edges of each filled square.

Cut a vent into each of the remaining eight squares, using a small knife or heart shaped cookie cutter.

Top each filled square with a vented square, and press along the edges with the tines of a fork to seal.

Brush the top of each pie with the remaining beaten egg, and sprinkle with sparkling sugar, if using.

Transfer the pies to the prepared baking sheet. Bake the pies for 15 to 18 minutes, or until crust is golden brown and filling is bubbling.

Remove them from the oven and let cool for 10 minutes before serving.