Simple and supremely moist apple muffins topped with melt-in-your-mouth buttery crumbs.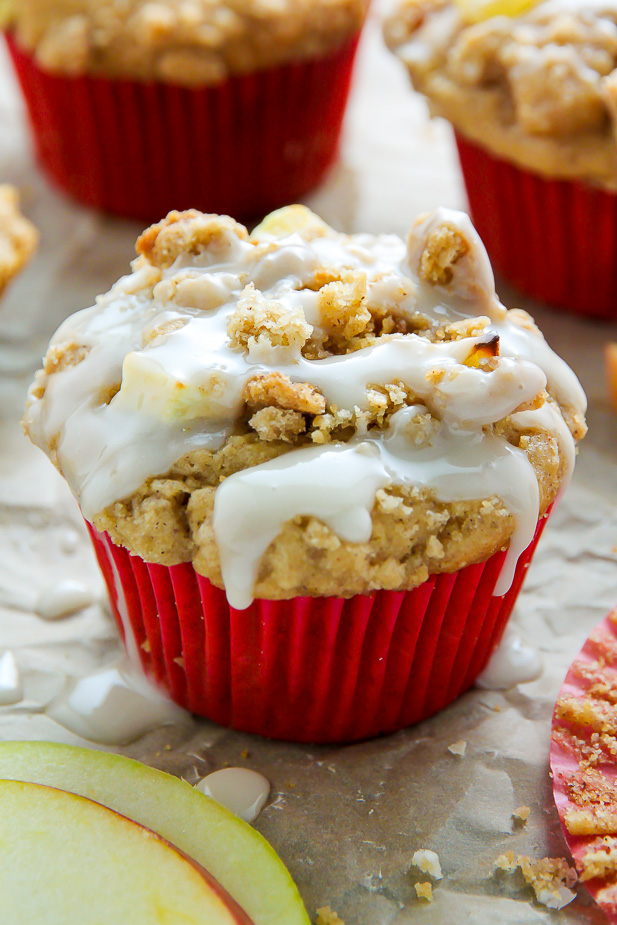 I just peeked at my calender and realized there are only 20 days left until I leave for vacation. Have I told you we're jetting off to explore Europe?! To say I'm excited would be an understatement. ← And don't worry! There will be lots and lots of new recipes for you while I'm away! I wouldn't leave you high and dry during the holidays. Life has been shoot, edit, and upload these past few weeks, but truthfully, I wouldn't have it any other way. If you have any last minute holiday recipe requests, send them my way this week and I'll see what I can do 🙂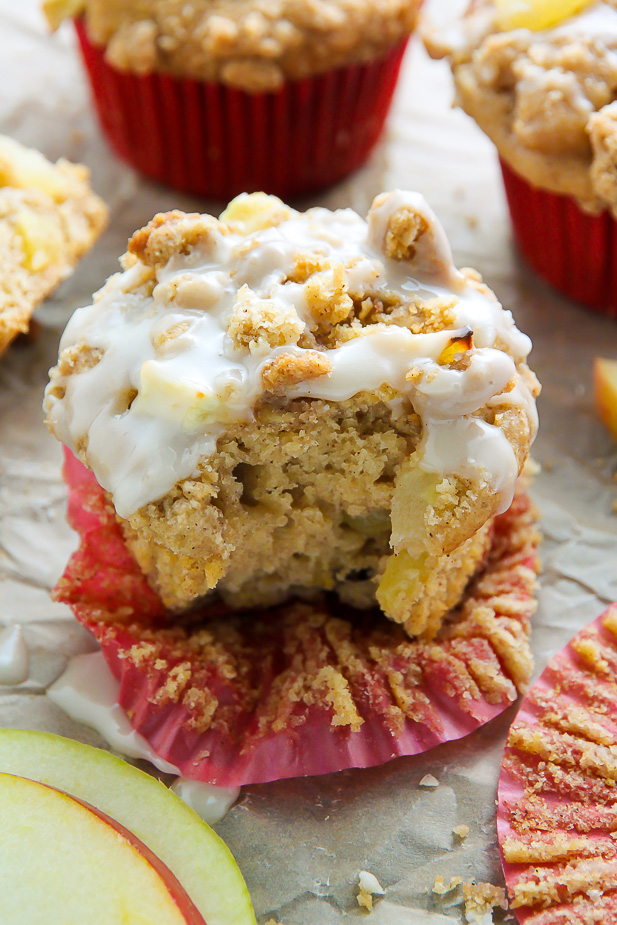 Anyway, let's talk about today's recipe: Brown butter apple crumb muffins.
Truth be told, apples aren't my first pick in the fruit department. However, when covered in cinnamon and sugar and nestled in a brown butter muffin, my tune begins to change.
Add a buttery crumb topping and maple glaze and I'm suddenly a total fan girl.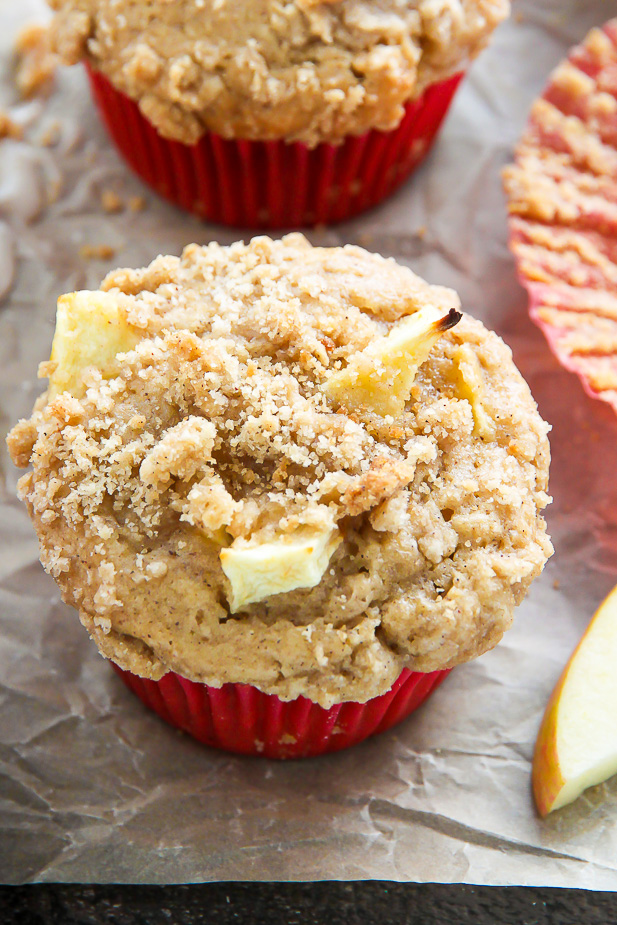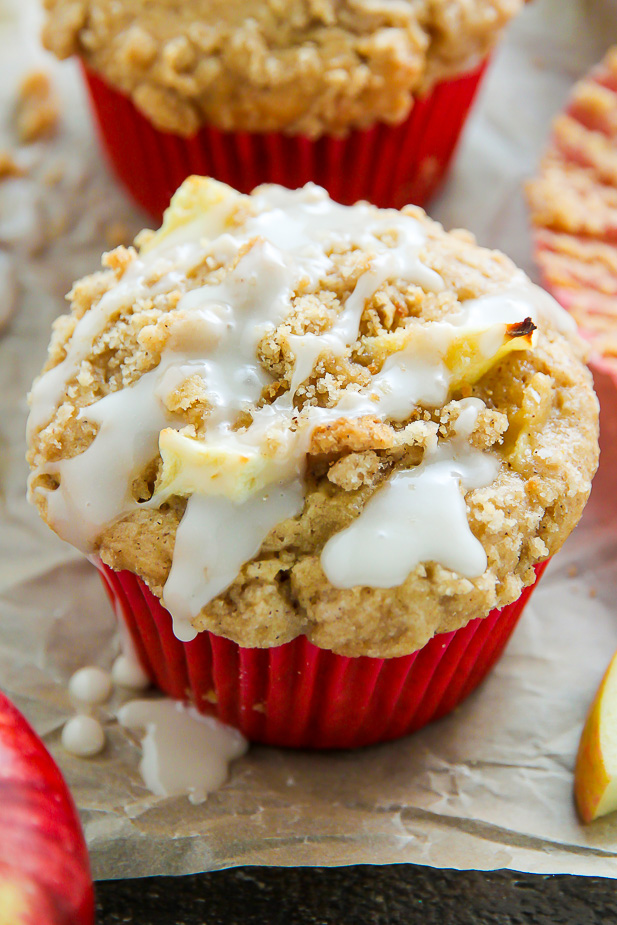 There are two must have features when it comes to muffins:
Texture: A quality muffin is going to be moist yet dense, with a perfectly puffy muffin top. A good muffin top will be slightly crunchy and crackly. To add even more pizzazz to the texture party, these muffins feature big, buttery crumbs that are sure to make you swoon.
Flavor: My brown butter apple muffins get their unbeatable flavor from an impressive cast of characters including brown sugar, apple cider, apple sauce, cinnamon, nutmeg, and ginger. Brown sugar is key for flavor and moisture, so I do not recommend using granulated sugar in its place. Far too often I find apple muffins lacking in actual apple flavor (???), but I've fixed this problem by adding apple cider and apple sauce to the batter. This recipe is bursting with real apple flavor in every-single-bite. The cinnamon, nutmeg, and ginger give the muffins a little extra zing, without overwhelming the delicate apple flavor. I also topped these muffins with a simple maple glaze, but that part is totally optional!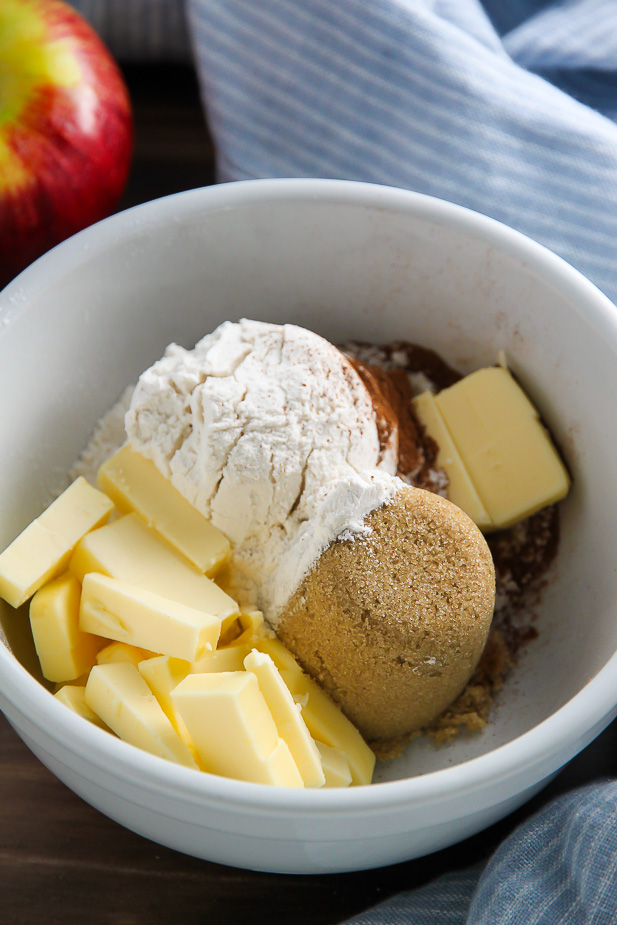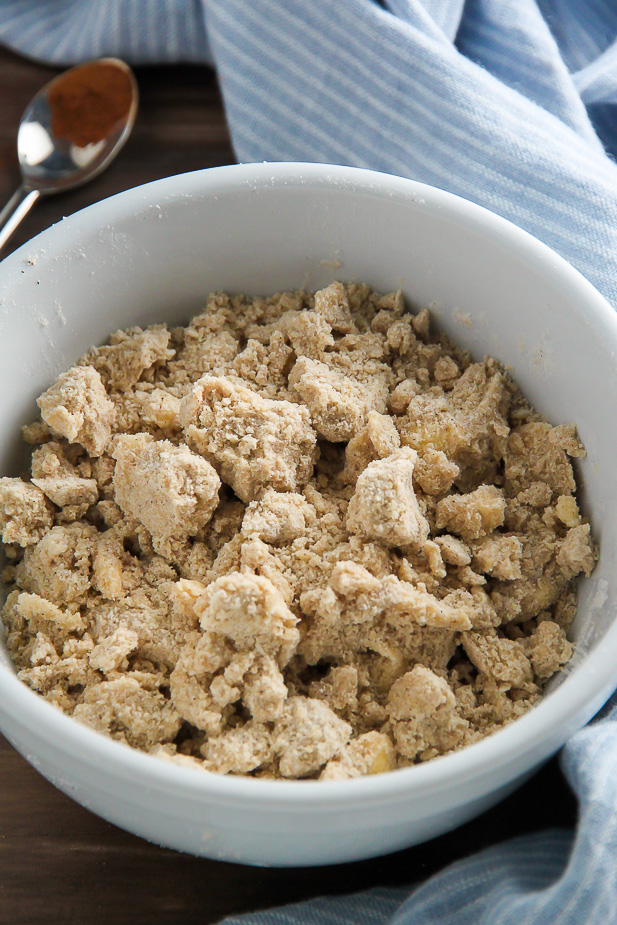 And these buttery cinnamon crumbs?  Well, they are so easy. You're simply going to combine light brown sugar, flour, cinnamon, salt, and butter and work it into large crumbs. Starting with very cold butter is key! For extra awesome crumbs, do this step first and pop the bowl into the freezer while you prepare the muffin batter. This is not a mandatory step, but I do find the crumbs hold their shape a little more when chilled.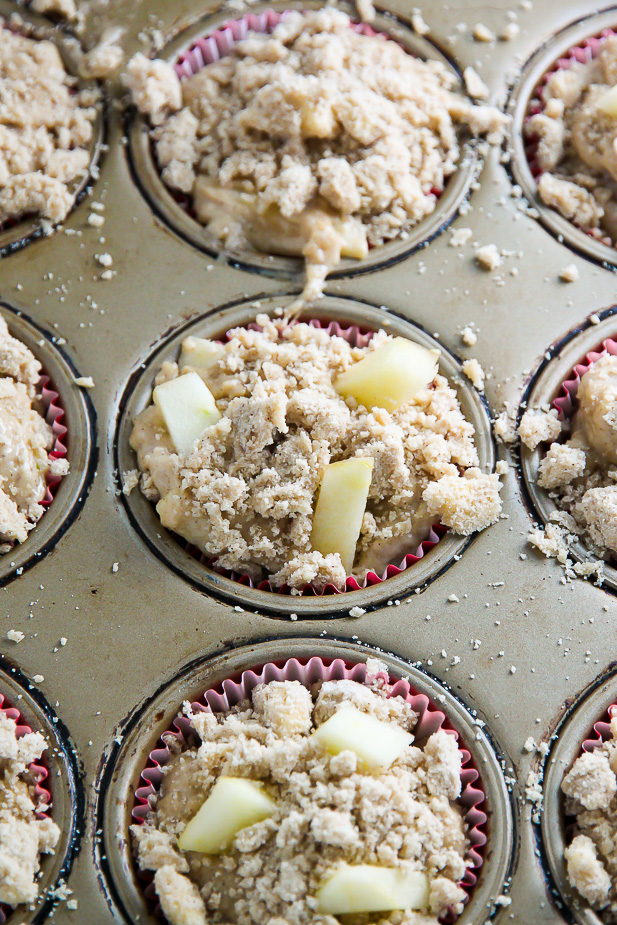 Now that you know how to make the perfect apple muffins… what are you waiting for? Grab your ingredients and get baking 🙂 xoxo
Brown Butter Apple Crumb Muffins
Simple and supremely moist apple muffins topped with melt-in-your-mouth buttery crumbs and a maple glaze!
Ingredients
For the Crumb Topping:
1/4 cup light brown sugar, packed
1/2 cup all-purpose flour
1/2 teaspoon ground cinnamon
1/2 teaspoon finely ground sea salt or table salt
3 and 1/2 tablespoons unsalted butter, very cold
For the Apple Muffins:
1 stick (4 ounces) unsalted butter, melted until browned and slightly cooled
1 cup light brown sugar, packed
2 large eggs, at room temperature
1 teaspoon vanilla extract
1/2 cup unsweetened applesauce
1/2 cup apple cider
3/4 cup full-fat sour cream
3 cups all-purpose flour (not packed)
1 tablespoon baking powder
1/4 teaspoon baking soda
1/4 teaspoon salt
1 teaspoon ground cinnamon
1/2 teaspoon ground ginger
1/4 teaspoon nutmeg
1 large apple peeled and chopped (about 1 cup of chopped apples)
For the Maple Glaze:
2 cups confectioners' sugar
1/4 teaspoon salt
2 tablespoons maple syrup
1/2 teaspoon pure maple extract (see post for more information on this)
3 tablespoons milk (I used whole, but any type will do)
Instructions
For the Crumb Topping:
In medium-sized bowl combine brown sugar, flour, cinnamon, and salt; mix until well combined. Quickly work in the butter using a pastry cutter, fork, or your fingers until well combined; stop when the butter reaches the size of tiny peas. Place in freezer until needed.
For the Apple Muffins:
Adjust an oven rack to the middle position; preheat oven to 400 degrees (F). Line a 12-cup muffin tin with paper liners; spray lightly with non-stick spray; set aside.

Melt butter in a saute pan, stirring frequently, over medium-heat until lightly golden brown; about 6 minutes. Transfer butter into a large mixing bowl; add in the brown sugar and beat smooth. Add in eggs, one at a time, beating well after each addition. Add in vanilla, applesauce, apple cider, and sour cream; whisk smooth.

In a separate bowl combine the flour, baking powder, baking soda, salt, cinnamon, ginger, and nutmeg. Add the dry ingredients into the wet mixture and stir until just combined. Fold in the apples.

Divide batter evenly among muffin cups, top with crumb topping, and bake for 20-22 minutes, or until set in the center and golden brown. Allow muffins to cool in the pan 5 minutes, then transfer them to a cooling rack. Top with maple glaze and serve warm.
For the Maple Glaze:
Combine all of the ingredients in a large bowl; whisk smooth. If the glaze appears too thick, add a little more milk; if the glaze appears too thin, add a little more confectioners' sugar.