Brown Butter Cinnamon Chip Oatmeal Cookies are rich, sweet, and subtly spiced. Perfect with your morning coffee.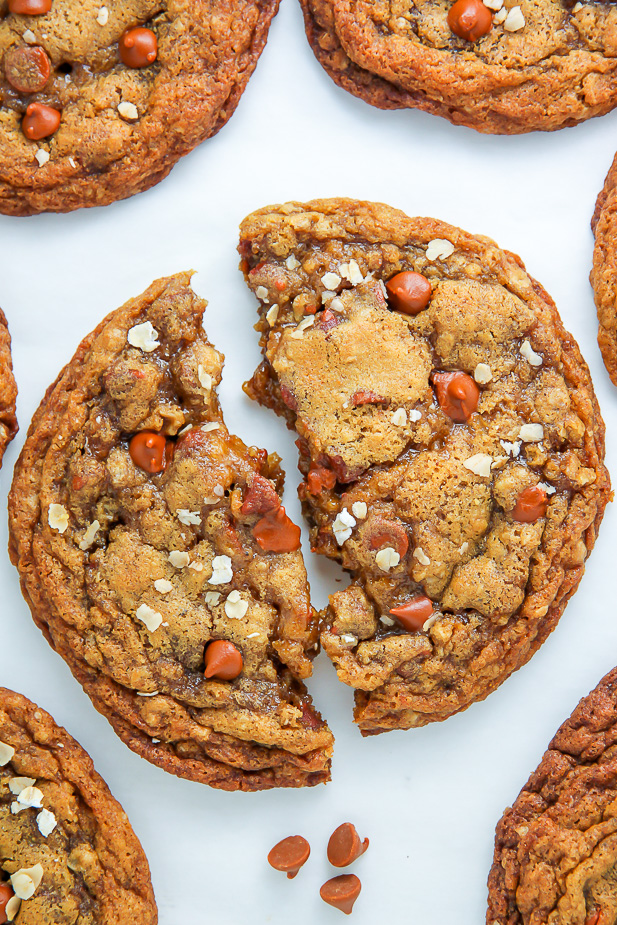 One of the quirkier aspects of my job as a food blogger is that I'm always baking a season or two in advance. In the deep months of Summer you can find me hunting down every can of pumpkin in a 20-mile radius, and now, with the holidays just a few months away, my kitchen has been an explosion of cranberries and candy canes galore. Suffice to say, I'm already in full-blown Christmas cookie mode, baking at least two batches a week, and constantly coming up with new "must try" combinations.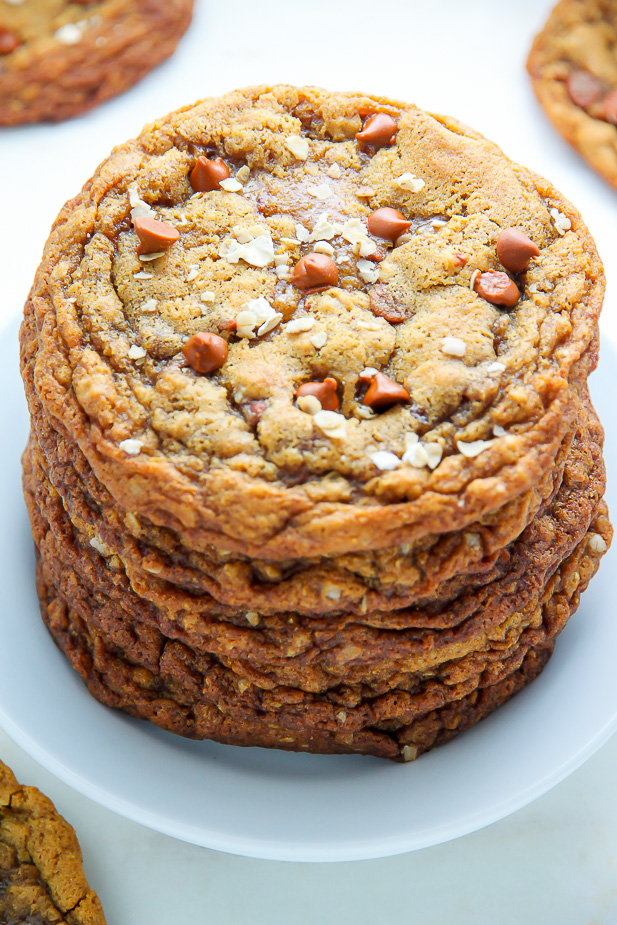 A reader (Hi, Kelly form Maine!) recently requested an oatmeal cookie recipe, so naturally, I developed one for her. And not just any oatmeal cookie recipe – uh uh. This one is flavored with brown butter, warm spices, and cinnamon chips. Got a recipe request of your own? Shout it out in the comment section below!
P.S. Have you seen cinnamon chips at your grocery store? They're typically in the baking aisle near the chopped nuts/chocolate chips. You can also order them online
.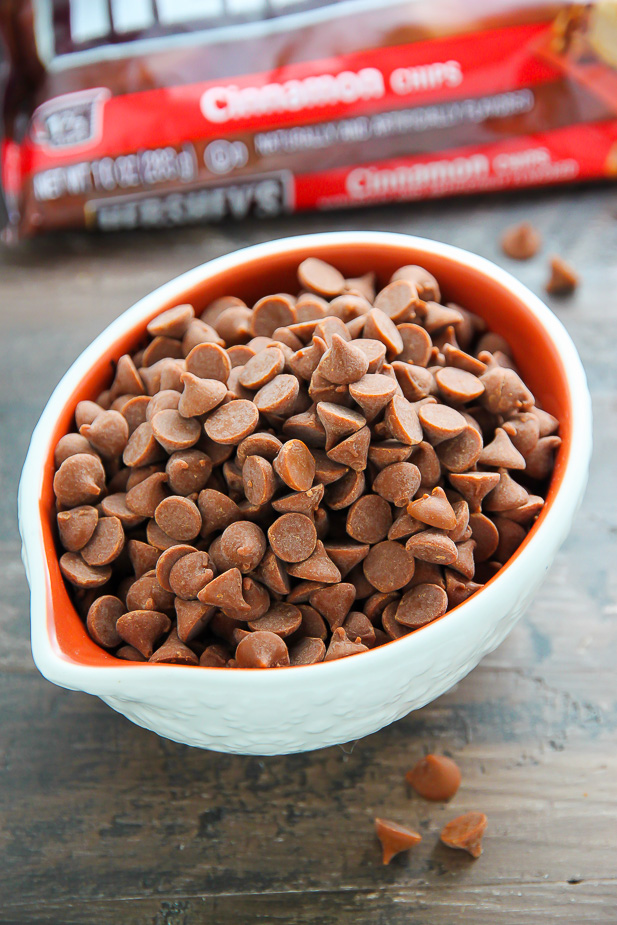 The cast of characters for this cookie recipe is slightly long, but the ingredients are simple and I bet you have most of them already on hand. For the dry ingredients you'll need flour, oats, brown sugar, granulated sugar, baking powder, baking soda, cinnamon, ground ginger, and ground cloves. For the wet ingredients you'll need molasses, vanilla extract, butter, and eggs. <<< I know; so many things! But go take a peep in your pantry and see how many you already have there.
The first step of this recipe is browning the butter, and if you've never done this before – fret not. It's very easy and requires just a touch of patience. You'll start off melting the butter in a skillet; once the butter has completely melted you'll continue to cook the butter, on medium heat (or medium-low if your stove top runs hot) until it's turned a golden brown and smells slightly nutty. Just be sure you stay stove side once the butter has melted, as browned butter can turn into burnt butter very fast.
Word of advice: Don't skimp on time when it comes to cooling the brown butter. The brown butter must be at room temperature for this recipe to work. I find it takes about an hour (in my fridge) for the butter to come back to the correct consistency, so plan ahead.
Although the brown butter and cookie dough both require chilling, the cookies themselves bake up super fast! Hallelujah, these cookies are out of the oven in just 10 minutes. ♥
In this recipe, I hope, I have achieved everything you could want from an oatmeal cookie; first of all – and most importantly (to me) – crunchy buttery edges leading the way to a chewy, melt-in-your-mouth cookie interior; rich, cozy flavor thanks to brown butter, a subtle kick of spice, plus gooey cinnamon chips; all from a recipe simple enough to make baking these an approachable idea any day… or night. Enjoy!
Brown Butter Cinnamon Chip Oatmeal Cookies
Thick and chewy Brown Butter Cinnamon Chip Oatmeal Cookies - sure to be a new favorite.
Ingredients
8 tablespoons unsalted butter, melted until browned and brought back to room temperature
1 1/4 cups all-purpose flour (measured properly/not packed)
1/2 cup *quick cooking oats (not instant)
1/2 teaspoon cornstarch
1/2 teaspoons baking powder
3/4 teaspoon baking soda
1/4 teaspoon salt
1 teaspoon cinnamon
1/2 teaspoon ground ginger
1/8 teaspoon ground cloves
1/2 cup light brown sugar, packed
1/4 cup granulated sugar
2 tablespoons molasses (not blackstrap)
1 teaspoon vanilla extract
1 large egg + 1 egg yolk, at room temperature
1 cup cinnamon chips
Instructions
Place the butter in a small sauce pan over medium-heat and cook for about 4 minutes – stirring frequently – or until the butter has completely melted and taken on a golden brown hue. Remove from heat and pour the butter into a small heatproof bowl. Place the bowl in the refrigerator (or freezer) and bring the butter back to room temperature. I suggest stirring the butter every 30 minutes or so with a rubber spatula, so ensure even cooling. *You'll know the butter is at room temperature when you press a finger into the top and it makes a slight indentation.

Once the butter is at room temperature…

In a large mixing bowl combine the flour, oats, cornstarch, baking powder, baking soda, salt, cinnamon, ginger, and cloves; set aside.

In the bowl of an electric stand mixer fitted with the paddle attachment - or in a large bowl using a handheld mixer - combine the browned butter and sugars; beat on medium speed until light and fluffy; about 5 minutes. Beat in molasses and vanilla.

Add in the egg and egg yolk, one at a time, beating well after each addition.

Slowly add the dry ingredients into the wet mixture, beat on low until just combined; about 25 seconds. Using a rubber spatula, fold in cinnamon chips. Cover the bowl with plastic wrap and refrigerate for one hour.

When ready to bake, preheat oven to 350 degrees (F). Line 2 large baking sheets with parchment paper or silicon baking mats.

Scoop 2 tablespoon sized balls of dough out, roll them into balls, and place on prepared baking sheet. Repeat with all dough, leaving 2 1/2 inches in between cookies (they spread a lot!). Bake in preheated oven for 9 minutes, or until set at the edges but still slightly jiggly in the center.

Allow cookies to cool 5 minutes on the baking sheet before transferring to wire rack to cool completely.