Start your holiday baking with this Brown Butter Eggnog Pound Cake with Salted Caramel Buttercream! Moist, full of flavor, and so decadent, it's perfect for Christmas morning or dessert!
Eggnog Pound Cake 
When it comes to eggnog, I was a late (late, late, late!) bloomer.
For as long as I can remember my mom and brother did a little nog toast on Christmas eve, and I never wanted a thing to do with it. See, Christmas eve is when we got to pick our special drink of the year (yeah, of-the-year!), and in my kid brain, something that looked like milk SO wasn't the way to go. I mean, mountain dew?! Cherry coke?! Yeah. Those were my guys.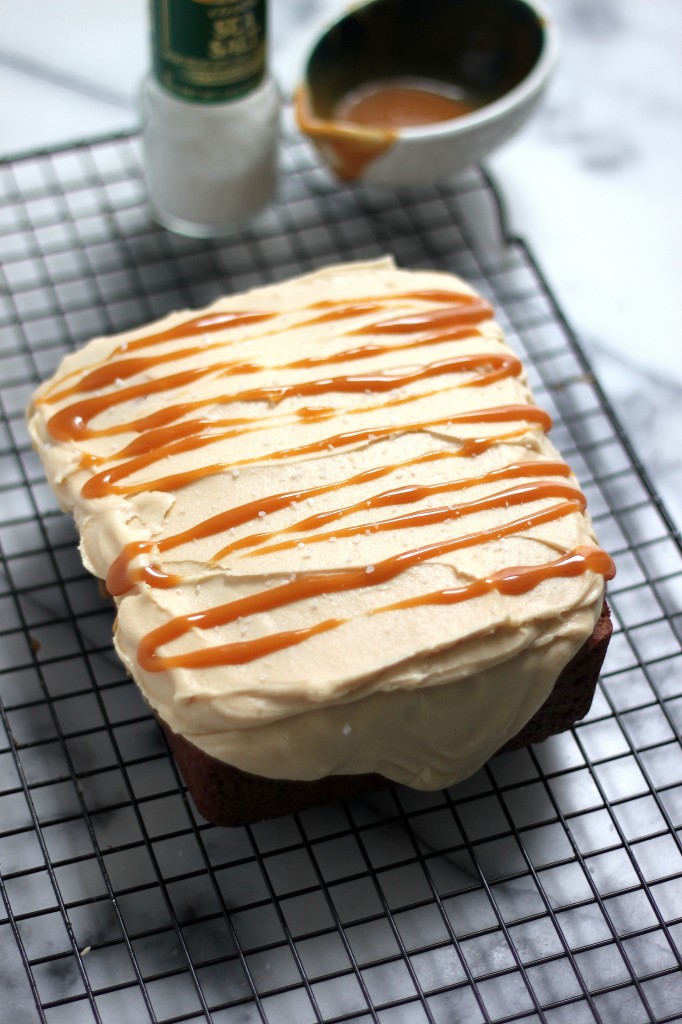 It wasn't until one year they decided to tell me I couldn't have any because I wouldn't like it that I decided to give it a go. After one sip I declared my love for it, and never went back.
Dramatic? Me? Neeeeeever. 
Needless to say, I'm so excited about eggnog these days! In fact, my next 3 (possibly 4, if I can work the kinks out in a recipe I'm testing) posts are hot and heavy with the nog, so um, this is your warning 😉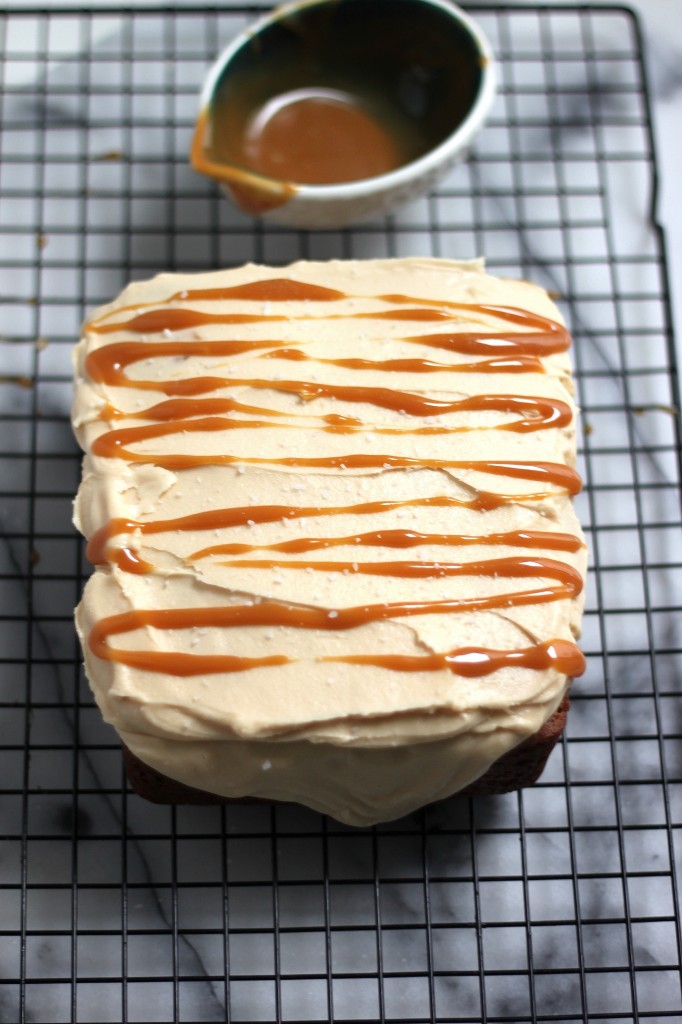 Todays post celebrates both the nog, and a personal favorite, SALTED CARAMEL! Oh, and browned butter. Which is my soul mate, I've discovered.
Awkward? Moving on!
The pound cake base is beautifully laced with a strong eggnog flavor, and has an almost velvety crumb. It was honestly so lovely it didn't even need a thick robe of salted caramel buttercream. But hey – why not?!
The salted caramel buttercream is everything you dream a good buttercream will be, and then a little more. I loved how bold the caramel taste was, with just a hint of salt and here and there. It helps wrap each bite into the perfect little present for your… mouth. Yep.
Happy Thursday, loves! xo
More Eggnog Recipes:
Brown Butter Eggnog Pound Cake with Salted Caramel Buttercream – Baker by Nature
Yields two loaves of cake
Ingredients:
For the Brown Butter Eggnog Pound Cake
2 sticks (8 ounces) unsalted butter, melted until browned, then cooled
2 3/4 cups all purpose flour
2 teaspoons baking powder
1/2 teaspoon salt
1/4 teaspoon nutmeg
2 1/4 cups light brown sugar
1 teaspoon vanilla extract
6 large eggs, at room temperature
2/3 cup eggnog
1 teaspoon orange zest, optional
For the Salted Caramel Buttercream
4 ounces unsalted butter, very soft
(1) 8 oz package cream cheese, at room temperature
1 teaspoon vanilla
1/2 cup cooled caramel sauce, plus extra for drizzling (for this particular cake I was lazy and just melted down some Kraft caramels and a little cream, and it worked great)
1/2 teaspoon sea salt
4 cups confectioners sugar
Instructions: 
For the Brown Butter Eggnog Pound Cake
Preheat oven to 350 degrees (F). Butter two large loaf pans, and dust lightly with flour. Place the pans on a large baking sheet; set aside.
In a large bowl whisk together the flour, baking powder, salt, and nutmeg.
Place the sugar and orange zest in a large bowl, and working with your fingers, rub them together until the sugar is moist and thoroughly imbued with the fragrance of orange.
Add the eggs to the sugar and whisk them into the sugar, beating until they are thoroughly incorporated. Whisk in the vanilla extract, then whisk in the eggnog. Switching to a large rubber spatula, gently stir in the dry ingredients in 3 or 4 additions; the batter will be smooth and thick. Finish by folding in the cooled browned butter. Pour batter into the prepared pans and smooth with a rubber spatula.
Bake for 55 to 60 minutes, or until a cake tester inserted into the center of the cakes comes out clean.
Frost cakes with salted caramel butter cream once completely cooled.
For the Salted Caramel Buttercream
In a stand mixer fitted with the paddle attachment beat cream cheese and butter until light and fluffy. Add the vanilla. Add Caramel sauce and salt, then, a 1/2 cup at a time, add the powdered sugar. Place the bowl in the fridge for at least 30 minutes before frosting cooled cakes.