Soft and fluffy BROWN BUTTER Eggnog Snickerdoodle Donuts! Baked, not fried, these are ready in about 30 minutes! Perfect for kicking off the holiday baking season or for Christmas morning!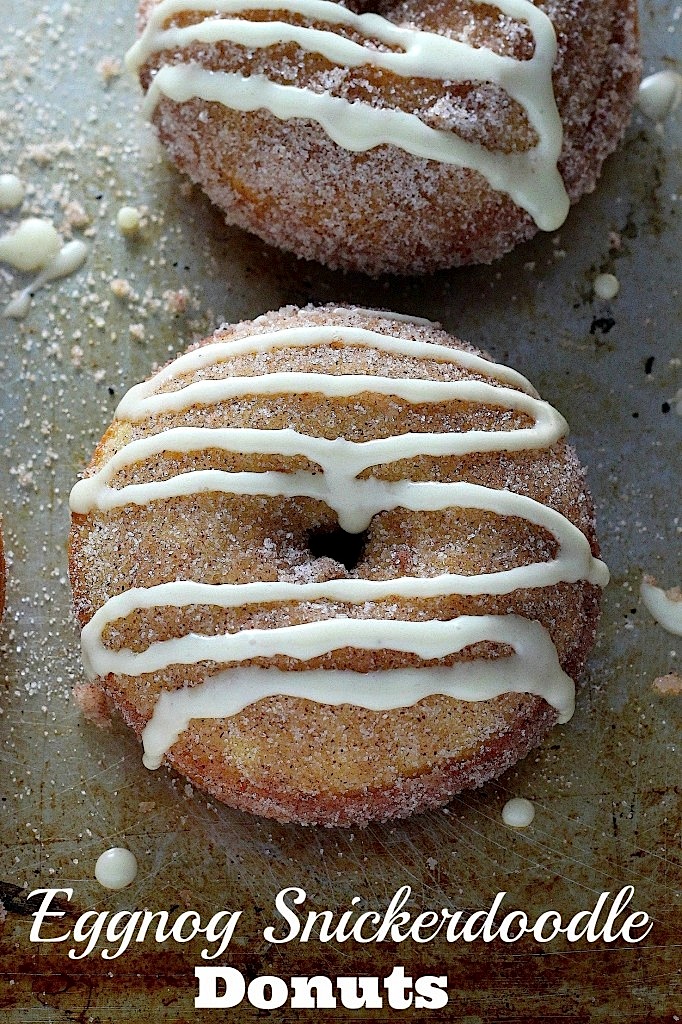 Eggnog Donuts
Ok, I know I say this a lot – but for real this time – these are the best donuts ever! I ate the first one in 30 seconds and couldn't stop talking about it ALL day.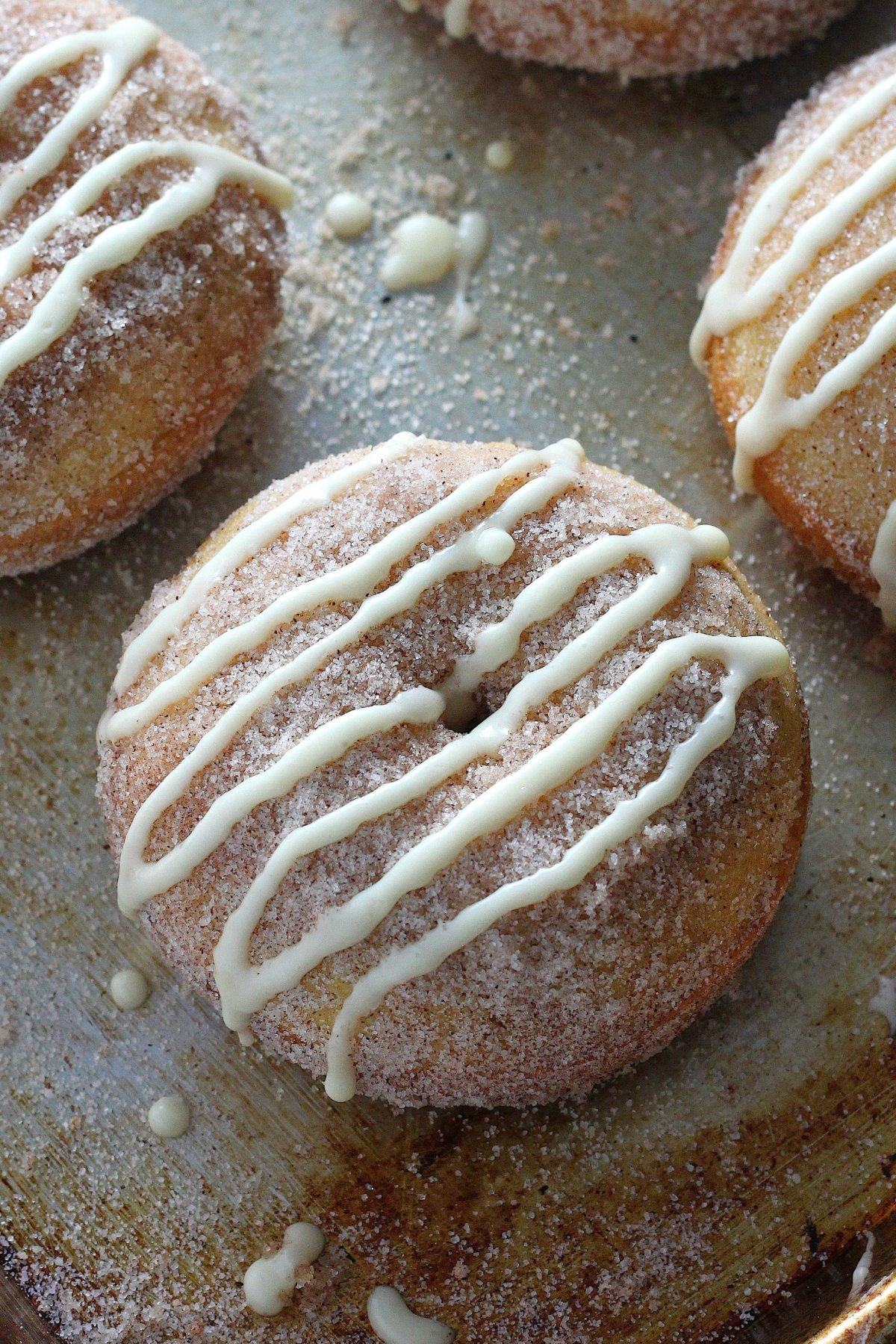 What makes them so amazing?! Well…
The donut batter has a whole half cup of real eggnog in it! So the eggnog flavor really shines through. Once the donuts have baked up into soft, delicious rings, they get rolled in butter, cinnamon, and sugar! SO darn good. To top it all off, each donut gets a swizzle of eggnog glaze. So much amazing eggnog flavor in each bite!
For this recipe I used the fabulous 1-to-1 Gluten Free Flour from Bob's Red Mill. We seriously could not taste the difference! Bob's Red Mill Gluten Free 1-to-1 Baking Flour makes it easy to transform traditional recipes to gluten free. Simply follow your favorite baking recipe, replacing the wheat flour with this extraordinary blend. It is perfectly formulated for baked goods with terrific taste and texture – no additional specialty ingredients or custom recipes required. I highly recommend giving it a try!
And if you don't want to make this recipe gluten free, simply use all-purpose flour in its place. So adaptable!
More Eggnog Recipes:
Brown Butter Eggnog Snickerdoodle Donuts
Ingredients
1 cup + 2 tablespoons Bob's Red Mill 1-1 Baking Flour (you may also use all-purpose flour here, if desired)
1/4 teaspoon cream of tartar (optional)
1/2 cup light brown sugar, packed
1/2 teaspoon salt
1 teaspoon baking powder
1/2 cup eggnog
2 1/2 tablespoons unsalted butter, melted until browned
1 large egg, at room temperature
For the Snickerdoodle Coating:
3 tablespoons unsalted butter, melted
1 cup sugar
1 1/2 tablespoons cinnamon
For the glaze:
1-2 tablespoons eggnog
1 cup confectioners' sugar
1/4 teaspoon salt
Instructions
Preheat oven to 350 degrees (F).

Generously grease a doughnut pan; set aside.

In a large bowl whisk together the dry ingredients. In a separate bowl whisk together the eggnog, browned butter, and egg.

Gently fold the wet mixture into the dry mixture - don't over mix!

Spoon mixture into prepared doughnut pan, and bake for 10-11 minutes, or until the doughnuts spring back when lightly pressed. Allow doughnuts to cool a few minutes in the pan before transferring to a wire wrack to cool for a few more minutes.

In the meantime, melt the butter for the snickerdoodle coating; set aside. Mix the sugar and cinnamon together in a medium-sized bowl; set aside.

In a small bowl combine the confectioners sugar, eggnog, and salt; whisk smooth. The glaze should be thick but easily pourable; add more eggnog/sugar as needed.

Once the donuts are cool enough to handle, dip them in the melted butter, then roll them in the cinnamon sugar mixture; repeat until all donuts have been covered.

Drizzle a swirl of eggnog glaze on each donut and serve! These are best eaten the day they are made.