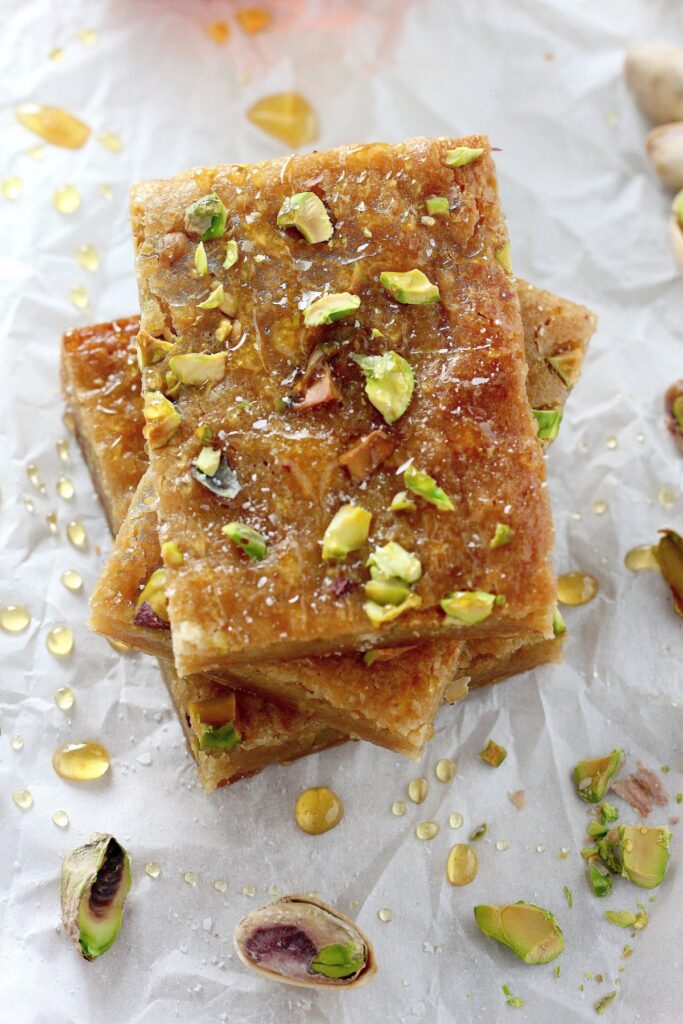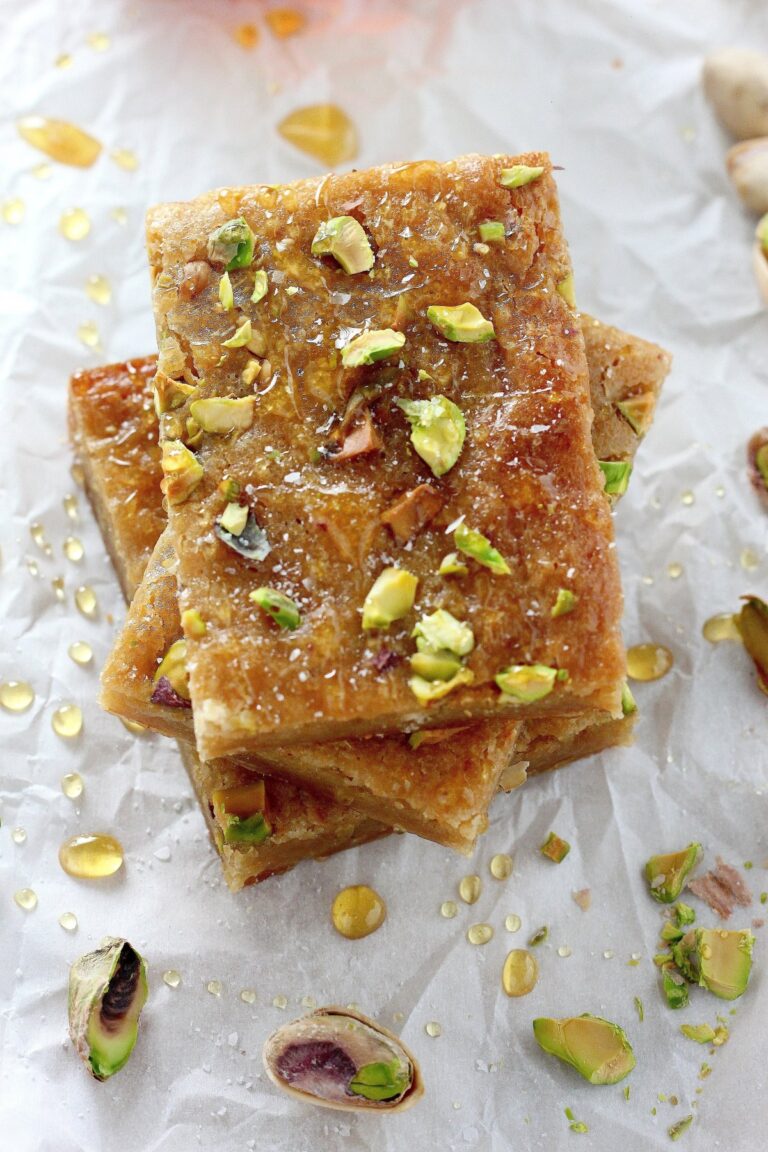 Happy Monday, friends! Today I'm excited to be teaming up with my friends over at Don Victor Honey to bring you one of my all-time favorite recipes: Brown Butter and Honey Pistachio Cookies Bars! I mean, brown butter + HONEY + crunchy salty pistachios all wrapped up in one soft and chewy and absolutely delicious cookie bar. How can you not make these?!
These cookie bars are SO soft and chewy thanks to luscious brown butter, a hearty dose of honey, and an extra egg yolk that is added to the batter. It took me 4 tries to get these cookie bars just right, but boy was it worth the work! I gifted a batch of these cookie bars to a friend of mine who runs a little bakery and he's been begging me for the recipe ever since.
A quick note! These bars also get baked at a lower temperature of 325 degrees (F). This allows the bars to cook through without getting too hard. I only mention this because I know many people automatically think cookie bars get baked at 350 (I know I do…), but it's important to use this lower oven temperature. My first two batches were baked at 350 and came out WAY over baked, even when I took them out at 15 minutes. So… 325 it is 😉
For this recipe I used one of my favorite honey brands, Don Victor Honey. I love that Don Victor honey includes the honeycomb right in the jar! I love honey so much I will eat the comb right out of the jar as a sweet little snack… it's so unique and delicious! 
These bars are the perfect dessert when you want something unique, full of flavor, and fast on time! They take less than 30 minutes start to finish. And just in case you're wondering, they travel like a dream! I've mailed them as far as California and they arrived 100% awesome. These will make great gifts this year. xoxo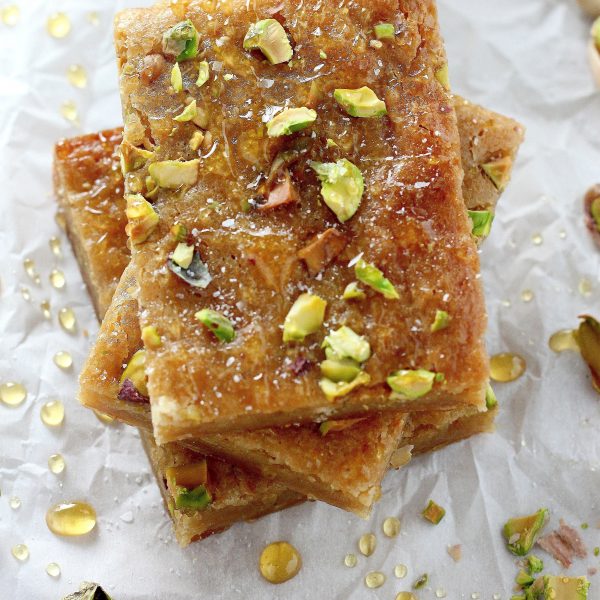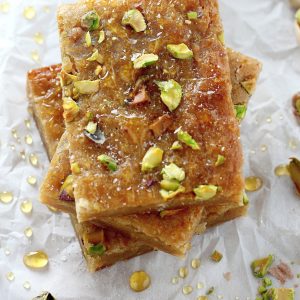 Brown Butter and Honey Pistachio Cookie Bars
Ingredients
10 tablespoons unsalted butter, melted until lightly browned
1 cup packed light brown sugar
3 1/2 tablespoons Don Victor Honey
1 large egg + 1 large egg yolk
1 1/4 teaspoons flaky sea salt
1 cup all-purpose flour
1/4 cup shelled salted pistachios, roughly chopped
Instructions
Preheat oven to 325 degrees (F).

Line an 8x8 inch baking pan with parchment paper, lightly spray the parchment paper and any exposed pan with non-stick spray; set aside.

Place butter in a small saucepan over medium-low heat; cook until butter has completely melted and *just begins to brown. Be sure not to over brown your butter here!

In a large bowl combine browned butter, brown sugar and honey; beat until smooth. Add egg and yolk and whisk until combined. Stir in 1 teaspoon of the salt and all of the flour; don't overmix!

Pour batter into prepared pan. Sprinkle with remaining salt and chopped pistachios.

Bake for 23-25 minutes, or until edges are set, the top is golden, but the center is still a little soft. Allow bars to cool in the pan for 10 minutes, then remove the bars and transfer to a cooling rack to cool completely. Once cool, cut into small squares and serve.