Brown butter and pumpkin make this banana bread irresistible!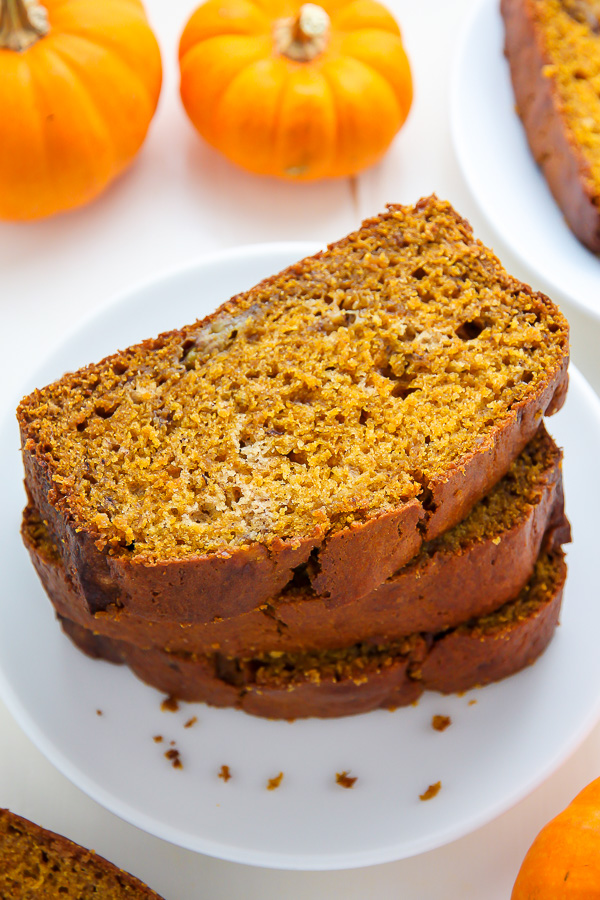 Happy Tuesday! How is the first day of December treating you?
Currently I'm chilling out in our flat bundled in the coziest sweater I own, sipping homemade ginger tea, and attempting to pack for our Paris trip tomorrow. It's wickedly cold and windy right now, and freezing rain is apparently on the way. Brrrrr!
If you're anything like me, nasty Winter weather instantly makes you crave comforting sweets like rustic banana bread or homemade pumpkin pie.
↑ This delicious recipe, which is a spin on my favorite basic banana bread, is the best of both worlds. Moist and tender banana bread loaded with pumpkin pie flavor and plenty of brown butter.
Brown butter adds an incredibly rich flavor to sweet and savory recipes. Have you browned your butter before? It's so simple!
Brown butter can easily be made right on your stove top. All you need is a stick of butter, a pan, and some patience. The transformation from melted butter to browned butter is made by toasting the milk solids in the butter so that the liquid turns a deep, rich, nutty brown.
Here's exactly what you're going to do: place a stick of unsalted butter into a small saucepan and melt it over medium-heat, stirring it frequently to ensure the butter does not burn. The simmering butter will begin to slightly foam, and eventually it will begin to turn a nutty brown color. At this point, simply remove the pan from heat. Be sure to stay especially attentive at the end of the browning process to avoid burning the butter. Unfortunately burnt butter happens fast and cannot be salvaged.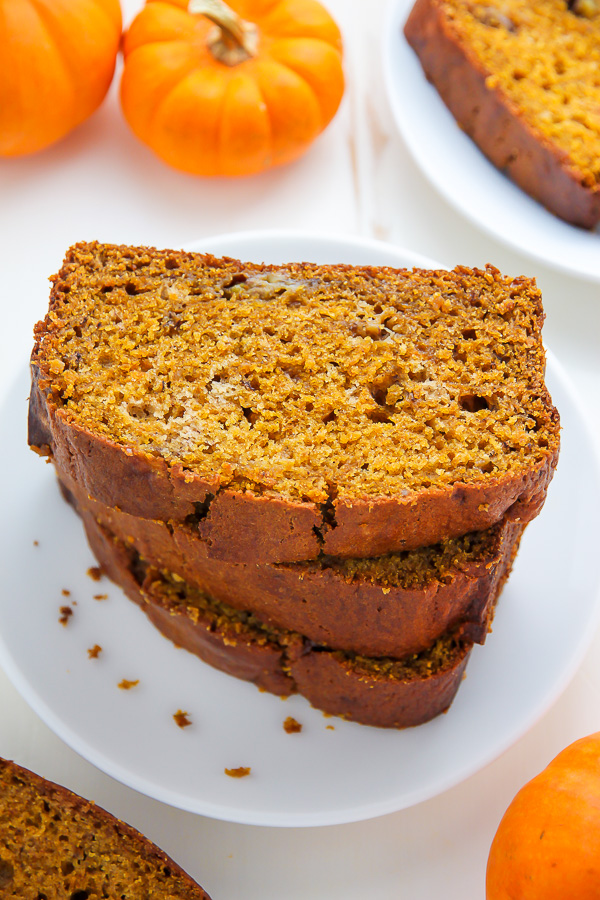 Brown Butter Pumpkin Banana Bread is simply the best, my friends. I love to eat a slice for breakfast with a creamy cup of coffee or tea.
As always, it's a good idea to read the recipe in full before beginning.
If you try this recipe, let me know! Leave a comment below and don't forget to snap a pic and tag it #bakerbynature on instagram! Seeing your kitchen creations makes my day. ♥
Brown Butter Pumpkin Banana Bread
Moist and flavorful brown butter pumpkin banana bread.
Ingredients
1/2 cup butter, browned (see post if you need more information on this)
1 cup light brown sugar, packed
2 large eggs, at room temperature
1 and 1/2 teaspoons pure vanilla extract
1 1/2 cups all-purpose flour
1 teaspoon baking soda
1/2 teaspoon salt
1 teaspoon pumpkin pie spice
1/2 cup pumpkin puree
2 medium bananas, very ripe and mashed
1/4 cup sour cream
Instructions
Preheat oven to 350 degrees (F). Generously grease a 9x5 inch loaf pan, set aside.

In a large bowl, whisk together the browned butter and sugar, beating until well combined. Add the eggs and vanilla, and mix well. Add in the flour, baking soda, salt, and pumpkin pie spice and stir until just combined. Fold in the pumpkin puree, mashed bananas, and sour cream. Spread the batter evenly into the prepared pan.

Bake for 60 minutes, or until a toothpick inserted into the center of the loaf comes out clean. Cool loaf in the pan for 10 minutes before removing to a wire rack to cool completely.