This Chai Spice Pumpkin Pie is richly spiced and super creamy! It's perfect for Thanksgiving or Christmas!

Chai Pumpkin Pie
Happy Sunday, my friends! The holiday season is in the air and I couldn't be more excited. To celebrate, I've made us a chai spiced pumpkin pie.
Pumpkin pie is by far my favorite holiday dessert. Don't get me wrong, I love apple pie… and sweet potato pie… and well, all pie. But pumpkin is my main squeeze.
Question: What's your favorite holiday dessert?!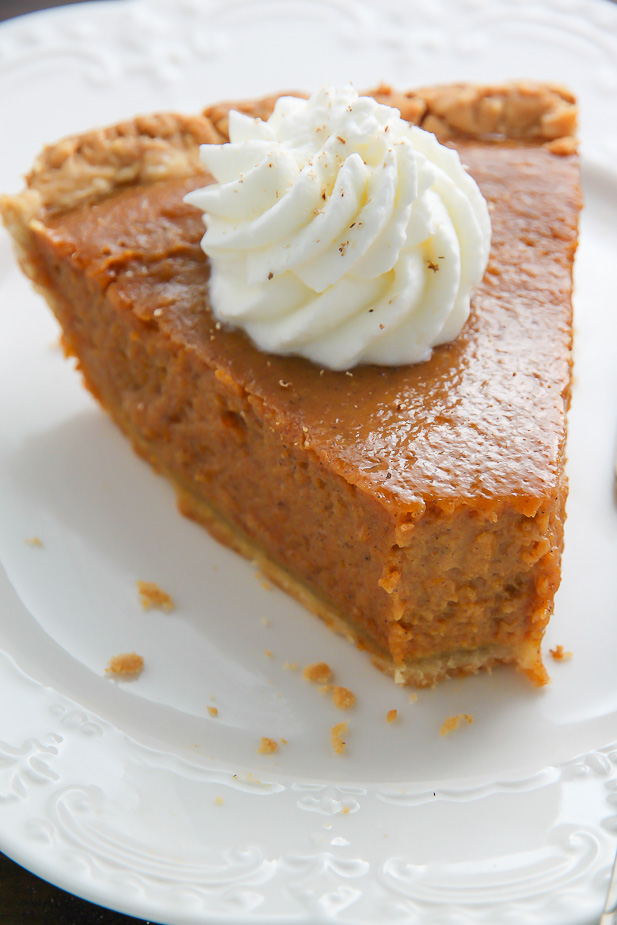 This pumpkin pie recipe is easy-as-can-be. Making the filling is so simple and straightforward – and you can even make it the night before! To make the filling you'll need pumpkin puree (not pumpkin pie filling), sweetened condensed milk, eggs, brown sugar, vanilla, and a slew of spices. Our spices are ground cinnamon, ginger, nutmeg, cardamom, cloves, and black pepper. These spices are what gives this pie its fabulous chai flavor.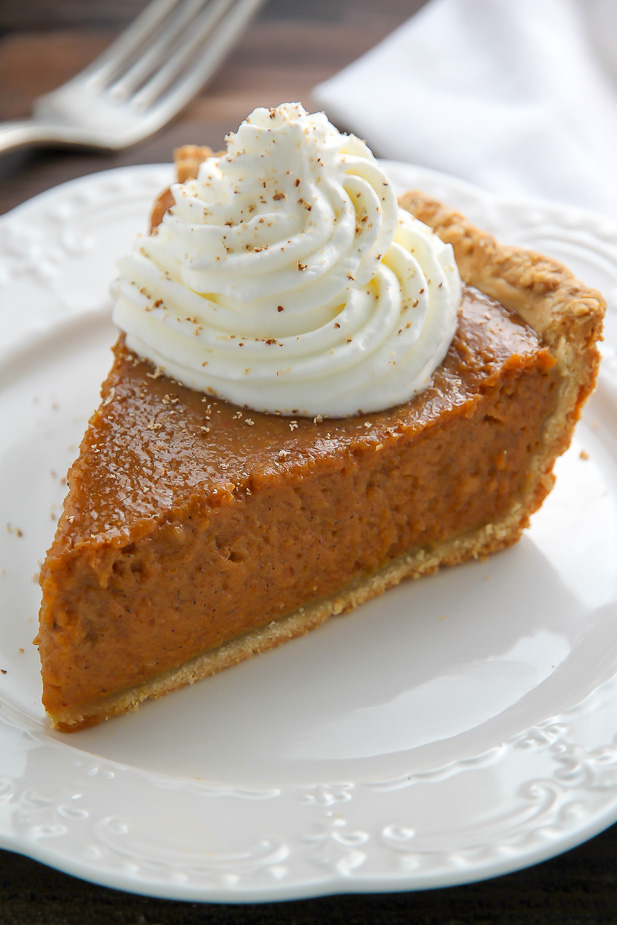 Alright let's talk crust. For this pie I followed my favorite pie crust recipe. If you'd like to use this as well, you can find the recipe here. If you'd like to save some time, feel free to use a store bought crust, or your favorite pie crust recipe. It does need to be a 9″ pie crust no matter what.
I suggest covering the crust halfway through baking to avoid an overly brown crust. You can cover it with aluminum foil or a pie crust shield.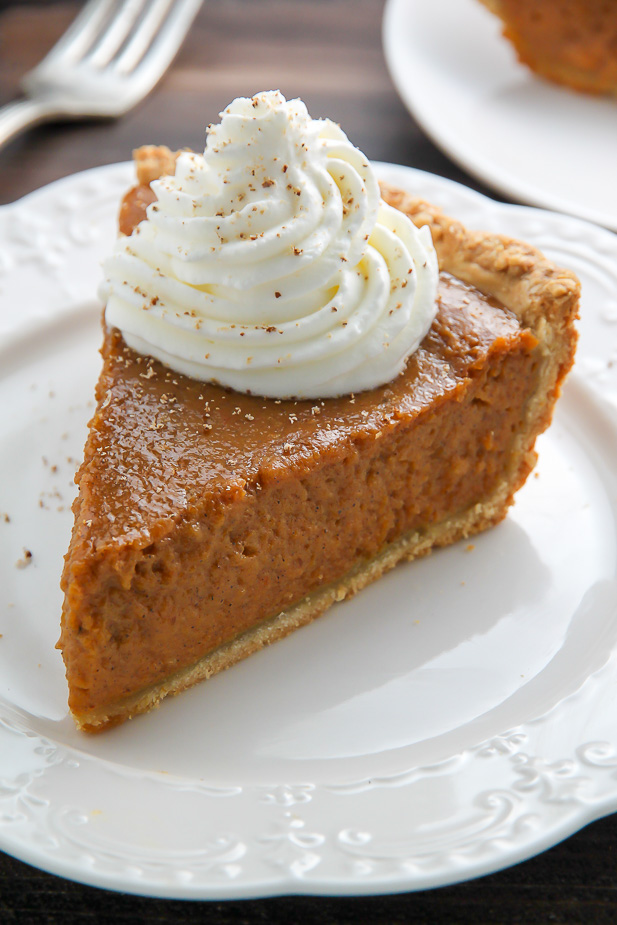 More Pumpkin Recipes:
More Pie Recipes: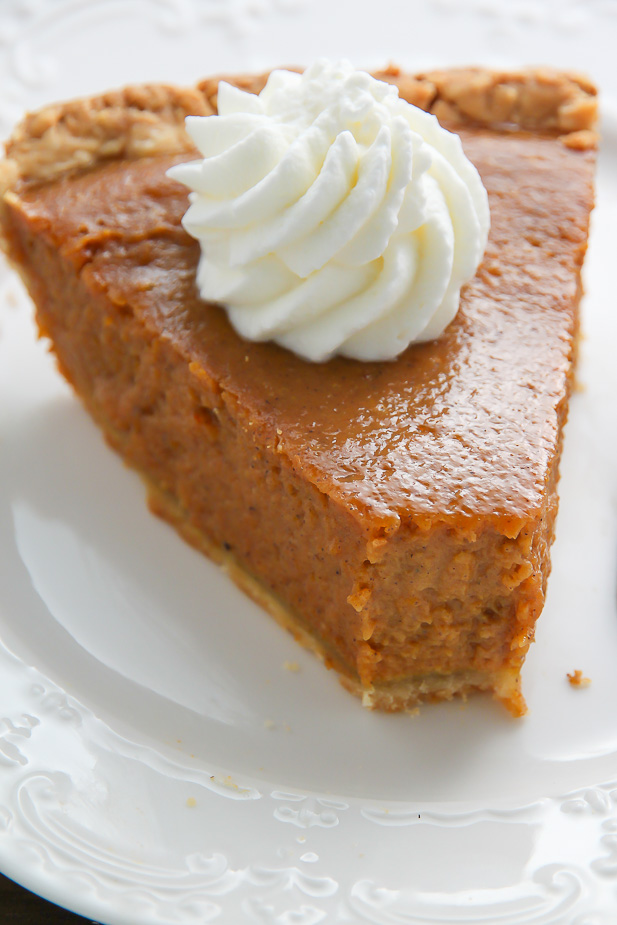 This recipe is super easy, but it does take a little over an hour to bake… and then another hour to cool. Not to worry! Pour yourself a glass of eggnog (with maybe a glug of bourbon?), turn on some music, and occupy your fine self while the dessert of your dreams bakes up. Then, simply slice, serve, and devour. Hope you love!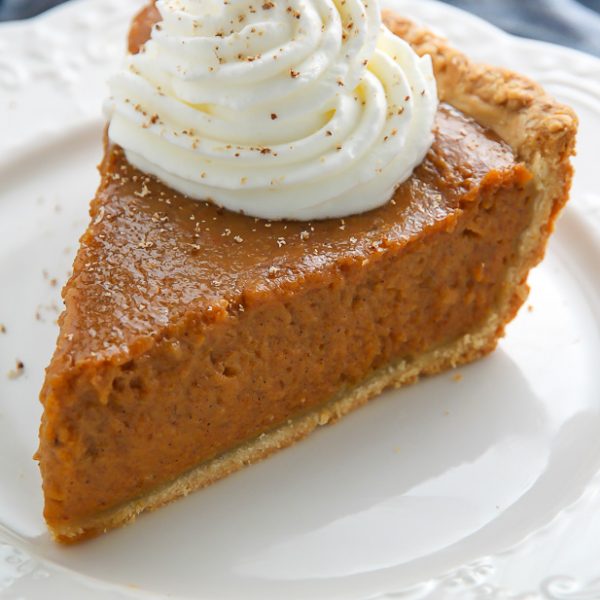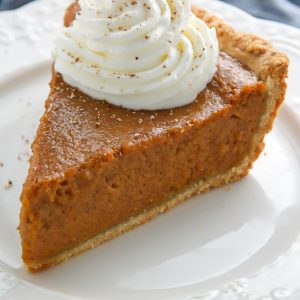 Chai Spice Pumpkin Pie
Richly spiced pumpkin pie is melt-in-your-mouth silky smooth.
Ingredients
2 cups canned pumpkin (not pumpkin pie mix)
1 and 1/2 cups sweetened condensed milk
2 large eggs, at room temperature
2 ⁄3 cup light brown sugar, packed
1 teaspoon vanilla extract
1 teaspoon ground cardamom
1/8 teaspoon black pepper
1 and 1/2 teaspoons ground cinnamon
1 ⁄2 teaspoon ground ginger
1 ⁄2 teaspoon ground nutmeg
1 ⁄4 teaspoon ground cloves
1 (9 inch) foolproof all-butter pie crust
Instructions
Preheat oven to 400 degrees (F).

Roll out the pie dough on a well floured work surface, rolling it to a 12-inch round. Gently place the dough in a 9-inch pie pan and either trim the edges or crimp them decoratively; place in the fridge while you prepare the filling.

In a large bowl using a hand mixer, or in the bowl of a stand mixer fitted the whisk attachment, combine the pumpkin, sweetened condensed milk, eggs, brown sugar, vanilla, and spices; beat at medium speed for 2 minutes, or until well combined.

Remove crust from fridge and pour the filling in.

Bake at 400 degrees for 15 minutes, then reduce the heat to 350 degrees and bake for an additional 50 minutes, or until the edges are set and the center is almost set (it will still be a little wobbly).

Cool on a wire rack for at least one hour before slicing. Serve with whipped cream or ice cream.
Notes
After 30 minutes of baking, be sure to cover the crust with a pie crust shield or some aluminum foil to avoid over-browning the crust.
The filling may be made up to 48 hours in advance.