Yesterday was my darling friend Alexia's birthday. To me, birthdays = cake.
Alexia, however, doesn't do cake. I know… but really, she's a nice girl!
Since I couldn't even begin to fathom the idea of not baking her something, I opted for a pimped out version of her favorite cookie: Oatmeal Raisin.
Anyways, everyone knows cookies = love. And really, that's what it's all about.
I did my best to fancy up the humble yet classic oatmeal raisin cookie by swapping out regular raisins in favor of gorgeously golden ones, taking butter and making it brown, adding a touch of molasses, and having a heavy hand with the chocolate chunks.
In my opinion, one should always have a heavy hand when chocolate is involved. Am I right or am I right?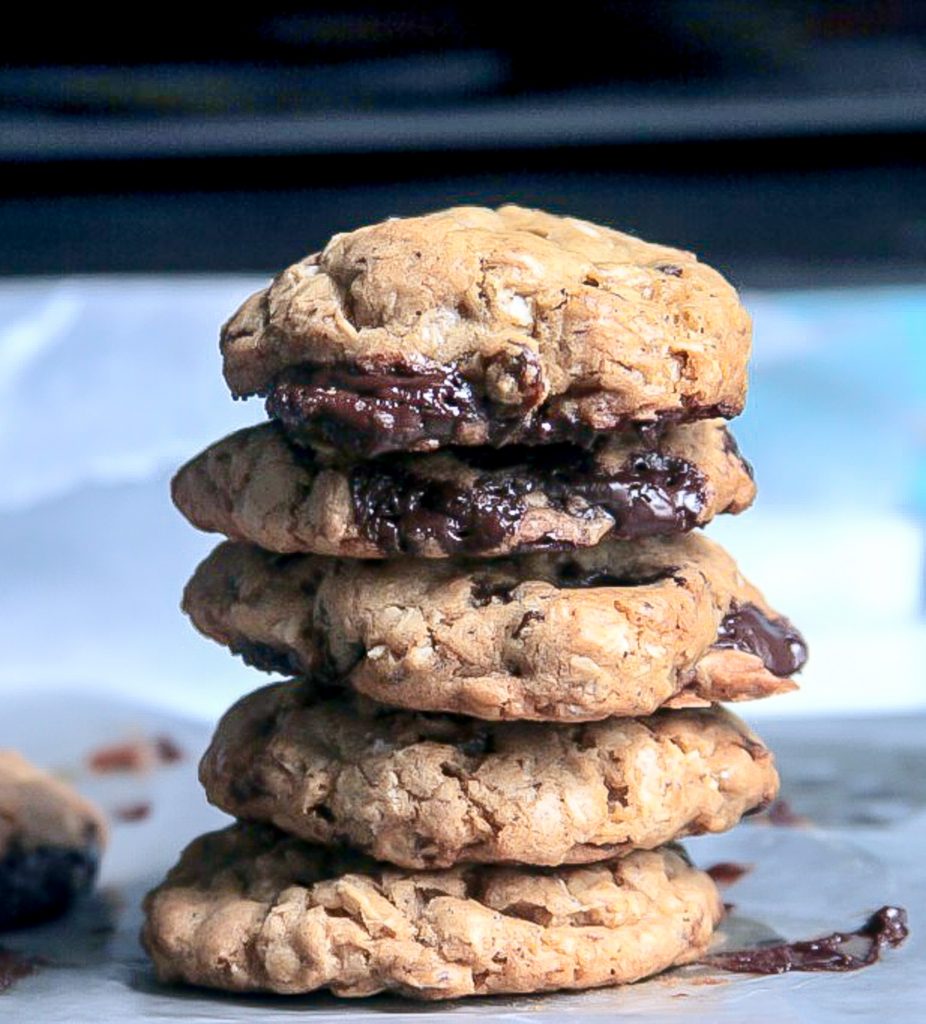 The result? A cookie so damn good I'm wishing it was my birthday!
But really… why wait?! Everyday is a reason to celebrate… and eat cookies! Get it, yo.
Browned Butter Oatmeal Molasses Cookies with Golden Raisins and Dark Chocolate Chunks – Baker by Nature
Makes about 24 (2 dozen) cookies
4 ounces unsalted butter, browned
1 cup flour
1/2 teaspoon baking soda
1/2 teaspoon salt
3/4 teaspoon cinnamon
1/4 teaspoon ground ginger
1/8 teaspoon ground cloves
1 1/4 cup old fashioned oats
1 scant cup granulated sugar
1 tablespoon molasses
1 large egg, at room temperature
2 teaspoons vanilla extract
1/2 cup golden raisins
1/2 cup dark chocolate, chopped into chunks
In a small sauce pan over medium heat cook butter until browned, about 5 minutes. Set aside to cool. In a large bowl combine the flour, baking soda, salt, cinnamon, ground ginger, cloves and oats, mixing well.
Once your browned butter has cooled, add it to a large bowl and cream with the sugar, molasses and vanilla extract. Beat in the egg and whisk until smooth. Slowly begin adding your dry mix to the wet mixture, using your hands if if needed, to bring the dough together. Fold in the chocolate chunks and raisins. Refrigerate the dough for at least one hour before baking.
When you're ready to bake your cookies, preheat your oven to 350 degrees (F). Roll dough into 2 inch balls and place on a baking sheet, making sure each cookie is at least 2 inches apart from the next. Bake for about 12 minutes, or until the edges are golden and the tops look only slightly wet. Remove from oven and transfer to a cooking rack before serving.