The only thing better than homemade biscuits? Easy drop biscuits that are loaded with sharp cheddar cheese and flavorful sausage! Brush the tops with melted butter and serve warm.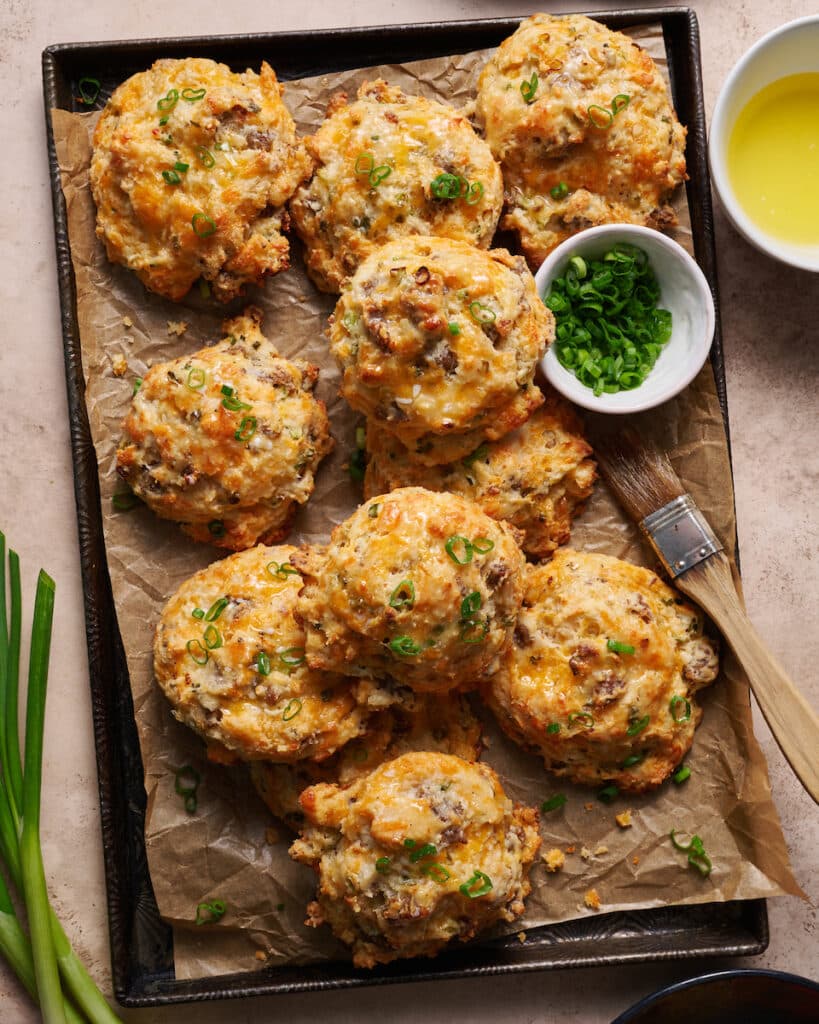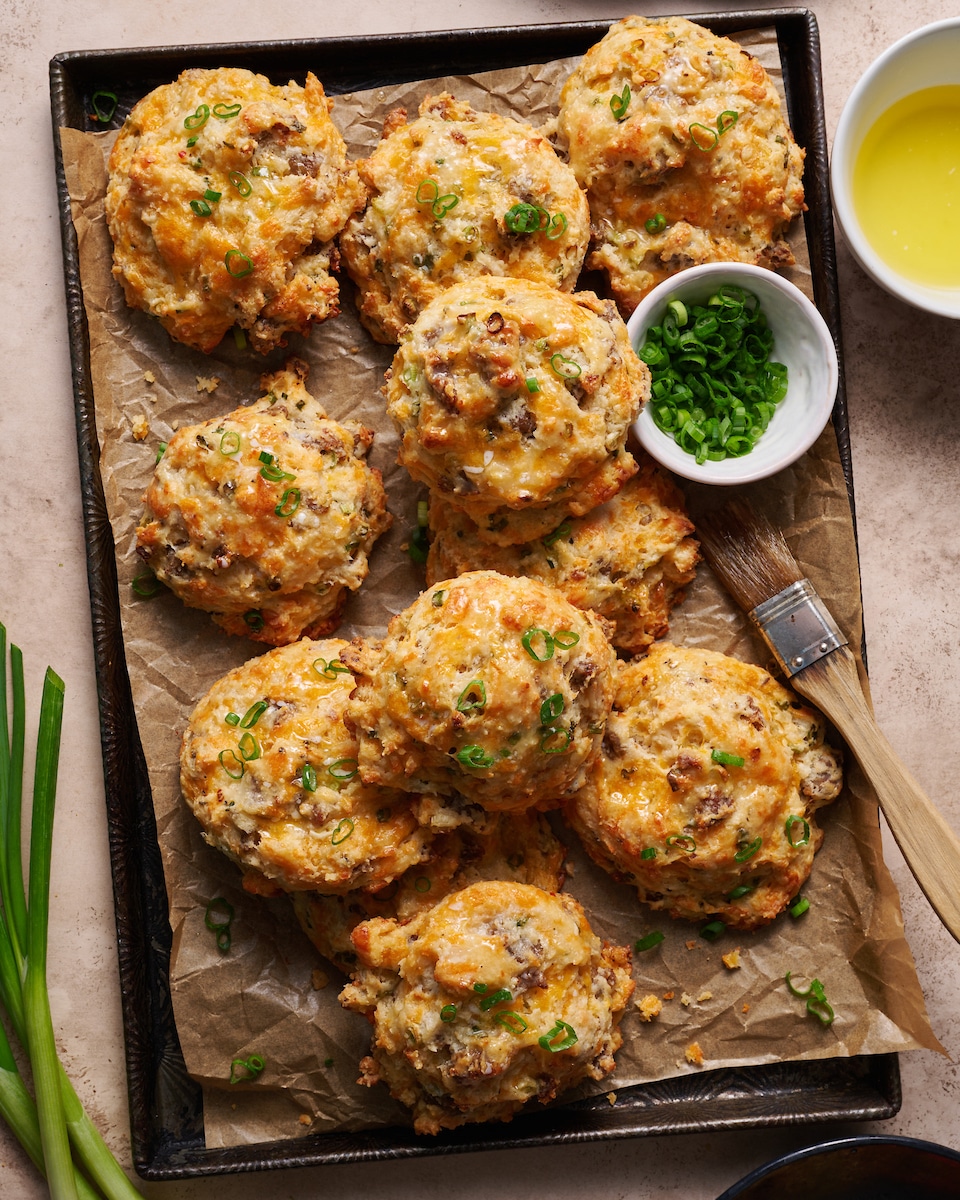 Sausage Cheddar Biscuits
Who can turn down a warm and buttery sausage cheese biscuit?! These perfect pillowy drop biscuits are soft, fluffy, and bursting with flavor. But extra melted butter on top and a spinrkle of fresh scallions makes them more delicious. This classic recipe couldn't be easier to make, either. Just whip up the biscuit dough, drop it on the baking sheet, and bake. No need to roll or cut the dough!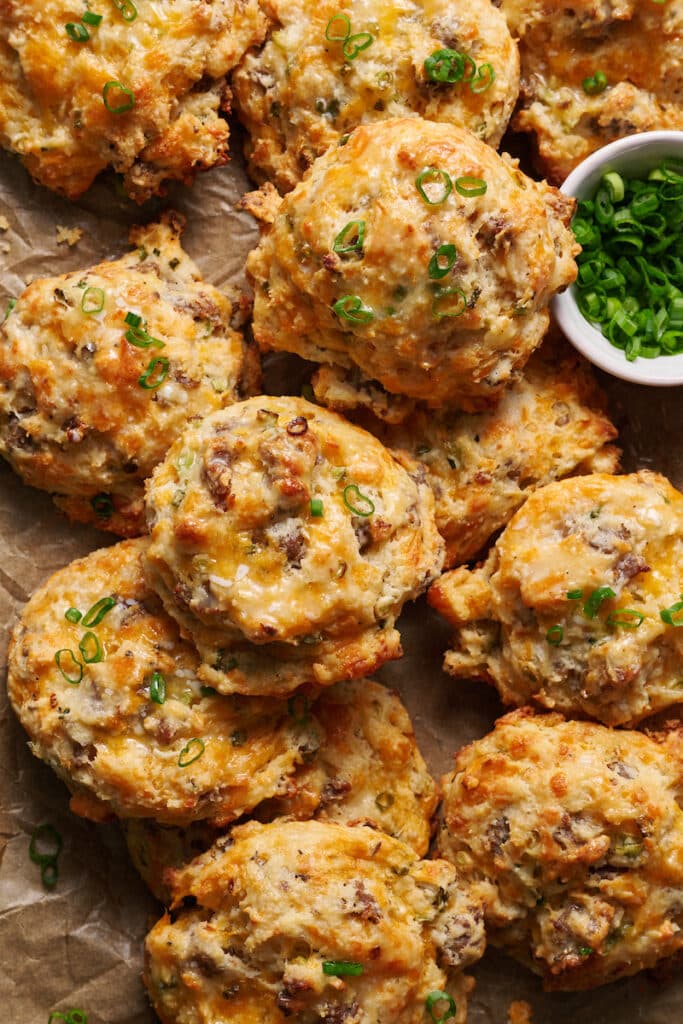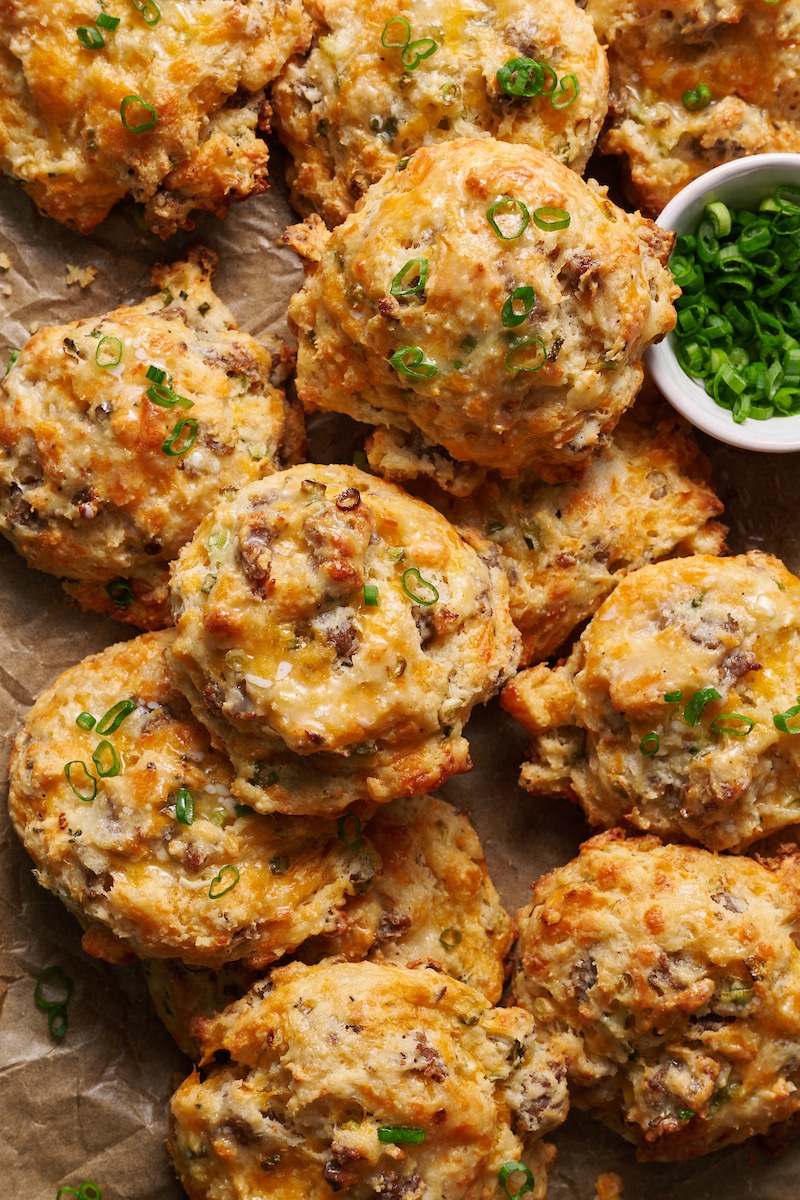 Ingredients for Cheesy Sausage Biscuits
Sausage: You can use almost any sausage you want here, but I prefer sweet Italian sausage. Other sausage options include spicy sausage or breakfast sausage.
All-Purpose Flour: I don't recommend subbing plant based flours like coconut flour or almond flour. A 1 for 1 gluten free flour substitute may work.
Sugar: A small amount enhances all of the flavors in the biscuits. If you don't have brown sugar, granulated sugar will work. And yes, in a pinch you can leave it out completely.
Baking Powder: Yes, 1 whole tablespoon is correct. This amount lifts the biscuits in the oven and gives them their fluff. Do not sub baking powder for baking soda.
Spices & Seasonings: Salt, black pepper, garlic powder, and red pepper flakes add major flavor to these easy biscuits. Feel free to use more or less of these ingredients based on preference.
Butter: Use very cold to make the biscuits and melted butter for brushing the cooked biscuits. Unsalted butter works best because you get to control the amount of salt added to the recipe. But if you only have salted butter, simply omit the salt called for.
Cheese: For the best flavor, I suggest using sharp cheddar, but almost any grated cheese will work. So feel free to switch it up and use your very favorite cheese in these biscuits.
Buttermilk: 1 and 1/4 cups of buttermilk adds mega moisture and flavor to the biscuit dough. If you cannot find buttermilk, you can make your own. Add a small amount of lemon juice to regular milk and letting sit for about 5 minutes. Then use it like you would buttermilk.
Scallions: A 1/2 cup of scallions add just the right amount of flavor and crunch to these biscuits. Fresh chives would make a delicious substitute, but you might want to reduce the amount to 1/4 cup.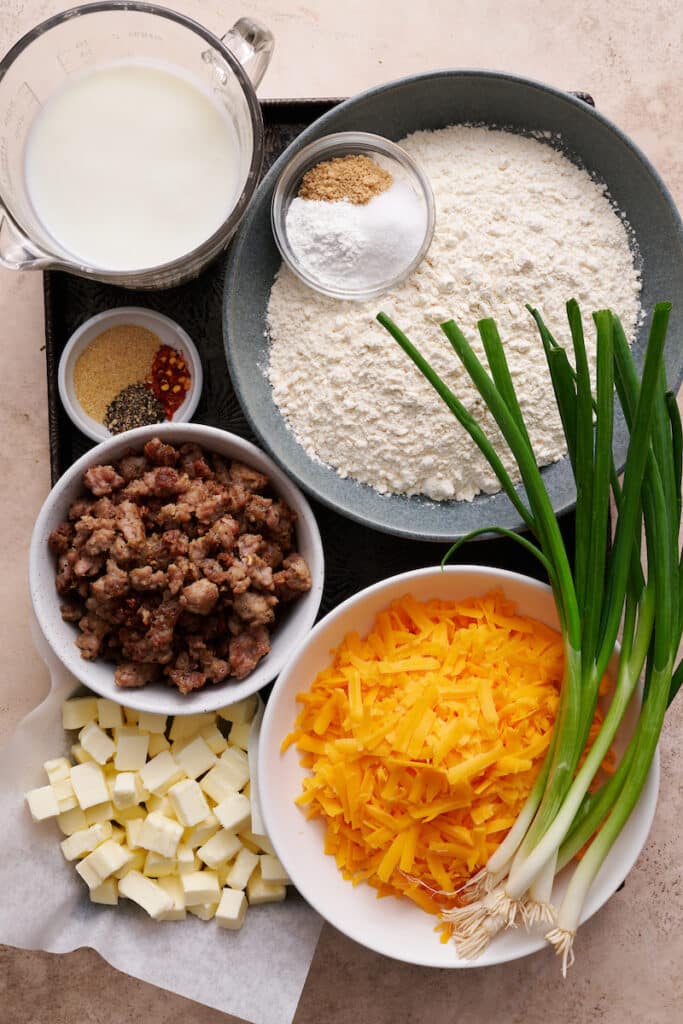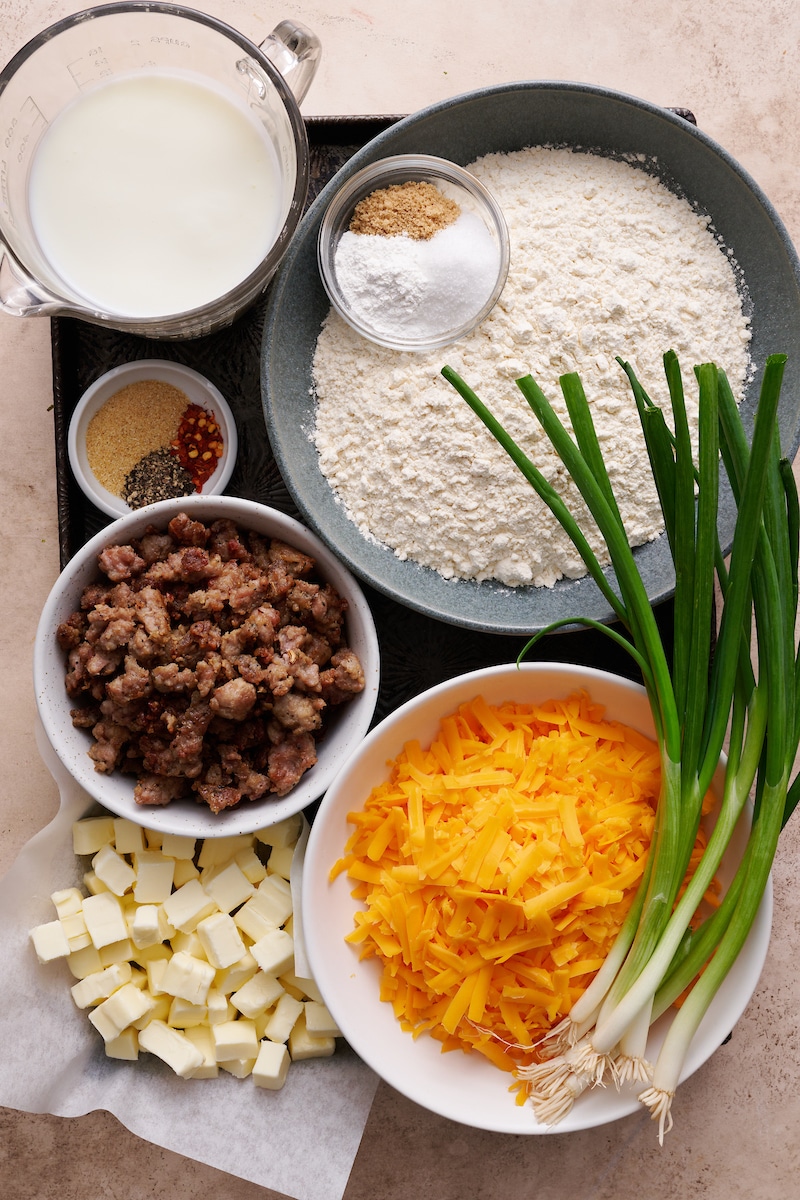 How to Make Sausage Cheddar Biscuits
If you're ready to make these cheesy sausage biscuits, just follow these simple steps and you'll be on your way!
Cook the Sausage: No matter what kind of sausage you're using, be sure to cook it well. Be sure to cool it completely before adding it to the biscuit batter. Hot sausage will melt the cold butter, which will prevent the biscuits from puffing up.
Biscuit Prep: Preheats the oven 30 minutes before you plan on baking. You'll also want to line a large baking sheet with parchment paper.
Make the Biscuit Dough: Be sure not to over mix the dough! It should be a stiff but moist dough, with no loose bits. If you need to add a tablespoon or two of buttermilk to get the right texture, that's fine.
Scoop and Bake: Use a lightly grease measuring cup to scoop mounds of dough onto the baking sheet. Bake until the biscuits are golden brown on top. Then brush with warm melted butter and sprinkle with extra scallions.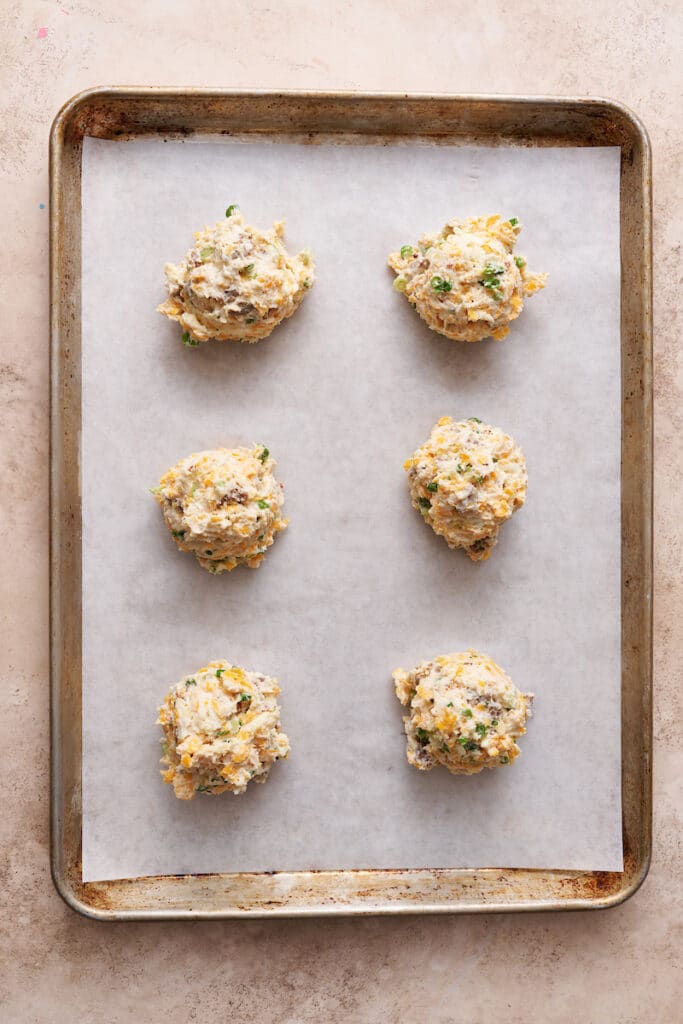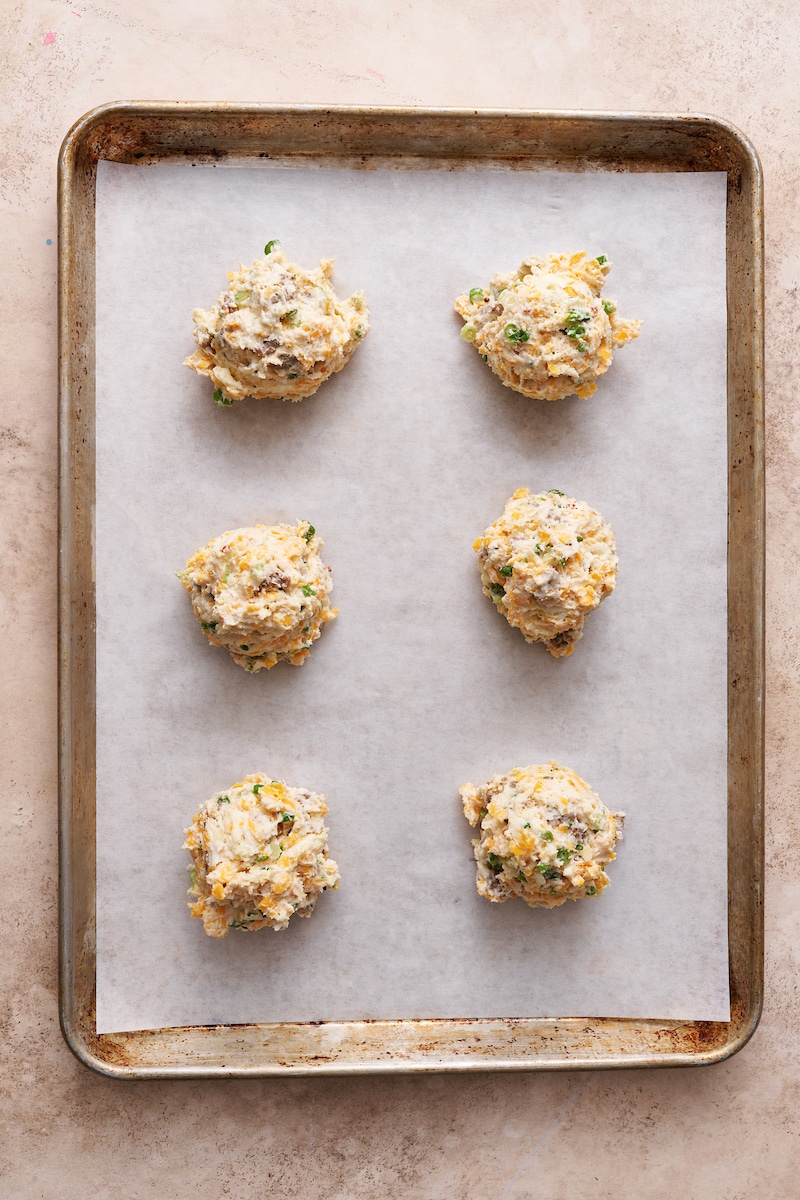 Serve these warm and delicious sausage biscuits asap! They're delicious with eggs, breakfast potatoes, fresh fruit, and so much more. Let me know what you plan on serving them with in the comments below!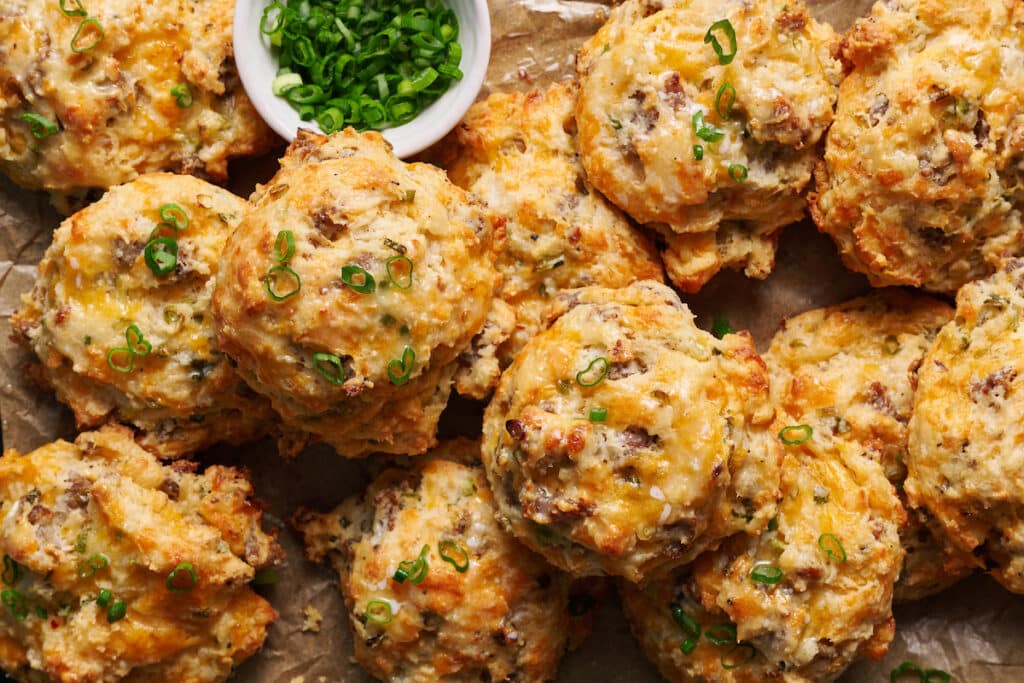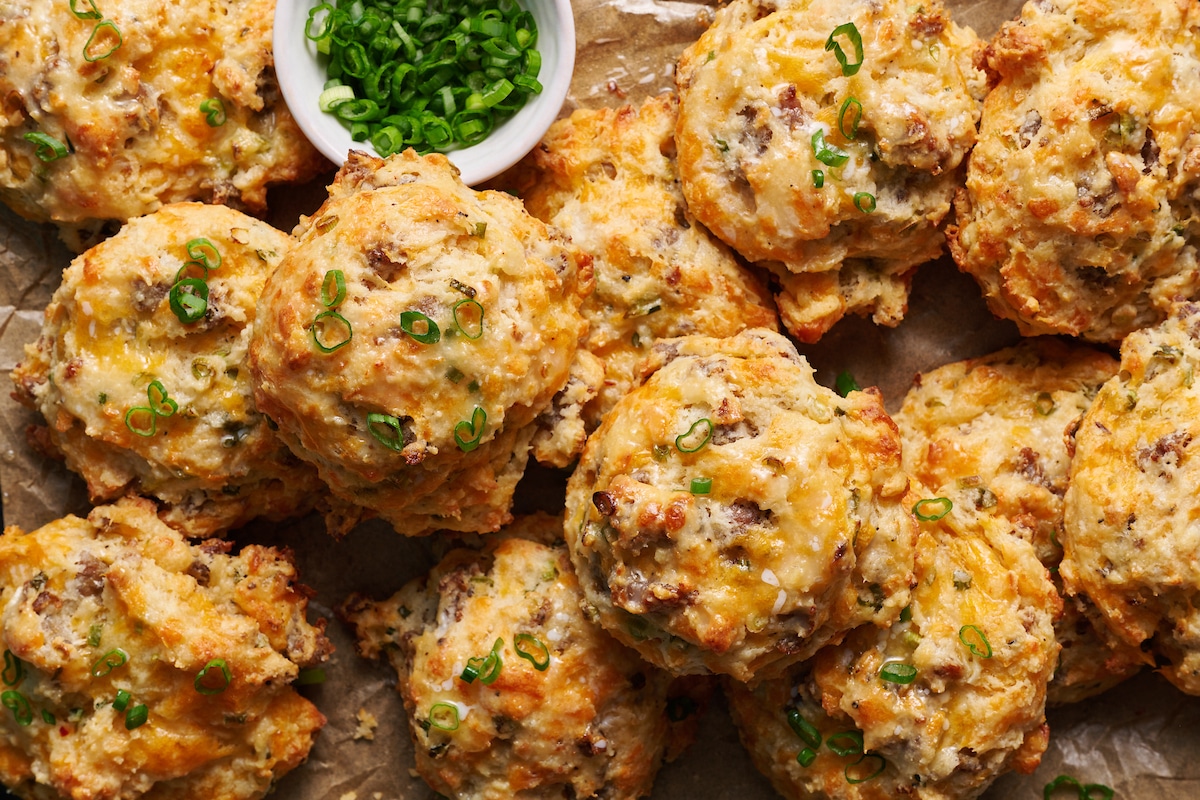 More Biscuit Recipes: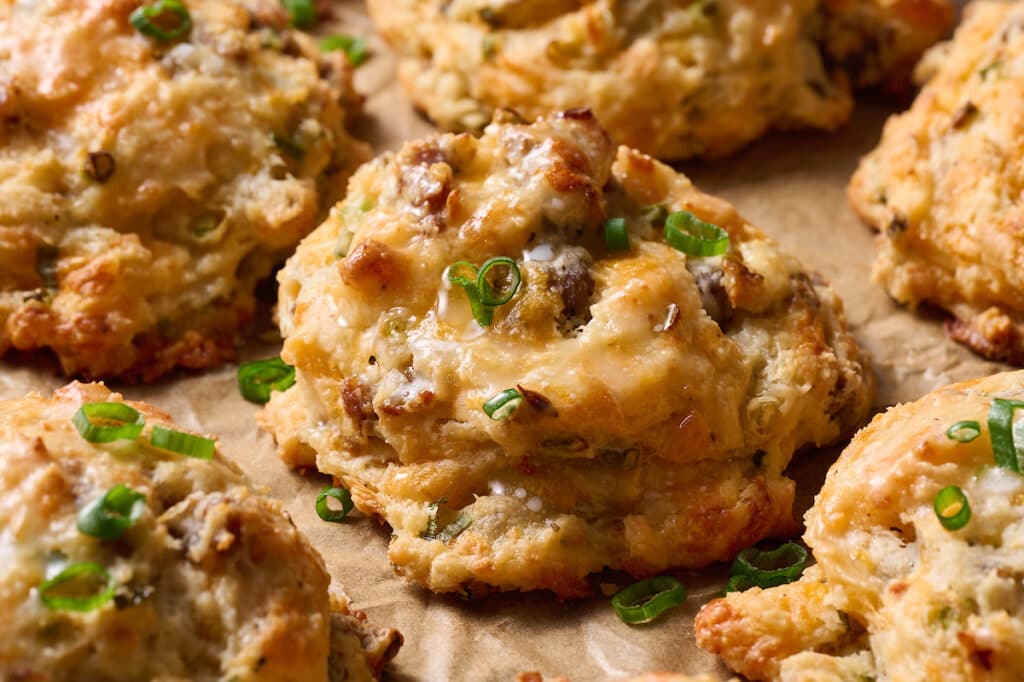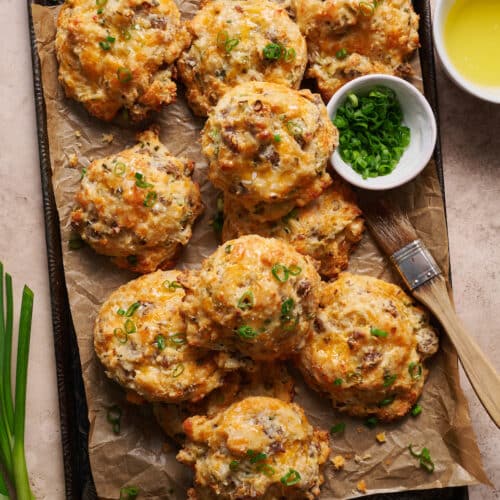 Cheesy Sausage Biscuits
The only thing better than homemade biscuits? Easy drop biscuits that are loaded with sharp cheddar cheese and flavorful sausage! Brush the tops with melted butter and serve warm.
Ingredients
1 pound (454g) sweet Italian sausage casing removed
3 cups (360g) all-purpose flour
1 Tablespoon (14g) light brown sugar packed
1 Tablespoon (14g) baking powder
1 teaspoon salt
1 teaspoon garlic powder
1/2 teaspoon black pepper
1/4 teaspoon crushed red pepper flakes
3/4 cup (170g) unsalted butter very cold, cubed
8 ounces sharp cheddar cheese grated
1 and 1/4 cups (285ml) buttermilk cold
1/2 cup scallions thinly sliced, plus more for serving
2 Tablespoons (28g) unsalted butter melted
Instructions
In a medium skillet over medium heat, cook the sausage until well-browned, breaking it up into small pieces. Remove from heat and set aside to cool completely. 

Preheat the oven to 425 degrees F. Line a large baking sheet with parchment paper.

Whisk the flour, brown sugar, baking powder, salt, garlic powder, black pepper, and crushed red pepper in a large mixing bowl.

Using a pastry cutter, cut in the cold butter, working it into the dry ingredients until the mixture resembles coarse meal. Add the cheese and cooked sausage. Using a rubber spatula, stir gently to distribute the ingredients evenly.

Add in the buttermilk and scallions and stir just until you have a stiff but evenly moistened dough (no loose dry bits). 

Using a lightly greased 1/3 cup measuring cup, scoop mounds of dough for each biscuit, dropping the biscuit dough onto the prepared baking sheet, spacing the mounds about 2-inches apart. You should get about 10 large biscuits. 

Bake until the biscuits are golden brown on top, about 14 to 16 minutes or until a tester comes out clean. Serve the biscuits warm with melted butter. Sprinkle with extra scallions, if desired.