Homemade Cherry Hand Pies have flaky crust and juicy filling! The perfect cherry pie recipe for Summer parties and barbecues!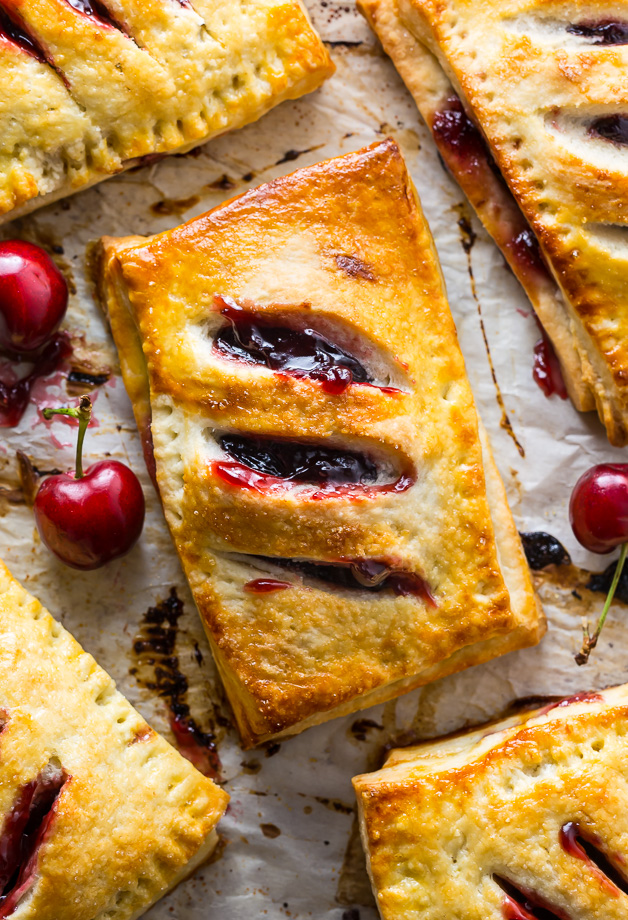 Cherry Hand Pies
With Memorial Day just around the corner – and the 4th of July not too far behind it – today feels like the perfect time for us to sit down and share some pie. More specifically, these sweet little cherry hand pies.
These handheld darlings are easy to whip up and perfect for parties, picnics, and beyond. They're also astonishingly good when topped with a giant scoop of vanilla ice cream. If you have a Summer baking bucket list… these should be at the top!
Because really, what is Summer without cherry pie?!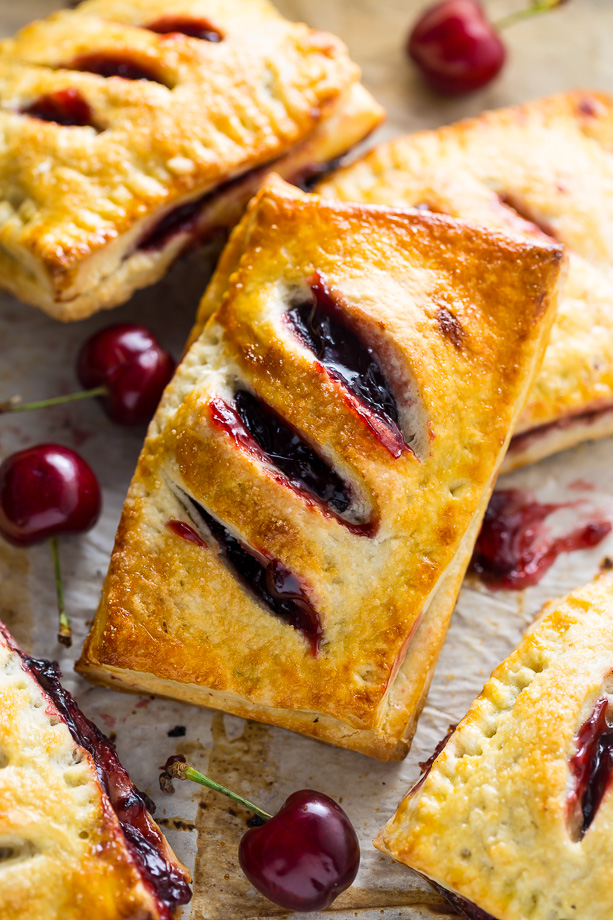 Mini Cherry Pie Recipe
Ingredients:
all-purpose flour
salt
baking powder
granulated sugar
unsalted butter
sour cream
pitted sweet cherries, fresh or frozen
cornstarch
lime juice
and an egg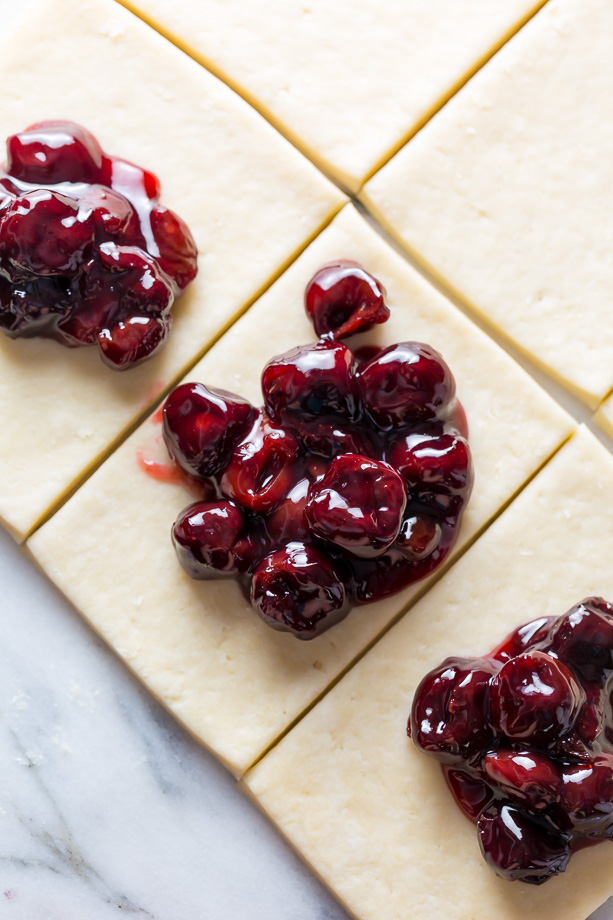 Tips and Tricks for Recipe Success:
The pie dough will look super shaggy and dry when you first start kneading it! Don't fret – it WILL come together. Just keep at it! And don't add any excess liquid. I know it's tempting, but resist. You'll thank me later 🙂
Because the pie dough needs to chill for at least one hour, you'll want to plan ahead time wise for this recipe.
Keep a close eye on the cherry pie filling after it comes to a boil. After it reaches the boiling point, it begins to thicken fast. So be sure to lower the heat right away and cook it just until it coats a spoon. You want it thick, but still juicy. Does that make sense?
Don't skip the egg wash! This helps the crust get that gorgeous golden brown hue.
These cherry hand pies are best eaten the day they are baked, but will keep – stored in an airtight container – for 3 days.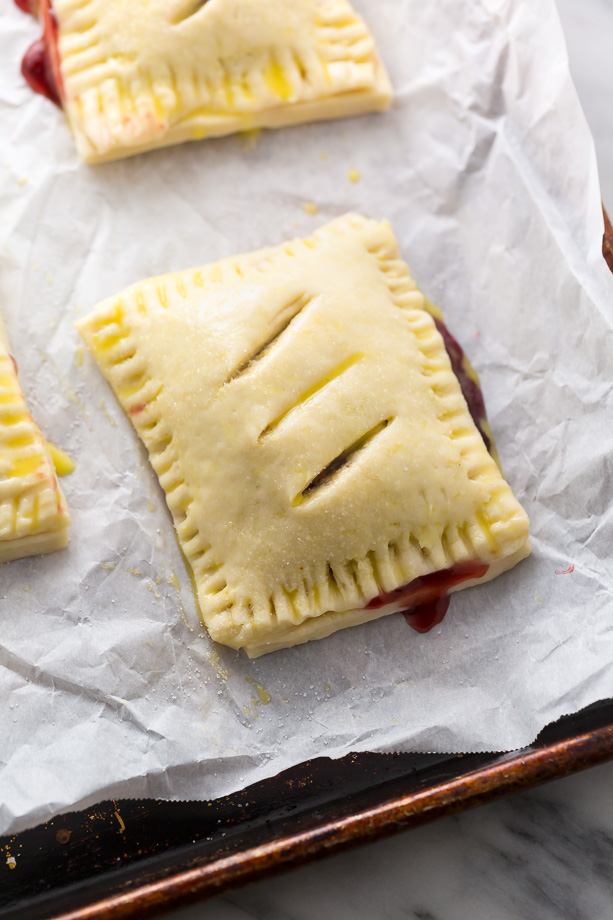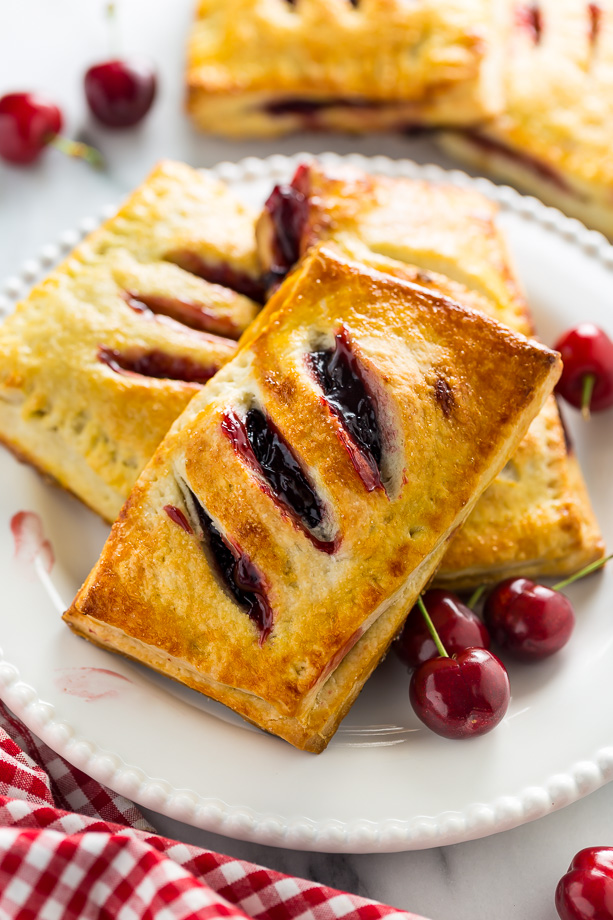 More Hand Pie Recipes:
If you try this recipe for Cherry Hand Pies, let me know what you think! Leave a comment below, and don't forget to snap a pic and tag it #bakerbynature on instagram! Seeing your creations makes my day ♥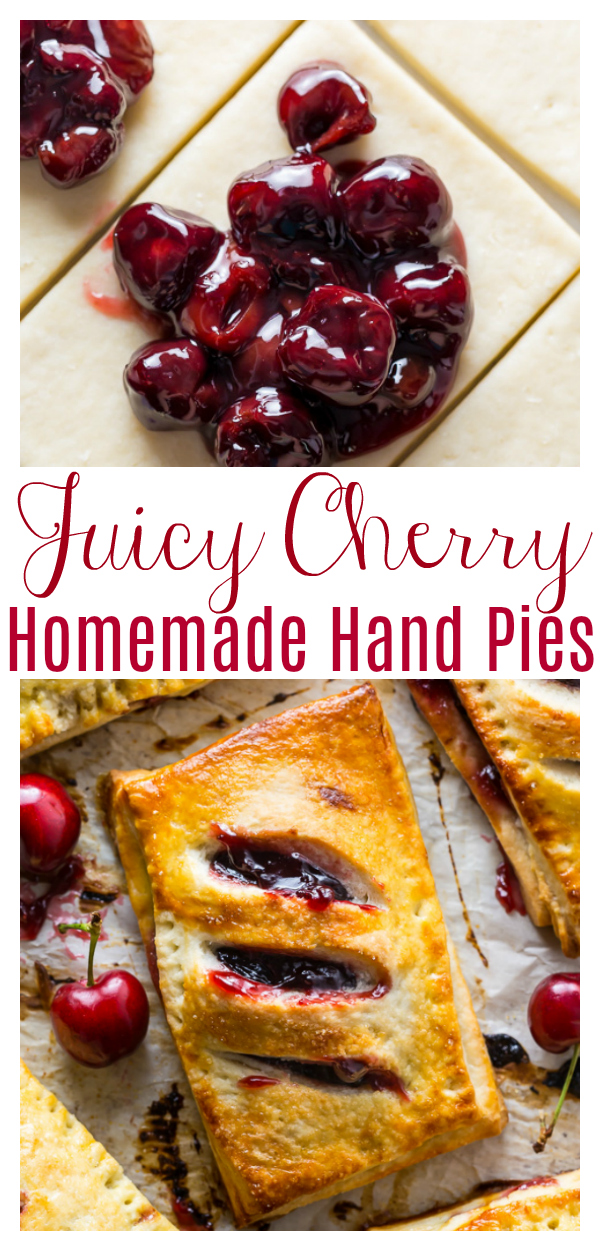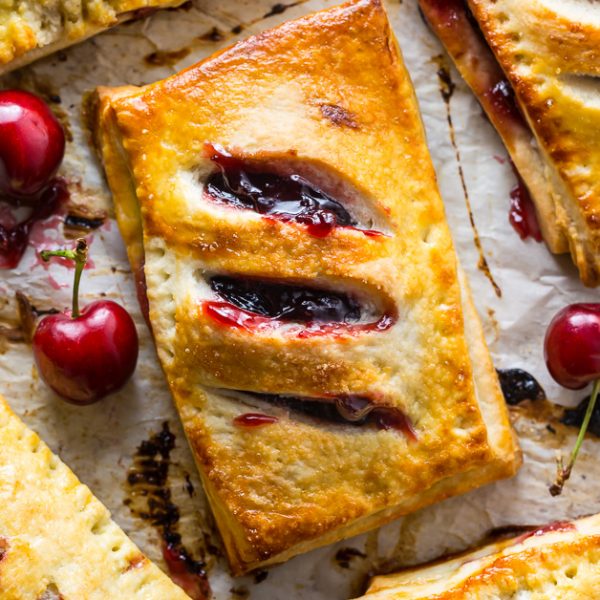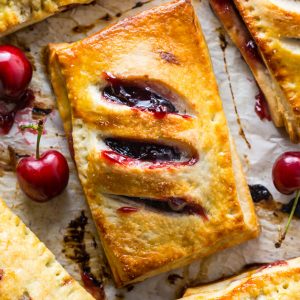 Cherry Hand Pies
Homemade Cherry Hand Pies have flaky crust and juicy filling!
Ingredients
For the crust:
2 cups all-purpose flour
1/2 teaspoon salt
3/4 teaspoon baking powder
1 tablespoon granulated sugar
2 sticks (8 ounces) VERY cold, unsalted butter, cut into cubes
1/2 cup cold FULL FAT sour cream
For the filling:
2 and 1/2 cups pitted sweet cherries, fresh or frozen
1/4 cup granulated sugar
1 and 1/2 tablespoons cornstarch
1 tablespoon fresh lime juice
For the topping:
1 large egg, beaten
Turbinado sugar, optional
Instructions
To make the crust:
In a large bowl whisk together the flour, salt, baking powder, and sugar. Add the butter, working it in with your hands or a pastry cutter, until it's a coarse meal. The butter should still be in large, pea-sized pieces. Using a rubber spatula, stir in the sour cream. The dough will be very shaggy at this point. Turn it out onto a well floured work surface, and bring it together with a few quick kneads.

Pat the dough into a 10 inch log, then roll it out into a 10" x 12" rectangle. Dust both sides of the dough lightly with flour, and starting with the shorter end, fold it in three - like a letter. Flip the dough over, and roll it again into a 10" x 12" rectangle. Fold it in three again. Wrap the dough in saran wrap, and chill for 1 hour.
To make the cherry filling:
Combine all the ingredients in a saucepan over medium-high heat. Simmer, stirring almost constantly, until the mixture starts to thicken – about 6 minutes. Reduce heat to low and cook for another 2 minutes before removing from the heat. Transfer to a heatproof bowl and cool to room temperature.
Assembly and cooking:
Preheat the oven to 425°F. Place a rack on the middle shelf. Line a large baking sheet with parchment paper, set aside until needed.

Roll the dough into a large square that's about 1/8 of an inch thick. With a straight edge and pastry wheel, cut out sixteen 3 inch squares. Place squares on prepared baking sheet. Using a small knife, make three tiny slashes across 8 of the squares. Fill the other 8 squares with two tablespoons of the cherry filling, then match up each one with a vented piece of dough.  Lightly brush the edges and tops of each pie and crimp the sides together using a small fork.

Bake the pies for 20 to 22 minutes, or until golden brown. Remove from the oven, and cool for at least 10 minutes before serving.