Rustic Cranberry Hand Pies feature a flaky crust and a delicious orange cranberry filling! And their petite handheld size makes them perfect for sharing this holiday season! It's just not Christmas in our house without these on the table!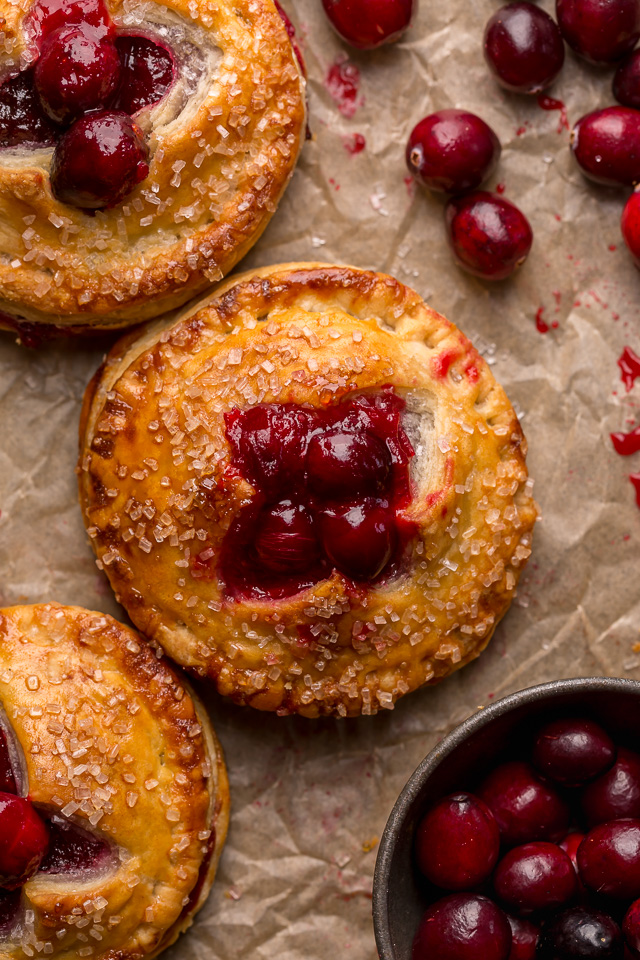 Cranberry Hand Pies Recipe
Whenever I see a vibrant bag of cranberries at the grocery store, I can't help but feel a little bad for them. Because let's be real… they're the true underdog of the holiday season. Especially in the baking world where everyone goes bonkers over pumpkin and apples and sweet potato.
But I'd like to think I help and balance out the scales a bit. Because I LOVE cranberries! And bake with them every chance I get. They have a bright and tart flavor that's so refreshing. And a welcome change from all of the rich and heavy desserts typically found on a holiday table. Plus, their gorgeous ruby red hue instantly makes any table look more festive! #teamcranberries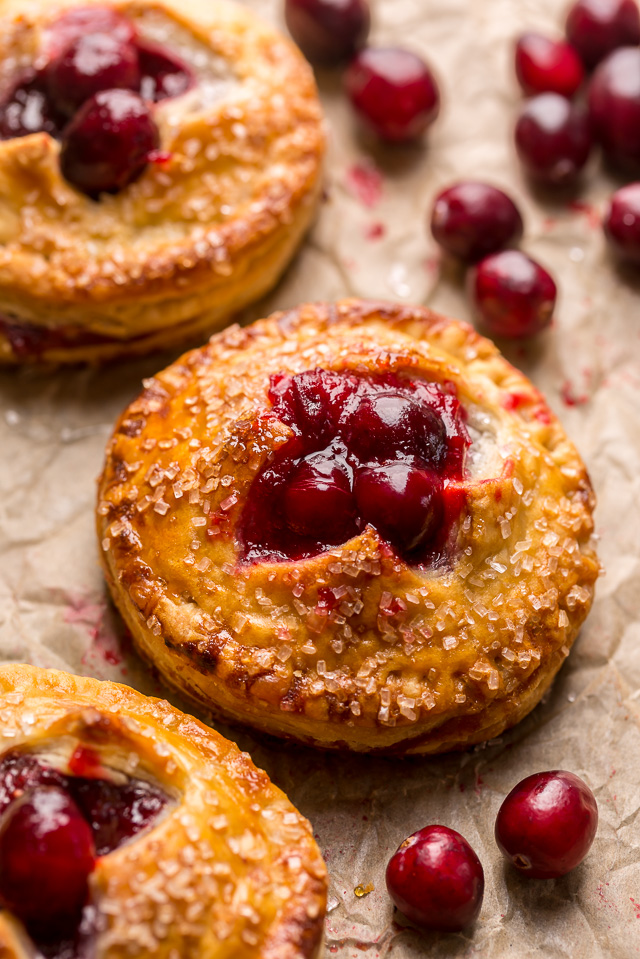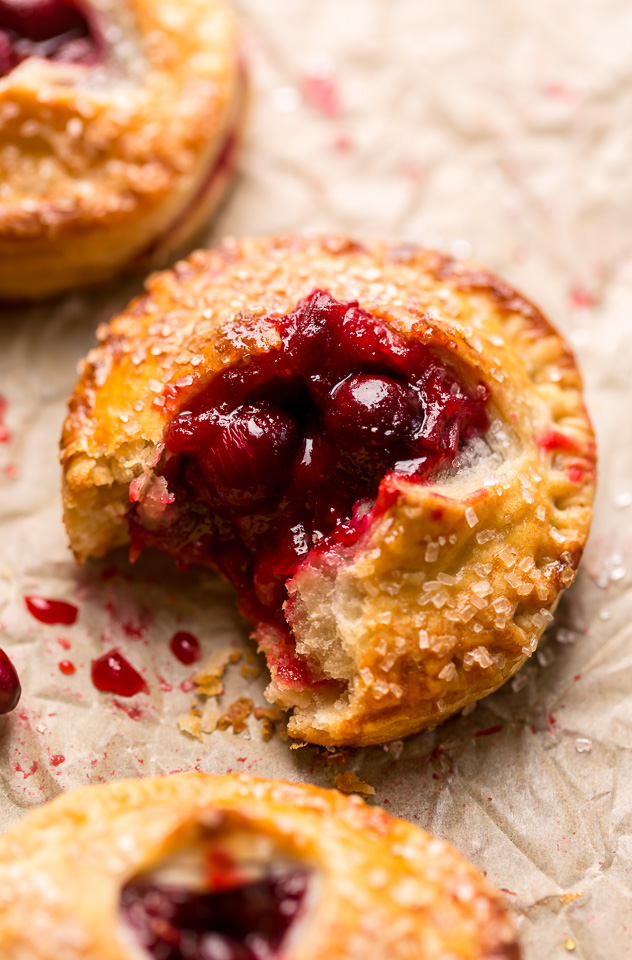 Today's cranberry dessert? Rustic cranberry hand pies! These are so much easier than baking a whole pie! And a major bonus is that you don't have to wait hours and hours for them to cool. Just a few minutes and they're ready to eat! I highly recommend serving them warm, with giant scoops of vanilla ice cream! They're not too sweet, so a scoop or two won't be cloying.
How to Make Cranberry Hand Pies: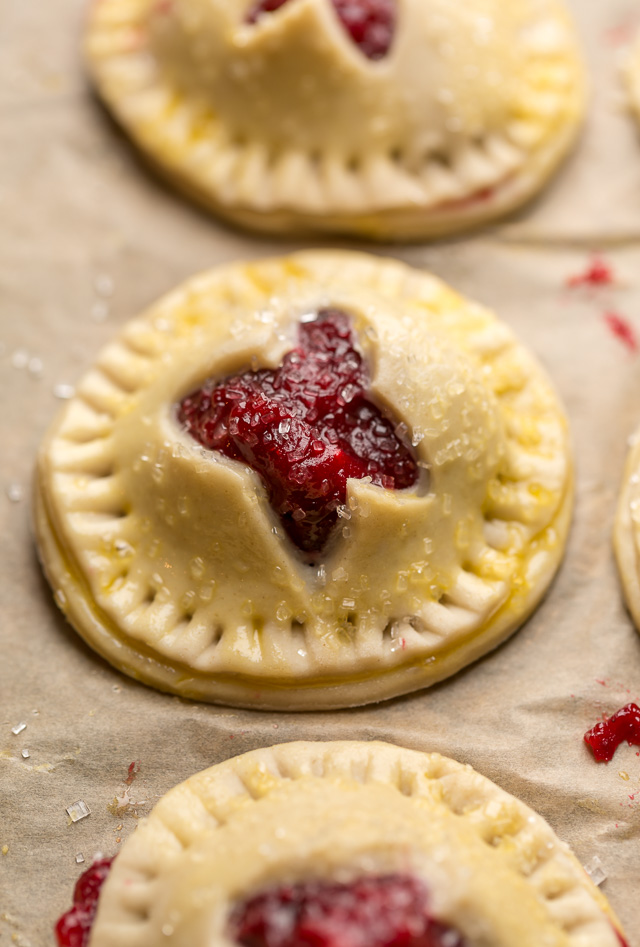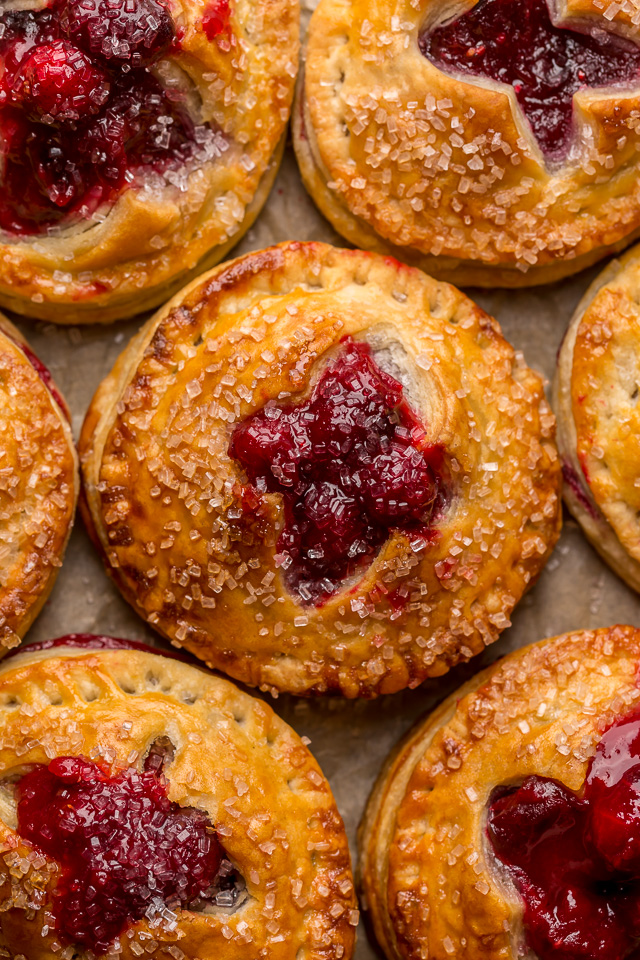 Serve warm, preferably with coffee and ice cream! Last week I put a 1/2 cup of almond ice cream on top of a warm cranberry pie and OMG. It was heaven on earth! Next I'm going to try pairing it with butter pecan… sounds so good right?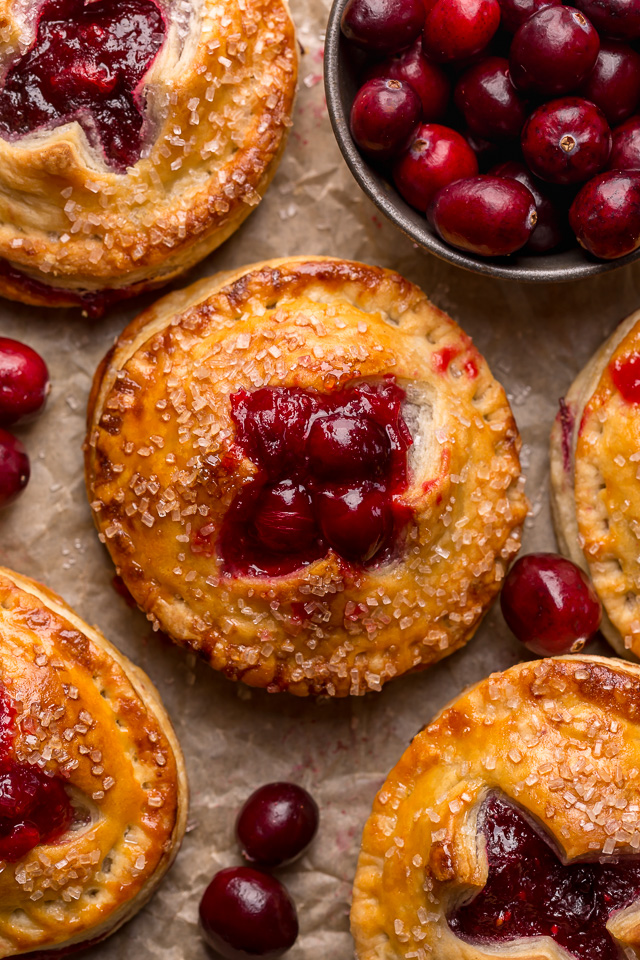 More Holiday Worthy Cranberry Desserts: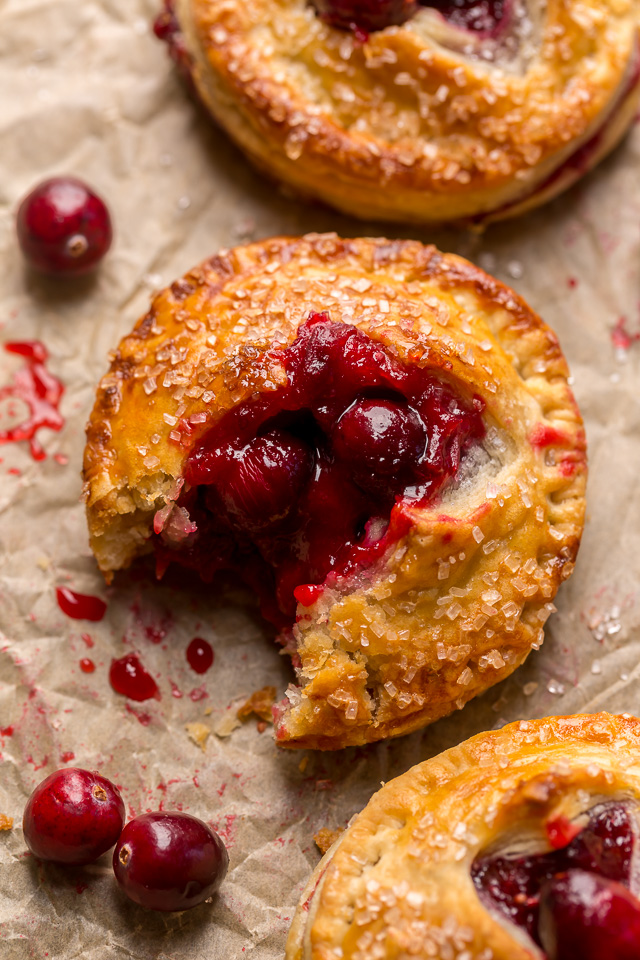 Cranberry Hand Pies
Yield 8 Pies
These rustic little Cranberry Hand Pies feature a flaky crust and a delicious orange cranberry filling! And their petite handheld size makes them perfect for sharing this holiday season! It's not Christmas in our house without these on the table!
Ingredients
For the Crust:
2 cups all-purpose flour
1/2 teaspoon salt
3/4 teaspoon baking powder
1/4 teaspoon ground cinnamon 
2 tablespoons granulated sugar
2 sticks (8 ounces) VERY cold, unsalted butter, cut into cubes
1/2 cup cold FULL FAT sour cream
For the Cranberry Filling:
3 cups cranberries, fresh or frozen
1/2 cup light brown sugar, packed 
1/3 cup granulated sugar 
1 teaspoon orange zest, finely grated
2 tablespoons fresh orange juice
2 tablespoons flour
2 Tablespoons grand mariner 
1 teaspoon vanilla extract 
For the Egg Wash:
1 large egg, beaten
2 Tablespoons sparkling sugar, optional
Instructions
For the Crust:
In a large bowl, whisk together the flour, salt, baking powder, and sugar. 
Add in the butter, and use your hands or a pastry cutter, to work it into the dry ingredients until it's a coarse meal. The butter should about the size of peas. 
Using a rubber spatula, stir in the sour cream. The dough will be very shaggy at this point.
Turn the dough out onto a well floured work surface and bring it together with a few quick kneads.
Pat the dough into a 10-inch log, then roll it out into a 10" x 12" rectangle. Dust both sides of the dough lightly with flour, and starting with the shorter end, fold it in three - like a letter.
Flip the dough over, and roll it again into a 10" x 12" rectangle. Fold it in three again. Wrap the dough in saran wrap, and chill for 1 hour. 
Crust may be made up to 5 days in advance and stored in the fridge until needed. 
For the Cranberry Filling:
In a medium saucepan, combine the cranberries, both sugars, orange zest, and orange juice. Heat over medium-heat just until the sugar has melted, about 3 minutes.
Sprinkle in the flour and stir well to combine. Cook another 3 minutes, or until the sauce has thickened. Finally, stir in the grand mariner and vanilla. Cook for 30 seconds. 
Remove from heat and scrape into a bowl. Don't worry if some of the cranberries burst, this is normal.  Set aside to cool completely. 
Cranberry filling can be made up to 3 days in advance. Store in the fridge, covered, until needed. 
For the Egg Wash:
Crack the egg into a small mixing bowl. Whisk until well combined.
Assembly and Baking:
Preheat the oven to 425°(F). Place a rack on the middle shelf.
Line a large baking sheet with parchment paper. Set aside until needed. 
On a lightly floured surface, roll the dough into a large thin square, about 16" x 16".
Using a 3.5" biscuit cutter, cut out 16 circles. 
Lightly brush the beaten egg wash along the edges of 8 circles. Then add a heaping tablespoon of filling in the middle of those circles. 
Using a small paring knife, cut an X shaped vent on top of the remaining eight circles.
Top each filled circle with a vented circle, and seal by pressing the edges shut with the tines of a fork. Make sure the edges are sealed well!
Lightly brush the top of each pie with egg wash and sprinkle with sparkling sugar. 
Transfer the pies onto the prepared baking sheet. Bake for 18 to 20 minutes, or until golden brown.
Remove from oven and cool for 10 minutes before serving.
Courses Dessert, Breakfast
Cuisine American