There are literally a million chocolate chip muffin recipes on the internet… but these moist chocolate chip muffins are truly the BEST! And that's not a humblebrag; it's a simple fact! These bakery style muffins come together in a jiffy – no electric mixer required!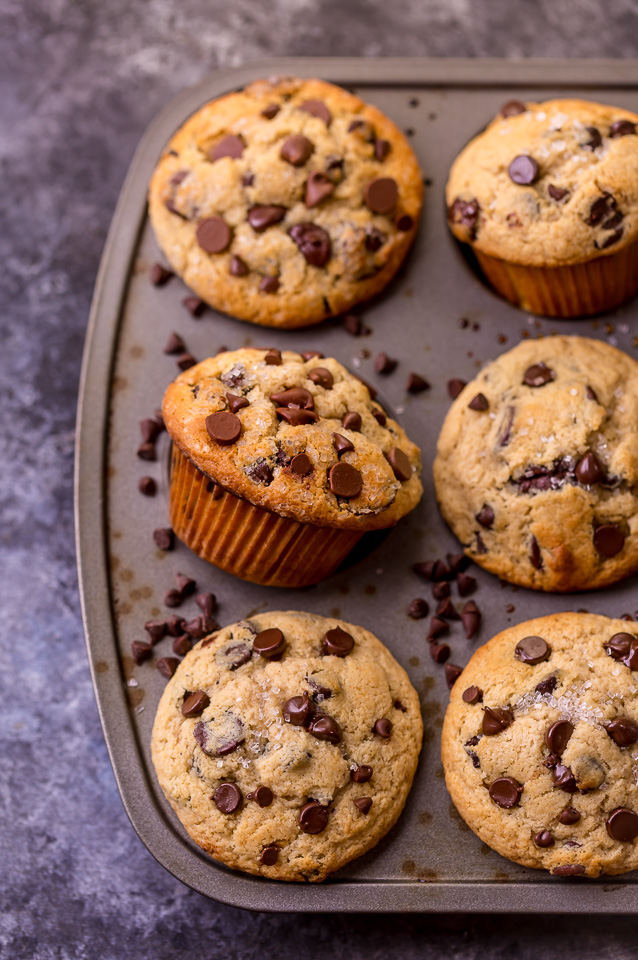 Chocolate Chip Muffins
It's day 47 of self isolation and I'm not gonna lie… my pantry is pretty bare bones! But thankfully, we still have some basics in stock. After a quick inspection, I was pleasantly surprised to find chocolate chips, vanilla extract, flour, baking powder, and salt in the cabinets. And butter, eggs, sour cream, and a little milk left in the fridge. Basically, everything you'd need to make muffins!
So I decided to bust out my muffin pan and make our favorite moist and fluffy chocolate chip muffin recipe.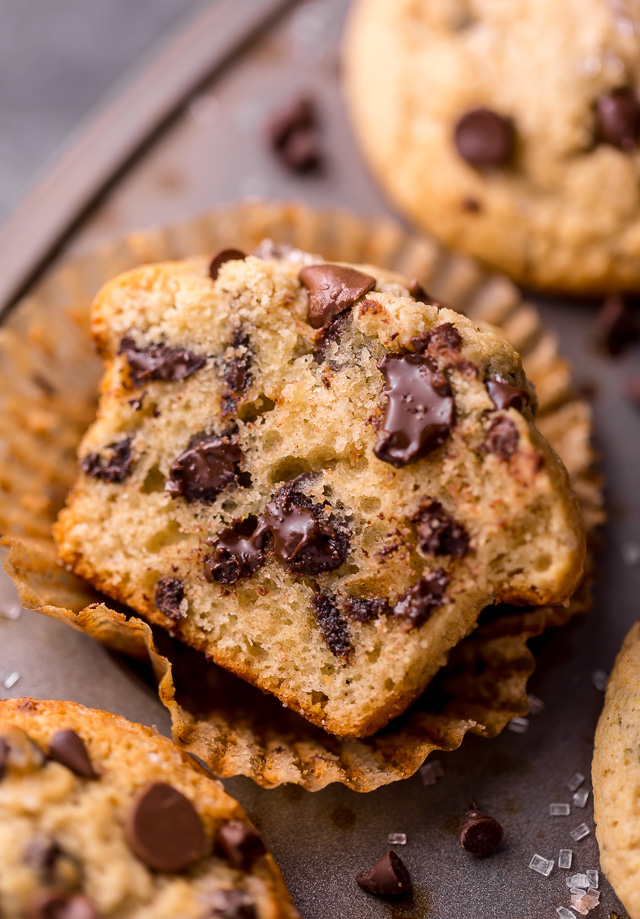 And just as I removed my muffin tin from the cabinet, I realized something terrible! I've somehow never shared this recipe with you!!! I seriously don't know how this oversight happened. Because this is one of our most loved and used recipes! I bake them at least once a month!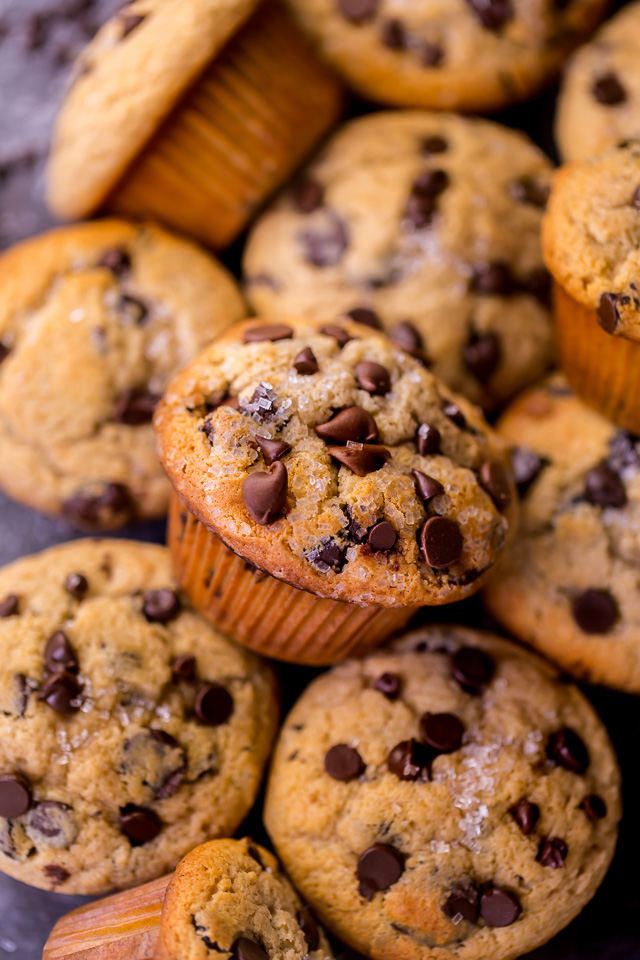 These chocolate chip studded muffins bake up ultra moist and tender! We can thank a clever combination of vegetable oil, melted butter, sour cream, milk, and lemon juice for that! I know that may seem like an odd pairing, but I promise you, it works! And don't worry, you won't taste the lemon juice!
These muffins also have incredible flavor thanks to a combination of granulated sugar, dark brown sugar, cinnamon, and nutmeg! Basically what I'm saying is these are the best darn chocolate chip muffins and I'm sorry I've held them from you for so long!
So without further ado, let's jump to the recipe so you can get baking!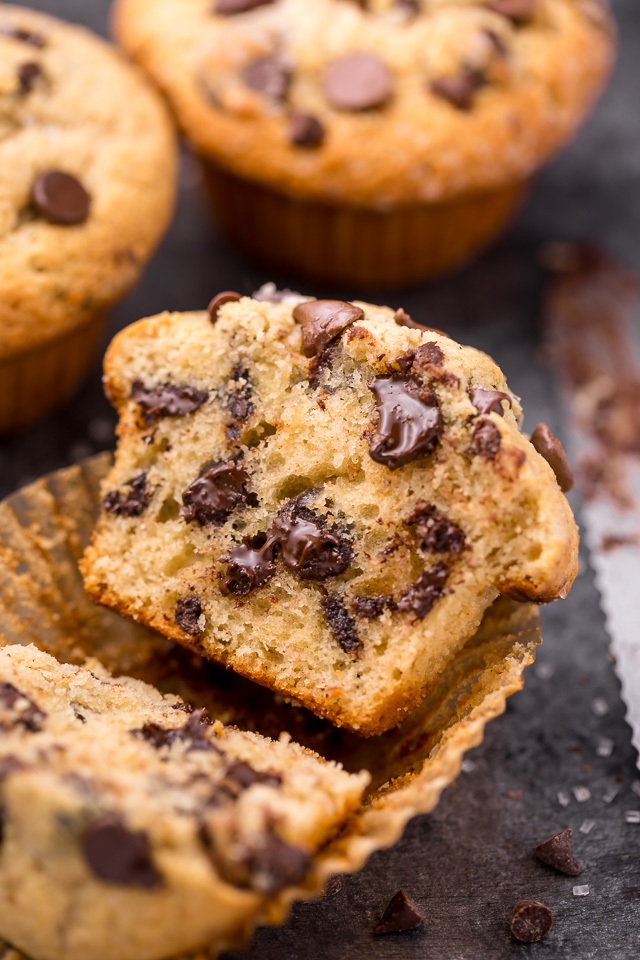 How to make Chocolate Chip Muffins
Ok, so one of the best things about this chocolate chip muffin recipe? It's SO easy! Any baker – or non-baker – can master this recipe by following these simple steps!
In a large bowl, combine the wet ingredients. In a separate large bowl, combined the dry ingredients. Gently fold the dry ingredients into the wet, stirring just until combined! DO NOT OVER MIX. Sorry to scream that, but over mixing is the road to dry muffins! You only need to stir until the ingredients are combined. I actually prefer to stop mixing when I see just the slightest trace of dry ingredients, and then toss in my chocolate chips!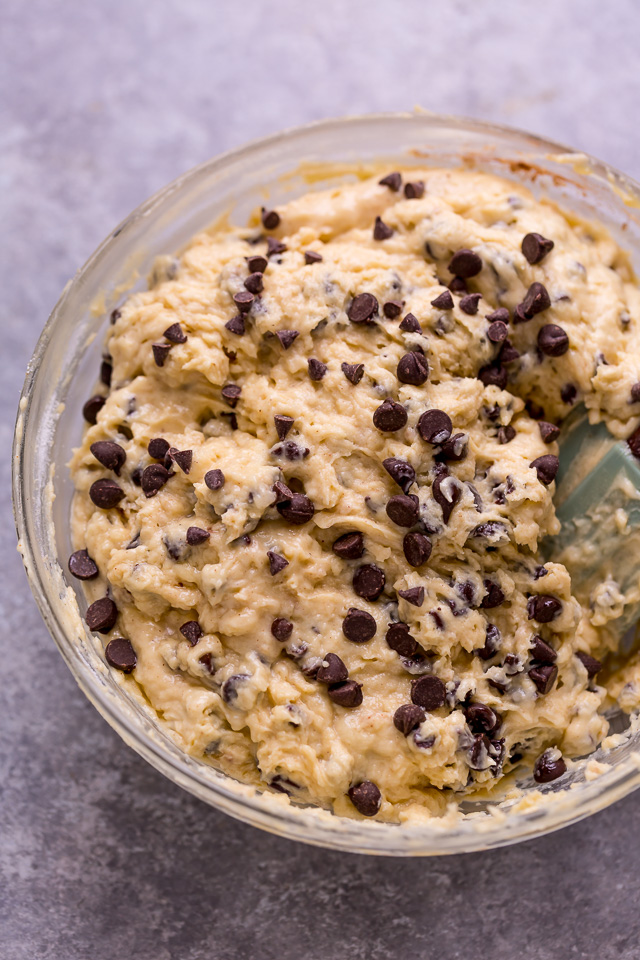 Should My Batter be Thick?
Yep! This muffin batter is VERY thick! Which is exactly what we want when it comes to muffin batter. Thick batter will help your chocolate chips stay in place (not sink to the bottom) and will create a dense but moist muffin. Remember, these are not cupcakes! So don't fret if your batter is thick.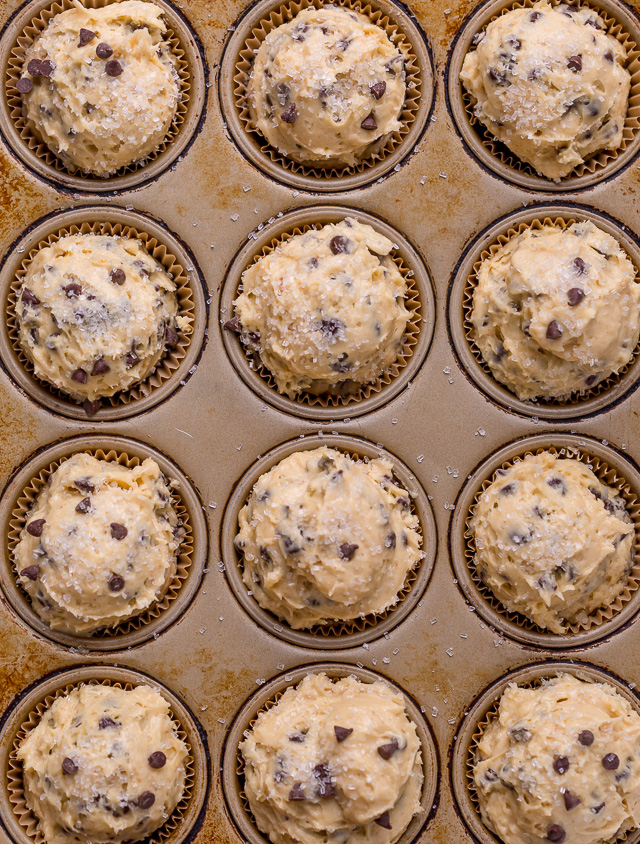 Room Temperature Ingredients
For best results, it's crucial you bring your eggs, milk, and sour cream to room temperature. Room temperature ingredients incorporate evenly and easily with one another. So be sure to bring them out of the refrigerator at least 30 minutes before you begin baking.
*This is also a great time to preheat your oven!
Divide the batter evenly among your muffin pan, filling eat mold all the way up to the top! This is one of the ways to ensure you get sky-high muffin tops! You can also sprinkle the top of each muffin with sparkling sugar for some extra pizazz! I love King Arthur Sparkling Sugar, but any coarse sugar will work! I also like to set aside 1/2 cup of chocolate chips to press into the top of the muffins when they come out of the oven. This is optional, but I always do it!
Because who doesn't love extra gooey chocolate chips on top?!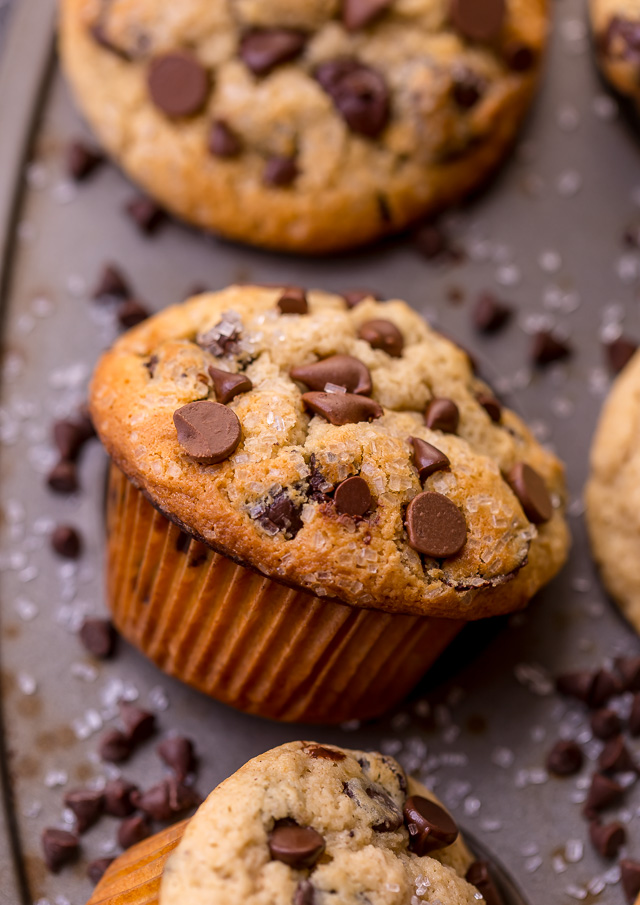 How many Muffins?
This recipe yields 6 jumbo muffins, 12 standard muffins, or 2 dozen mini muffins! I give the time estimate for standard muffins in the recipe below. You'll want to decrease the time for mini muffins and increase the time for jumbo muffins. A good rule of thumb is remove the muffins when their tops have risen and are a golden brown, and when a toothpick inserted in the center of a muffin comes out clean. For a standard 12 muffin tin, I find this is usually 25 to 30 minutes.
How to Store Muffins
And while I think these are best eaten the day they're baked, they'll keep, tightly wrapped in Saran Wrap, for up to 3 days! Or throw a few in the freezer for a later date! They'll keep in the freezer for 2 months and take a few hours to thaw at room temperature. I love grabbing one from the freezer when I wake up and enjoying it with a cup of coffee around 01 pm!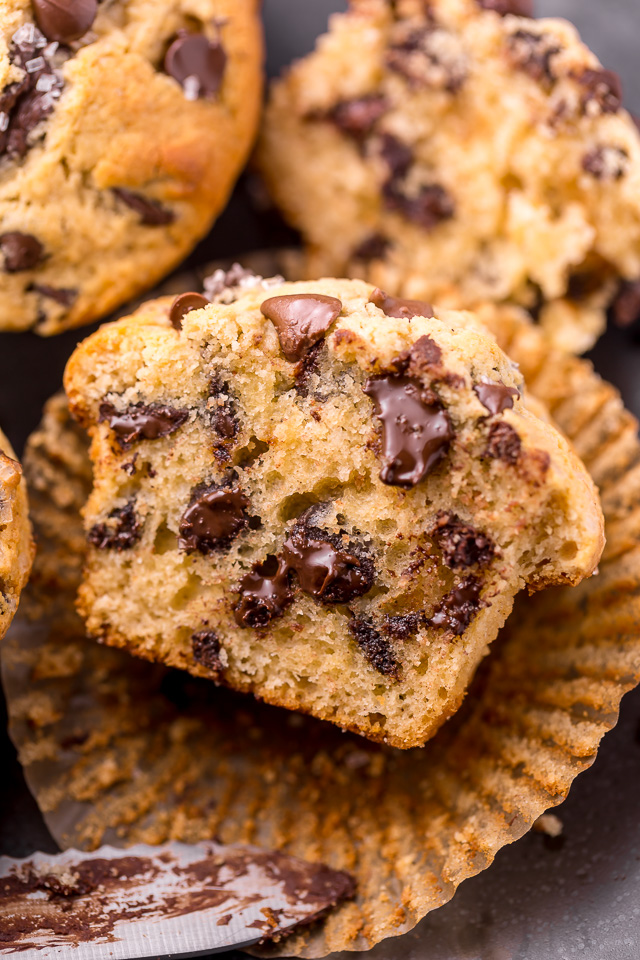 How to get Tall Muffin Tops
The "secret" to those mile-high bakery style muffin tops? Start baking the muffins at a high temperature, then lower the temperature after a few minutes. Why do this? Because the high temperature will help the muffins to rise up very quickly – and guarantees those coveted crispy muffin tops us bakers desire. Just be sure to lower the oven temperature after 8 minutes! Seriously – SET A TIMER! Otherwise your muffins will come out dry.
Burnt Muffin Bottoms? Try this!
In the past I've had a few readers tell me their muffins came out delicious… but with burnt bottoms! To remedy this issue, I suggest baking your muffins on the center rack in your oven. And placing your muffin tin on a baking sheet before place it in the oven. Baking it on a baking sheet provides an extra layer of protection for the bottom of the muffin pan, which will help the muffins bake more evenly. If your muffins are still burning on the bottom at this point, I suggest investing in a higher-quality muffin pan. This muffin tin is my favorite!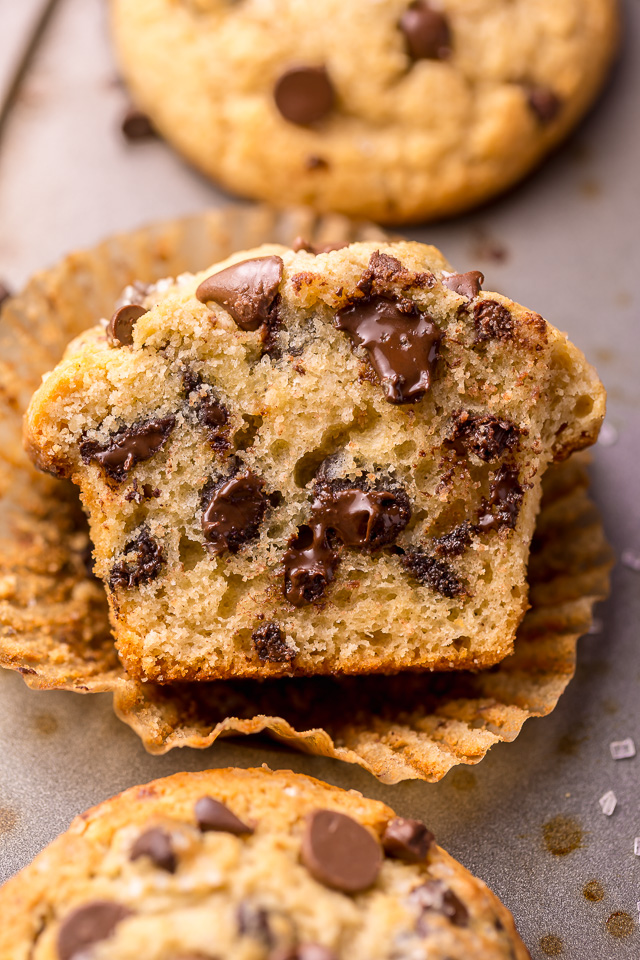 More Amazing Muffin Recipes:
If you try this Chocolate Chip Muffin Recipe, let me know! Leave a comment below and don't forget to snap a pic and tag it #bakerbynature on instagram! Seeing your kitchen creations makes my day ♥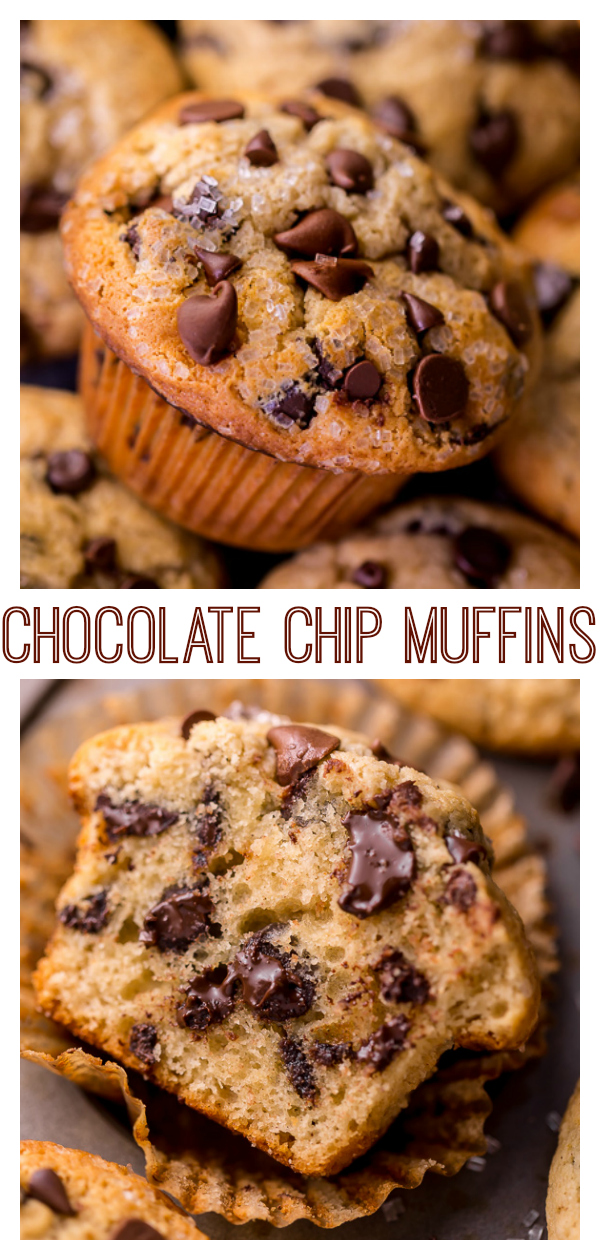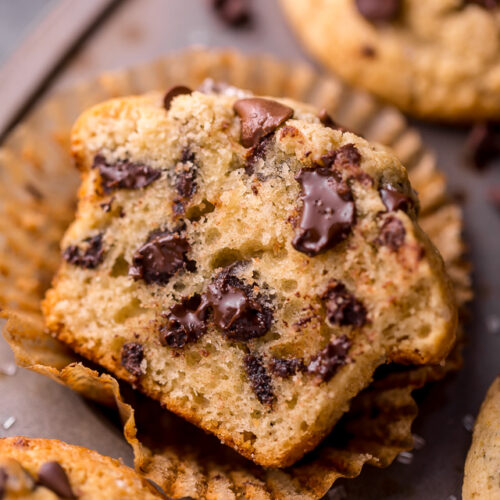 Moist Chocolate Chip Muffins
There are literally a million chocolate chip muffin recipes on the internet... but these moist chocolate chip muffins are truly the BEST! And that's not a humblebrag; it's a simple fact! These bakery style muffins come together in a jiffy - no electric mixer required!
Ingredients
3 cups (381 grams) all-purpose flour
1 cup (200 grams) granulated sugar
1/4 cup (50 grams) light brown sugar, packed
1 Tablespoon baking powder
1/2 teaspoon salt
1/4 teaspoon ground nutmeg
1/2 teaspoon ground cinnamon
2 large eggs, at room temperature
1 cup (227 grams) unsalted butter, melted and slightly cooled
1 cup (240 grams) sour cream
1/3 cup (80 grams) milk
1/2 teaspoon lemon juice
2 Tablespoons (28 grams) *Oil
2 teaspoons pure vanilla extract
2 cups semi-sweet chocolate chips
Instructions
Preheat oven to 425 degrees (F). Line a 12-cup muffin tin with paper liners and set aside. 

In a large bowl, whisk together the flour, both sugars, baking powder, salt, nutmeg, and cinnamon. Set aside.

In a separate large bowl, add the eggs, melted butter, sour cream, milk, lemon juice, oil, and vanilla; whisk well to combined. 

Fold the wet ingredients into dry ingredients and, using a rubber spatula, and gently fold the ingredients together. To avoid over mixing, stop stirring when you can still see the slightest trace of the dry ingredients. Fold in the chocolate chips. 

Divide batter evenly among prepared muffin pan, filling the molds up all the way to the top. Sprinkle with sparkling sugar, if desired. 

Bake at 425 degrees for 8 minutes, then, keeping the muffins inside the oven, reduce to 375 degrees and continue baking for another 14 minutes, or until the tops are golden brown and a toothpick inserted in the middle of a muffin comes out clean. 

Cool in the pan, placed on a wire cooling rack, for 15 minutes. Remove muffins from the pan and serve warm or at room temperature. 
Notes
*Canola Oil, Vegetable Oil, or Liquified Coconut will work. *Wrap any leftover muffins tightly in saran wrap and store at room temperature for up to 3 days, or freeze for up to 3 months. Thaw muffins overnight in the refrigerator or on the counter.