Golden brown, loaded with juicy cherries, and drizzled with dark chocolate, these Chocolate Covered Cherry Scones are a total showstopper! Perfect for breakfast or brunch and so good with a cup of coffee! For an extra chocolate kick, add a 1/2 cup of mini chocolate chips!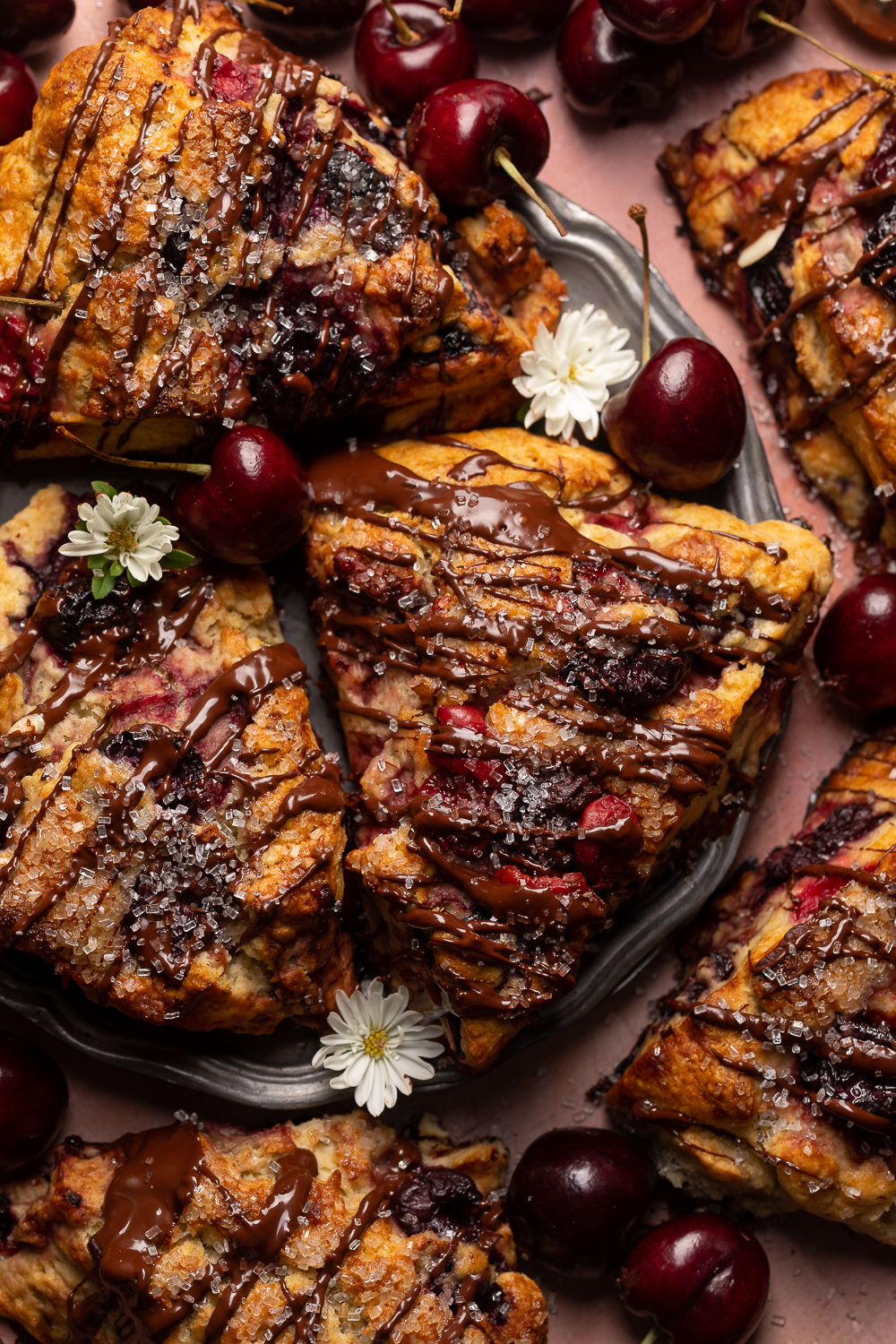 Chocolate Cherry Scones
Christmas in July rolls on! Today is our 3rd recipe in the series and it's one of my all-time favorites!
Say hello to chocolate covered cherry scones! I love making these on Christmas morning because cherries and chocolate are such an indulgent combination! And scones are one of those treats that can sit on a plate for hours and still taste fantastic.
But this is also obviously a great Summer recipe! and a fantastic way to use up Summer cherries!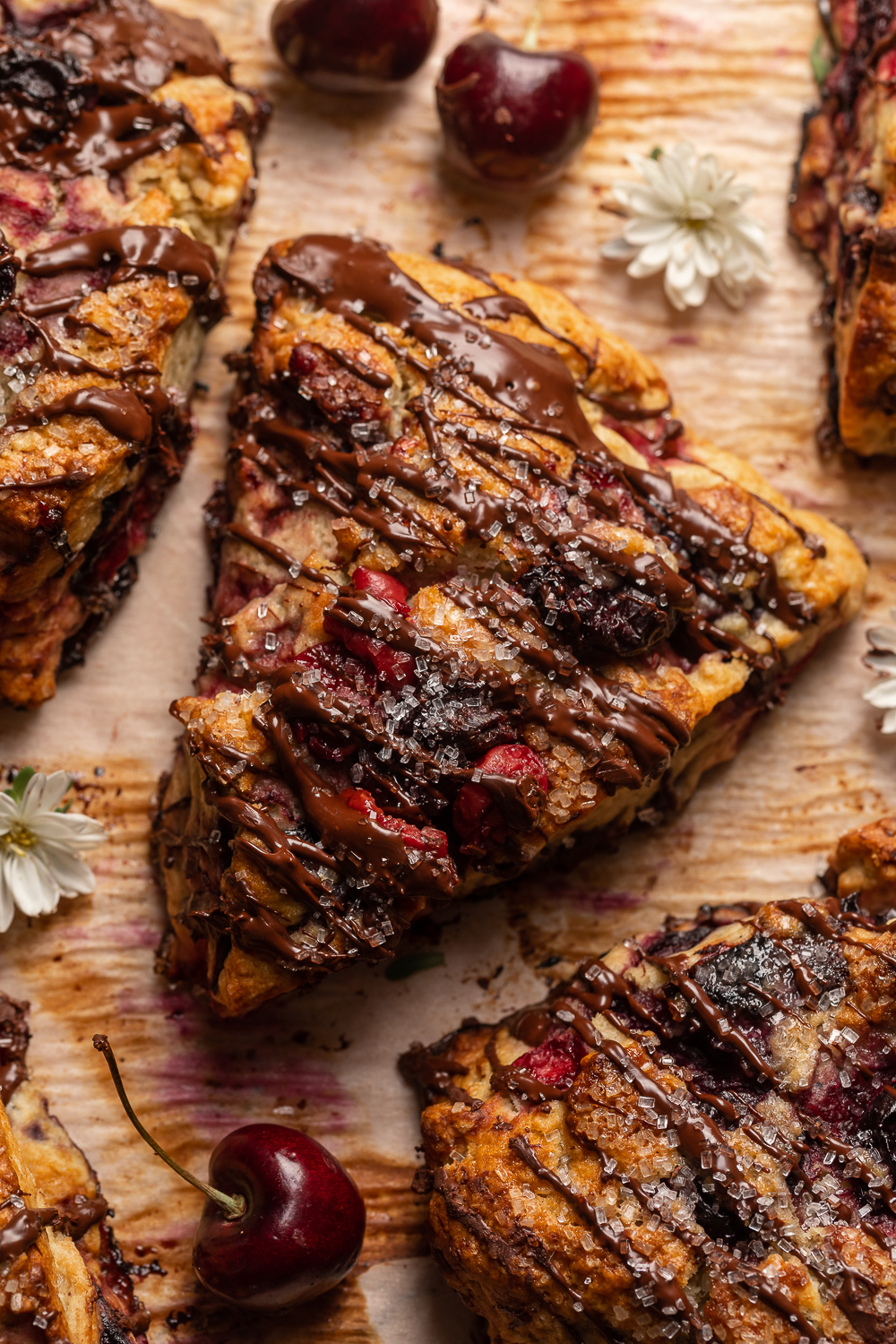 Best Cherries for Scones?
I used a mix of sweet and sour cherries because that's what I had on hand. But sweet red cherries work best, because they won't make the scones too bitter.
Frozen cherries will work in a pinch, but they're a little harder to work into the dough, and can cause some red streaking. But they DO work!
And yes, even dried cherries can work here! Personally I find them a lot less delicious when made this way. Because you loose those juicy pockets of fresh cherry. But you could soak them in some warm water to plump them up before tossing them in the dough. Just make sure you pat them completely dry so you're not adding excess water.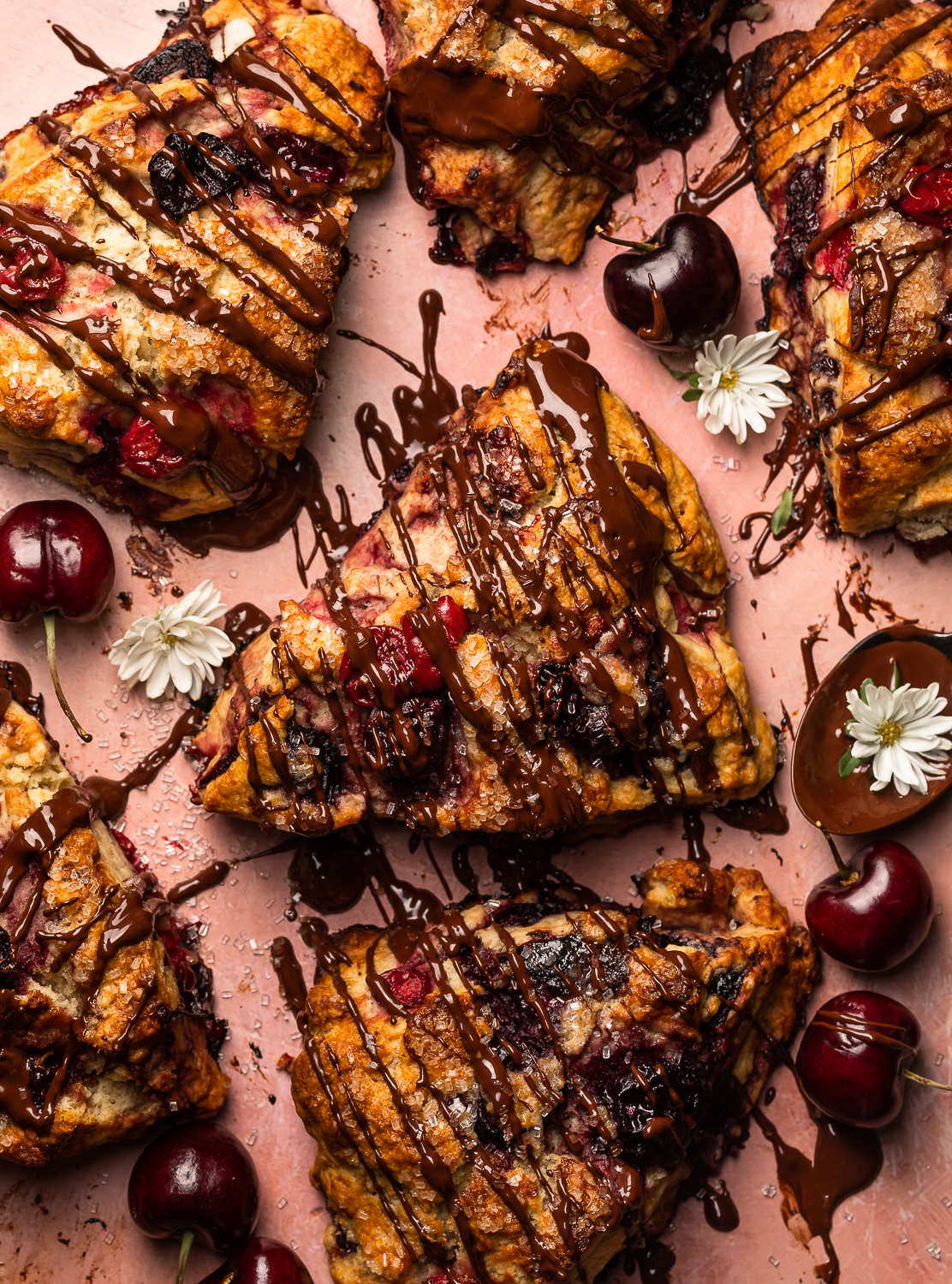 Can I add more chocolate?
Yes! If you're a chocoholic and would like even more chocolate, feel free to add up to 3/4 cup mini chocolate chips, regular chocolate chips, and chocolate chunks!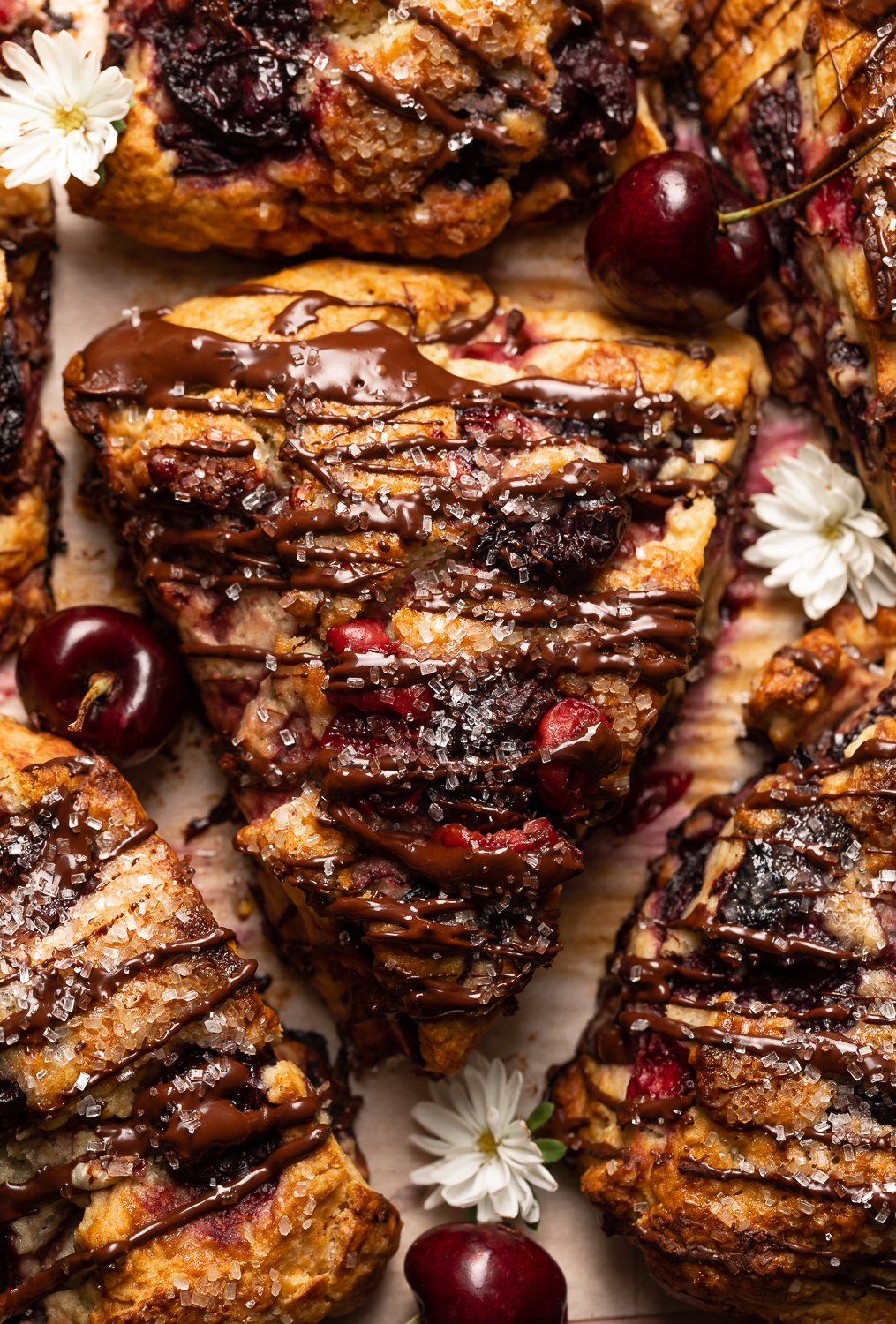 Tips and Tricks for Making Scones like a Pro:
Use COLD butter! If you're making these in a very warm climate, I suggest popping your butter in the freezer for 20 minutes before cutting it to avoid melting!
Line a large baking sheet with parchment paper before you begin assembling the scones, so you have it ready to go!
In a large bowl whisk together the dry ingredients, THEN add in the butter. You'll want to cut the butter into the dry mixture until it resembles a coarse meal.
Then you'll pour your heavy cream and egg into the flour mixture. And then add the cherries and stir everything tother. Don't worry if it looks like a shaggy mess at this point!
Pour your scone mix out onto a lightly floured surface and knead it until it comes together. This might take 7 or 8 turns, so don't fret if it doesn't look cohesive at first.
Gently place your scones on your prepared baking sheet and bake for 26 to 30 minutes, or until golden brown!
Pour your chocolate mixture into a small bowl and drizzle the warm chocolate glaze on top of the scones right before serving!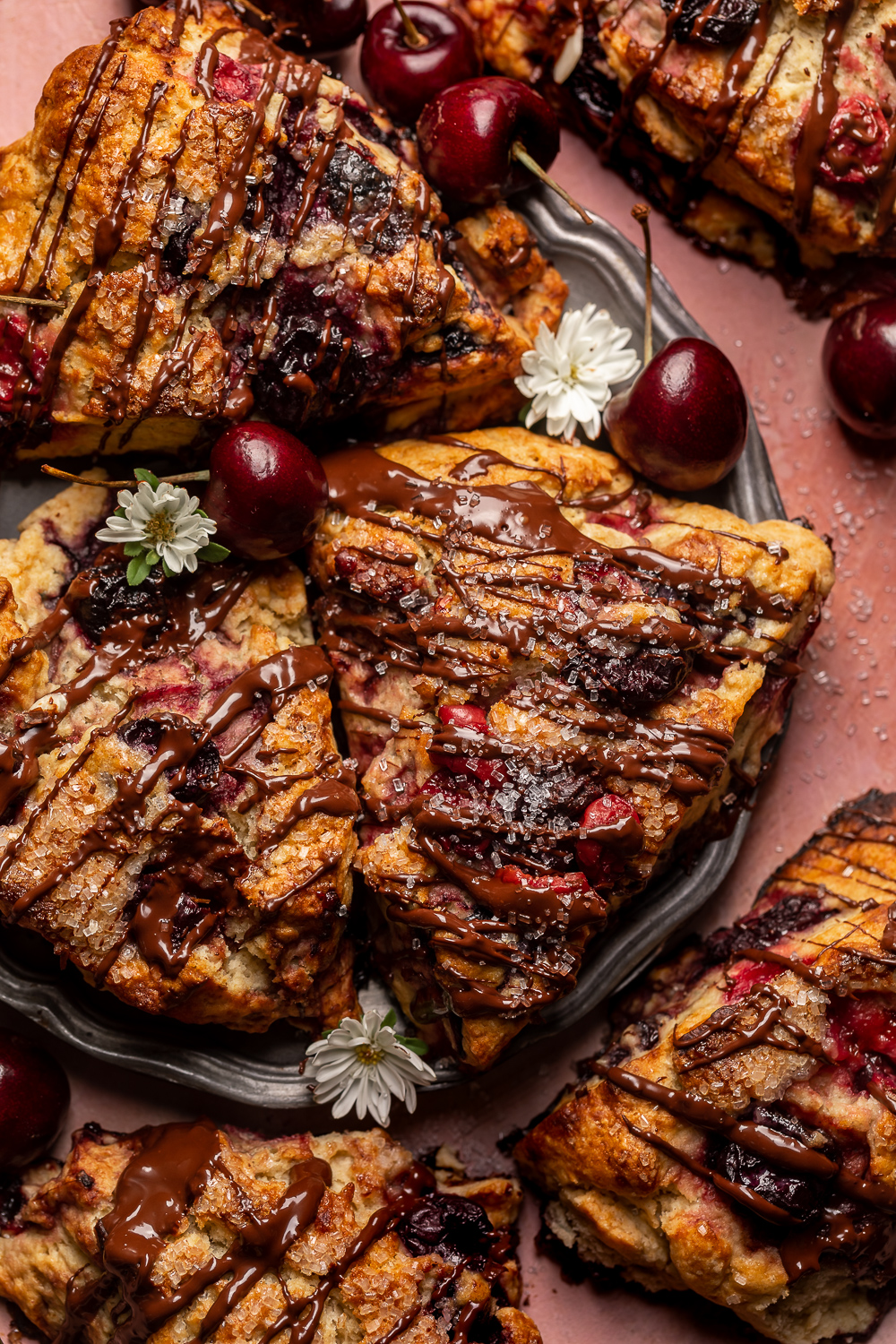 These chocolate cherry scones are delicious served warm, or at room temperature! But are best served the day they're baked! After 24 hours, they become a little soggy and loose their fantastic texture, but they can be frozen for up to 2 months!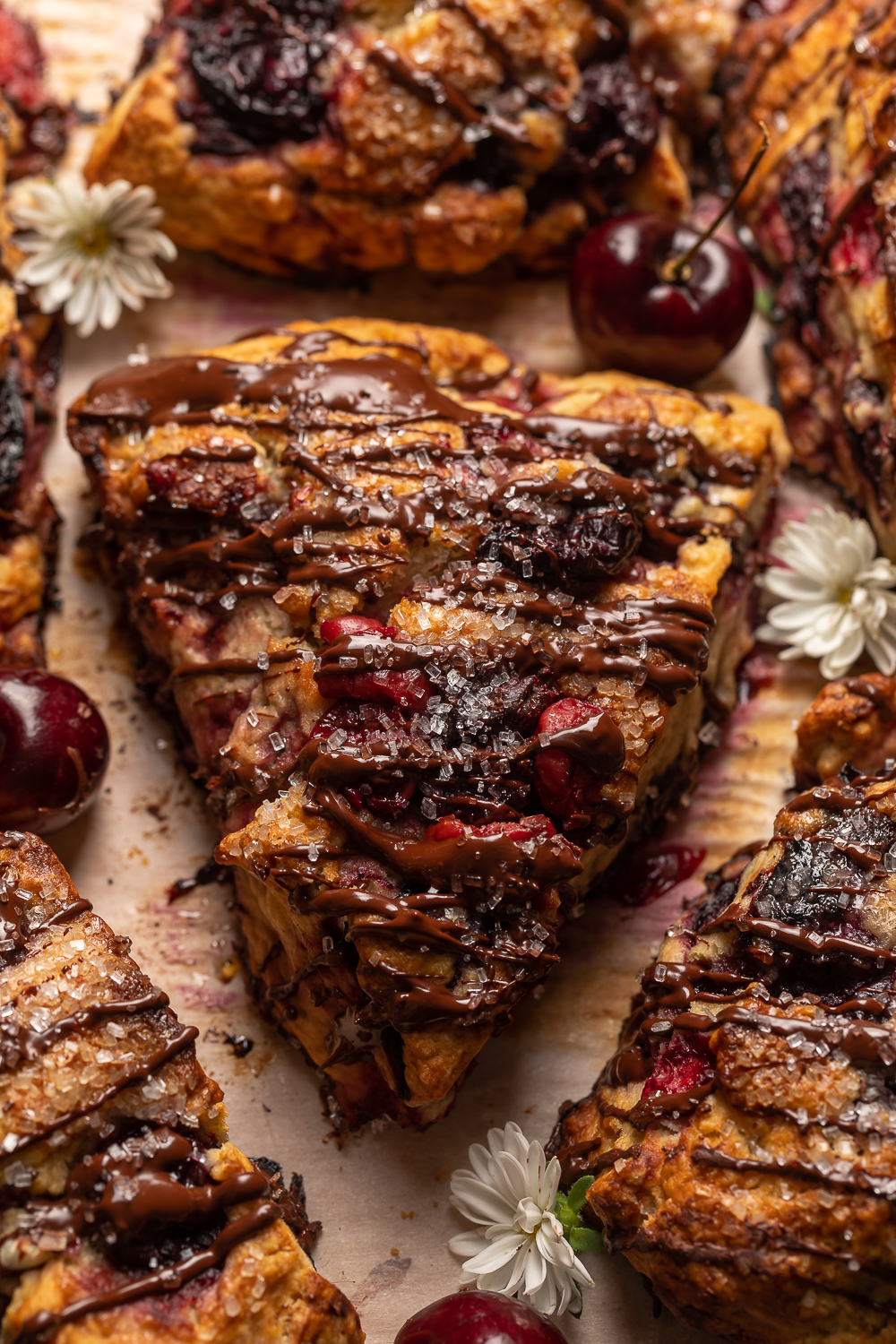 More Scone Recipes: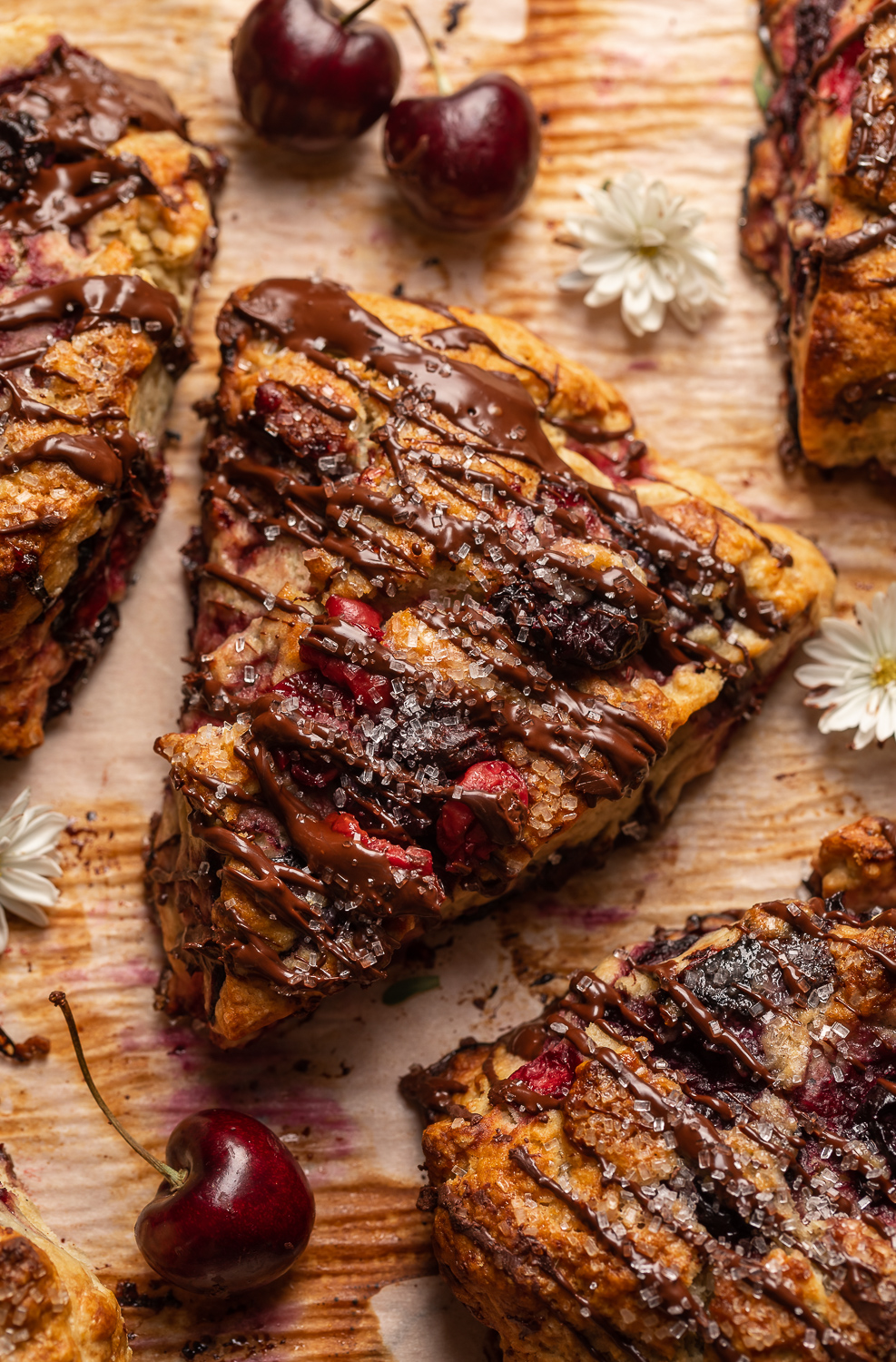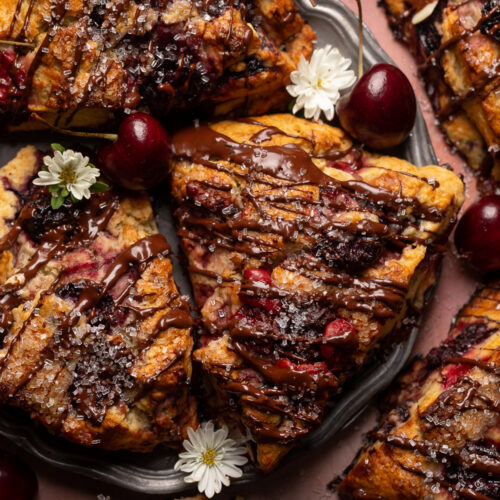 Chocolate Covered Cherry Scones
Ingredients
3 cups (390 grams) all-purpose flour
1 tablespoon (14 grams) baking powder
1/2 teaspoon salt
1/2 teaspoon ground cinnamon optional
1/2 cup (99 grams) granulated sugar
1/2 cup (113 grams) unsalted butter very cold, cut into cubes
1 large egg cold
3/4 cup (170 grams) heavy cream cold
1 Tablespoon vanilla extract
1/2 teaspoon almond extract optional
2 cups fresh or frozen cherries roughly chopped
For the Chocolate Glaze
4 ounces dark chocolate roughly chopped
Instructions
Preheat oven temperature to 400 degrees (F). Line a large baking sheet wit parchment paper and set aside.

In a large mixing bowl whisk together both flour, baking powder, salt, cinnamon (if using), and sugar.

Add the cold butter cubes, and using a pastry cutter, work the butter into the flour mixture until it resembles a coarse meal.

In a small bowl whisk together the egg, heavy cream, vanilla, and almond extract (if using).

Make a well in the center of the dry ingredients. Pour the cream/egg mixture all into the center, then add in the cherries. Using a rubber spatula, fold the mixture together a few times.

Carefully pour the mixture out onto a lightly floured surface. Gently knead the dough together and press it out into a large circle about 2 inches thick.

Cut dough into 8 wedges, then carefully place scones onto the prepared baking sheet.

Brush with beaten egg wash, then sprinkle with sparkling sugar, is using.

Bake for 26 to 30 minutes, or until golden brown and cooked through. Remove from the oven and place pan on a wire rack to cool.
For the Egg Wash:
In a small bowl add the egg and water. Whisk until well combined. Set aside until needed.
For chocolate Glaze:
Place chopped chocolate in a small microwave safe bowl.

Melt the chocolate in the microwave, on the lowest setting, in 15 second increments, stirring after each increment, until chocolate is completely melted. Whisk smooth.

Using a small spoon, drizzle the scones with the melted chocolate before serving.