These Bakery-Style Triple Berry Buttermilk Scones are loaded with juicy blueberries, blackberries, and raspberries! Super flaky yet moist and so delicious! And they're so easy to make!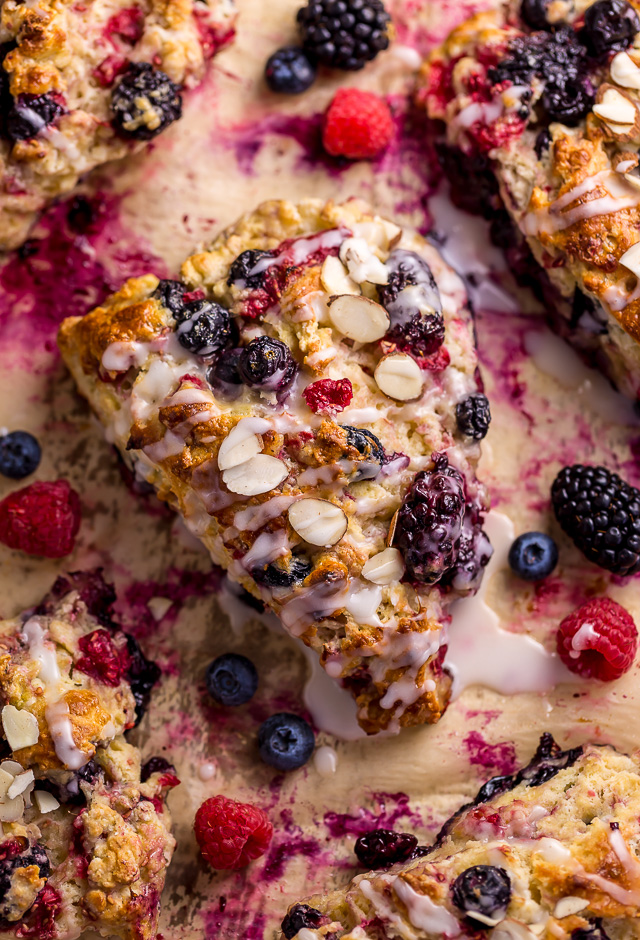 Fresh Berry Scones
Hi! How was your weekend? Here in Philly, we got a taste of Summer (or should I say a tease?) and it was fabulous! On Friday, I met friends for cocktails on a gorgeous rooftop downtown and I spent Saturday hiking and hanging with mom. But Sunday? Sunday was all about baking!
And brunch, of course! I had plans to join a few girlfriends on a potluck picnic, and of course I was in charge of bringing the sweets! No surprise there, right?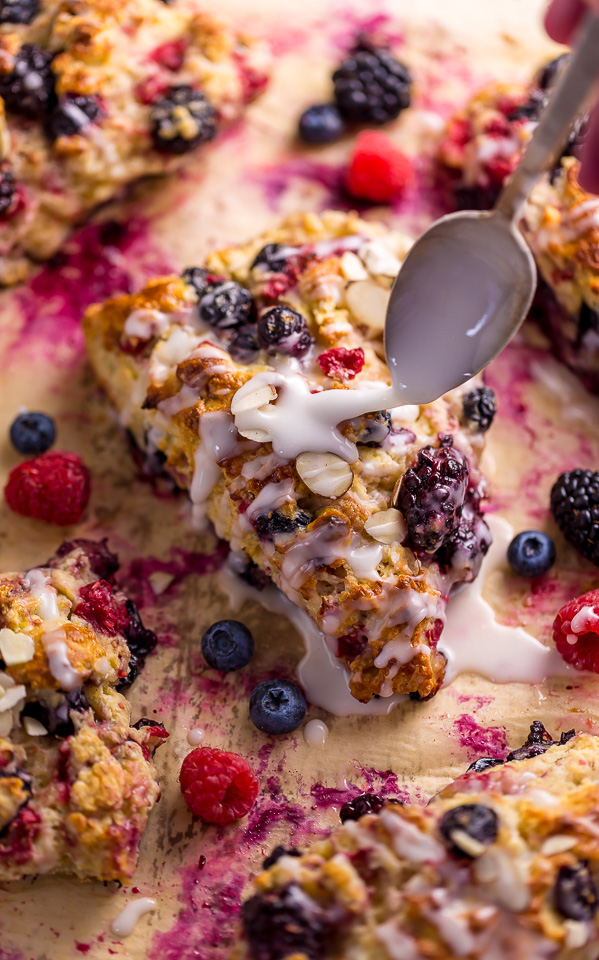 I knew my friend Kel was bringing rosé and my other friend Lexie was whipping up salad and tea sandwiches, so naturally I wanted to bake something that fit with the fresh and classic menu. And so, these triple berry buttermilk scones were born! I brought all 8 to the picnic and between the 4 of us… I left with nothing but crumbs and a sticky glaze coated tupperware container.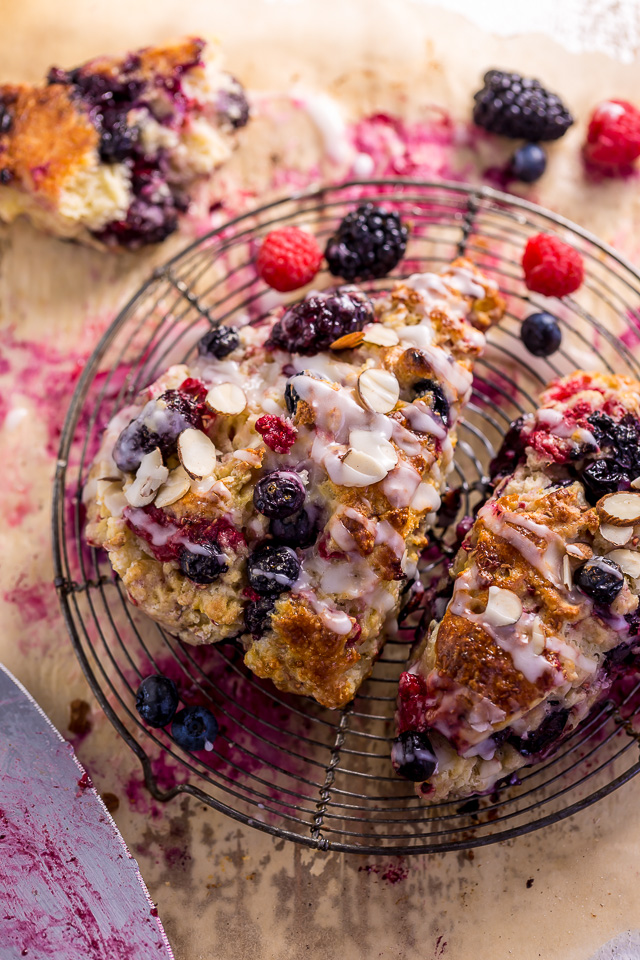 Not a scone lover? I get that. My man isn't one either, but even he's one board with these fresh and fruity scones! Because they're not dry (AT ALL), super flavorful, and perfectly sweet thanks to the perky lemon glaze. If you love berries, you'll love these!
Tips and Tricks for Recipe Success:
The most important rule in the scone baking game? COLD BUTTER! I go as far as to suggest you pop your stick of butter in the freezer for a few minutes before you cut it up. Cold butter = flaky scones. Which is what we want, of course!
Fresh or frozen berries may be used! But I prefer fresh. If using frozen, do not thaw.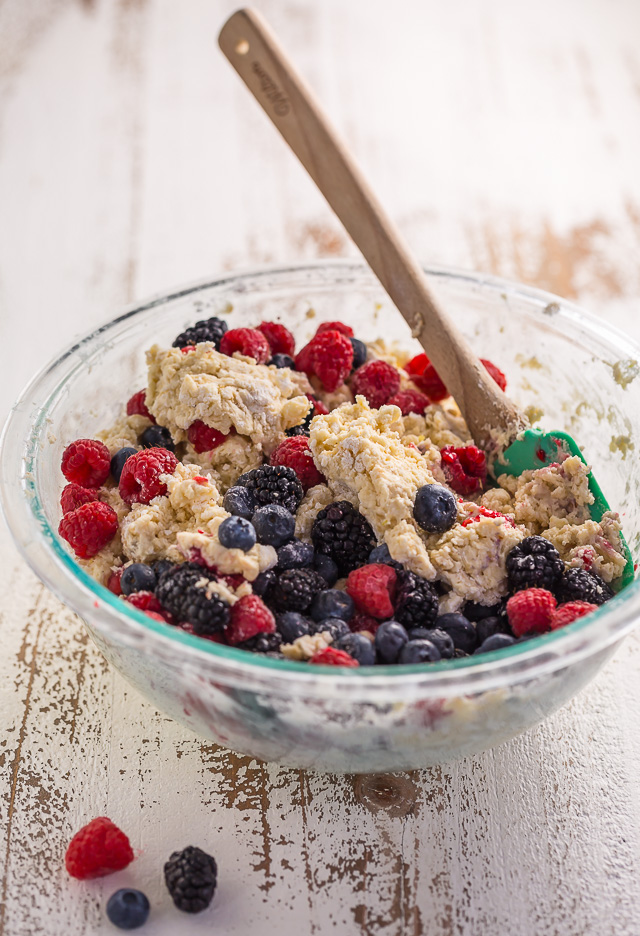 And don't worry if the berries get a little mashed up when you're mixing the dough.
Although it may be tempting, resist using more berries than called for, as it will lead to soggy scones.
When you dump the scone mixture out onto your work surface it's going to be a shaggy mess. But don't worry – just a few easy kneads and you'll have a manageable dough at your fingertips.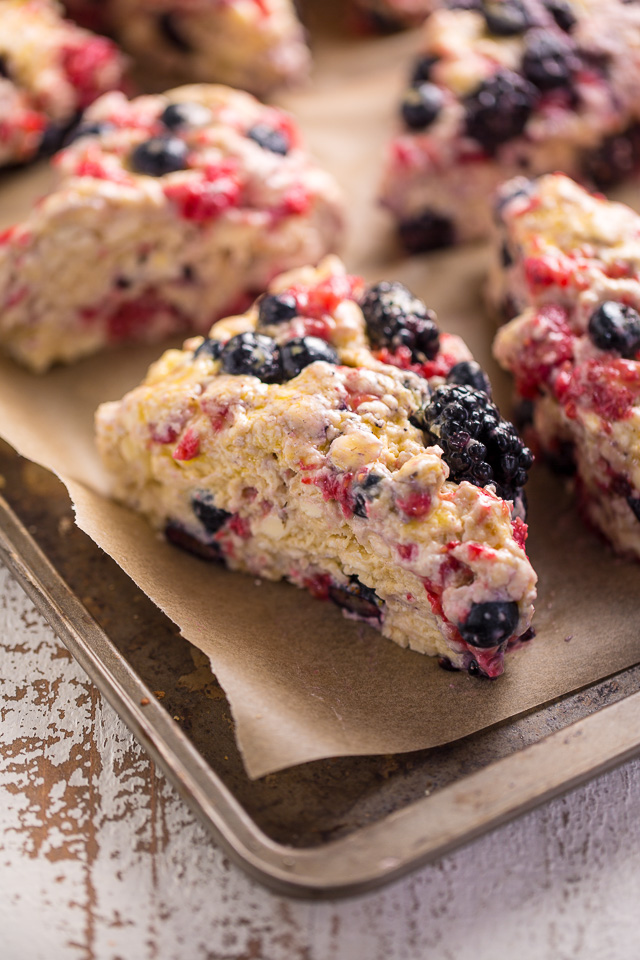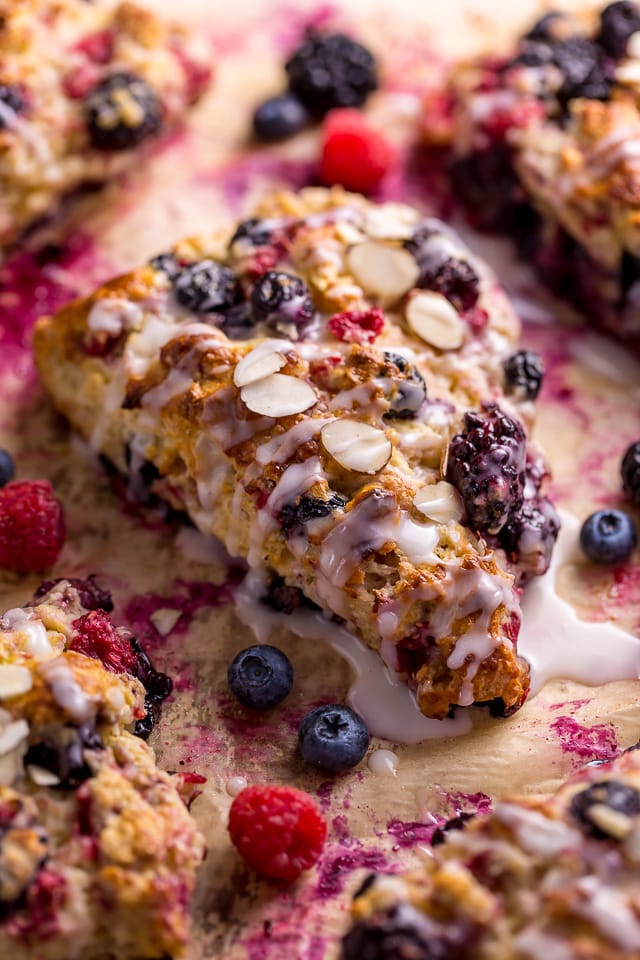 The lemon glaze is optional, but highly recommended – especially if you prefer sweeter treats.
For best results, glaze scones right before eating/serving. Otherwise they'll become soggy after a while.
Finally, scones are best eaten the day they are made. But will "keep" loosely covered in saran and stored at room temperature, for 2 days.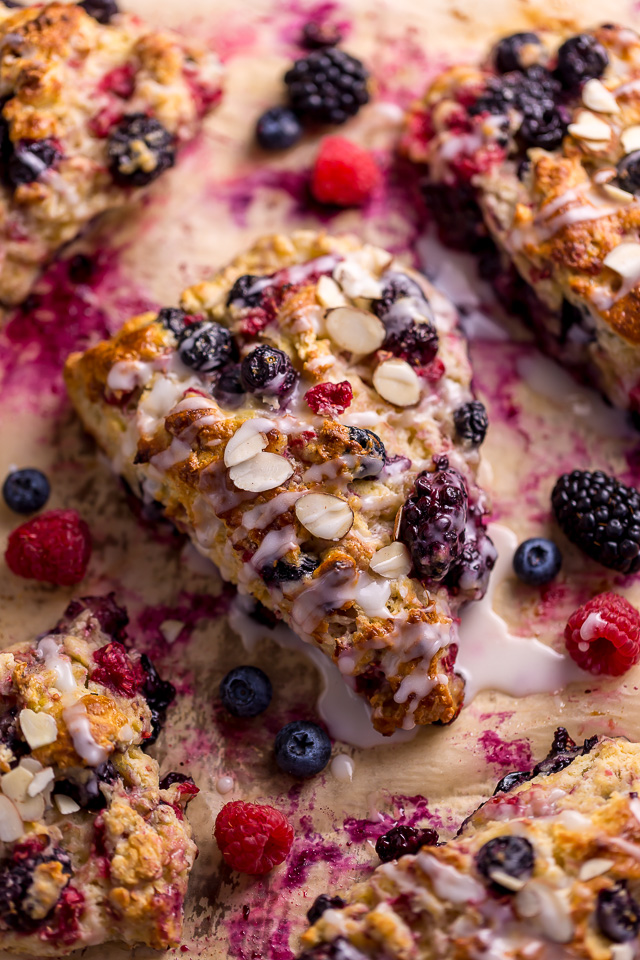 So, are you ready to make these triple berry buttermilks scones, or what?! I'm going to whip them up again for Mother's Day… if not before 😉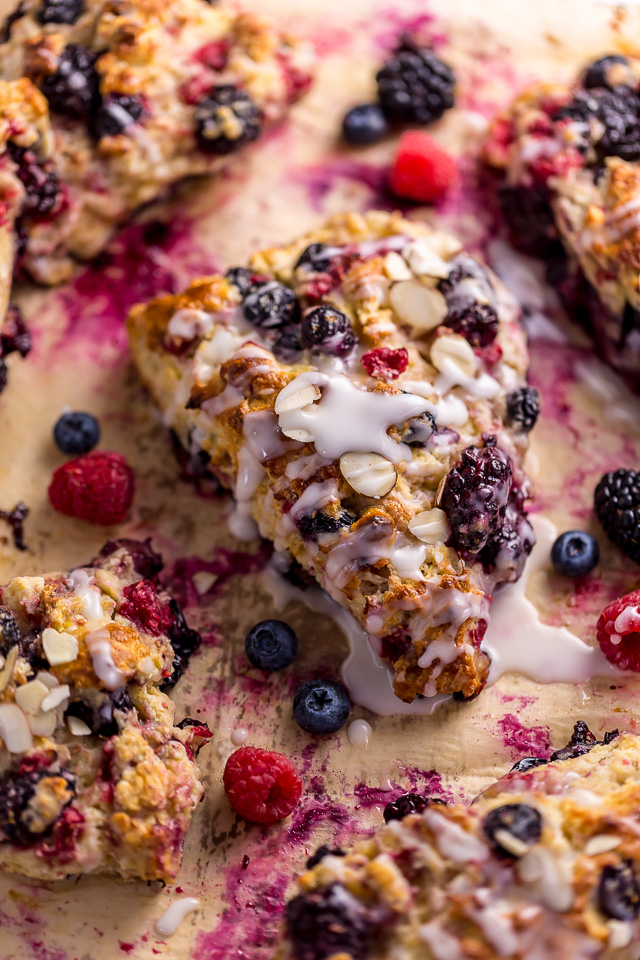 More Scone Recipes:
If you try this recipe for Triple Berry Buttermilk Scones, let me know! Leave a comment below and don't forget to snap a pic and tag it #bakerbynature on Instagram! Seeing your kitchen creations makes my day. ♥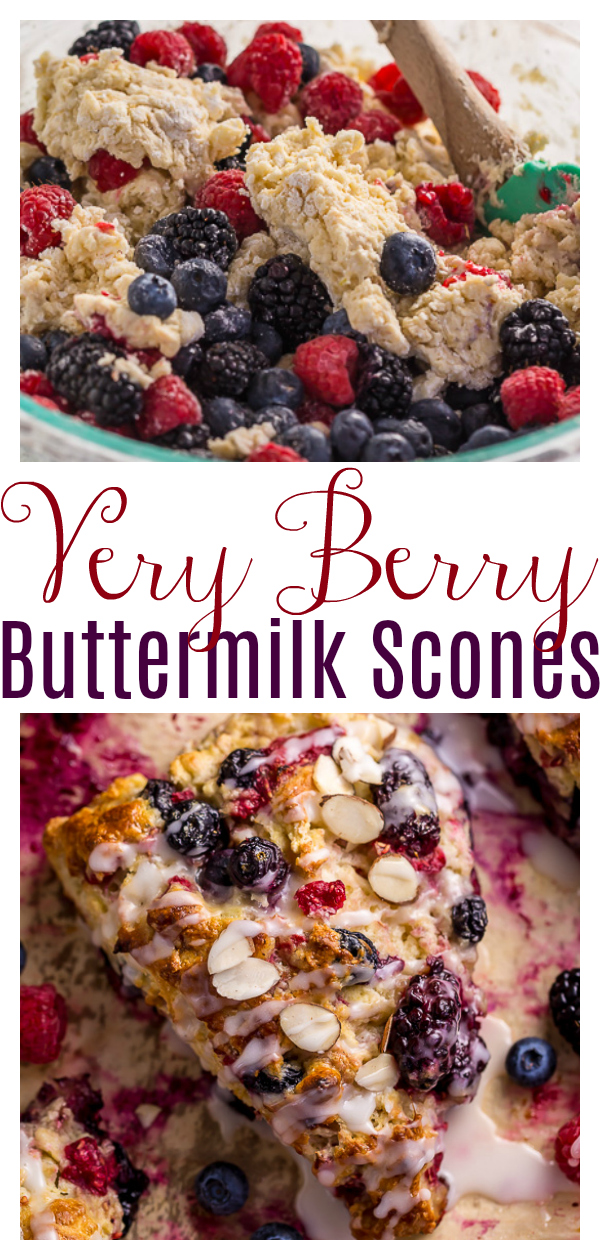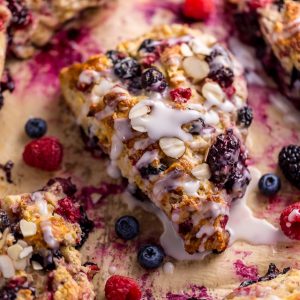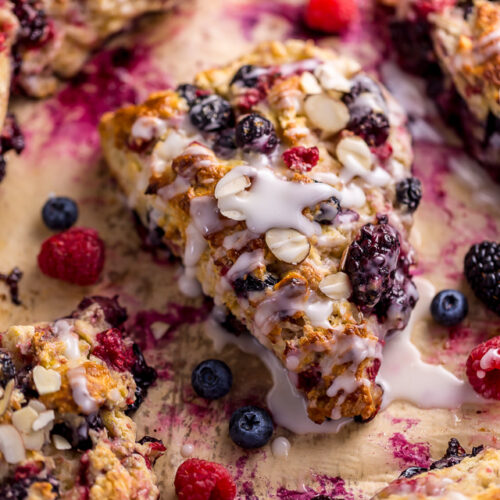 Triple Berry Buttermilk Scones
There's nothing like a fresh and fruity batch of Triple Berry Buttermilk Scones! 
Ingredients
For the Egg Wash:
1 large egg, beaten
1 teaspoon milk or water
For the Triple Berry Buttermilk Scones:
3 cups all-purpose flour
1/2 teaspoon salt
2 teaspoons baking powder
1/3 cup granulated sugar
2 teaspoons lemon zest, finely grated
1 stick (4 ounces) unsalted butter, VERY cold and cut into tiny pieces
1 large egg
2/3 cup buttermilk
1/2 cup blueberries
1/2 cup raspberries
1/2 cup blackberries
For the Lemon Glaze:
2 tablespoons lemon juice
3/4 cup confectioners' sugar
pinch of salt (1/8 teaspoon or less)
1/4 cup toasted almonds (for garnish and optional)
Instructions
For the Egg Wash:
In a small bowl beat together the egg and water until well combined. Set aside until needed.
For the Triple Berry Buttermilk Scones:
Preheat oven to 400°(F). Line a large baking sheet with parchment paper; set aside.

In a large bowl combine flour, salt, baking powder, sugar, and lemon zest; mix well to combine.

Cut the butter into small cubes then work it into the mixture (using two forks or a pastry blender) until it resembles a coarse meal. The chunks of butter should be no smaller than peas and no larger than hazelnuts. 

In a small bowl whisk together the egg and buttermilk until well combined. Add this liquid mixture to dry mixture and use a fork to stir everything together until just moistened.

Add in the berries and, using a rubber spatula, gently fold them into the dough. Don't worry if some of the berries break up a bit.

Empty the loose dough out onto a clean, lightly floured work surface, then shape the dough into an 8-inch circle. You will need to knead the mixture a few times to get it to a workable texture.

Cut the dough into 8 wedges and carefully transfer them to the prepared sheet, placing them 2" apart.

Lightly brush each scone with the egg wash.

Bake for 20 to 22 minutes, or until light golden brown.

Allow scones to cool for 10 minutes on the baking sheet. In the meantime you can make your glaze.
For the Lemon Glaze:
In a small bowl whisk together the lemon juice, confectioners' sugar, and salt. Drizzle over scones and sprinkle with almonds, if using. Serve at once.