These Classic Bakery-Style Blueberry Scones are sweet, buttery, and exploding with fresh blueberries! Topped with sparkling coarse sugar and a sweet vanilla glaze, these are perfect for breakfast or brunch! Even scone haters love this recipe!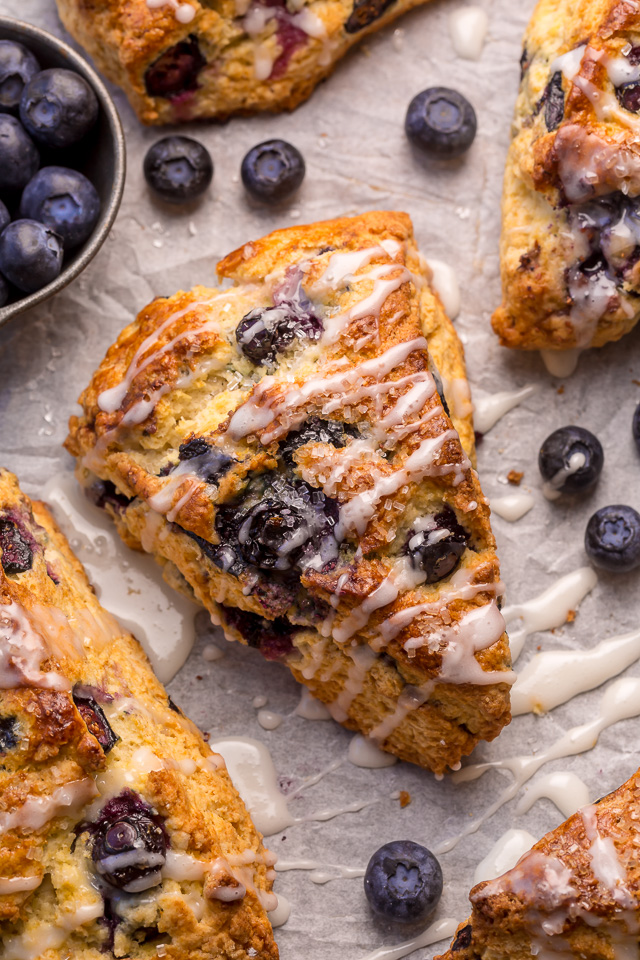 Blueberry Scone Recipe
It's no secret I love blueberry scones! In my recipe box you'll find recipes for Greek Yogurt Lemon Blueberry Scones, Blueberry Snickerdoodle Scones, Blueberry Ricotta Scones, and even Blueberry BANANA Scones! But up until today, I didn't have a plain old regular blueberry scone.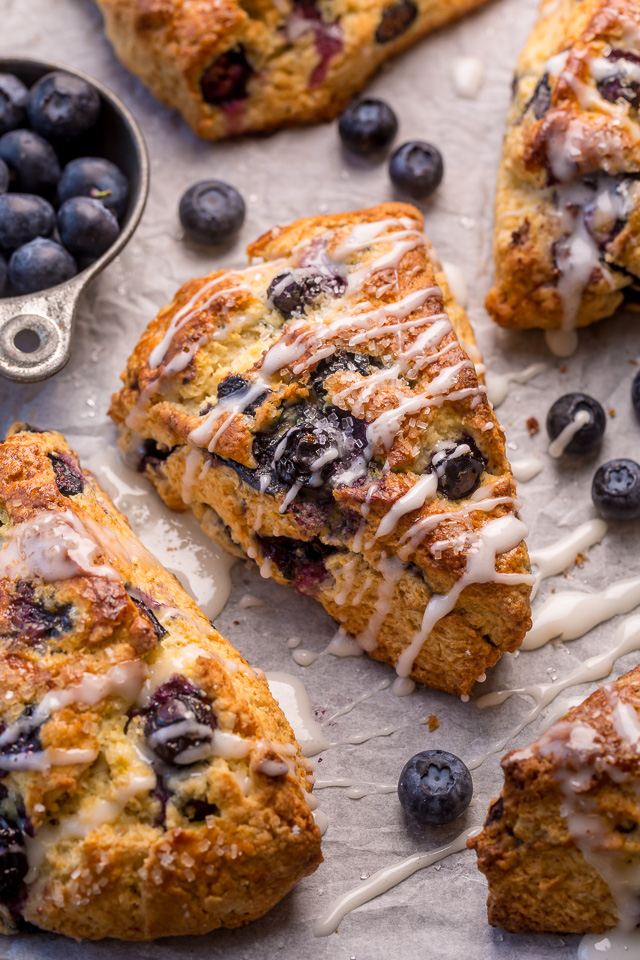 Actually, scratch the plain/old part! Because these scones are anything but plain or old! In fact, they might be my favorite version of this scone to date! Because these classic blueberry scones are SO good.
And by so good I mean they're loaded with flavor, sweet but not too sweet, and chock full of fresh blueberries! Of course, you can use frozen blueberries. But if you can find fresh, that's really the way to go!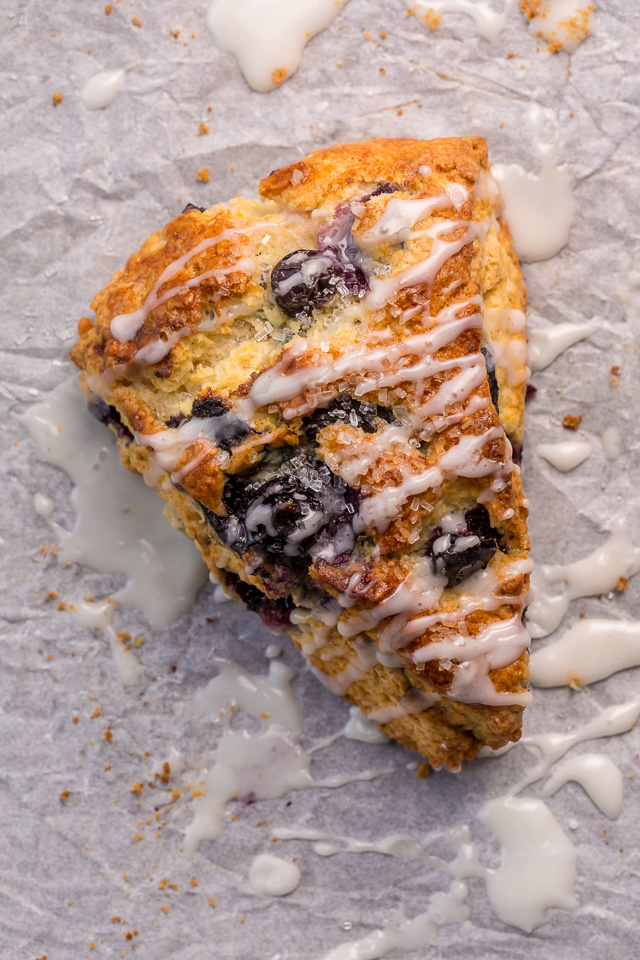 Cold Butter is KING…
I've said it before, and I'll continue to saying it every single time I post a new scone recipe: USE COLD BUTTER! In fact, I'd go as far as to say use slightly frozen butter! Because warm or even room temperature butter is not your friend! It will melt too quickly in the oven, causing you to lose all of those precious flaky layers! So if you live in an especially warm climate, pop your butter in the freezer for 10 to 20 minutes! Then get to work!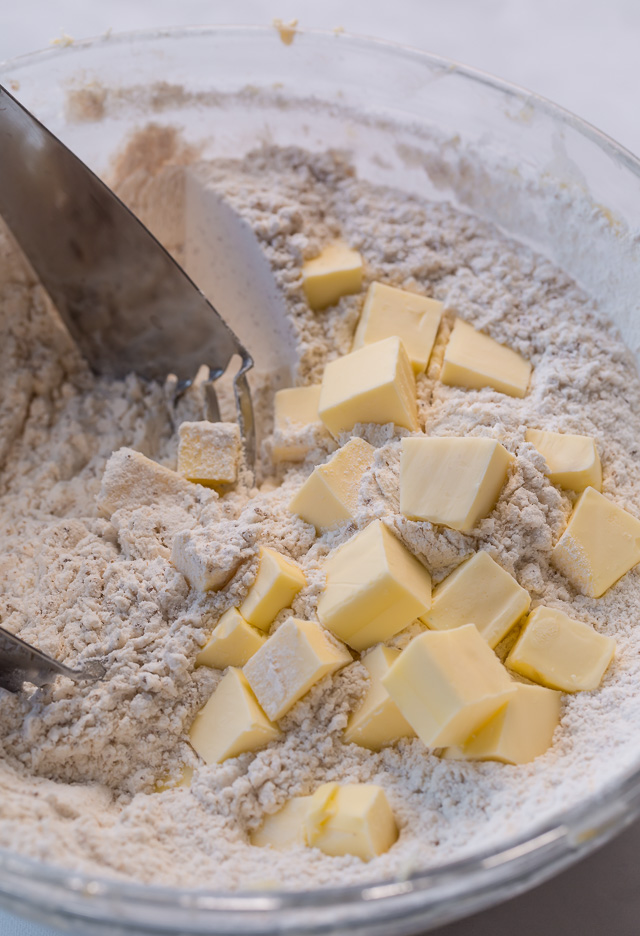 All COLD Ingredients…
Unlike many recipes that call for room temperature eggs/milk/cream/whatever, scones should be make with ALL cold ingredients. So in this case that means your eggs, butter, and heavy cream should all be cold. If you want to be crazy like me, you can even pre-chill your dry ingredients in the fridge or freezer before you plan on baking. Not at all mandatory, but it does help keep the temperature of the dough down as you work with it.
Don't Overwork the Butter…
When you add the butter to the flour mixture, you should toss it around a few times to coat the butter cubes, then use a pastry blender (or two forks if you don't have one), to cut the butter into the flour, working until the mixture resembles a coarse meal. In other words, working until the butter is no smaller than peas but no large than hazelnuts.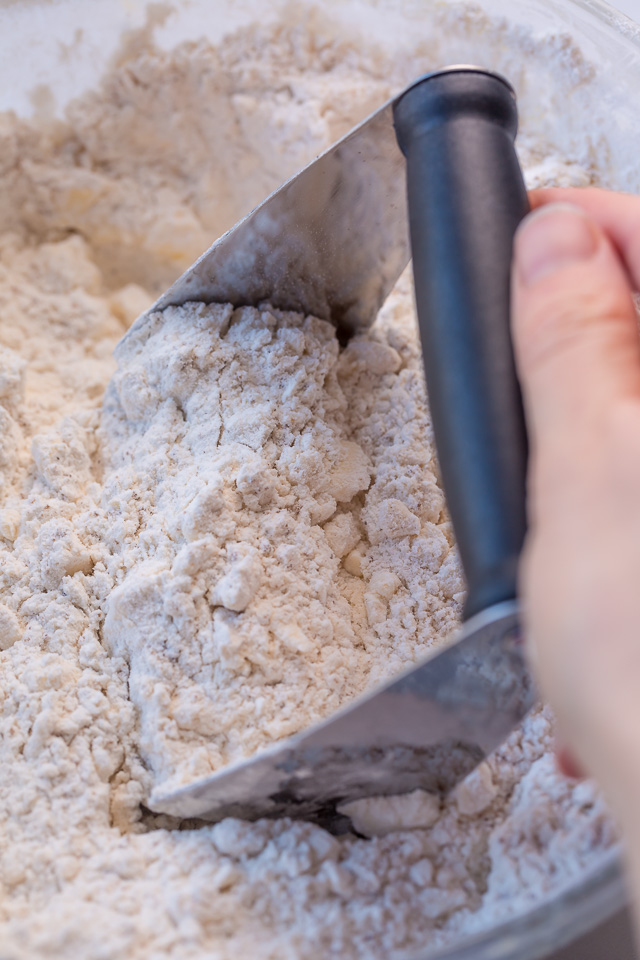 Don't add too much Liquid…
The dough WILL be shaggy. Heck, it might even look dry and completely a mess. But if you diligently knead it together, working quickly but making sure to tuck back in all of the dry bits, the dough will come together. And then it will bake into the most deliciously tall and flaky scones ever!
Now, if you don't use a kitchen scale to weigh your ingredients, then the issue could be too much flour. In which case you may need more liquid. Start with a tablespoon or so, and slowly add more JUST until the dough comes together. Scone dough should be flaky and just hold together – kind of like pie dough! If it's too wet it won't rise in the oven, and will also very likely spread.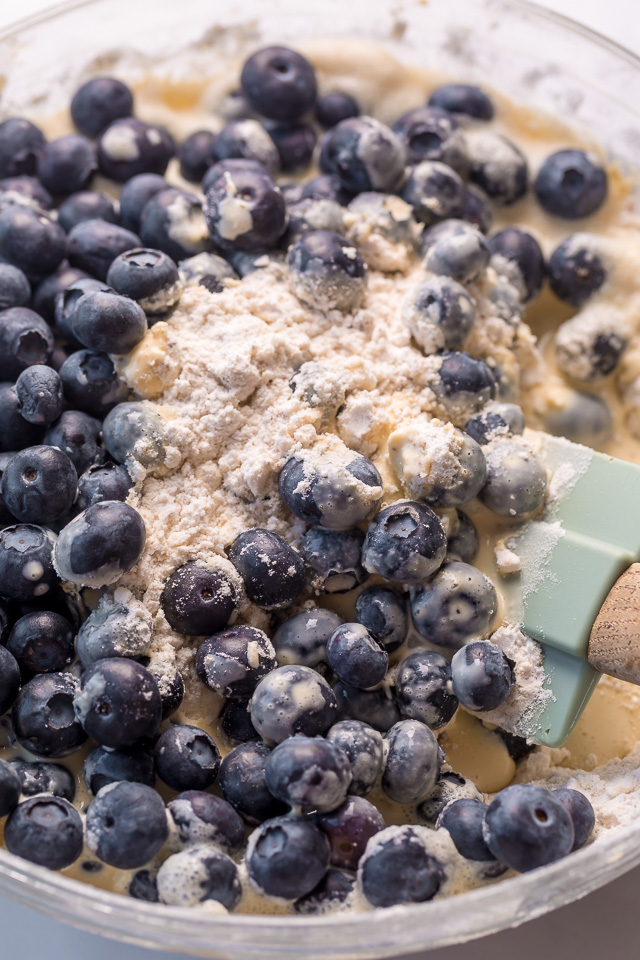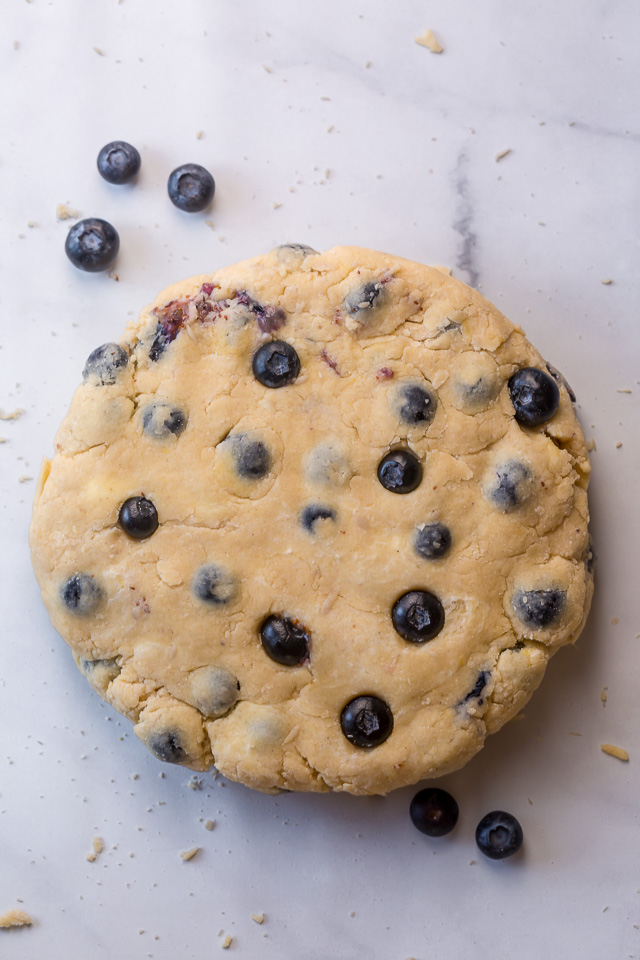 Before they go in the Oven…
Want to know why my scones look so pretty, golden, and all around professional looking? It's easy! The first reason is an egg wash! Which is a baking term for a beaten egg and water mixture. You'll want to brush the tops of each scone lightly with this mixture. And then you'll want to sprinkle the scones with sparkling sugar! This part is optional, but I highly recommend it! This recipe calls for less than a 1/2 cup, so a jar will last you forever! And it makes scones, muffins, cookies, and even pie crust so pretty!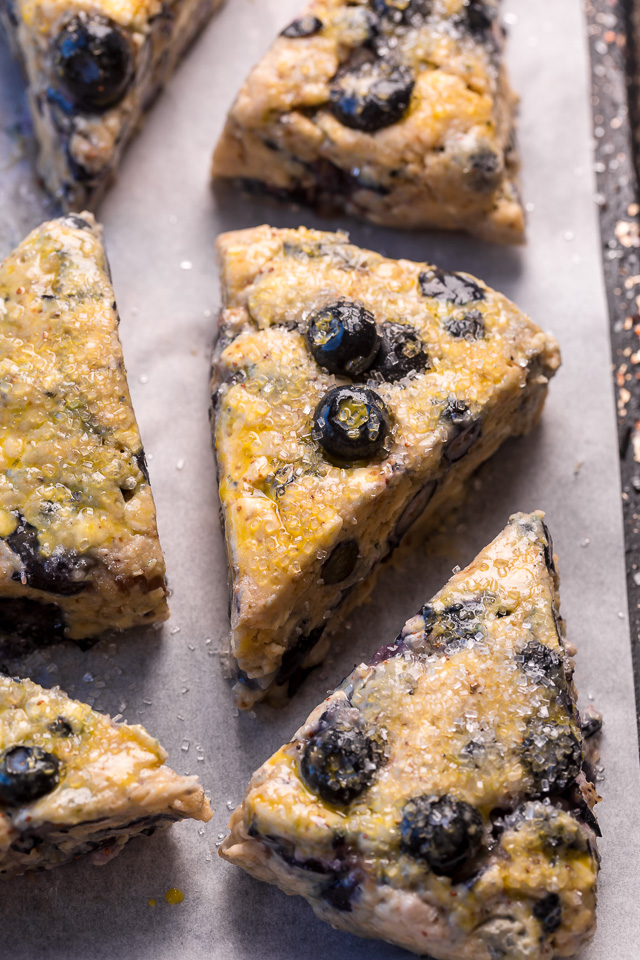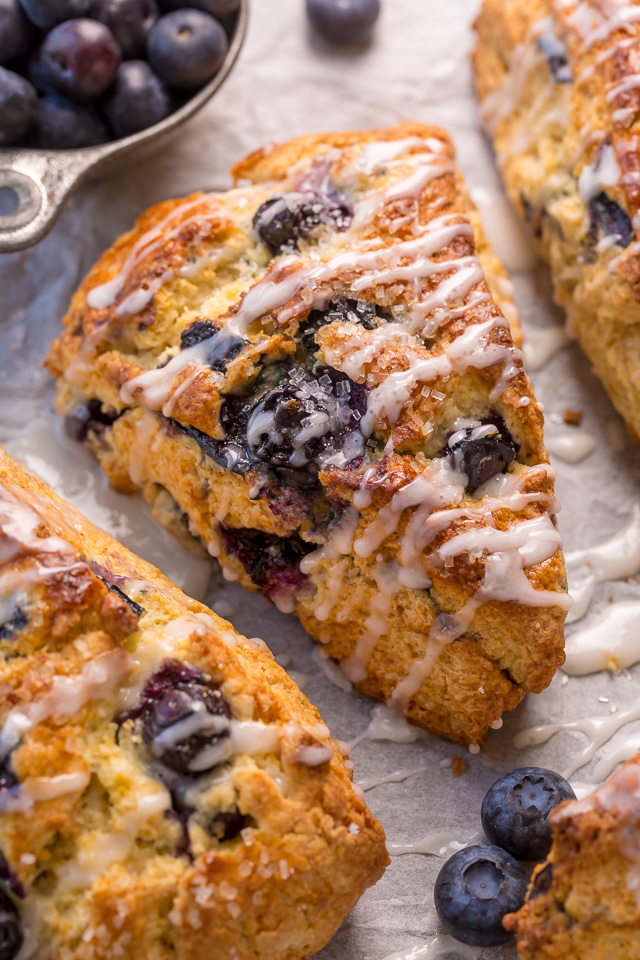 To glaze or not to glaze…
As the scones bake, you can decide whether or not you want to make a glaze. Personally, I love these scones on their own! And don't feel a glaze is mandatory. That said, a sweet vanilla glaze really makes the scones pop and makes them a total treat! And if you're a lemon blueberry fan, you can totally make a lemon glaze by swapping the vanilla extract for lemon extract. And you can even top them with some freshly grated lemon zest! So pretty!
Or if you're in a rush, you can simply top each scone with a shake of powdered sugar!
More Scone Recipes: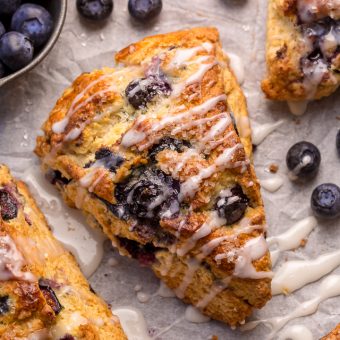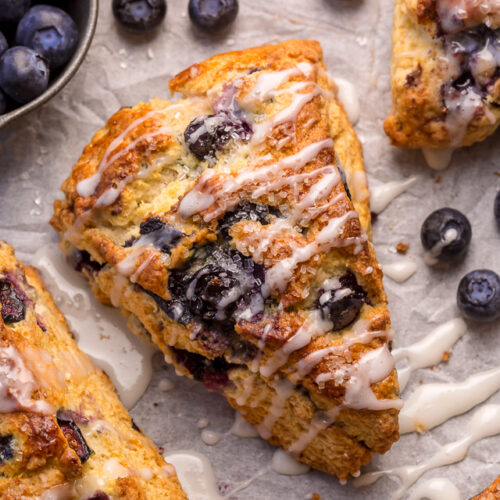 Classic Bakery-Style Blueberry Scones
These Classic Bakery-Style Blueberry Scones are sweet, buttery, and exploding with fresh blueberries! Topped with sparkling coarse sugar and a sweet vanilla glaze, these are perfect for breakfast or brunch! Even scone haters love this recipe!
Ingredients
For the Blueberry Scones:
3 cups all-purpose flour (365 grams)
1/2 teaspoon salt
1 Tablespoon baking powder
1/2 cup granulated sugar
1/4 teaspoon ground nutmeg
1/2 teaspoon ground cinnamon
1/2 cup (4 ounces) unsalted butter, VERY cold and cut into tiny pieces
1 large egg
3/4 cup heavy cream
1 Tablespoon vanilla extract
1 and 1/4 cups fresh or frozen blueberries, if using frozen do not thaw
For the Vanilla Glaze:
1 cups confectioners' sugar, sifted
2 Tablespoons milk
1 teaspoon vanilla extract
1/8 teaspoon salt, optional but recommended to cut the sweetness
Instructions
For the Blueberry Scones;
Preheat oven to 425°(F). Line a large baking sheet with parchment paper and set aside.

In a large bowl, combine flour, salt, baking powder, granulated sugar, nutmeg, and cinnamon and mix well to combine.

Cut the butter into small cubes then, using your fingers, two forks, or a pastry cutter, work it into the dough until it resembles a coarse meal. The chunks of butter should be about the size of peas. 

In a glass measuring cup whisk together the egg, cream, and  vanilla exact.

Pour the liquid mixture into the center of the flour mixture, then add in the blueberries. Use a spatula to stir everything together until just moistened. Don't worry if the dough looks dry and shaggy! 

Empty the loose dough out onto a clean, lightly floured work surface. Knead the dough a few times, then shape it into an 8-inch disc. *If the dough is too wet, you can add a tablespoon or two of flour; if the dough is too dry, you can add a tablespoon or two of cream. 

Cut the disc into 8 even wedges and carefully transfer them to the prepared sheet, placing them 2" apart.

Lightly brush each scone with the egg wash. Then sprinkle with sparkling sugar, if using. 

Bake for 20 to 22 minutes, or until light golden brown. Allow scones to cool for 5 minutes, then drizzle with glaze (if using), and serve warm! 
For the egg wash:
In a small bowl whisk together the egg and water until well combined. 
For the Glaze:
In a small bowl combine the confectioners' sugar, milk, vanilla extract, and salt. Drizzle over scones.