Today's post is in partnership with Lindt Chocolate! Their brand new EXCELLENCE Roasted Hazelnut Bar makes the filling for these Chocolate Hazelnut Cream Doughnuts smooth, rich, and just a little bit crunchy.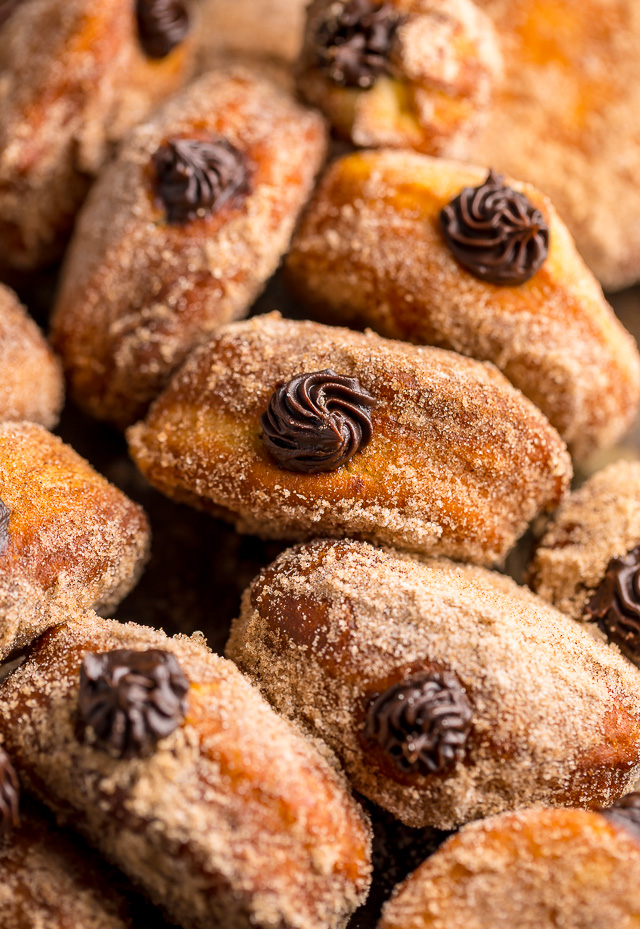 Chocolate Cream Filled Donut Recipe
As a blogger, and lover of celebrations, holidays are my happy place! But to me, Mother's Day is an extra special one to cherish. My mom and I have always been close, and she worked so hard to raise me right. So it's fun to get to spoil her once in a while! And this year I'm going BIG. We're flying to LA for a girls trip (just the two of us!) and then hosting a huge family brunch when we get back home.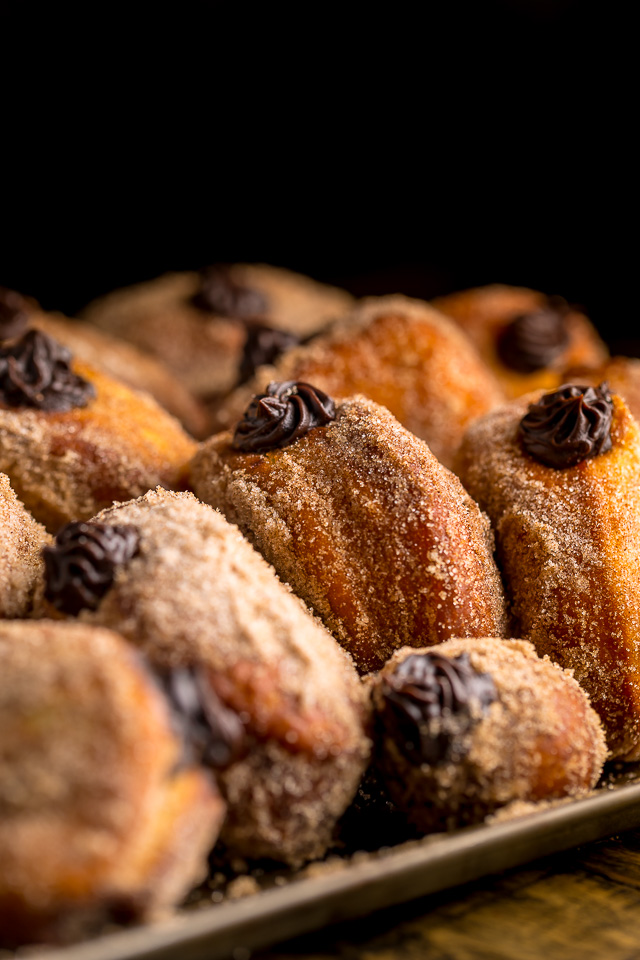 I'm keeping the menu simple: light appetizers, pretty cocktails, a big salad, and some flatbreads. Because I'm saving the best for last!!! For dessert I'm whipping up homemade chocolate hazelnut cream doughnuts. So good with a cup of coffee! And I know all of the chocoholics in my family are going to go nuts over them. Especially my mom!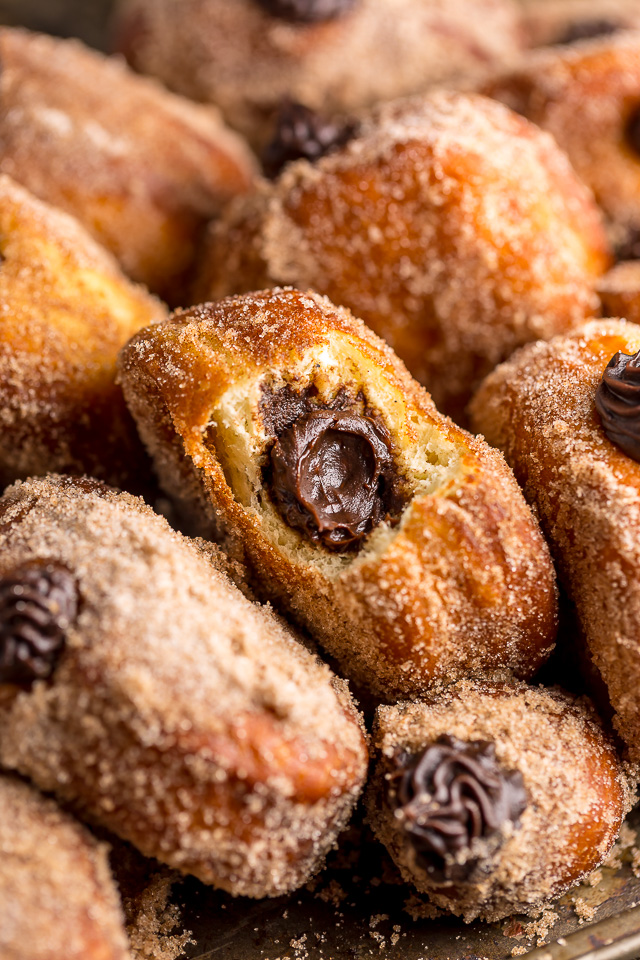 But before we go any further, allow me to properly introduce you to the new EXCELLENCE Roasted Hazelnut Bars?! Have you tried it yet? They're new to the Lindt EXCELLENCE Bar line, but between the smooth and rich dark chocolate and the crunchy roasted hazelnuts, I'm already hooked! And so are my friends; I put out a few bars with wine, cheese, and charcuterie the other night and the chocolate was the first thing to go. No surprise there 😉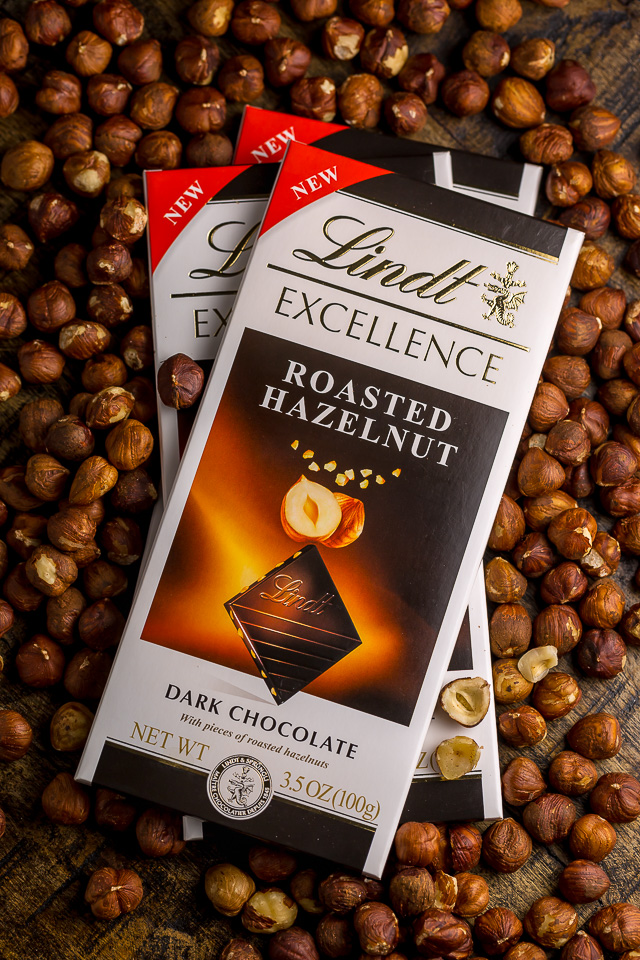 But I digress! Back to the doughnuts. This is a yeasted doughnut recipe, which means they're ultra fluffy and almost pillowy on the inside, and nice and crunchy on the outside. A quick coat in cinnamon sugar makes them extra special! And the filling, which is in my opinion the best part, is rich and creamy, with a subtle crunch from the roasted hazelnuts. It's made with just 4 simple ingredients: heavy cream, butter, salt, and chocolate. And by chocolate, I mean the EXCELLENCE Roasted Hazelnut Bars, of course! You'll need 14 ounces, which equals 4 bars. If you want to amp the flavor up, add a tablespoon of hazelnut liqueur to the filling. Sinfully good!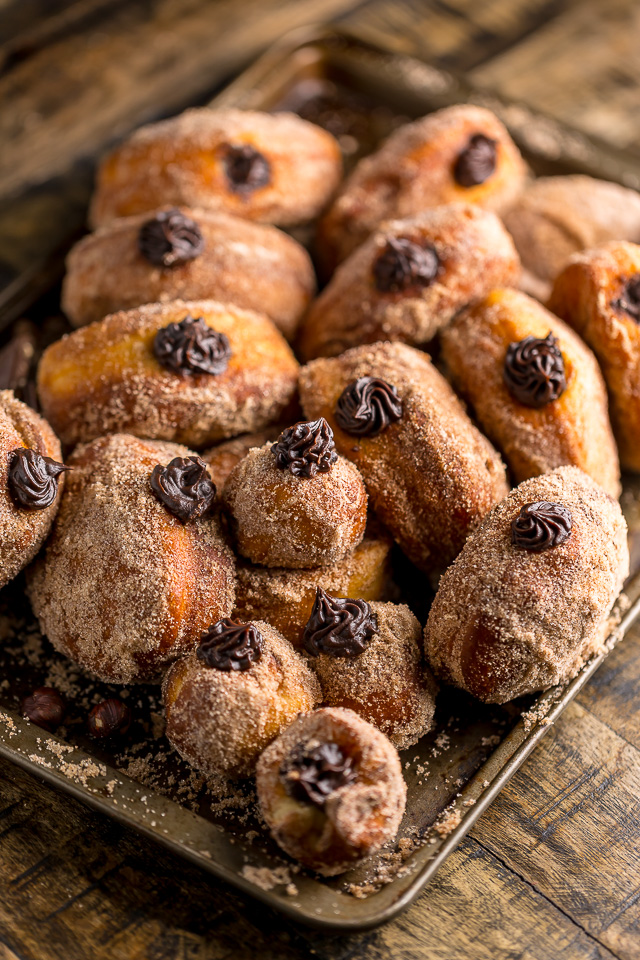 Chocolate Hazelnut Cream Filled Donuts
Tips and Tricks for Recipe Success:
Because yeast does not last forever, you'll want to make sure yours is fresh and not expired. Active yeast will dissolve completely into the warm water and start bubbling after a few minutes. If this doesn't happen, your yeast is inactive and you'll need to start over.
Raise your dough in a warm area of your home. If your home is on the cooler side, place the bowl somewhere naturally warmer, like the top of you fridge or in a slightly warm, but turned off, oven. If your home is on the warmer side, your dough may raise a little more quickly than expected.
Use a cooking thermometer to accurately determine the temperature of liquids you're using in the recipe. For this recipe you'll want warm liquid (both water and milk) that are between 110 and 115 degrees (F). Yeast is a living organism. If the liquid in which the yeast is dissolved is too hot, it will kill the yeast cells; if it's too cold, the yeast will remain dormant and won't raise the dough. I bought my candy thermometer for 7 bucks. Worth every-single-penny, my friends!
You'll get about 12 doughnuts from this recipe, but this will vary depending on the size cutter you use. And whether or not you re-roll the scraps. I suggest using the scraps for doughnut holes!
The chocolate hazelnut cream will need to chill before being piped into the doughnuts, so plan ahead time wise! And if you find your filling has firmed up too much, simply pop it in the microwave for 3 to 4 seconds. It should be firm but smooth enough to pipe.
I used my finger to make a hole in the side of each doughnut (fancy, I know) and then used a piping bag and star tip to fill them. Easier than you might think! And fun. Messy, but fun.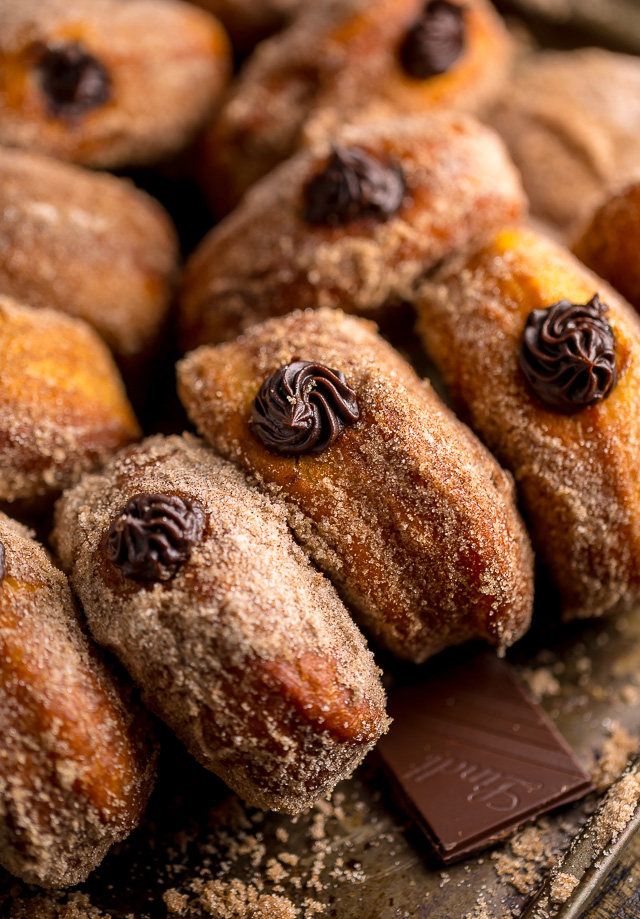 Spoiler alert: your self control doesn't stand a chance ↓ So just treat yourself and enjoy 😉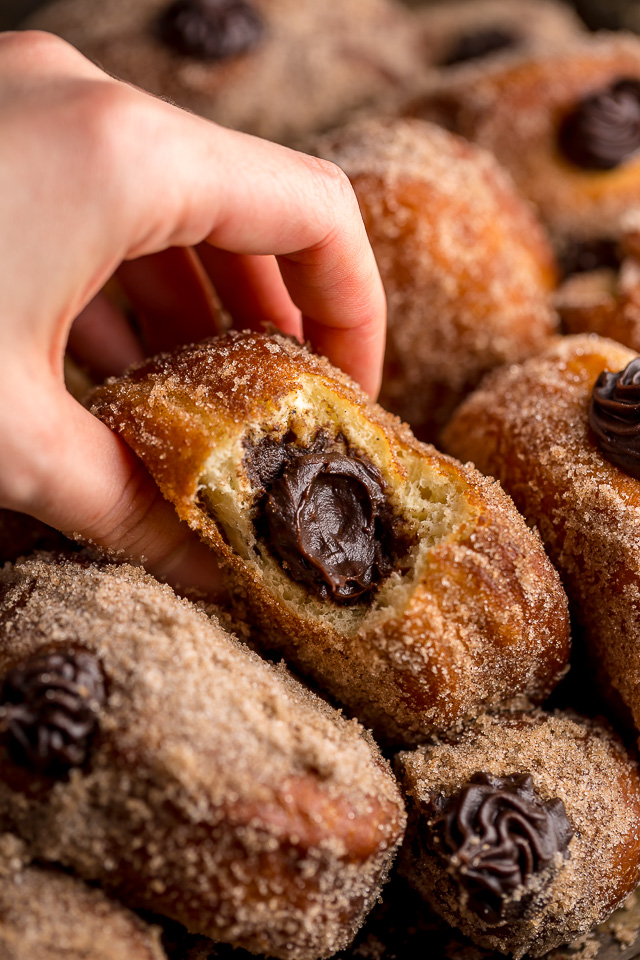 More Doughnut Recipes: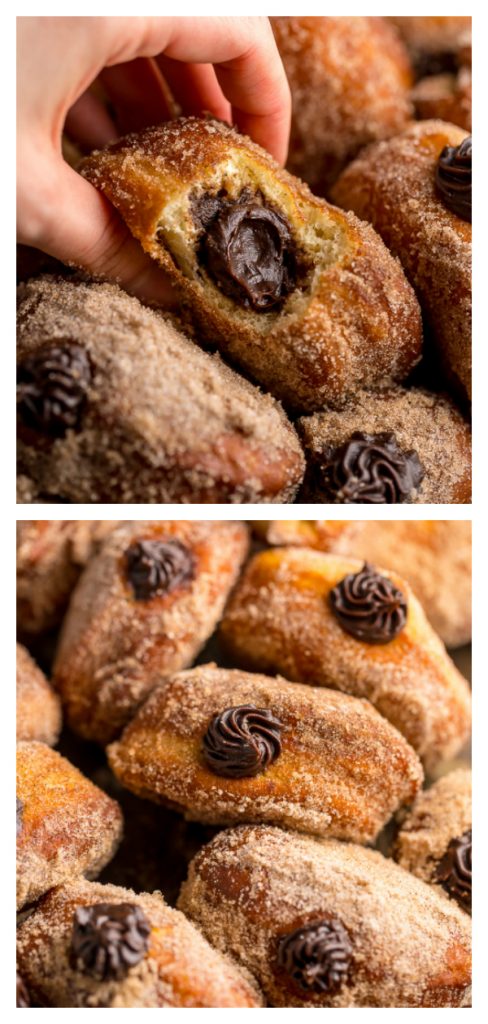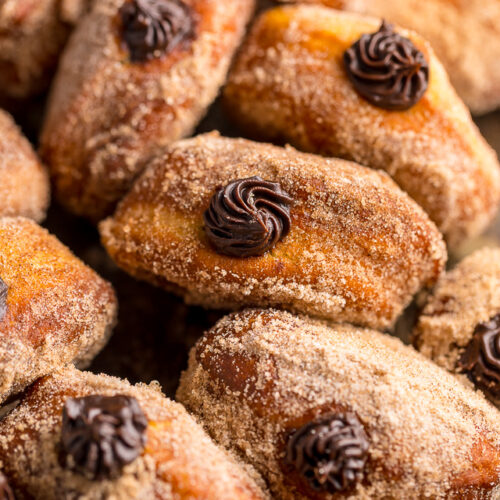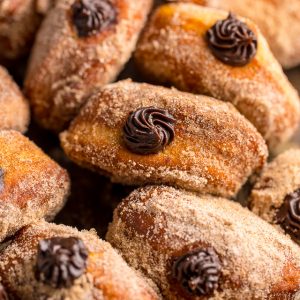 Chocolate Hazelnut Cream Doughnuts
Soft and pillowy homemade doughnuts are filled with a rich and flavorful chocolate hazelnut cream! 
Ingredients
For the Doughnuts:
2 packages (1/4 ounce each) active dry yeast
1/4 cup warm water (110° to 115° F)
3/4 cup warm full-fat milk (110° to 115°F)
5 tablespoons unsalted butter, at room temperature
1/3 cup granulated sugar
1 large egg plus 1 egg yolk, at room temperature
3/4 teaspoon salt
3 and 3/4 cups all-purpose flour, divided
2 cups frying oil, (I used refined coconut oil, but you may use canola or vegetable oil)
For the Hazelnut Cream:
4 Lindt EXCELLENCE Roasted Hazelnut Bars, (14 ounces), finely chopped
1 and 1/2 cups heavy cream
4 Tablespoons unsalted butter, at room temperature, cut into small pieces
1/4 teaspoon salt
1 Tablespoon hazelnut liqueur (optional)
For the Cinnamon Sugar Coating: 
1 cup granulated sugar
1 Tablespoon cinnamon
Instructions
For the Doughnuts:
In a small bowl combine the yeast and warm water; set aside until it foams up, about 5 minutes.

In the bowl of a stand mixer fitted with the hook attachment, combine the warm milk and butter and, using a silicon whisk, stir until the butter has completely dissolved. Add in the sugar, egg, egg yolk, salt, yeast mixture and 3 cups flour, and beat on medium-low speed until smooth. Beat in remaining flour just until a soft ball of dough forms around the hook. Don't knead the dough yet! 

Transfer the dough to a large, lightly greased bowl, turning once to coat the top. Cover tightly with saran wrap and set aside to rise in a warm area until it appears to have tripled in size, about 1 hour.

Gently punch the dough down and turn it out onto a lightly floured work surface. Kead the dough into a smooth ball, about 7-8 times, or until it's uniform in texture.

Using a rolling pin, roll the dough out into a large rectangle, approximately 1/2 inch thick. Using a lightly floured 2 and 1/2-inch round dough cutter, cut an equal amount of circles from the rectangle. 

Transfer the cut doughnuts to a large, lightly greased baking sheet, spacing them an inch a part (they will rise). Cover pan lightly with saran wrap and set aside for 45 minutes, or until the doughnuts have almost doubled in size. 

When ready to fry, heat oil in a large, heavy bottomed pot, to 360°(F). Fry doughnuts, a few at a time, for 1-2 minutes on each side, or until golden brown. 

Quickly roll the warm doughnuts in the cinnamon sugar and set aside. 
For the Chocolate Hazelnut Cream:
Add chopped chocolate to a large, heatproof bowl and set it aside until needed. 

In a small saucepan over medium-heat, bring the cream to a low simmer. Pour half of the cream on top of the chopped chocolate and set aside for 1 minute. Using a silicon whisk, begin to incorporate the melted chocolate into the cream. Slowly add the remaining cream and continue whisking until the mixture is completely smooth and glossy. 

Add in the butter, salt, and liqueur (if using), and use a silicon spatula to stir until the butter is completely melted. The mixture should be smooth, dark and glossy. 

Cool to room temperature, then place in the fridge to chill until thick but still smooth enough to pipe, about 2 hours.
For the Cinnamon Sugar Coating:
In a medium-sized shallow bowl, combine the granulated sugar and cinnamon and set aside until needed. 
Assembly:
Scrape the chocolate hazelnut cream into a pastry bag fitted with a star tip and set aside.

Using the back of a small spoon (or your finger) make a small hole on the side of each doughnut.

Carefully fit the nozzle of the bag into a doughnut and squeeze until you see the center begin to puff up. Repeat with all doughnuts. 

Donuts are best served the day they are made, but will keep for 24 hours.