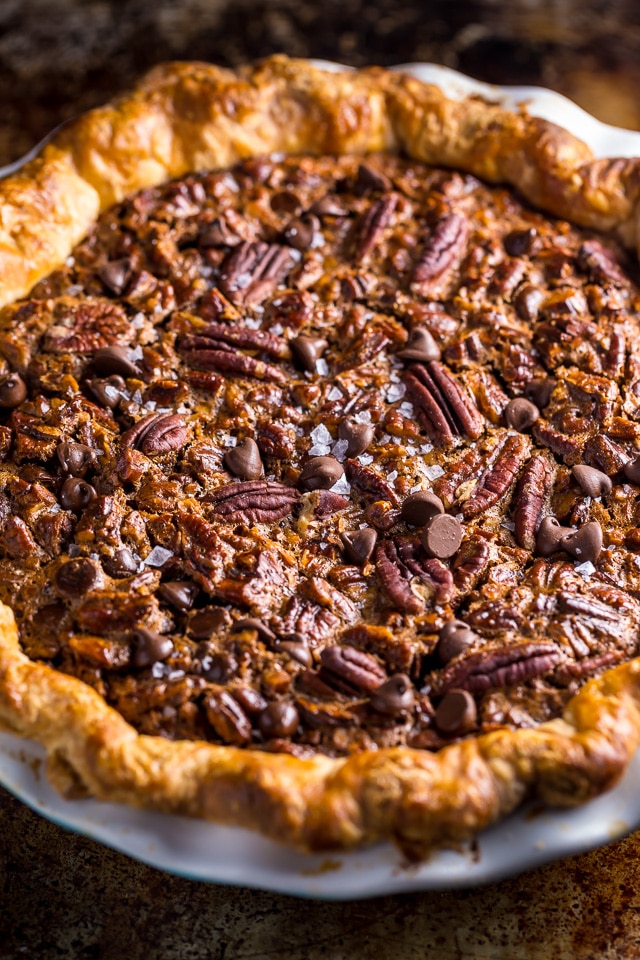 Chocolate Pecan Pie
Yield 9" Pie
This insanely rich and decadent Chocolate Pecan Pie is a holiday favorite! Serve with whipped cream and extra chocolate shavings!
Ingredients
1 recipe foolproof all-butter pie crust
3.5 ounces bittersweet chocolate, finely chopped
4 large eggs, at room temperature
1 cup (213g/7 and 1/2 ounces) light brown sugar, packed
1 cup (312g/11 ounces) light corn syrup
2 and 1/2 Tablespoons unsalted butter, melted until browned then slightly cooled
1 and 1/2 Tablespoons Kahlúa liqueur
1/2 teaspoon salt
1/2 teaspoon ground cinnamon
2 and 1/2 tablespoons all-purpose flour
2 cups (227g/8 ounces) pecan halves, coarsely chopped, (plus extras to line the top, if desired)
1 cup (170g/6 ounces) semi-sweet chocolate chips
Instructions
Preheat oven to 350°F (177°C). Have ready and refrigerated one pastry-lined 9-inch pie plate (see foolproof all-butter pie crust).
Fill a medium pot one-third full with water and bring it to a low simmer over medium heat. Place a heatproof bowl that will fit on top of the pot snugly, but will not touch the simmering water, on top of the pot. Reduce the heat to low and add the chopped chocolate into the bowl over the pot. Heat until the chocolate is completely melted, stirring occasionally with a silicon spatula. Remove the pot from heat, leaving the bowl over the pot. Set aside until needed.
In a medium mixing bowl, whisk the eggs until well combined (make sure the yolks and whites are fully blended). Whisk in the brown sugar, breaking up any lumps in the mixture. Whisk in the corn syrup, browned butter, Kahlúa, salt, cinnamon, and flour. Using a rubber spatula, fold in the pecans and chocolate chips. Fold in the melted chocolate.
Pour the filling into the prepared crust. Then if desired, line the top of the filling with extra pecan halves.
Bake for 65 to 75 minutes, or until the center is puffed, the edges are set, and the center is just a little jiggly. If the top of your pie is getting too brown, loosely tent a piece of tin foil on top. Place pie plate on a wire rack and cool completely (about 3 hours) before transferring to the fridge to chill for at least another 3 hours.
Store pie, covered in the refrigerator, for up to 5 days. Serve cold, or bring back to room temperature before serving.
Courses Dessert
Cuisine American
Recipe by Baker by Nature at https://bakerbynature.com/chocolate-pecan-pie/