This Chocolate Swirl Coffee Cake is moist, rich, and so decadent! Featuring a buttery pound cake base, chunks of dark chocolate, and a buttery crumb streusel topping. It's perfect for so many occasions!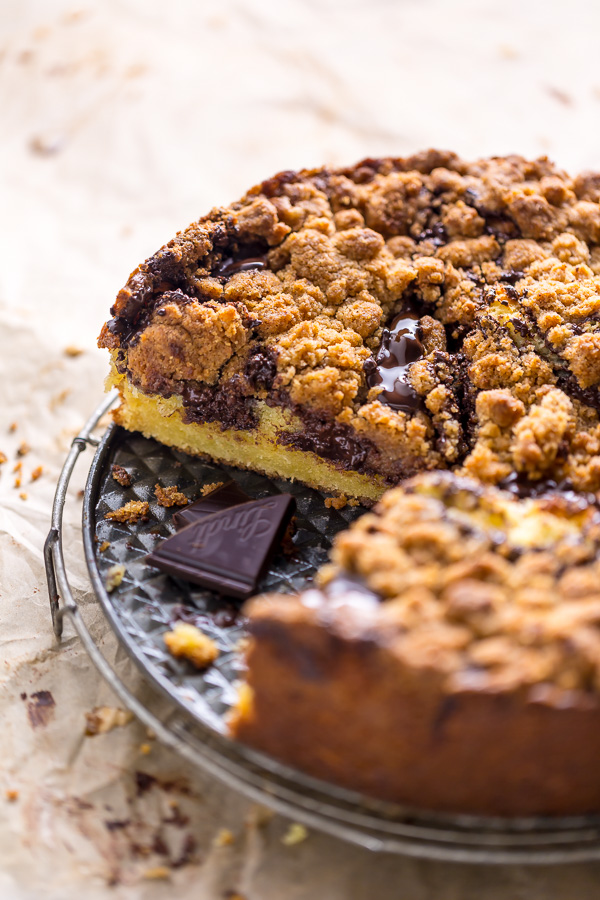 Chocolate Coffee Cake Recipe
I am a cake lover, a coffee lover, and – above all – a chocolate lover! So when my friends over at Lindt Chocolate asked me to create a chocolate coffee cake featuring their amazing line of EXCELLENCE dark chocolate bars…
I obviously said "YES" in a heartbeat. And if you're a fellow chocoholic, I know you're just as excited about this recipe as I am! Because it has over 2 cups of rich, creamy, flavorful chocolate swirled in it. And the best part? You can choose any variety of Lindt dark chocolate you like… or you can be like me and mix and match a few flavors. I have more info on that in my tips and tricks section below 😉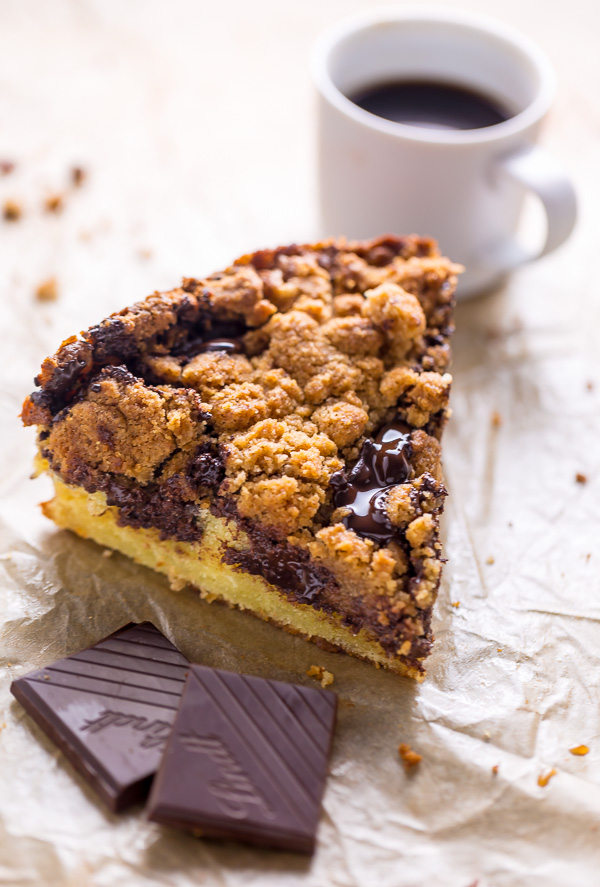 Coffee cake can be cloyingly sweet… so deeply intense and robust dark chocolate is the perfect addition! If you're anything like me, you may never want to eat plain coffee cake again.
Because once you have chocolate swirl coffee cake… why look back?!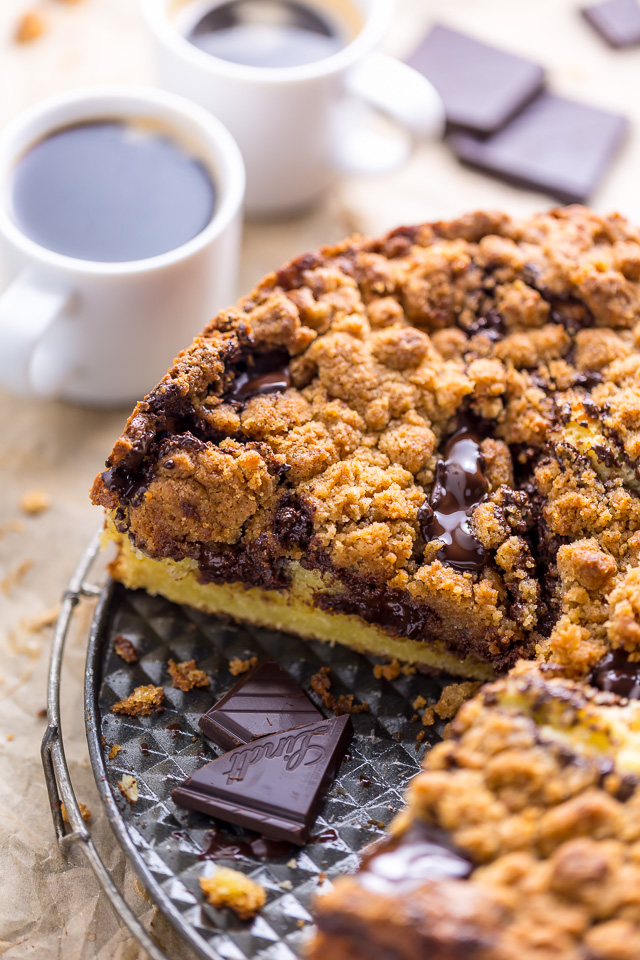 Tips and Tricks for Recipe Success:
As I mentioned briefly above, coffee cake is a very sweet treat! So I DO NOT suggest using milk or even semi-sweet chocolate in this recipe. Dark chocolate is the way to go!
But you definitely have options when it comes to the dark chocolate. If you're into deliciously intense but balanced dark chocolate, the Lindt EXCELLENCE 85% or 90% cocoa bars are the way to go. However if you desire a more subtle dark chocolate that's robust and balanced, I suggest selecting the Lindt EXCELLENCE 70% or 78% cocoa bars. And if you're a salt lover (like me!), you could always go with their Lindt EXCELLENCE A Touch of Sea Salt Dark Chocolate Bars. They're all fabulous choices… so feel free to mix and match.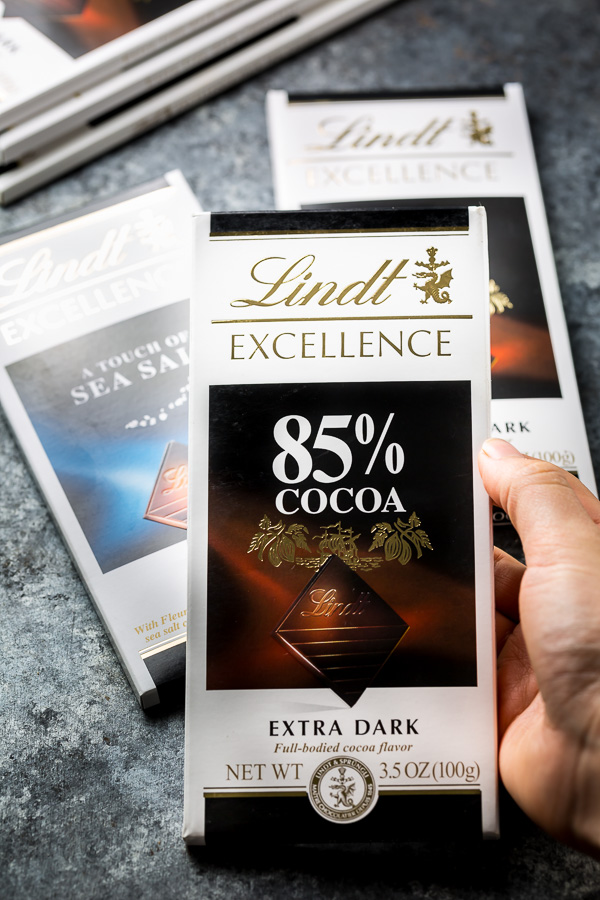 You'll want to make the buttery crumb topping first, since it will absorb the butter as it sits and become more crumbly by the time you're ready to use it. I also suggest placing it in the fridge until you need it. This step helps it keep its shape in the oven. Hooray for big, buttery crumbs!!!
Because this cake is insanely moist, it will keep for up to 3 days. I recommend storing it in the fridge, tightly covered, then bringing it back to room temperature before serving.
And finally, despite its name, there's actually no coffee in coffee cake. If you're looking for a caffeinated treat, check out my coffee lovers chocolate cake donuts 😉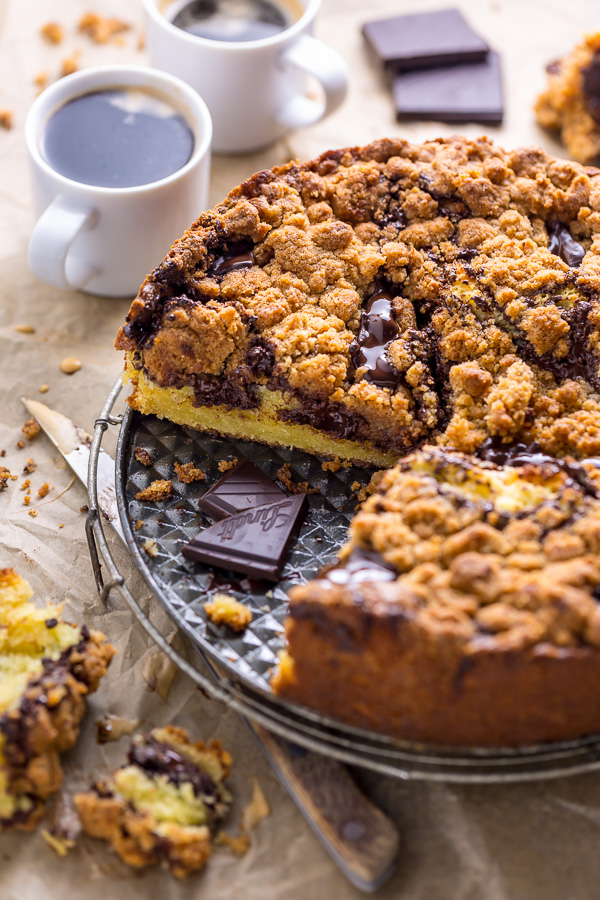 So while this Chocolate Swirl Coffee Cake doesn't have any coffee in it, it's incredibly pleasurable when enjoyed with coffee! And, if you're feeling extra decadent… a scoop of ice cream on top doesn't hurt 😉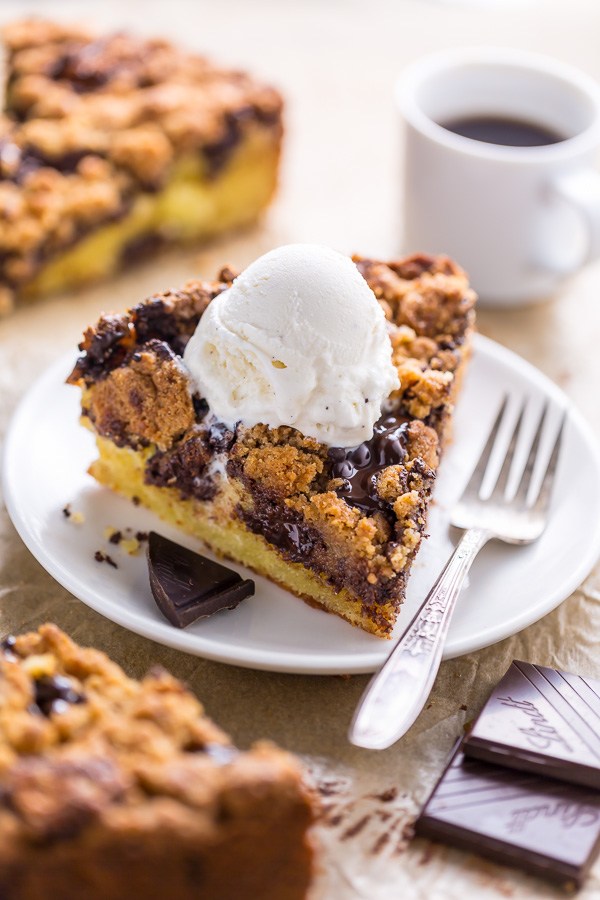 If you try this recipe for Chocolate Swirl Coffee Cake, please let me know what you think! Leave a comment below, and don't forget to snap a pic and tag it #bakerbynature and #Lindtlove on instagram! Seeing your creations seriously makes my day ♥
Today's post is in partnership with Lindt Chocolate! All text and opinions are 100% my own.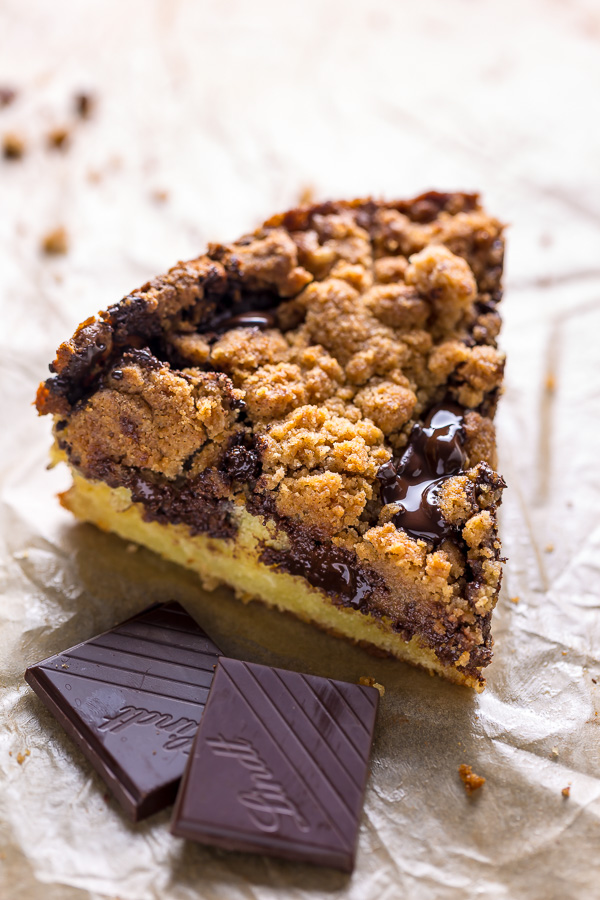 More Coffee Cake Recipes: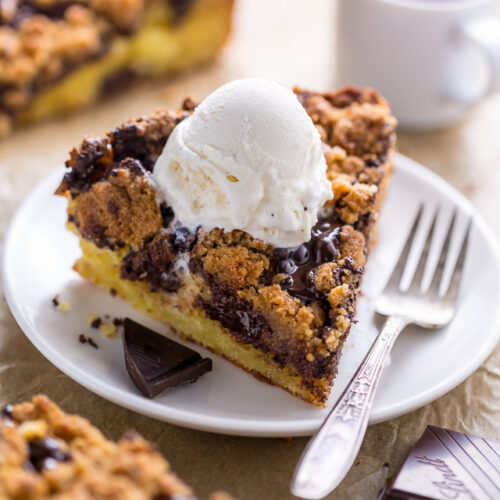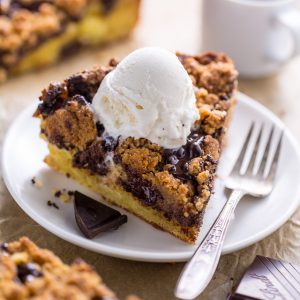 Chocolate Swirl Coffee Cake
This Chocolate Swirl Coffee Cake is moist, rich, and so decadent! Perfect for so many occasions!
Ingredients
For the Crumb Topping: 
1 cup all-purpose flour
1/4 cup granulated sugar
1/4 cup light brown sugar, firmly packed
1 teaspoons ground cinnamon
1/2 teaspoon salt
1/2 cup unsalted butter, melted
For the Chocolate Swirl Coffee Cake:
1 and 2/3 cups all-purpose flour
1 teaspoon baking powder
1/4 teaspoon baking soda
1/2 teaspoon salt
1/4 teaspoon freshly grated nutmeg
1 cup full-fat sour cream
10 Tablespoons unsalted butter, at room temperature
1 cup granulated sugar
2 teaspoons vanilla extract
2 large eggs, at room temperature
10.5 ounces Lindt EXCELLENCE Dark Chocolate, roughly chopped
Instructions
For the Crumb Topping: 
In a medium mixing bowl, combine the flour, sugar, cinnamon, and salt. Stir in the melted butter, mixing just until combined. Set aside while you prepare the rest of the recipe. The mixture will absorb the butter as it sits and become more crumbly by the time you're ready to use it.
For the Chocolate Swirl Coffee Cake:
Preheat oven to 350 degrees (F). Grease the bottom and sides of a 9" springform pan; set aside until needed.

In a medium mixing bowl whisk together the flour, baking powder, baking soda, salt, and nutmeg until well combined. Set aside. 

In the bowl of a stand mixer fitted with the paddle attachment, or in a large bowl using a handheld electric mixer, beat together the butter and sugar on medium speed until light and fluffy, about 4 minutes. Beat in the vanilla. Add in the eggs, one at a time, beating well after each addition and scraping the sides and bottom of the bowl as needed. 

Reduce the mixer speed to low. Add in the flour mixture in three additions, alternating with the sour cream in two additions. 

Using a rubber spatula, scrape the batter into the prepared pan. Sprinkle the chopped chocolate evenly on top of the batter. Sprinkle the crumb topping evenly over the chocolate.

Bake for 45 to 50 minutes, or until the crumbs are a golden brown and a toothpick or cake tester inserted in the center of the cake comes out clean. 

Place the cake in the pan on a cooling rack and cool completely before slicing.