Pumpkin Coffee Cake Donuts are the ultimate Fall treat! Baked, not fried, these donuts are ready in less than 30 minutes. If you love pumpkin and coffee cake, you have to try these baked pumpkin donuts!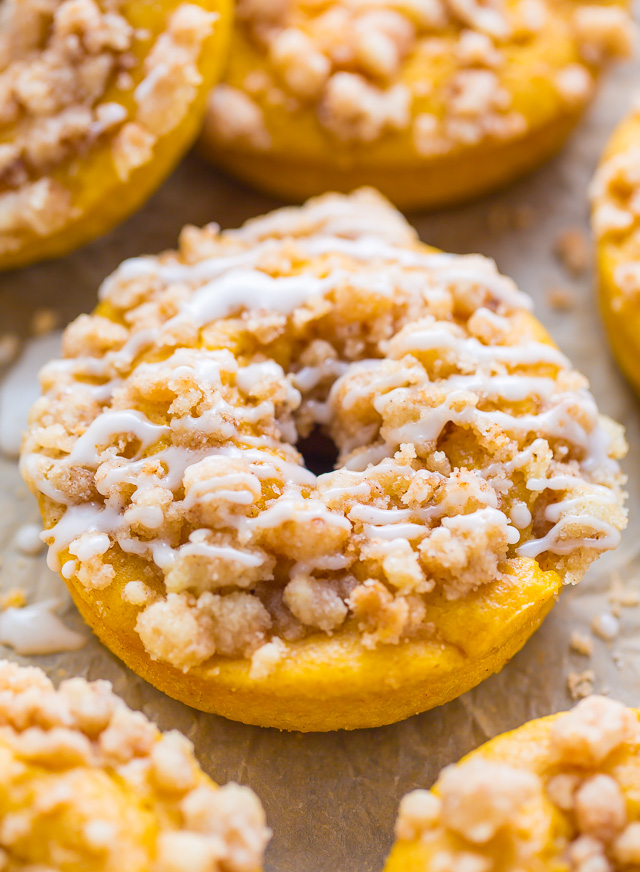 Baked Pumpkin Donuts
Fall is right around the corner, my friend… and you know what that means: PUMPKIN!
I have a few really amazing pumpkin recipes coming to you this week (including those pumpkin oatmeal chocolate chip cookies I teased you with on instagram), but first, DONUTS! Pumpkin Coffee Cake Donuts with PUMPKIN SPICE glaze, to be exact. I think a double batch is the perfect only way to welcome this September weekend.
I mean… ↓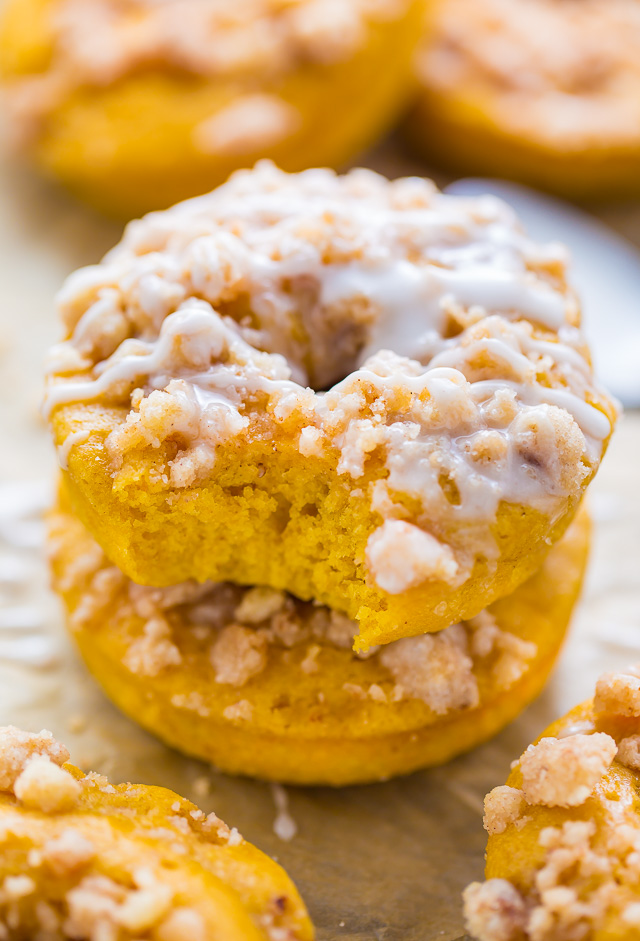 There are 3 parts to these pumpkin coffee cake donuts: the buttery crumb topping, the baked pumpkin donut base, and the pumpkin spice glaze. But don't let that scare you off! Each step in seriously simple and should take no more than 5 minutes to complete.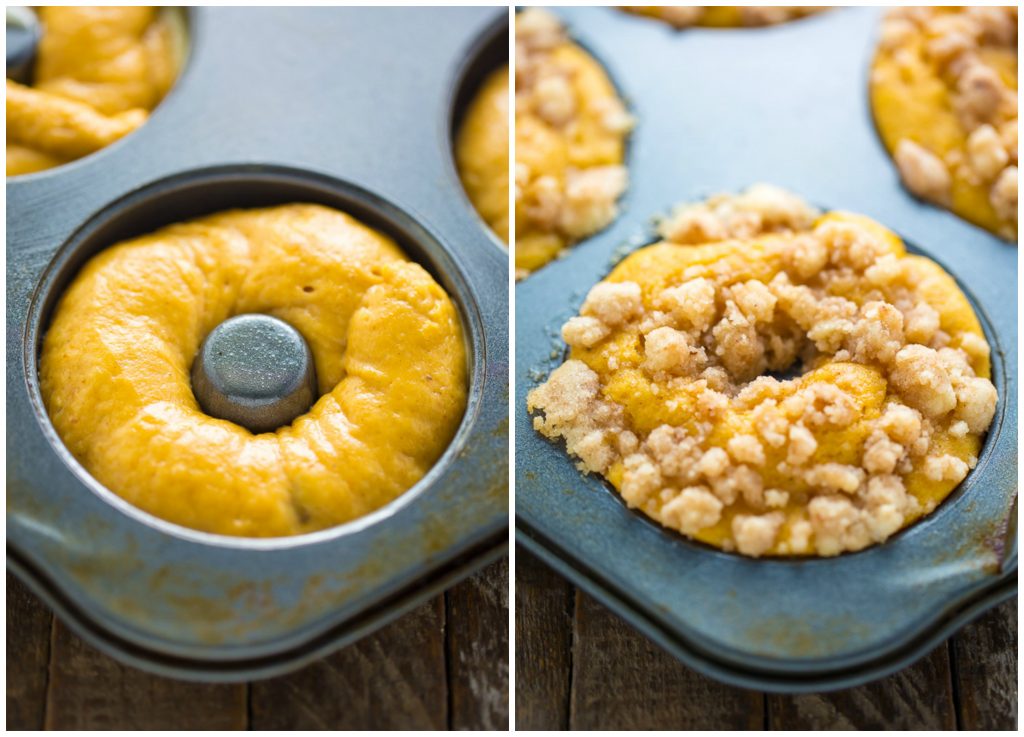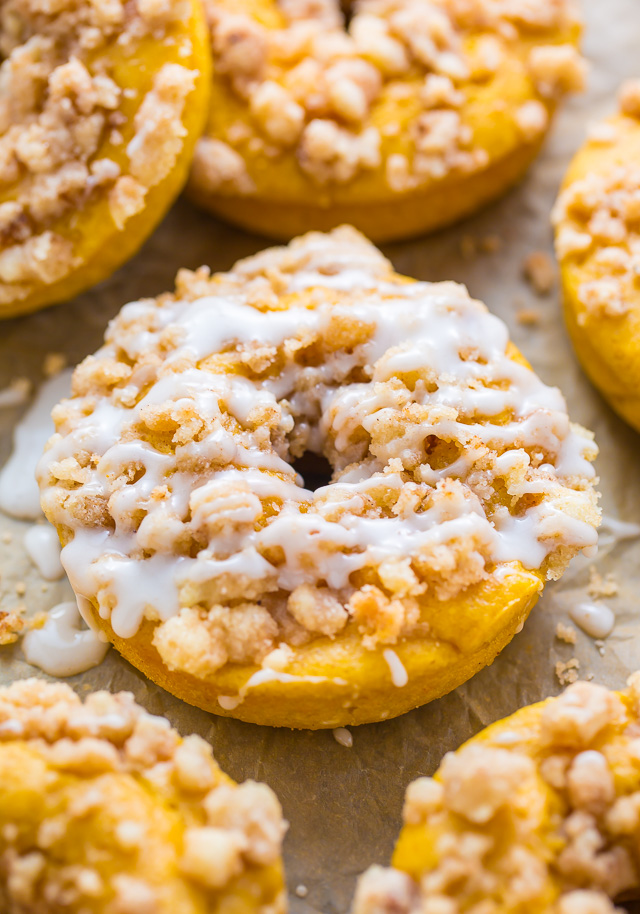 Tips and Tricks for Recipe Success:
You'll want to make the crumb topping first so it has time to chill in the freezer while you prepare the donut batter. It doesn't need to chill long, 5 to 10 minutes is plenty! Chilling the crumbs in the freezer helps them melt more slowly during the baking process.
A donut pan is required for this recipe. If you don't already own one, feel free to click here and check out the amazing (and affordable) pan I've been using for the past 5 years!
Be sure to generously grease your donut pan with butter and flour or non-stick spray. If you're using spray, I suggest using one that is made specifically for baking, since they typically have flour in them, which helps the donuts come out of the mold easily. You're going to want to grease every little nook and cranny.
The pumpkin donut batter will be thick, so you can be spoon it into the donut pan, or you can pour it into a ziplock baggie, snip off one end, and pipe it into the molds.
Most importantly, be sure you don't over bake your donuts! Over baked donuts come out of the oven tough and dense, not moist and fluffy as they should be. Set a timer for 10 minutes and keep an eye on them. Once they've risen and slightly spring back when touched, they're ready to come out of the oven.
The donuts will be very delicate when you first pull them out of the oven. Let them cool in the pan for 10 FULL minutes before gently lifting them out of the molds and transferring them onto a cooling rack.
To prevent the donuts from becoming soggy, I suggest adding the glaze right before serving them.
These donuts are best served the day they are made.
If you love pumpkin and donuts as much as I do, these coffee cake pumpkin donuts are going to be your new best friend! Enjoy ♥
If you try this recipe, let me know! Leave a comment below and don't forget to snap a pic and tag it #bakerbynature on instagram! Seeing your kitchen creations makes my day.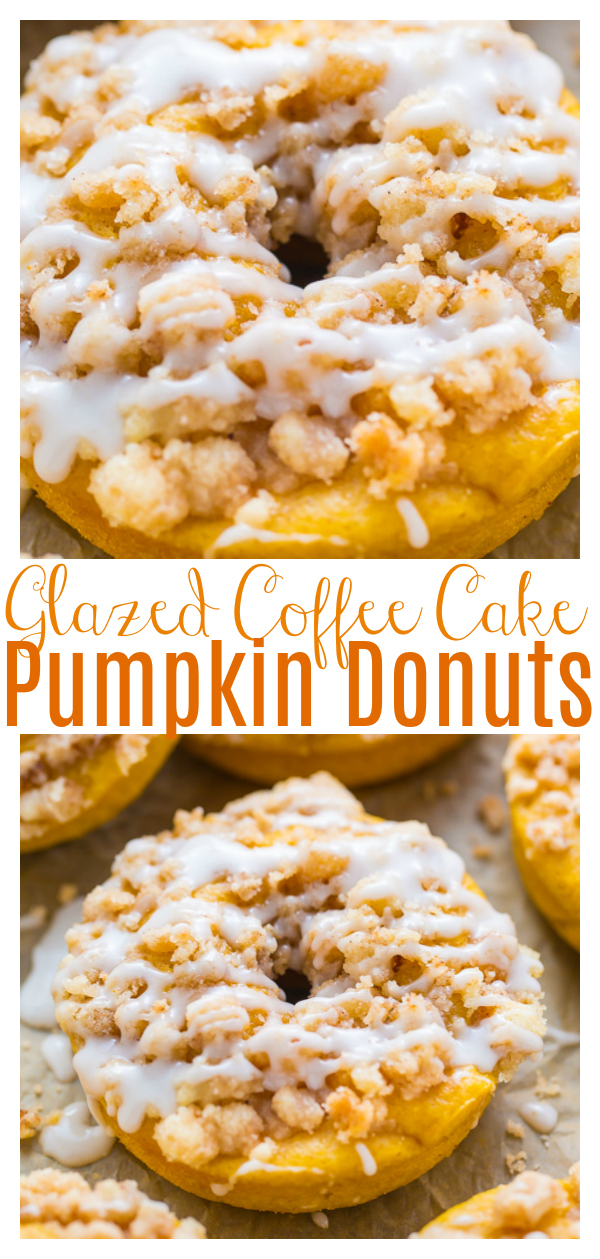 More Breakfast/Brunch Coffee Cake Recipes:
Pumpkin Coffee Cake Donuts
Pumpkin Coffee Cake Donuts! Baked, not fried, and ready in less 30 minutes.
Ingredients
For the Crumb Topping:
2 tablespoons unsalted butter, melted
1/4 cup granulated sugar
3 and 1/2 tablespoons all-purpose flour
1/4 teaspoon pumpkin spice
For the Pumpkin Donuts:
1 cup and 1/4 cups all-purpose flour
1/2 cup light brown sugar, packed
1/2 teaspoon salt
1 teaspoon baking powder
1 teaspoon pumpkin spice
1/4 cup pumpkin puree
2 1/2 tablespoons unsalted butter, melted
1/2 cup milk (I used whole, but any type will do)
For the Pumpkin Spice Glaze:
1/2 cup confectioners' sugar
1/2 tablespoon whole milk
1/2 teaspoon vanilla extract
1/2 teaspoon pumpkin spice
Instructions
Preheat oven to 350 degrees (F). Spray a 6 mold donut pan with non-stick baking spray; set aside.
For the Crumb Topping:
In a small bowl combine the sugar, flour, and pumpkin spice. Add in the melted butter and use a fork to stir it into a coarse meal. Chill the topping in the freezer while making the donut batter.
For the Pumpkin Donuts:
In a large bowl combine the flour, brown sugar, salt, baking powder, and pumpkin spice; mix well, making sure any large clumps of brown sugar gets broken up; set aside. In a separate bowl whisk together the pumpkin puree, melted butter, and milk. Gently fold the wet mixture into the dry mixture - don't over mix!

Spoon or pipe the mixture into prepared doughnut pan. Divide crumb topping evenly among donut tops, then bake for 10-11 minutes, or until the doughnuts spring back when lightly pressed. Allow doughnuts to cool for 10 minutes in the pan before gently lifting them out and transferring to a wire wrack to cool for a few more minutes.
For the Pumpkin Spice Glaze:
In a small bowl whisk together the confectioners' sugar, milk, vanilla, and pumpkin spice. Drizzle over donuts and serve at once.
You might also enjoy:
Pumpkin Cinnamon Sugar Donuts (Includes Vegan Version)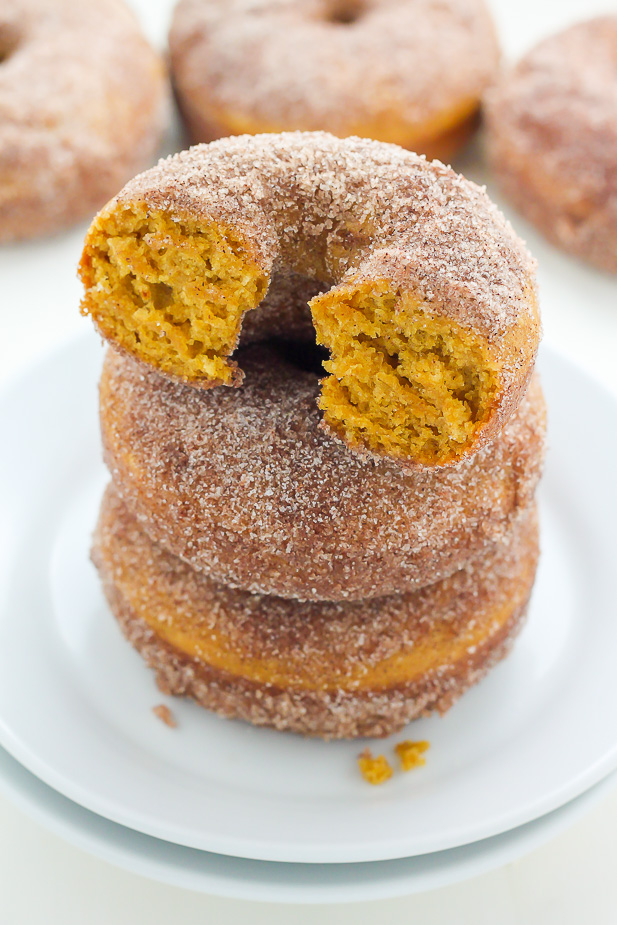 Chewy Cinnamon Chip Pumpkin Cookies