Soft and Chewy Cinnamon Roll Cookies are stuffed with homemade Brown Butter Ice Cream – one of my favorite ice cream sandwich recipes EVER!
Today's recipe is one I'm especially excited about! Cinnamon Roll Ice Cream Sandwiches!!! This brilliant recipe is from my friend Tessa's Cookbook: Cookies & Cream: Hundreds of Ways to Make the Perfect Ice Cream Sandwich
. This is one of my favorite cookbooks for the warmer Spring and Summer months (I mean, who doesn't love an ice cream sandwich?!), and I'm very happy to report I'm giving you a chance to win a copy for yourself. I'm also giving away a Cuisinart 2-Quart Ice Cream Maker
, because you'll definitely need one of those with this book in your possession! Be sure to check out all of the giveaway details at the end of this post.
Alright, so let's dive into the recipe nitty-gritty! The first thing we should talk about when it comes to making this recipe is time management. You're going to want to read through all of the steps (they are easy, but there are quite a few) and decide if you want to make this an all-day project, or make the recipe over the course of a few days. If you choose to make them all in one day (as I did), it will take around 5 hours, give-or-take, depending on how quickly you work. If you're in a HUGE time crunch and need to make these fast, store-bought ice cream would definitely save you a few hours of work. That said, store-bought ice cream means you'd be missing out on this brown butter ice cream… and after eating almost the entire batch myself, I can say with fierce assurance this is one ice cream flavor you don't want to skip!
The cookies – which are the base for this ice cream sandwich – are hands-down some of the best cookies I've ever consumed! I would – and will – make them again just to eat the cookies 🙂 They're soft on the inside, slightly chewy at the edges, and swirled with cinnamon-sugar! Color me in love to the max with these babies.
Important note: this cookie dough can be very sticky and well… annoying at times. It's important that you follow the recipe and instructions to a T, and have your patience cap on. I promise the cookie reward will be worth it in the end!
Making your own ice cream sandwiches is such a fun way to get messy in the kitchen! I've made this recipe solo, but to be honest, I think this one is a great group project. Invite your girlfriends over, or get your kids involved! Or… make your cute boyfriend wash ALL of the dirty dishes (my go-to move). They'll have fun in the process, and totally enjoy the sweet, sticky, cinnamon roll ice cream sandwich reward 🙂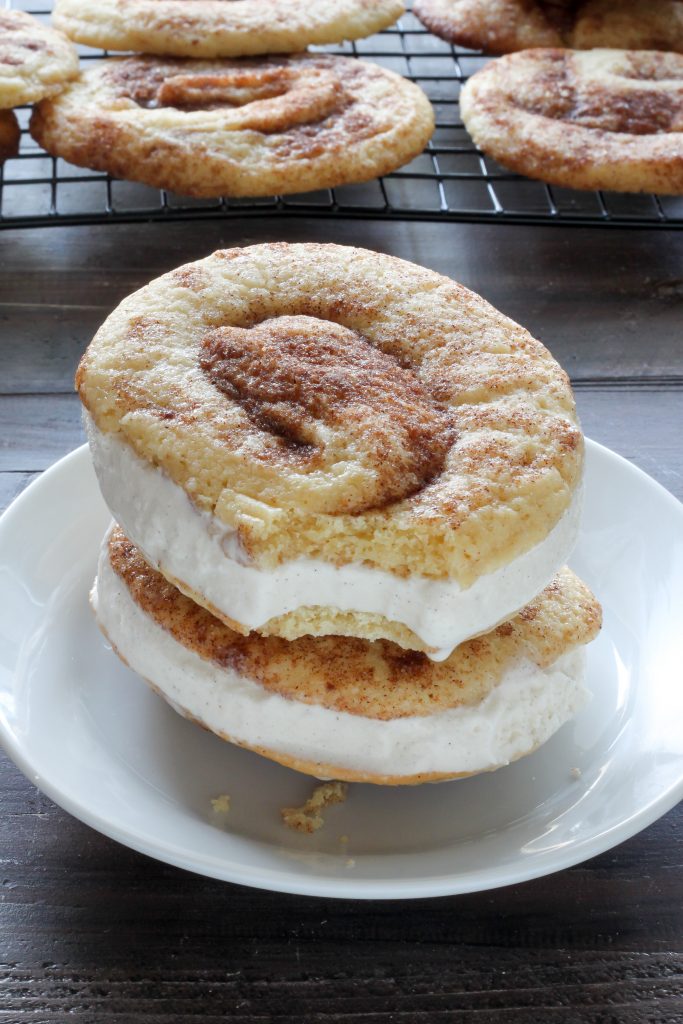 So, wanna know how you can win the fabulous cookbook and ice cream maker noted in the beginning of the post? Simply pop over to Tessa's fabulous blog, poke around, and come back here and let me know what recipe you'd make first! I bet the hardest part about that challenge will be picking just one. Be sure to leave your comment in the section below, and include a valid email, as I will be contacting the winner via email. Contest closes April 1st, at 6 pm, and is open to US residents only (I'm sorry my international pals!).
Cinnamon Roll Ice Cream Sandwiches
Cinnamon Roll Cookies stuffed with homemade brown butter ice cream! These are incredible!
Ingredients
For the Brown Butter Ice Cream:
4 ounces (1 stick) unsalted butter
1 1/2 cups whole milk
1 1/2 cups heavy cream
1/4 teaspoon fine sea salt
1/3 cup granulated sugar
1/3 cup packed light brown sugar
4 large egg yolks
For the Cinnamon Roll Cookies:
1 1/2 cups all-purpose flour
1 teaspoon baking powder
1/4 teaspoon fine sea salt
6 ounces (1 1/2 sticks) unsalted butter, at room temperature
3/4 cup granulated sugar
1 large egg, at room temperature
1 teaspoon pure vanilla extract
For the filling:
2 tablespoons unsalted butter, melted
2 tablespoons granulated sugar
2 tablespoons packed light brown sugar
1 tablespoon ground cinnamon
Instructions
For the brown butter ice cream:
Prepare an ice bath by filling a very large bowl with ice cubes and 2 cups of cold water. Place a medium-sized bowl fitted with a fine mesh strainer inside the ice bath; set aside.

In a small skillet over medium-low heat melt the butter. Continue cooking the butter once it's melted, swirling the pan frequently, until it reaches a deep amber color; about 6-8 minutes. Remove from heat and set aside.

In a medium-sized saucepan combined the milk, cream, salt, and granulated sugar. Set over medium heat, stirring occasionally, until the mixture is warm and begins to steam; about 5 minutes.

In a medium-sized bowl whisk together the brown sugar, egg yolks, and brown butter; beat until thick and well combined. Carefully whisk one half of the warm milk mixture into the egg yolks, one scoop at a time, until the egg mixture is warmed. Whisk the egg-milk mixture back into the saucepan. Cook the mixture over medium-heat, stirring constantly, until the mixture is thick enough to coat the back of a spoon and registers around 175 degrees (F); about 5 minutes. Be careful to never let the mixture come to a boil.

Immediately strain the mixture through the fine strainer into the prepared ice bath. Cool the custard in the ice bath, stirring often. Press plastic wrap against the custard and refrigerate until completely chilled; about 4 hours or up to one day.

When ready, pour the chilled mixture into an ice cream maker. Freeze according to the manufacturer's directions. Transfer the ice cream to an airtight container, press plastic wrap against the ice cream, and freeze for at least 2 hours, or up to 3 days.
For the cinnamon roll cookies:
In a small bowl whisk together the flour, baking powder, and salt. In large bowl beat together the butter and sugar on medium-high speed until smooth and creamy. Add in the egg and vanilla; beat until combined. Reduce the mixer speed to low, and gradually add in the flour mixture, beating until just combined. Shape the dough (it will be a little sticky) into a flat disk, wrap in plastic wrap, and freeze for 2 1/2 hours.
For the filling:
Melt butter; set aside. In a small bowl combine the sugars and cinnamon; set aside.
Baking and Assembly:
Once the dough has chilled, place it between two large sheets of parchment paper. Using a large rolling pin, roll the dough out into a large 1/4" thick rectangle. Brush the dough with the melted butter, then sprinkle with the cinnamon sugar mixture.

With the long side facing you, carefully roll the dough into a tight log, using the parchment paper to help guide the dough and keep it from sticking (if it does stick, use a butter knife to help loosen it). Wrap the dough in parchment paper and freeze until firm; about 30 minutes.

Preheat the oven to 375 degrees (F). Line two large baking sheets with parchment paper; set aside.

Once the log is firm, use a sharp knife to quickly cut the log into 1/2" slices of dough. Don't worry if some of the filling falls out while doing this! Place the slices on the prepared baking sheets, 2 inches apart, and bake, one sheet at a time, for 10-12 minutes, or until the edges are lightly golden. Cool cookies completely on the pan, then freeze them until they're completely frozen; about 1 hour.

Cookie can be stored in an airtight container for up to one month.

To assemble, top one cookie with a scoop of ice cream. Place another cookie on top and lightly press down to form a sandwich. Freeze for at least one hour before serving.
Notes
This recipe is from The Cookies and Cream Cookbook, by Tessa Arias. The recipe is written in my own words and as always all opinions are my own. This giveaway is not sponsored in any way or form.