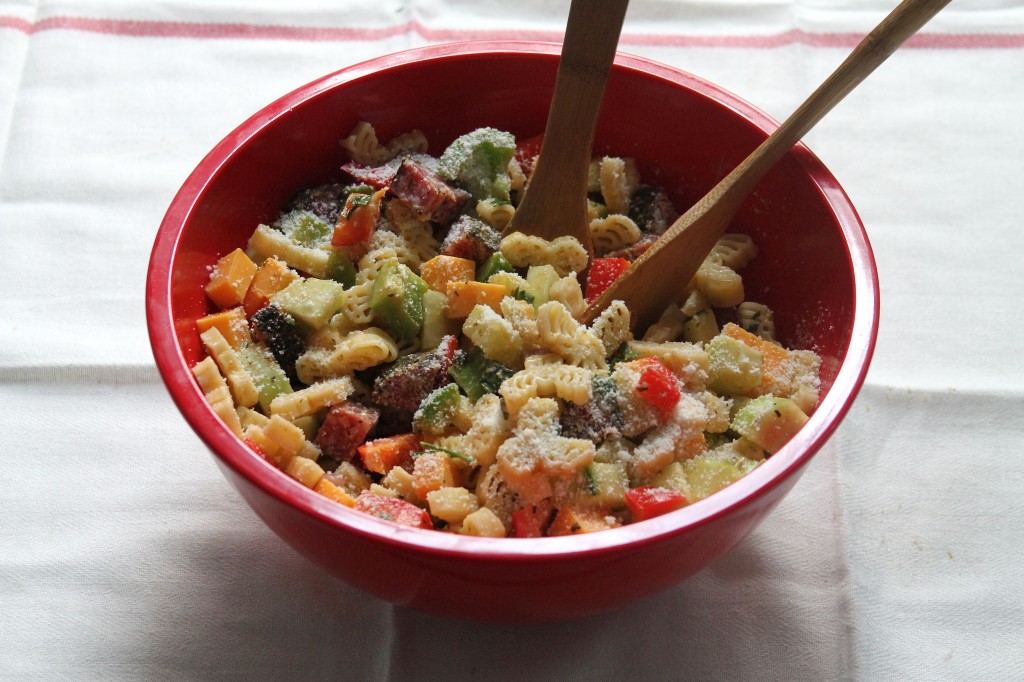 What makes something a classic? See, I went back and forth naming this recipe, but since we grew up calling this classic Italian pasta salad, I just had to go with that. It felt right.
Plus, once you make it, I have no doubt you'll not only agree it's a classic, but that it's a must for all the hot days ahead. I say this with mucho confidence; I've been eating this stuff for years and see no end in sight.
The logistics of a classic Italian pasta salad are pretty simple. Pick a small noodle, dress it up in a homemade Italian dressing (you can totally buy the store stuff if you're not against it; for me it would be sacrilege), and toss in some salami, shard cheddar, and crispy crunchy veggies. SO simple! SO amazing!
I found these adorable little elk shaped noodles at IKEA and well, I just HAD to have them. Aren't they just the cutest?
I like to use the same veggies my mom used when making this: red onion, green bell, red bell, a touch of parsley, and an extra crispy cucumber. That being said, I think the add-in options are endless! As I say with most of my salad recipes – make it your own!
Whenever I make this dish I always double the recipe, and I highly encourage you to do the same – especially if you plan on sharing! Because who can say no to scoop on top of scoop of zesty, tangy pasta salad? Exactly.
Happy Tuesday, guys! Hope it's grand 🙂
Classic Italian Pasta Salad – Baker by Nature
Makes 4 large servings, or 8 tiny ones
Ingredients:
8 ounces dried pasta, cooked al dente
1 large red pepper, seeded and diced
1 large green pepper, seeded and diced
1 large cucumber, peeled and diced
1 small red onion, diced VERY small
2 tablespoons fresh parsley, roughly chopped
(1) 8 oz stick of black pepper dry salami, cubed
5 oz sharp cheddar cheese, cubed
Instructions:
Cook pasta al dente, then drain and cool by running under cold water for a few minutes. Toss the cooked pasta with 1/2 of the dressing, then mix in salami, cheese, and vegetables. Stir in the rest of the dressing, and top with grated cheese if desired. Chill until needed.
Homemade Zesty Italian Dressing:
2 cloves of garlic, chopped
2 tablespoons fresh basil
1/2 teaspoon dried oregano
1 tablespoon onion powder
1/2 teaspoon dried thyme
2 tablespoons red bell pepper, diced
1 tablespoon sugar
1/2 teaspoon black pepper
1/2 teaspoon crushed red pepper
1/4 red wine vinegar
1/2 cup olive oil
Instructions:
Combine all of the ingredients EXCEPT the olive oil in a blender and pulse until smooth. Slowly whisk in olive oil. Pour over pasta salad and toss well.