Fresh peach puree, orange juice, and lime make this fun and fruity Peach Margarita extra fabulous! It's the perfect Summer cocktail!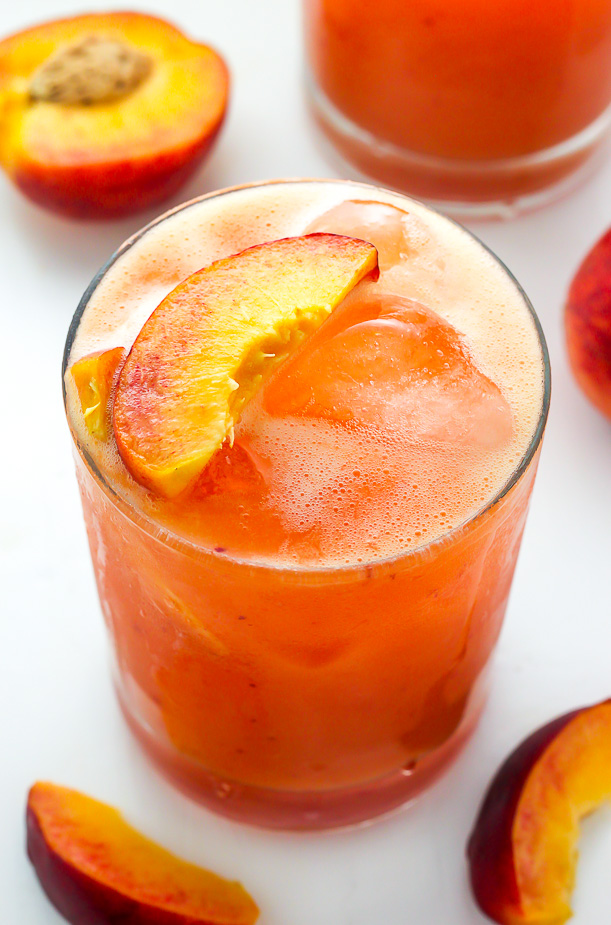 Peach Margarita Recipe
Lately I've been all about the at-home happy hour. There's just something about sitting out on our little patio – frosty margarita in hand – that makes Summer feel extra special. For so many years we lived in Brooklyn (and before that, Manhattan), so outdoor space – even a tiny one – feels completely luxurious.
I must also admit I'm a total cocktail snob. While I'll happily drink a Miller Lite or cheap red wine, there is no place in my life for those crappy flavorless // overpriced // way too sweet margaritas many bars churn out. Uh uh. No thanks! I just can't. I just won't.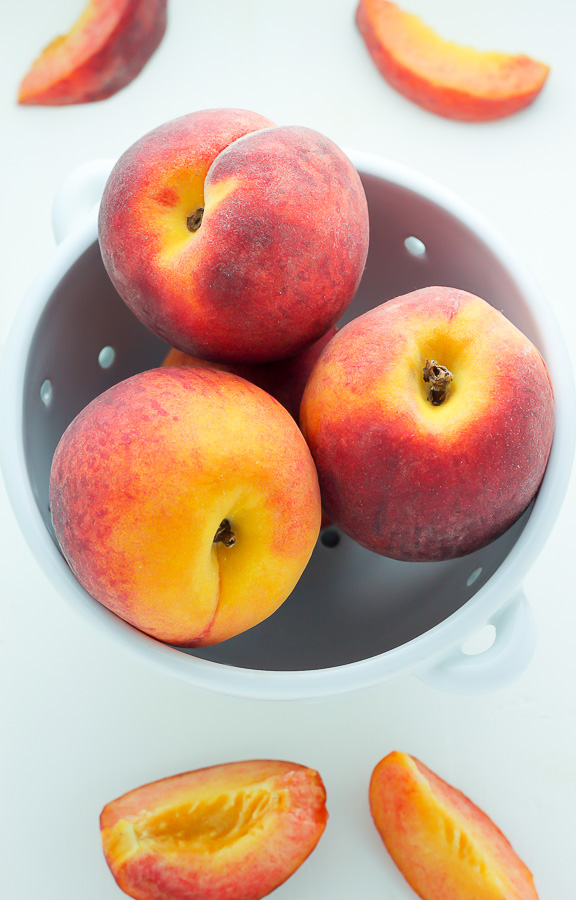 That's where this utterly refreshing peach beauty comes in.

MY RECENT VIDEOS
The base of this drink is a fresh peach puree created by very simply blending peaches, orange juice, and the tiniest bit of sugar together until smooth. It's up to you if you want to peel the peaches; I chose not to but I don't mind a chunkier puree.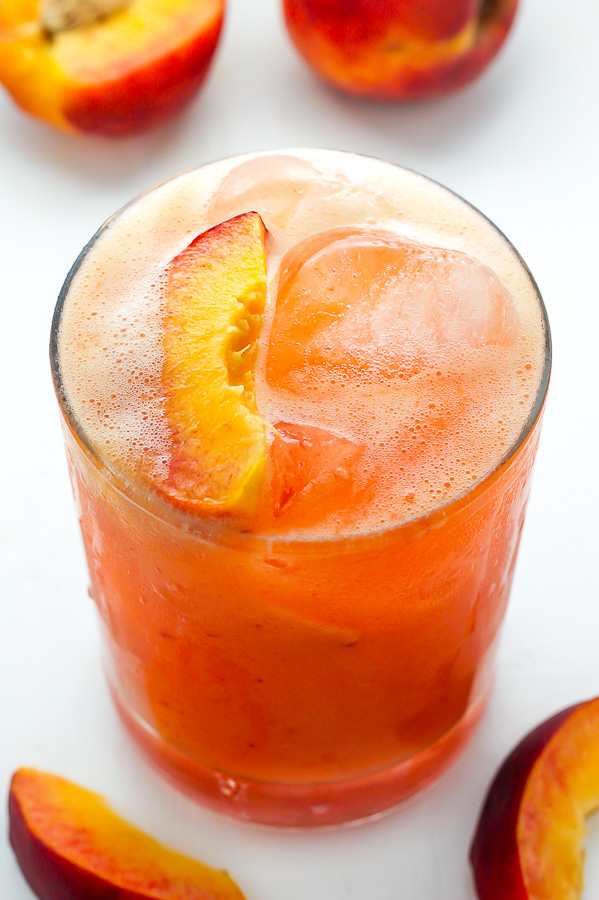 Once the puree is ready, simply pour it into a few glasses, add ice, tequila, triple sec, and lime – then stir like crazy! You could also pour them into a cocktail shaker and combine them that way.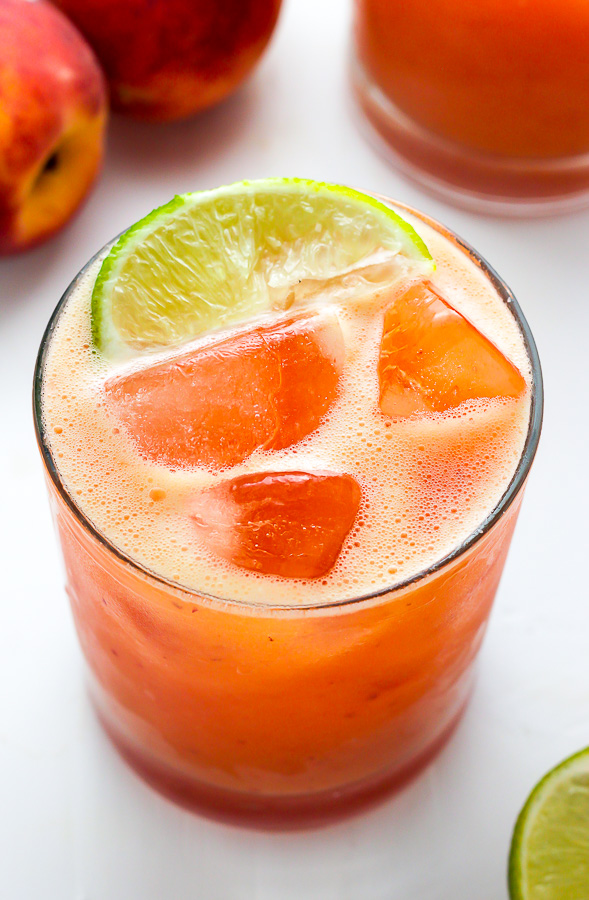 The next time you're looking to jazz up an evening at home, shake up this cheerful cocktail and sip away! P.S. Serve these cocktails with my Summertime Cheese & Charcuterie Board for the ultimate at-home happy hour experience.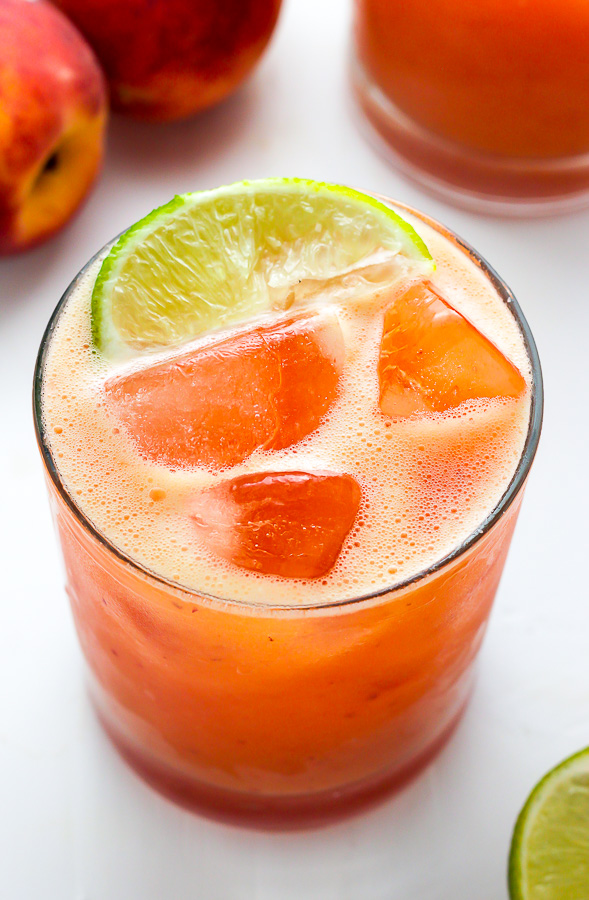 Print
Fresh Peach Margaritas
Yield 4 Margariats
Fresh Peach Margaritas make an incredible Summer drink!
Ingredients
6 Ripe Peaches, cut in half, pitted, and peeled (don't peel if you like a chunkier puree)
1/4 Cup Freshly Squeezed Orange Juice
3 Tablespoons Confectioners' Sugar
1 Cup tequila (I use silver but whatever you know you like is fine)
1/2 Cup Fresh Lime Juice (or bottled lime juice NOT from concentrate)
1/2 Cup Triple Sec
1 lime, cut into wedges
Instructions
To make the fresh peach puree:
Peel and pit the fresh peaches. Combine the peaches, orange juice and sugar in the body of a blender; pulse until completely smooth.
Assembly:
Divide the ingredients evenly into 4 large glasses full of ice; stir well to combine. Alternately you could do this individually in a cocktail shaker. Serve at once with a wedge of lime.
Nutrition Facts
Serving Size 1-2 margaritas... or more 😉
Amount Per Serving
% Daily Value
* Percent Daily Values are based on a 2,000 calorie diet. Your daily values may be higher or lower depending on your calorie needs.
You'll also love: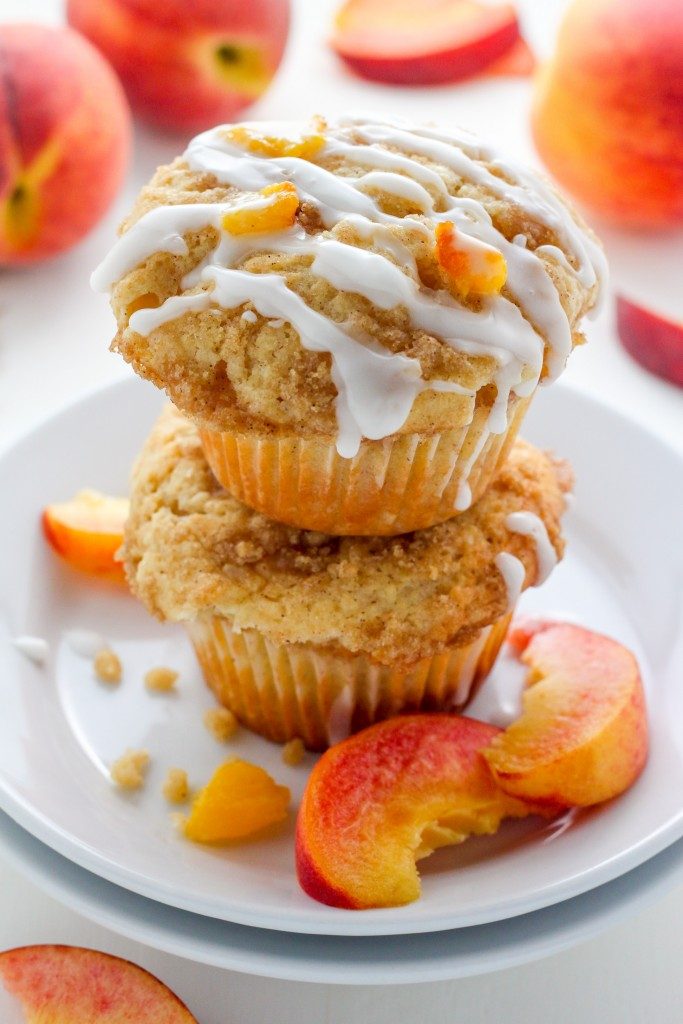 Raspberry Mango Margaritas
Roasted Lime and Garlic Shrimp Cocktail