Say hello to the BEST Spicy Jalapeno Margarita your lips will ever meet! It's everything you love about a classic margarita, but with a spicy kick! Feel free to double the spice if you really want to suffer, or reduce it for a more mild marg!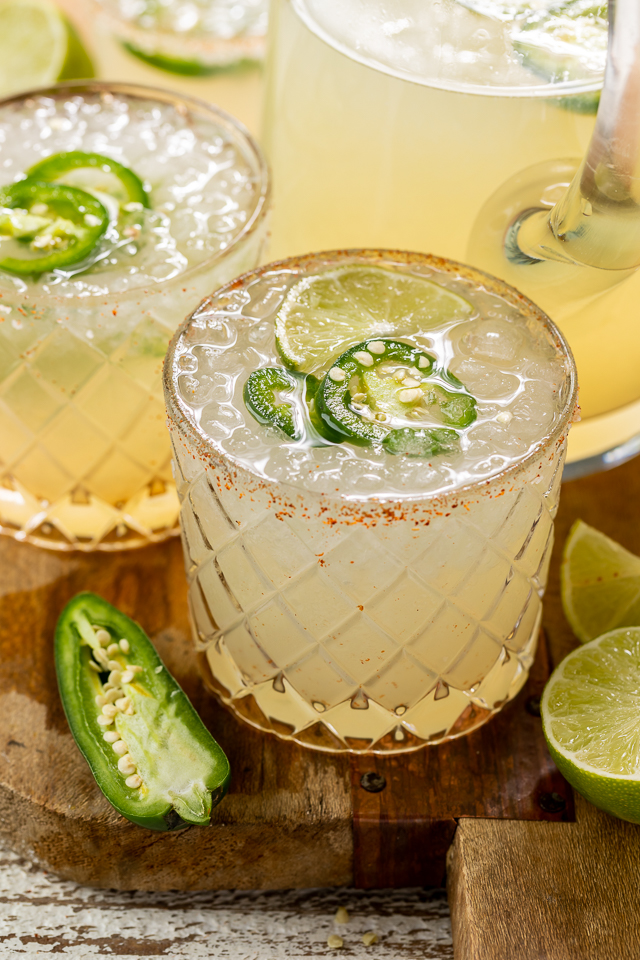 Spicy Margaritas
Margaritas on a Monday? Yup! We're doing it!
And not just any margaritas, my friends! Today we're making spicy jalapeño margaritas! Like most margs, they're made with freshly squeezed lime juice, tequila, orange liqueur, and simple syrup.
The twist? Our simple syrup is actually a JALAPEÑO LIME simple syrup and it's insane! These are perfect for serving your crew on Cinco de Mayo! Or any night (or day) you're craving a restaurant-quality cocktail without leaving the comfort of your home!
Can I leave out the Jalapeño?
Because I know someone is going to ask, I wanted to quickly address this! If you're not a jalapeño fan, or just not a fan of spice, I highly suggest making my 5-Minute Margarita Recipe instead! It's not spicy AT ALL, and is simply perfect! This recipe was developed specifically to be spicy, so I don't recommend messing around with it!
Let's Make Jalapeño Simple Syrup
Pretty much every jalapeño margarita recipe I've ever seen calls for muddling chopped jalapeño peppers. That, or adding a few measly jalapeño slices to the cocktail mixture and shaking.
Neither option really does it for me. I don't want to be chocking down bits of pepper as I sip. Nor do I want a vaguely flavored margarita that barely tastes like jalapeños!
That's where out jalapeño simple syrup comes in! We boil two whole jalapeño peppers along with water, sugar, and some lime peel. You'll drain out the jalapeno slice and seeds, so all your left with is a smooth and spicy simple syrup!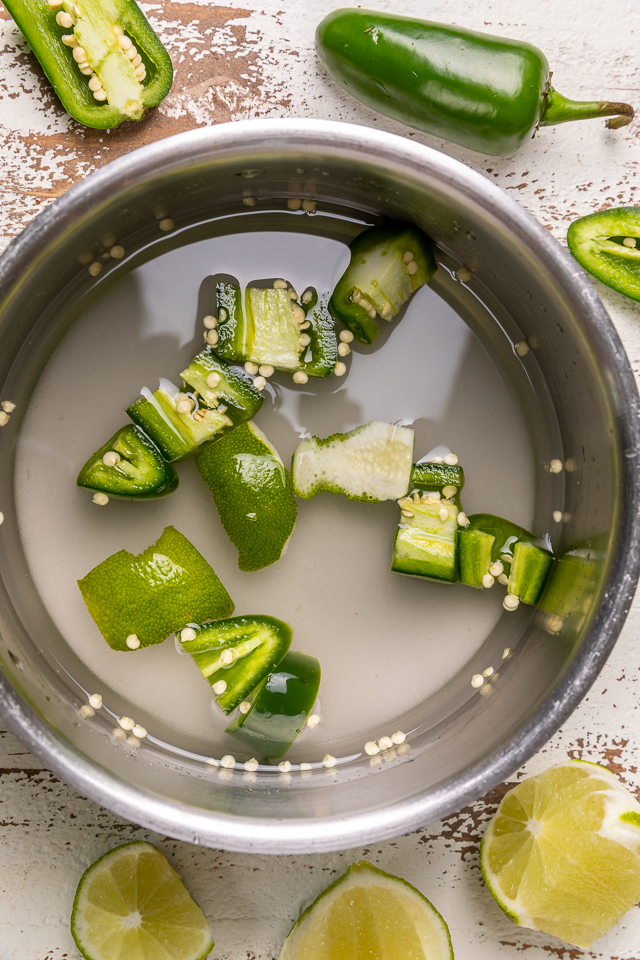 Salted Rim? Or a Salty Spicy One?
Once your simple syrup is boiled and chilled, you're ready to bust out your margaritas glasses and get shaking!
If you prefer a salt rimmed glass, you can run a lime wedge around the edge of each glass. And then drip the rim into coarse salt. Another delicious (and spicy!) idea: dip the glasses in a combination of salt and chili powder. Just a note that although I love sea salt, it doesn't work well here because it dissolves into the lime juice quickly!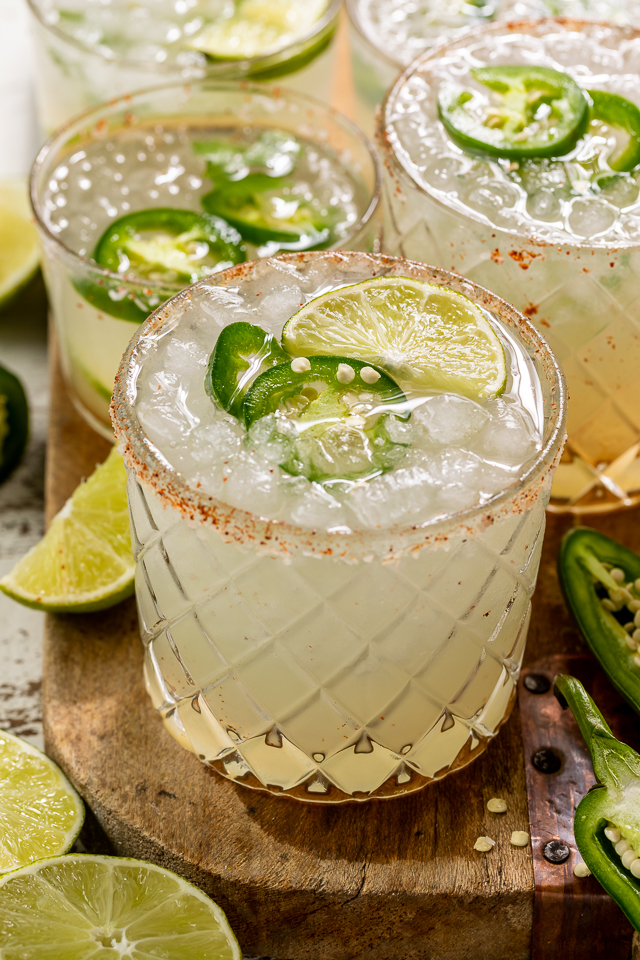 Make the Margarita Mixture
This is as easy as busting out a large pitcher, adding the syrup, fresh lime juice, tequila, and Cointreau, and stirring. If you prefer a shaken drink, you can then pour some into a cocktail shaker and shake vigorously! Then pour into a glass with ice and enjoy!
You can jump to the recipe below for the full ingredient list and quantities needed!
A Note on Ingredients:
Please don't use triple sec or bottle lime juice! These margaritas just won't be the same! Also, if you can, use the best tequila you can afford, because you definitely can taste it! We love Cassamigos, but use whatever brand you enjoy sipping on a sunny day!
These spicy jalapeños margaritas are best served ice cold, preferably on a sunny day, with good friends! The recipe, as written, will serve about 8. But if you're serving a large crowd, go on and double it. Or even triple it! Although you might need to bust out a second pitcher to accommodate.
You can also cut back on the booze a bit if you're looking for a less boozy marg! As written, then have quite a KICK! Not that there's anything wrong with that. But don't say I didn't warn you… wink wink!
Cheers and enjoy!
More Margarita Recipes: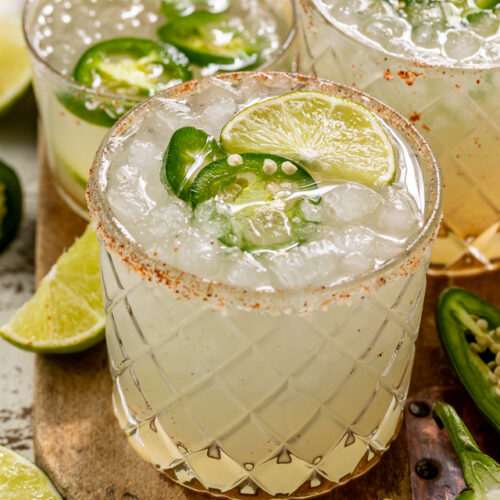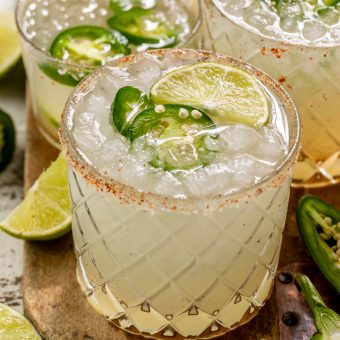 Spicy Jalapeño Margaritas for a Crowd
Say hello to the BEST Spicy Jalapeno Margarita your lips will ever meet! It's everything you love about a classic margarita, but with a spicy kick! Feel free to double the spice if you really want to suffer, or reduce it for a more mild marg!
Ingredients
1 cup (198 grams) granulated sugar
1 and 1/2 cups (340 grams) water
2 jalapeño peppers, cut into slices
(2) 2"-long strips of lime peel
2 cups blanco tequila
2 cups fresh lime juice
1 and 1/4 cups orange liqueur
1 Tablespoon coarse salt
1/2 teaspoon chili powder
Lime wedges, for serving
Jalapeño slices, for garnish
Ice, for serving
Instructions
In a medium saucepan, combine the sugar, water, jalapeño, and  lime peel. Bring to a rolling simmer over medium-high heat and cook, stirring frequently, until the sugar has completely dissolved. Then reduce to medium-low and continue simmering, stirring occasionally, for 15 minutes. 

Remove from heat and set aside to cool for at least 30 minutes. 

Once cool, strain syrup into a large measuring cup, through a fine mesh strainer. Discard jalapeño peppers and lime peel. Set syrup aside until needed. 

In a large pitcher combine the tequila, fresh lime juice, and orange liqueur. Then pour in the simple syrup and stir well to combined. Add a few slices of jalapeño into the pitcher if desired. 

To salt the rim, combine the salt and chili powder in a shallow dish. Run the edge of a lime around a glass, then dip the glass into the chili salt combination. Repeat with all glasses. 

Fill glasses with ice, then pour margarita mix on top. Garish with a lime wedge and a few jalapeño slices, and serve at once!