Soft pillows of potato gnocchi coated in a rich tomato vodka sauce! Can you think of anything better? This Gnocchi alla Vodka is so easy and a family favorite!
Gnocchi with Vodka Sauce
Last week we had some friends over for a casual Friday night dinner. Typically we order-in on the weekend (PIZZA, please!), but since we were having guests, I decided to cook. After recipe testing for the blog all day, I simply didn't have the energy to make anything labor intensive or messy. ← A mountain of dirty dishes and a tired cook totally kills the dinner party vibe.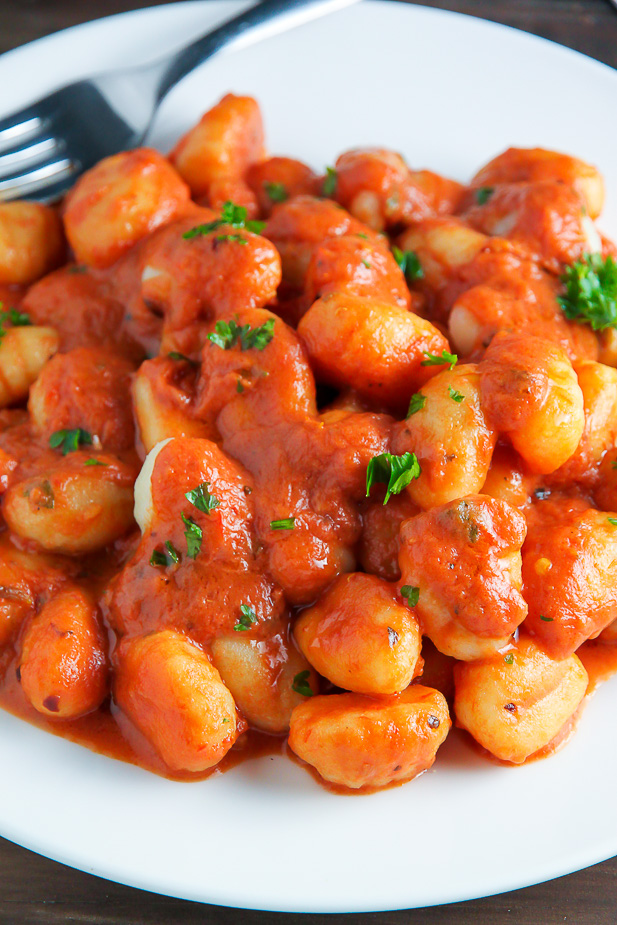 I wanted to make a meal that was hearty and comforting, and this simple Gnocchi and Vodka Sauce totally hit the spot.
Light and airy potato dumplings coated in a creamy, slightly spicy tomato vodka sauce. So much flavor!!! We added a giant salad, some crusty bread, and a bottle of red wine (ok… two bottles). The best part? Dinner took less than 30 minutes but tasted, as my friend Lynn so sweetly put it, like it had come out of the kitchen of a fancy restaurant. Can't beat that compliment!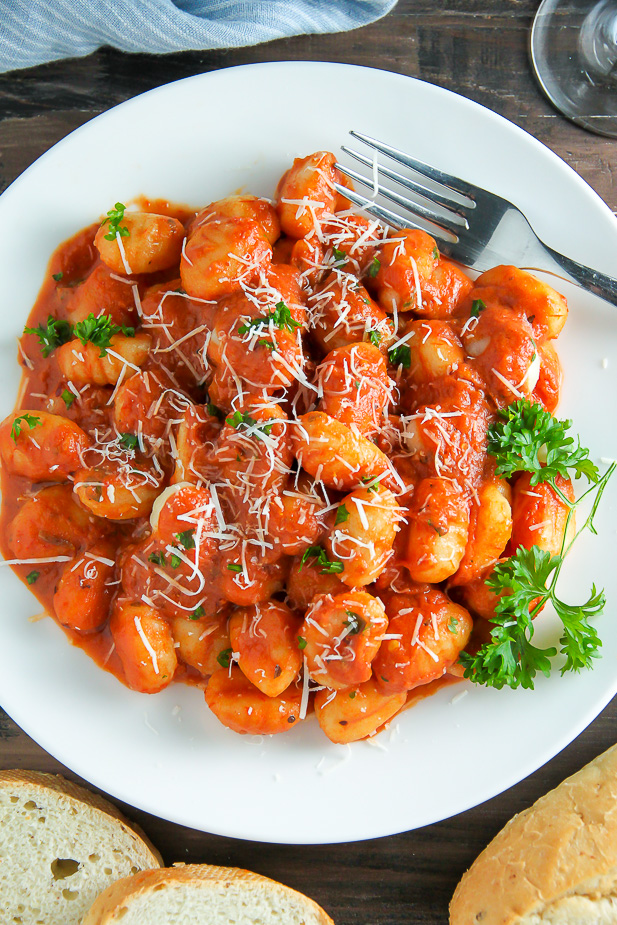 Have a great weekend, friends! I hope you have some fun on the books for the next few days? I'll be popping in with a new recipe tomorrow, but other than that, it's a lazy, relaxing weekend at home.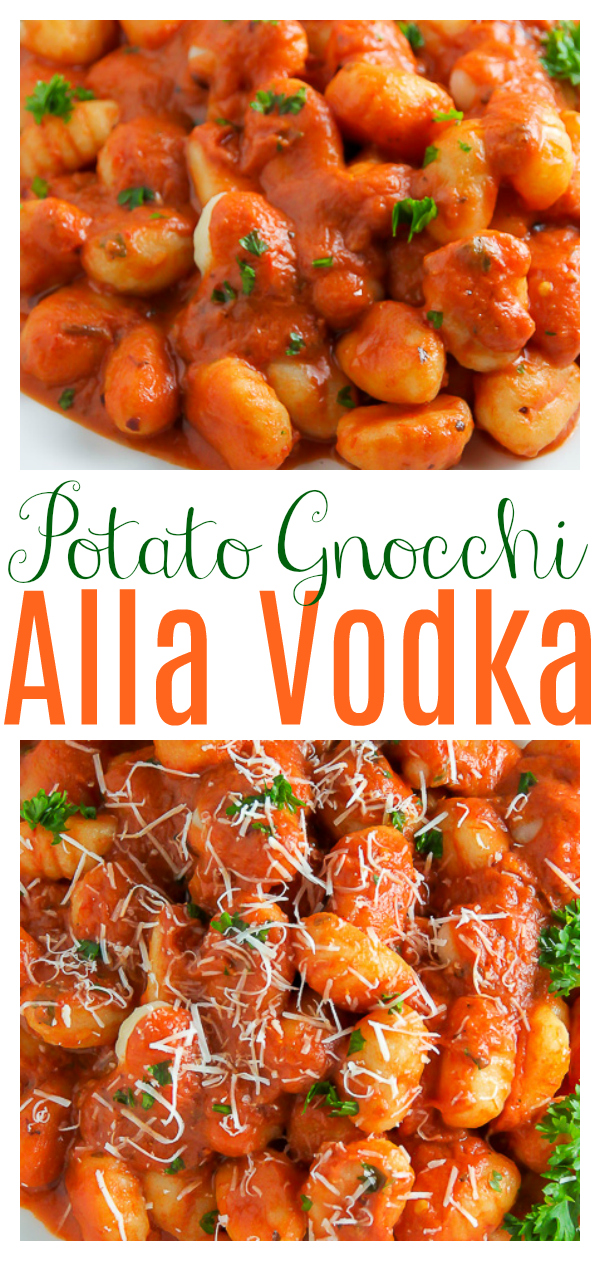 More Gnocchi Recipes: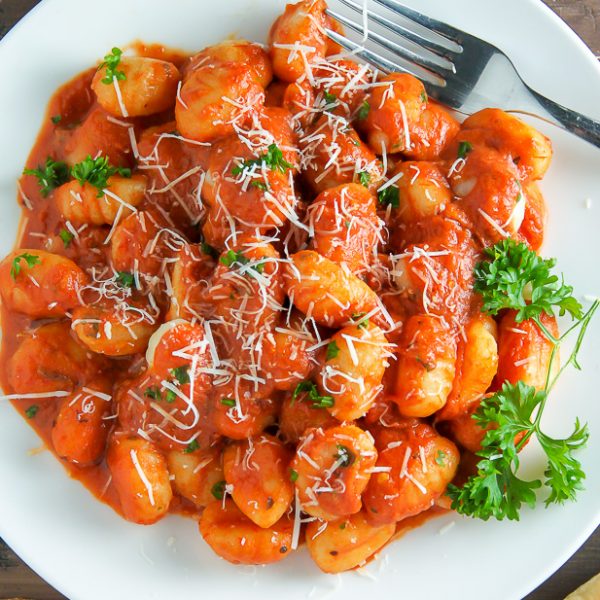 Gnocchi alla Vodka
Hearty and comforting Gnocchi alla Vodka. Simple enough for a weeknight, but impressive enough for any occasion.
Ingredients
2 pounds gnocchi
1/3 cup extra-virgin olive oil
10 cloves garlic, peeled and crushed
1/2 teaspoon crushed red pepper flakes
1 teaspoon salt
4 cups Italian crushed tomatoes
1/4 cup vodka
1/2 cup heavy cream
2 tablespoons unsalted butter
1/2 cup freshly grated Parmigiano-Reggiano, plus more for sprinkling
2 tablespoons chopped fresh Italian parsley
Instructions
For the sauce:
Place the olive oil in a large skillet and bring to a simmer over medium heat. Gently crush the garlic cloves with a large knife and peel off the papery skins. Add the garlic, crushed red pepper, and salt to the hot oil and cook, stirring occasionally, until the garlic is lightly golden, about 2 minutes. Add the tomatoes into the pan slowly and whisk well to combine. Bring sauce to a boil and simmer, stirring almost constantly, for 5 minutes. Add in the vodka and reduce the heat to a gentle simmer. Use a fork to scoop the garlic cloves out of the sauce and discard them. Add in the cream, butter, and Parmesan cheese and whisk well until they're fully incorporated into the sauce. Remove from heat, stir in gnocchi, and serve.
For the gnocchi:
Place a large pot of salted water to a rapid boil over high heat. Cook gnocchi according to package instructions. Drain gnocchi and toss it in the vodka sauce. Plate, sprinkle with additional cheese and parsley, and serve at once.
Notes
Gnocchi typically boils in 5-6 minutes, so I recommend starting the sauce first so you can finish the meal as quickly as possible.