Father's day is right around the corner, and if your family is anything like mine, this means setting some time aside to celebrate the most important man in your life. For my clan this holiday simply means spending time together, making a ridiculous amount of food, and goofing off all day long. <— All of the things papa loves.
This year I'm on dinner duty and I'm prepared! The steaks are ordered, the whiskey cabinet is stocked, and our menu is S-E-T. I'll be making a double batch of these Smoked Salmon and Cream Cheese Cucumber Bites, a few pitchers of my favorite Strawberry Mango Margaritas, Frozen Key Lime Pie on Stick (because um, DESSERT!), and lastly but certainly not least, the main course: Steak and Blue Cheese Alfredo Gnocchi. Not a bad spread, eh? I think papa will be quite pleased 😉
Here's what I really ♡♡♡ about this Steak and Blue Cheese Alfredo Gnocchi:

1) This recipe is a FLAVOR POWER HOUSE. You guys, really. There is just so much flavor packed into each bite. I'm talking rich and creamy Alfredo sauce, tender potato gnocchi, bold blue cheese, and STEAK. ALL IN ONE DISH. Can I hear an amen?!
2) The steak. Simply put, the steak is 100% the star of this show. Use my straightforward method for Perfect Pan-Seared Steak and your results will be beyond restaurant quality!
3) This recipe falls under the category of ULTIMATE COMFORT FOOD. Which is exactly what should be served on Father's Day… or any day you need a little edible TLC.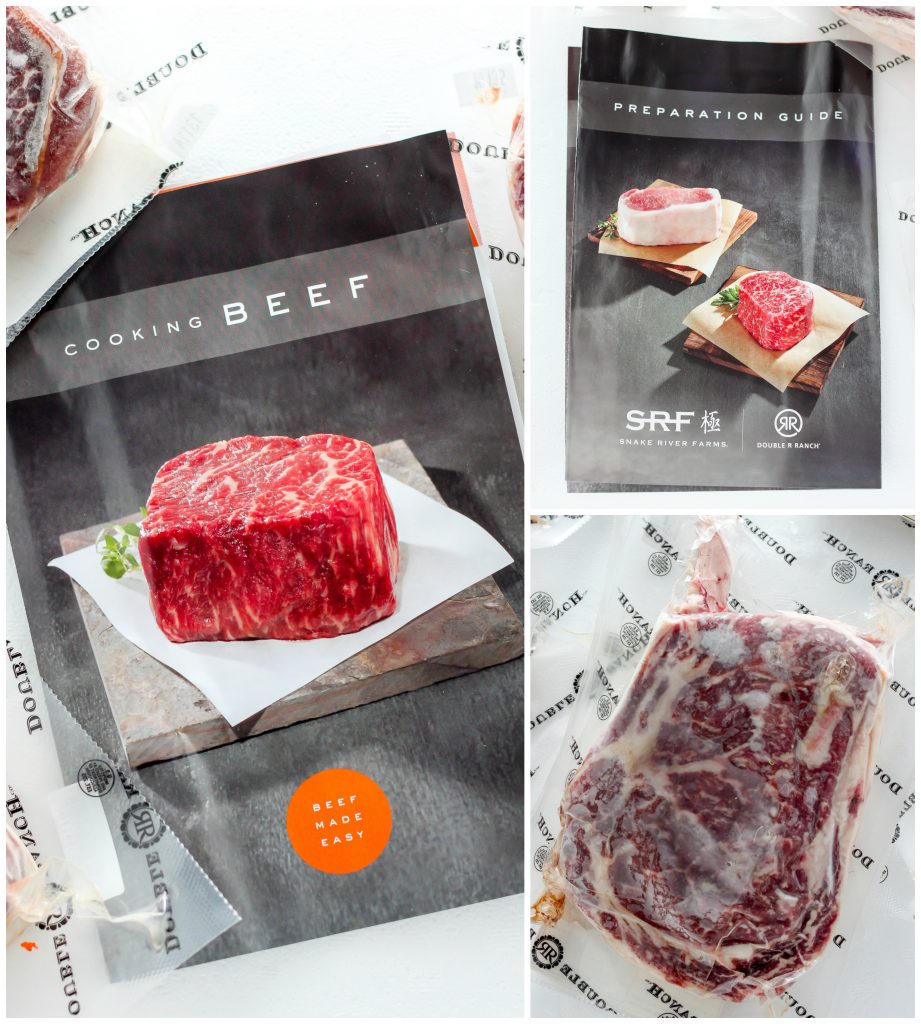 So let's talk about this steak for a minute, mmk? Today's post is proudly brought to you by my good friends over at Snake River Farms and Double R Ranch. Snake River Farms and Double R Ranch make some of the best beef in the world; it's literally the best I've ever tasted. Naturally this company was my #1 choice when it came time to shop for the steaks we'd serving on Father's Day. Dad deserves the BEST, right?
When Snake River reached out to me and offered to send us a special Father's Day bundle (that included bacon-wrapped filet mignon, American kobe ribeye filets, a HUGE bone-in ribeye, top-sirloin filets and 1 jar of espresso brava sea salt) I couldn't type YES fast enough!
What Can I say…? I'm a sucker for marvelous marbled meaty goodness.
No matter who you're shopping for this year (your dad, your husband, your boyfriend or maybe… yourself?) these are some Father's Day Gifts you can feel PROUD to give. I can say with 100% certainty any meat loving man (or let's be real, woman!) would go bonkers over a gift like this! The best news? This awesome and beautifully boxed Father's Day Gift Bundle can be delivered straight to your door and is available for a special price through mid-June. Sure… it's still a splurge. But isn't your dad worth it?


I cooked our steaks quite simply; using just a little salt and pepper. This recipe already has a TON of flavor going on, and the taste of this quality meat is so incredible there's no need to go crazy with seasoning. You could definitely grill these steaks if you prefer to cook outdoors, but I highly recommend following my perfect pan-seared steak method. The results are delightful every single time.
Alright my friends! Order your steaks and get cooking. Wishing you and your family the most amazing Father's Day this year. xoxo
Steak and Blue Cheese Alfredo Gnocchi
Tender Gnocchi is topped with Blue Cheese Alfredo and Seared Steak! A luxurious meal made at home.
Ingredients
For the Perfectly Seared Steak:
(2) 6 oz Rib Eye Filets
1 teaspoon Kosher Salt
1 teaspoon Black Pepper
For the Blue Cheese Alfredo Gnocchi:
1 pound Gnocchi, cooked according to package
2 1/2 tablespoons unsalted butter
3 garlic cloves, minced
1 cup + 2 tablespoons Heavy Cream
1 tablespoon fresh parsley, chopped
1 ⁄2 cup fresh parmesan cheese, grated
1/4 cup blue cheese, crumbled
1/2 teaspoon black pepper
1/4 teaspoon salt, more to taste (if needed)
Instructions
For the Perfectly Seared Steaks:
Please follow link in post.
For the Blue Cheese Alfredo Gnocchi:
Cook gnocchi according to package instructions; set aside.

In a medium-sized sauce pan melt butter over medium-low heat. Once completely melted, add the garlic and cook, stirring frequently, until light golden brown and fragrant.

Add the heavy cream and parsley to the garlic butter; stir well to combine.

Increase the heat to medium and reduce the sauce by half, stirring occasionally. This will take about 12-14 minutes/

Once the sauce has reduce, turn the heat down to low and stir in the cheeses. Stir well to combine (the sauce will thicken even more here).

Continue to cook, stirring constantly, over low heat for 2 more minutes, or until completely combined. Serve over cooked gnocchi.
To assemble:
Top each plate of gnocchi with sauce, then top that with sliced steak. Serve at once.
This is a sponsored conversation written by me on behalf of Snake River Farms/Double R Ranch. The opinions and text are all mine.