Extra GOOEY Chocolate Chunk Cookie Butter Bars! Aka what to do with that random jar of cookie butter you have in your pantry. These are super gooey and loaded with flavor!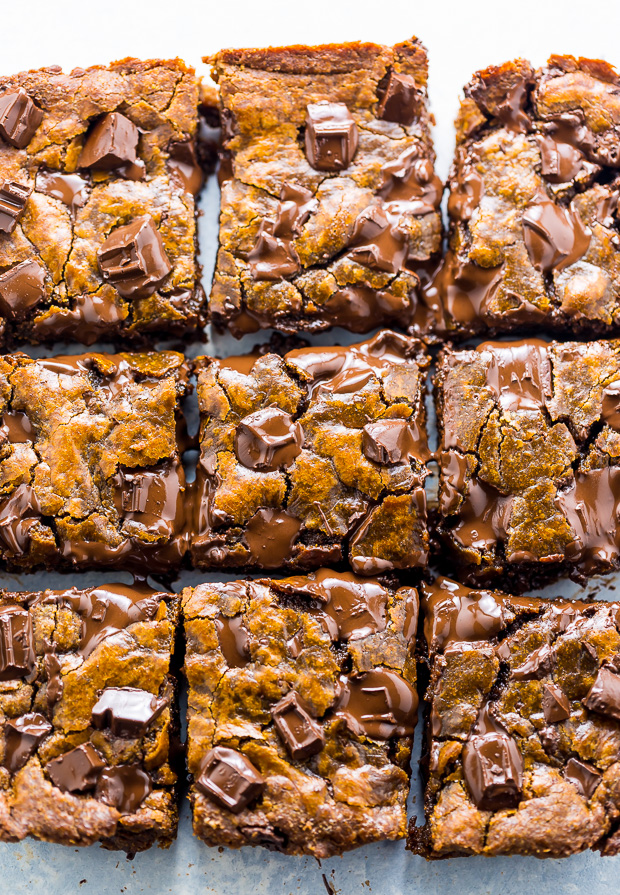 Cookie Butter Bars
Hello and Happy Friday! Today we're baking with cookie butter. Are you familiar with it?
For the past few years it's been pretty popular in the "foodie" world, but I must confess, I just jumped on the bandwagon last month. I spotted it while browsing the aisles at Trader Joe's and caved out of curiosity. Best impulse buy ever! Cookie butter is absolutely DELICIOUS! Inspired by speculoos spread, cookie butter has a rich and creamy consistency similar to peanut butter, but that's where the similarities end. Flavor wise, it tastes just like gingerbread cookies!
Moral of the story? Cookie butter is wildly addicting and I implore you to indulge in a jar ASAP.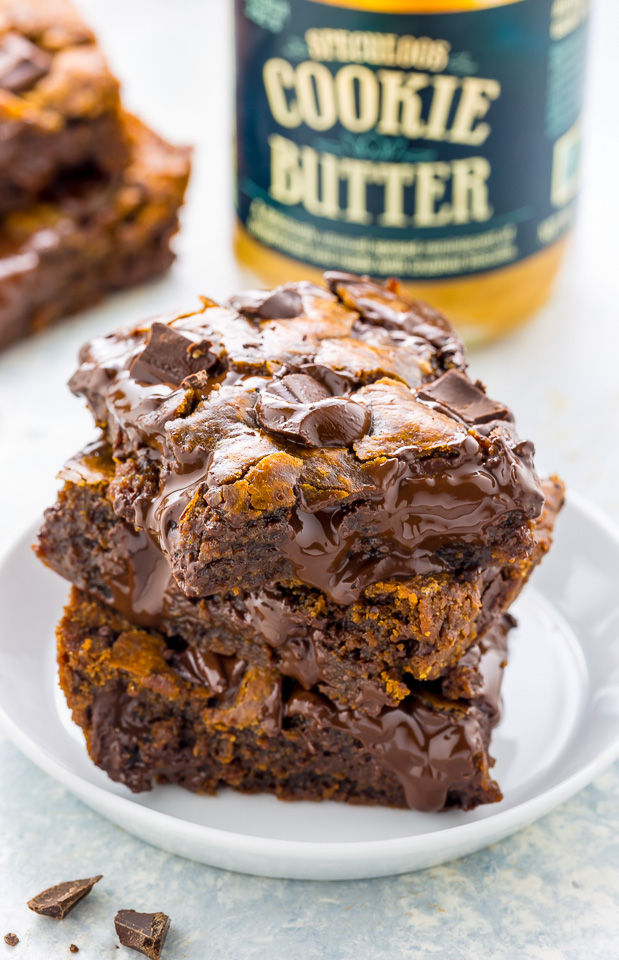 Suffice it to say, it wasn't long before I was back at the store buying more cookie butter. And while I could go on happily eating cookie butter straight from the container with a spoon, I decided instead to do my dang job and create a recipe for you!
Which brings us to today's treat: Gooey Chocolate Chunk Cookie Butter Bars!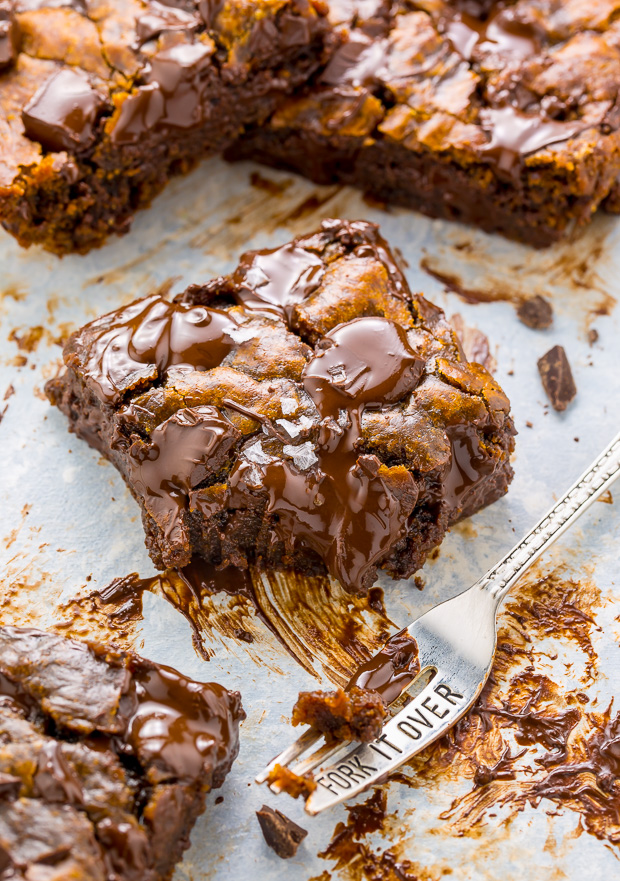 It took me quite a few attempts to get this recipe just right. The first time I made these bars they came out way too flat; the second time they were too dry; and the third time they were too heavy with oil and sugar. But I was determined, and after a few more tries, finally nailed the taste and texture I was dreaming of. These gooey chocolate chunk cookie butter bars are:
As the title suggests, VERY GOOEY. Slicing them will be a little messy. I find the messier desserts in life to be some of the most satisfying. Serve with napkins and a smile. No one I know has ever complained of a gooey cookie bar 😉
Rich in flavor! Between the spiced cookie butter, a touch of cinnamon, brown sugar, and molasses, these gooey chocolate chunk cookie butter bars are anything but dull.
Crunchy at the edges! YES. While I knew I wanted the center of this treat to be ultra gooey, I also wanted to contrast that texture with some crunch.
Loaded with chocolate!!! I suggest adding 4 ounces of chopped chocolate to the batter, but if you really want to go all out, add another 2 ounces of chopped chocolate chunks to the top of the cookie bars right when they come out of the oven.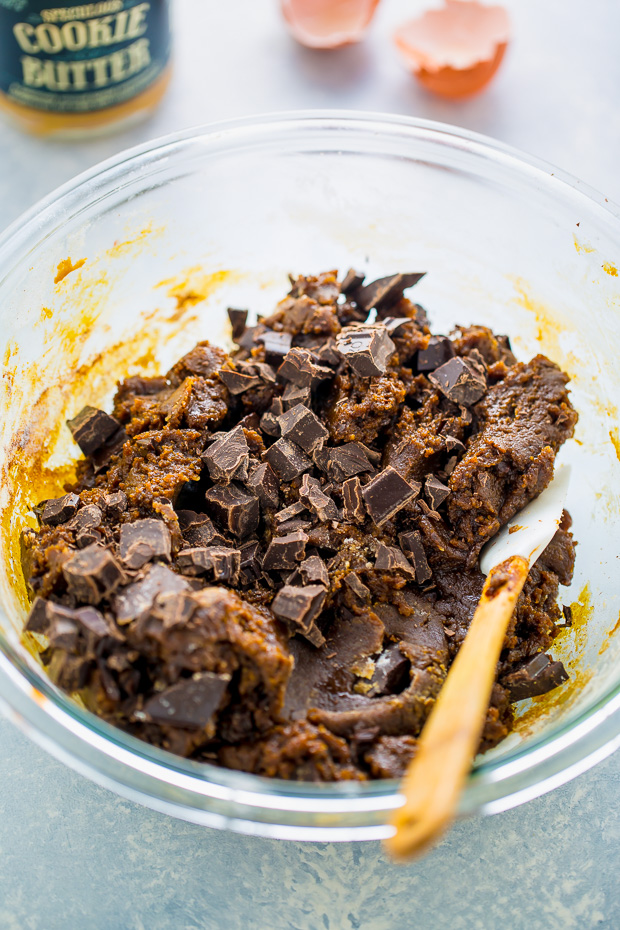 Tips and Tricks for Recipe Success:
You will need cookie butter for this recipe! You can buy it at Trader Joe's or online here (but it's cheaper to buy it from the store). I have not tested this recipe with homemade cookie butter, nor have I tested it with peanut butter, so I cannot say how it will turn out if you choose to make those changes.
The batter for this recipe is VERY thick! I suggest folding the flour into the batter with a wooden spoon – or a very strong spatula – and and mixing it just until the flour disappears. Also, don't be tempted to add more liquid! I tested this recipe a few times with more liquid – which made it much easier to mix – but the results were very disappointing. The batter will come together; just be patient and mix slowly.
Since the batter thick, you'll need to press it into the pan. You can do this with your hands (I like to wrap my hand in a piece of saran wrap first so nothing sticks) or with a spatula.
Don't skip the salt! These bars are VERY sweet, so the salt is essential in balancing out the flavor. For those who enjoy a sweet and salty treat, sprinkle on some flaky sea salt right before serving. It's so good!
Be sure to cool the cookie butter bars in the pan for 1 hour! Seriously, set a timer.
Finally – and I'm sorry if I'm being repetitive but I want to make sure you're making the right dessert – these bars are very GOOEY. Meaning they won't slice into pretty, perfect bars. They'll be a little messy and a LOT delicious. If you're looking for a more uniform cookie bar, I suggest these or these.
Gooey chocolate chunk cookie butter bar nirvana… you in?!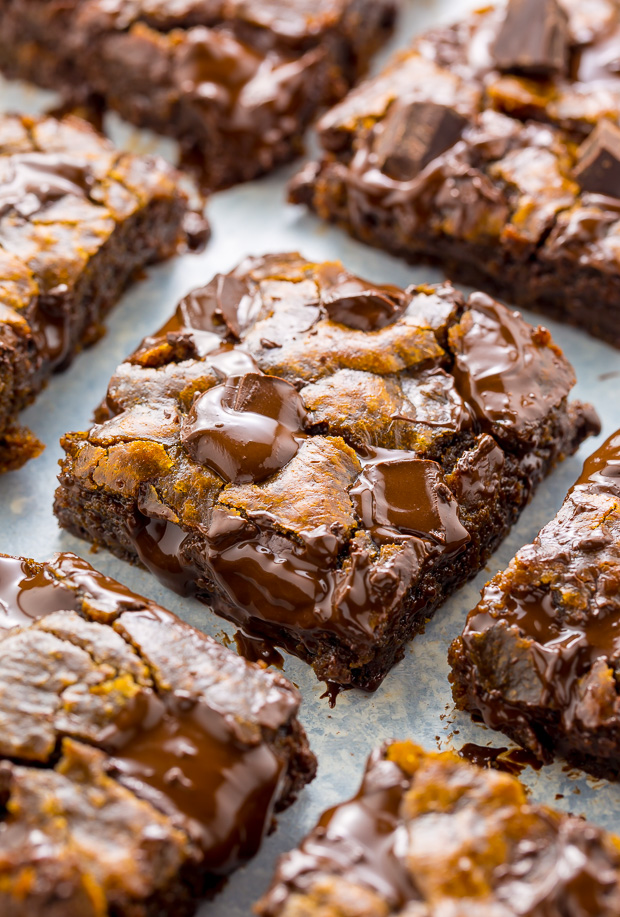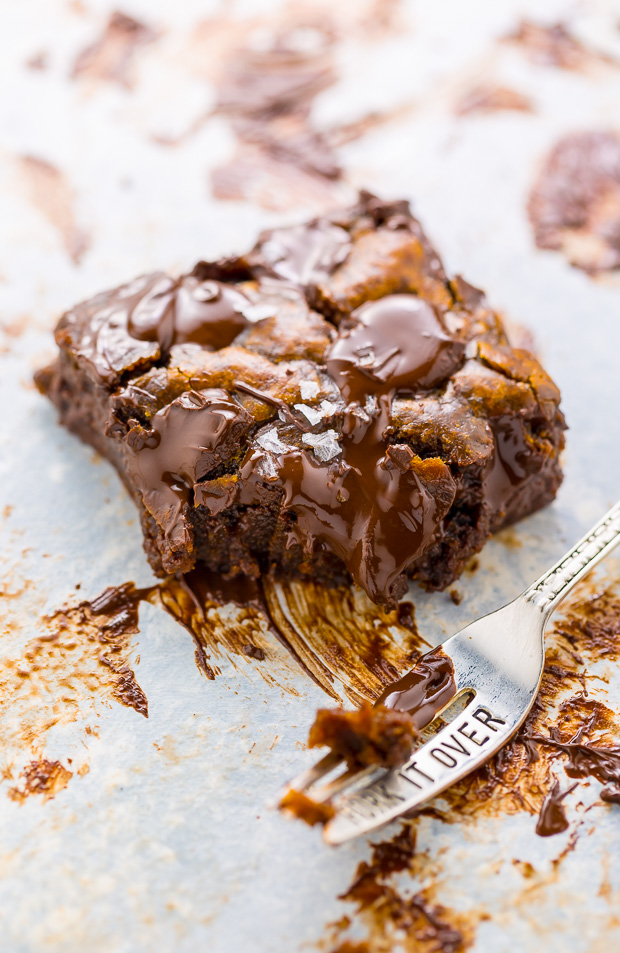 If you try this recipe for Gooey Chocolate Chunk Cookie Butter Bars, let me know what you think! Leave a comment below, and don't forget to snap a pic and tag it #bakerbynature on instagram! Seeing your creations makes my day ♥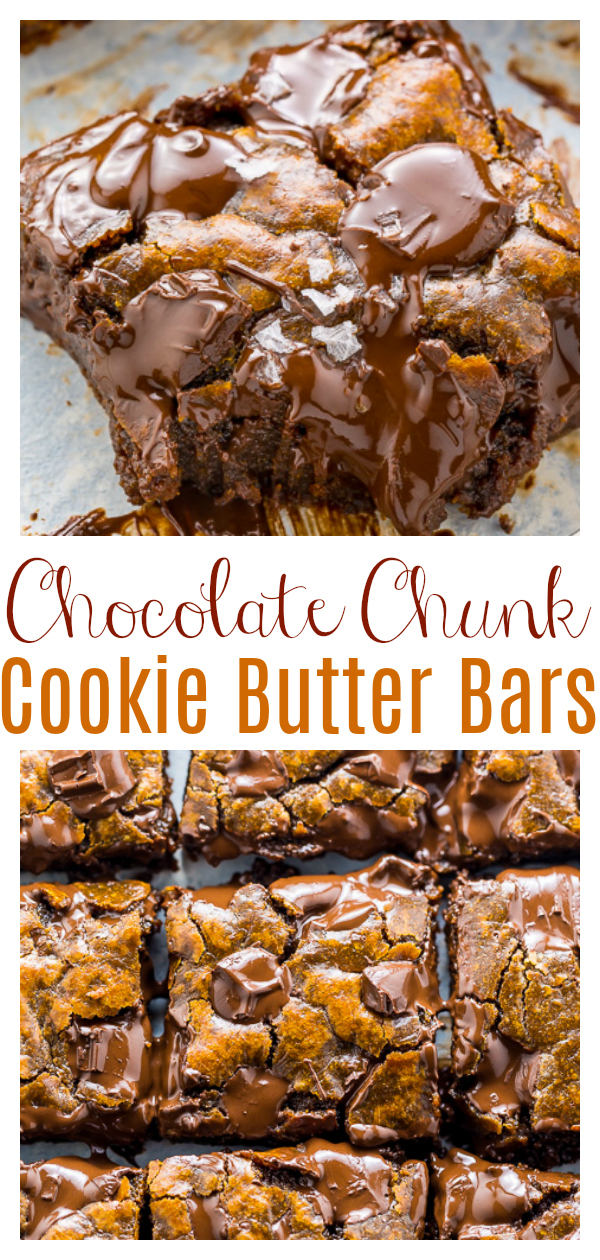 More Cookie Bars Recipes: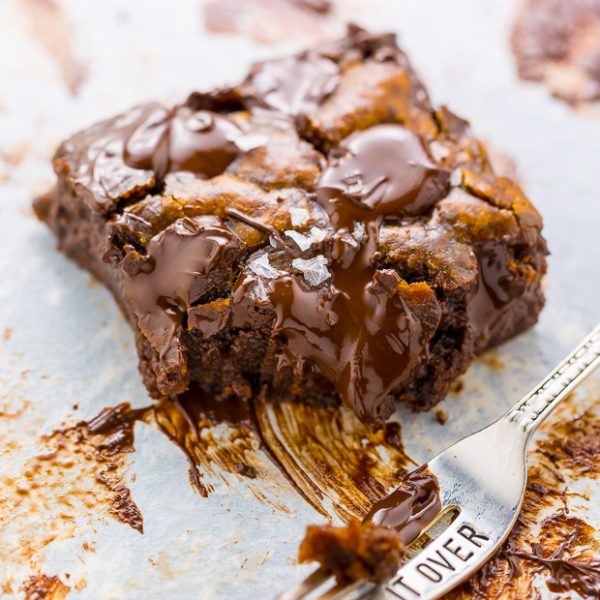 Gooey Chocolate Chunk Cookie Butter Bars
Thick and GOOEY Chocolate Chunk Cookie Butter Bars!
Ingredients
1 cup creamy cookie butter
1/2 cup light brown sugar, packed
1/3 cup granulated sugar
1 tablespoon vanilla extract
1 large egg plus one egg yolk
1/4 cup molasses (not black strap)
1 cup plus 1 tablespoon all-purpose flour (not packed!)
1 and 1/2 teaspoons ground cinnamon
1/2 teaspoon salt
4 ounces semi-sweet chocolate, chopped into chunks
Optional:
2 ounces semi sweet chocolate, chopped into chunks, for topping the bars with after they've been baked
Flaky sea salt, for sprinkling
Instructions
Preheat oven to 350 degrees (F). Line an 8x8 inch baking pan with parchment paper or tin foil, and spray well with non-stick baking spray. Set aside.

In the bowl of a stand mixer fitted with paddle attachment, beat the cookie butter on medium-high until smooth and creamy; about 2 minutes. Add in both sugars and vanilla and continue beating for another 2 to 3 minutes, scraping down the sides of the bowl as needed. Beat in the egg and egg yolk. then beat in the molasses. Turn mixer off. Add in the flour, cinnamon, and salt. Turn mixer on low speed and beat just until combined. This shouldn't take longer than a minute! The batter will be VERY THICK. Don't be tempted to add more liquid - it will come together as it bakes. Fold in the chocolate chunks, mixing just until combined.

Scrape the batter into the prepared pan and press it down into an even layer. Bake for 30 to 32 minutes. Place the pan of cookie butter bars on a cooling rack and cool IN THE PAN for at least 1 hour before slicing. If you'd like to add extra chocolate chunks to the top, add then right when the cookie bars come out of the oven.
Notes
Please see post for all tips and tricks!