Ultra thick and chewy brown butter blondies loaded with toasted walnuts and plenty of chocolate chips! They're practically begging to be served with a cold glass of milk. You can also use chocolate chunks!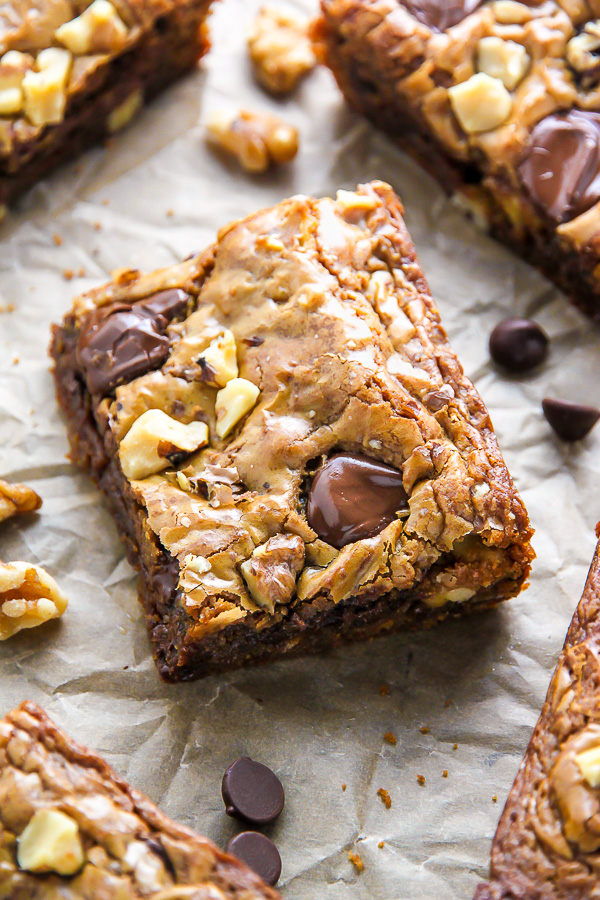 Brown Butter Blondies
Happy Wednesday! I can't wait to tell you all about today's recipe, but first, can we just catch up for a minute? I miss our weekly chit chat! So. How are you? Any exciting February things happening in your life? Any recipe requests you need me to get working on? I'm listening 🙂
Life on this side has been a healthy balance of happy and hectic. I'm working on a few exciting projects for 2016 that are keeping me very challenged and very busy. I can't wait to share them with you later this year. I also cannot wait for the weekend. Margarita, please!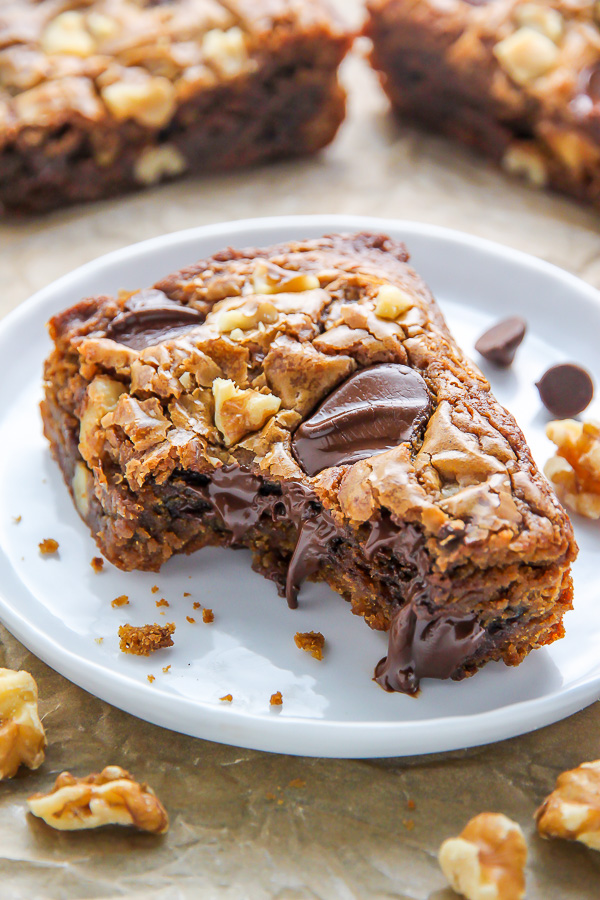 Chocolate Chunk Walnut Blondies
Now that we've properly caught up, it's time for dessert! And get excited, because these brown butter walnut chocolate chip blondies are worth the fuss. To make this recipe in your own kitchen you're going to need flour, brown sugar, butter, salt, an egg, cinnamon, walnuts, and chocolate chips. That's it!
How to Brown Butter
The first step of this recipe is browning the butter.
If you've never done this before, don't worry; it's a very easy step and requires just a pan, a stick of butter, and a touch of patience. You'll start off melting the butter in a skillet. Once the butter has completely melted, you'll continue to cook the butter, on medium heat (or medium-low if your stove top runs hot), until it's turned a golden brown and smells slightly nutty. Just be sure you stay stove side once the butter has melted; browned butter can turn into burnt butter very fast.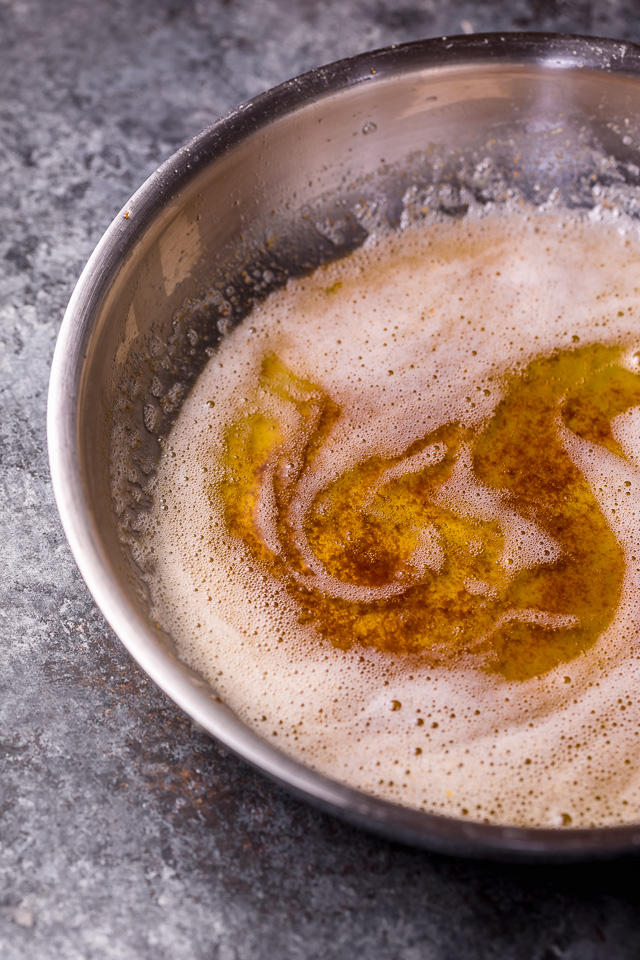 I chose to bake my blondies in a loaf pan
pan which resulted in SUPER thick and crispy edges and extremely soft centers, but you can also use an 8-inch square baking pan
for a more uniformly even blondie. So ya know, options!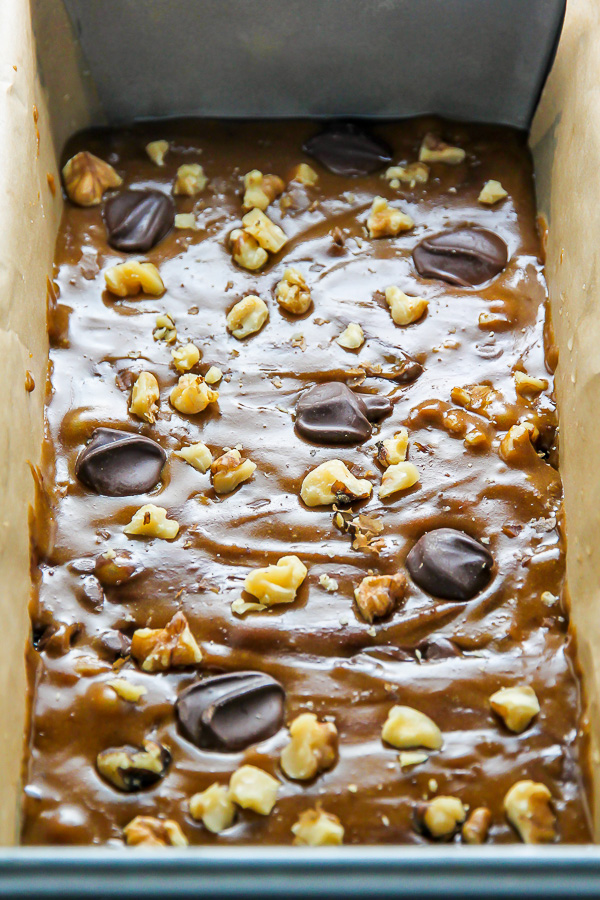 My biggest piece of advice when it comes to this recipe? Don't over bake your blondies! When you pull them from the oven they may look a little wiggly wobbly in the center… this a very good thing, my friend. They firm up a great deal during the cooling process. Plus, I'm pretty sure no one has ever complained of a gooey blondie before. Ya feel me?! 🙂
P.S. These blondies – like most blondies – are VERY adaptable. If you don't like walnuts, feel free to leave them out or substitute another nut in their place. If you don't like semi-sweet chocolate, feel free to use milk chocolate or dark chocolate instead. I think you get my point?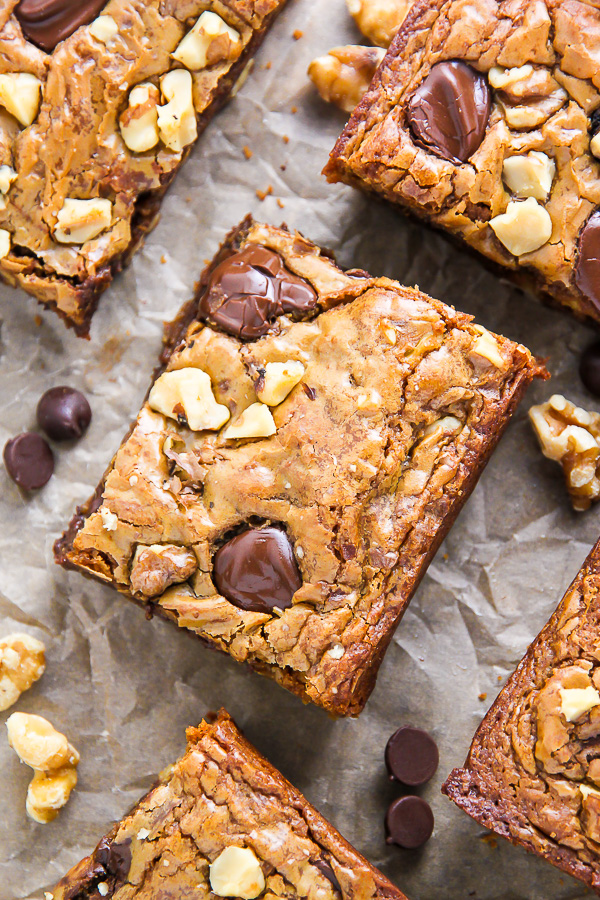 Fresh from the oven, these blondies literally melt in your mouth. Thick, chewy, crunchy, loaded with chocolate, and perfect with a cup of coffee. They pretty much meet all of my breakfast/ snack/ dessert requirements.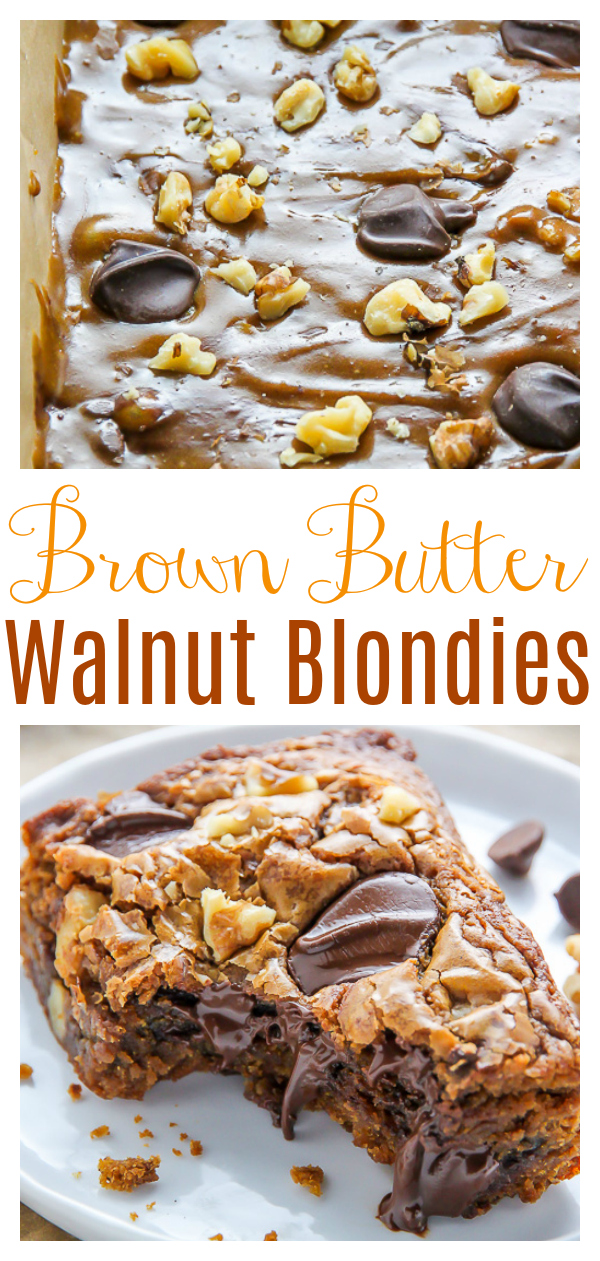 More Blondies Recipes:
If you try this recipe, let me know! Leave a comment below and don't forget to snap a pic and tag it #bakerbynature on Instagram! Seeing your kitchen creations makes my day. ♥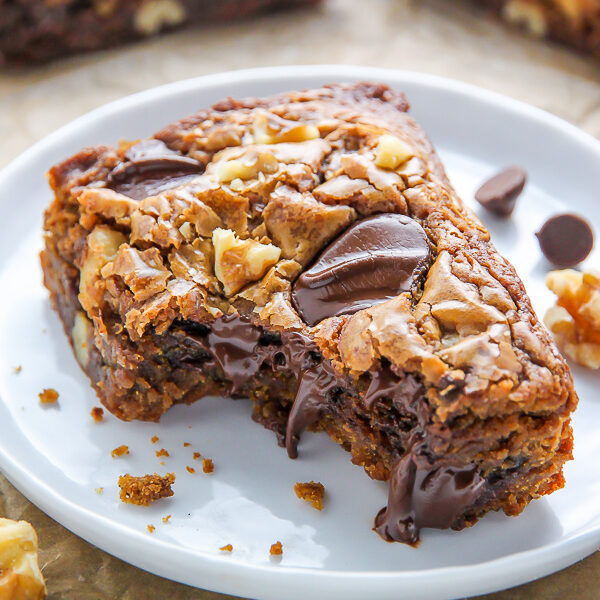 Brown Butter Walnut Chocolate Chip Blondies
Thick and chewy brown butter blondies loaded with toasted walnut and chocolate chips!
Ingredients
1/2 cup unsalted butter (1 stick)
1 cup light brown sugar, packed
1 large egg, at room temperature
1 cup flour (be sure not to pack your flour)
1/2 teaspoon baking powder
1/2 teaspoon cinnamon
3/4 cup semi-sweet chocolate chips (or use chocolate chunks, which I do ALL the time!)
1/2 cup toasted walnuts, chopped
1/2 teaspoon flaky sea salt
Instructions
Preheat oven to 350 degrees (F). Line an 8x8 baking pan (or loaf pan) with parchment paper and spray parchment lightly with non-stick spray, set aside.

Melt butter in a medium-sized skillet over medium heat. Continue cooking butter, stirring frequently, until it's a light amber color and smells slightly nutty. Remove from heat at once and cool for a few minutes before whisking in the brown sugar; beat until well combined. Add in the egg, beating until combined. Gently stir in the flour, baking powder, and cinnamon, being sure not to over mix. Fold in the chocolate chips and chopped walnuts.

Bake for 25-28 minutes, or until the edges are firm and golden and the center is just slightly wobbly. Sprinkle with sea salt. Cool in pan for at least 15 minutes before cutting.
Notes
*Walnuts may be completely omitted, or may be replaced by another nut of your choice. *Be sure not to over bake the blondies; they are ready when the center is just set. Over baking will lead to dry blondies. *For ultra thick blondies, bake them in a loaf pan. *This post contains affiliate links