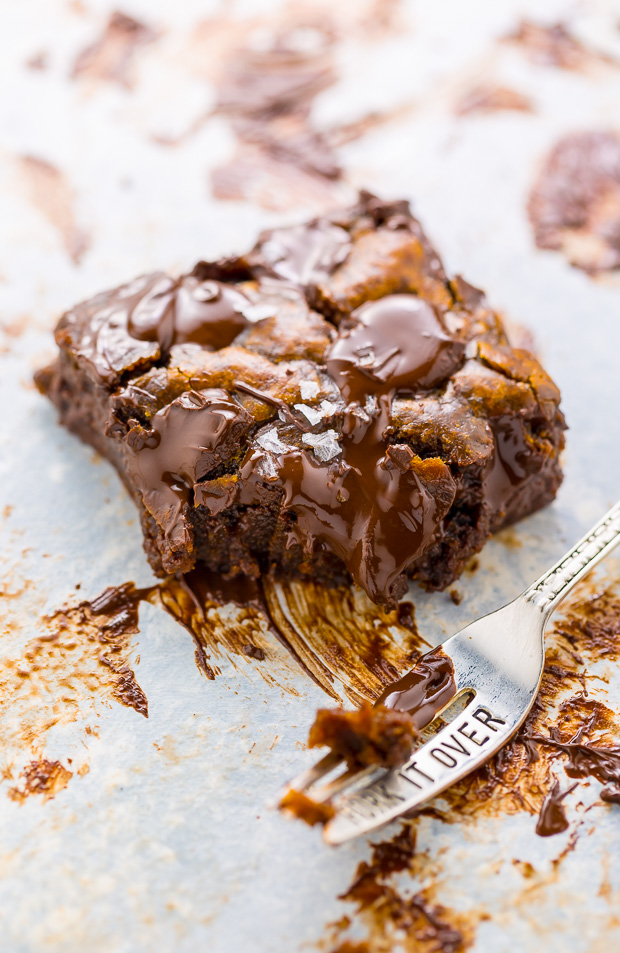 Gooey Chocolate Chunk Cookie Butter Bars
Yield 8x8 pan
Thick and GOOEY Chocolate Chunk Cookie Butter Bars!
Ingredients
1 cup creamy cookie butter
1/2 cup light brown sugar, packed
1/3 cup granulated sugar
1 tablespoon vanilla extract
1 large egg plus one egg yolk
1/4 cup molasses (not black strap)
1 cup plus 1 tablespoon all-purpose flour (not packed!)
1 and 1/2 teaspoons ground cinnamon
1/2 teaspoon salt
4 ounces semi-sweet chocolate, chopped into chunks
Optional:
2 ounces semi sweet chocolate, chopped into chunks, for topping the bars with after they've been baked
Flaky sea salt, for sprinkling
Instructions
Preheat oven to 350 degrees (F). Line an 8x8 inch baking pan with parchment paper or tin foil, and spray well with non-stick baking spray. Set aside.
In the bowl of a stand mixer fitted with paddle attachment, beat the cookie butter on medium-high until smooth and creamy; about 2 minutes. Add in both sugars and vanilla and continue beating for another 2 to 3 minutes, scraping down the sides of the bowl as needed. Beat in the egg and egg yolk. then beat in the molasses. Turn mixer off. Add in the flour, cinnamon, and salt. Turn mixer on low speed and beat just until combined. This shouldn't take longer than a minute! The batter will be VERY THICK. Don't be tempted to add more liquid - it will come together as it bakes. Fold in the chocolate chunks, mixing just until combined.
Scrape the batter into the prepared pan and press it down into an even layer. Bake for 30 to 32 minutes. Place the pan of cookie butter bars on a cooling rack and cool IN THE PAN for at least 1 hour before slicing. If you'd like to add extra chocolate chunks to the top, add then right when the cookie bars come out of the oven.
Notes
Please see post for all tips and tricks!
Courses Dessert
Cuisine American
Amount Per Serving
% Daily Value
Recipe by Baker by Nature at https://bakerbynature.com/gooey-chocolate-chunk-cookie-butter-bars/