An easy recipe for The BEST Vegan Blueberry Banana Scones!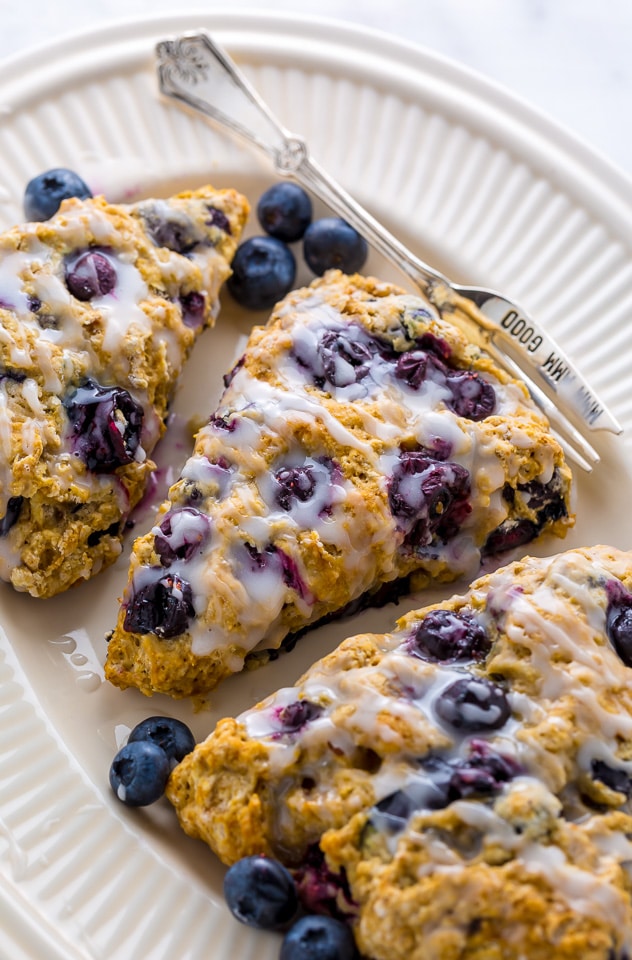 Vegan Blueberry Scones
By now, you probably already know I have a thing for scones. You probably also already know I have a thing for vegan baking… even though I'm not vegan. It's just something I have fun playing around with! And after your positive response to these vegan chocolate chip cookies, I have a strong feeling you enjoy these kind of recipes, too. I love that we're on the same wavelength!
Because it means we can enjoy more vegan recipes together… like these one-bowl blueberry banana scones! Which are perfectly sweet, flavorful, and just a little crumbly – but not dry! They're finished off with a light drizzle of sweet glaze because… why not?! Glaze is always a good idea… am I right? They're also a breeze to whip up and freezer friendly. I've already made them 3 times this month because blueberries are in their prime and I always seem to have all of the other ingredients on hand. Plus, they're just so good with a cup coffee ♥ AKA my favorite way to start the day.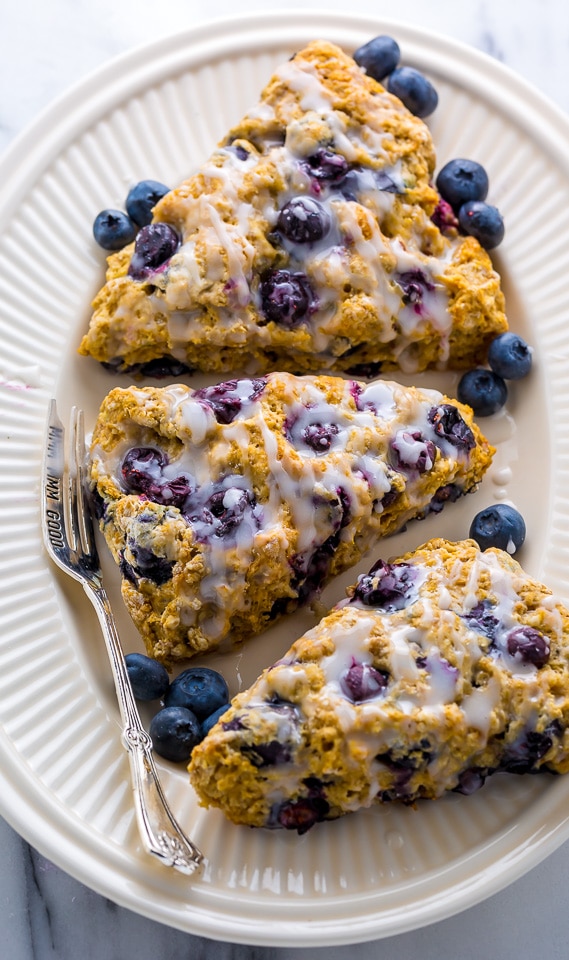 Tips and Tricks for Recipe Success:
The coconut oil called for MUST be in solid form for this recipe to work. If you find your jar has melted, simply pop it in the fridge and let it firm up before baking.
When you work the coconut oil into the dry ingredients, you want to work quickly so that the oil doesn't melt. Stop when the oil is in pea sized clumps.
I love using coconut milk in these scones, but almond milk or even soy milk will work.
Coconut sugar may be replaced with an equal amount of light brown sugar.
Your banana puree should be made from a very ripe banana. Be sure to mash it well and measure it before adding it to the batter.
The scone dough will look very dry, but once you knead it a few times, it will come together. If you find it won't come together after 5 or 6 kneads, add 1 tablespoon of coconut milk to the mixture and try again. Avoid using too much liquid though, as it will lead to spongy scones.
For this recipe I find fresh blueberries work best, but frozen can work. Just be sure to use regular sized frozen blueberries, and not the wild variety, which are too small. If you do use frozen blueberries, do not thaw them first.
Be sure to add the glaze right before serving! Otherwise the scones will get soggy.
Aside from substitute options listed above, I do not recommend changing anything in this recipe.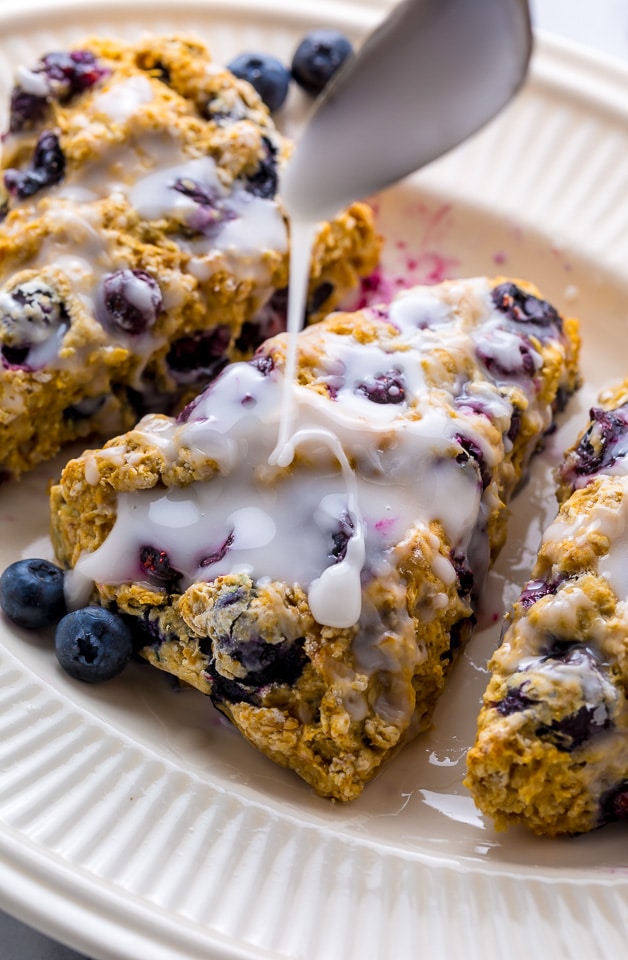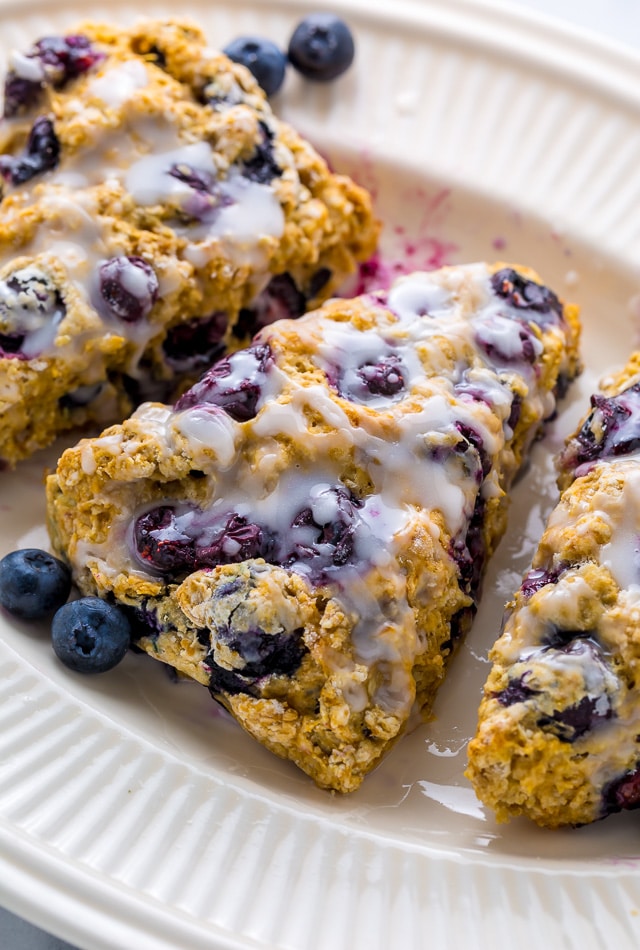 Sweet, delicious, and bursting with juicy berries… these vegan blueberry banana scones definitely deserve a spot in your breakfast rotation.
If you try this recipe for Vegan Blueberry Banana Scones, let me know! Leave a comment below and don't forget to snap a pic and tag it #bakerbynature on instagram! Seeing your kitchen creations makes my day ♥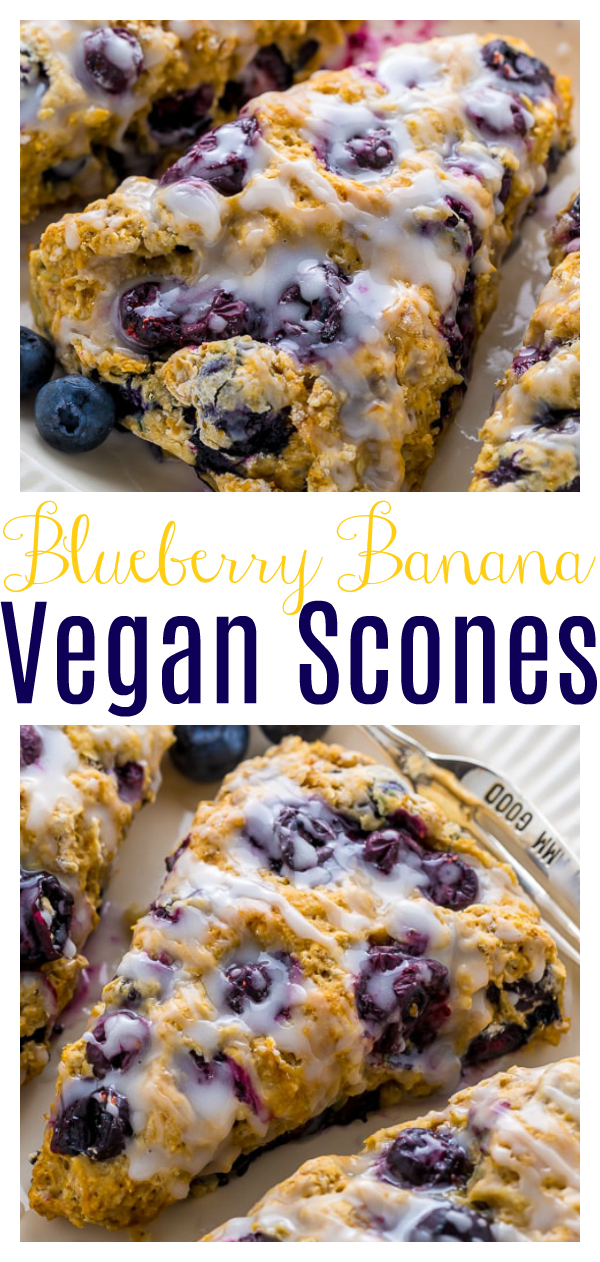 More Scones Recipes: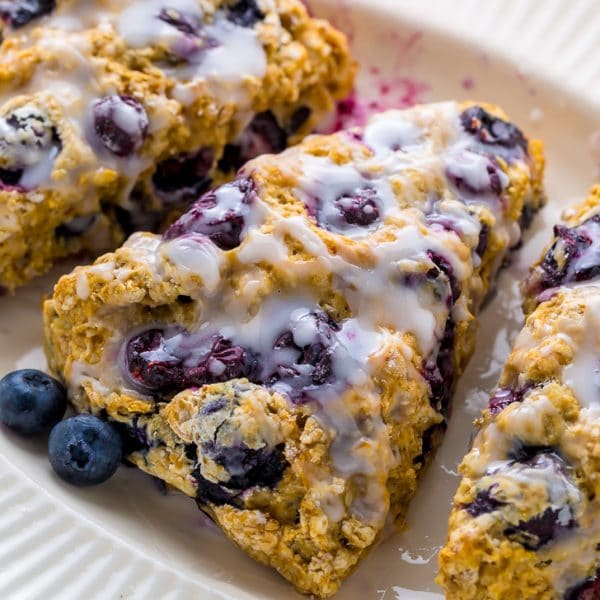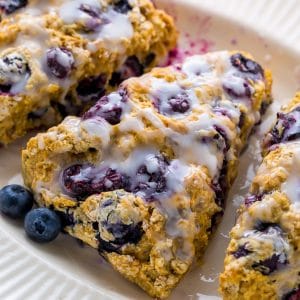 Blueberry Banana Scones (Vegan)
An easy recipe for Vegan Blueberry Banana Scones! They're sweet, crumbly, and bursting with berries in every bite.
Ingredients
2 and 1/2 cups all-purpose flour
1/2 teaspoon salt
1 tablespoon baking powder
1/2 teaspoon baking soda
1/2 teaspoon nutmeg
3 and 1/2 tablespoons coconut sugar
1/4 cup coconut oil, solid
1 and 1/2 cups fresh blueberries
1/3 cup ripe, mashed banana
1/2 cup plus 1 tablespoon unsweetened coconut milk (unsweetened almond milk will also work)
2 teaspoons vanilla extract
For the glaze:
1 tablespoons coconut milk
1/2 cup confectioners sugar
Instructions
Preheat the oven to 400° (F). Line a baking sheet with parchment paper and set it aside.

In a large bowl, mix together the flour, salt, baking powder, baking soda, nutmeg, and coconut sugar. Add the coconut oil and - using your hands - work it into the flour, creating pea-sized pieces. Add in the blueberries and gently toss them in the flour mixture until they're well coated.

Make a well in the center of the dry ingredients and add in the mashed banana, coconut milk, and vanilla. Stir the wet ingredients together with a fork, then use a rubber spatula to incorporate them into the batter, mixing until just combined. The dough will be very thick and sticky.

Turn the dough out onto a lightly floured work surface and gently knead it into an 8-inch round. Slice the round into 8 even wedges, then transfer the wedges to the prepared baking sheet.

Bake for 22 to 24 minutes, or until cooked through and golden brown. Allow the scones to cool on the baking sheet for 10 minutes, then transfer to a wire rack to cool completely. While the scones cool, make the glaze.

For the glaze: In a small mixing bowl, whisk together the coconut milk and confectioners' sugar until no lumps remain. Drizzle the scones with the glaze and serve at once.