Classic and crumbly, these tender scones are made with sweet ricotta cheese and loaded with juicy blueberries! If you're a blueberry lover, you have to try these blueberry ricotta scones!!!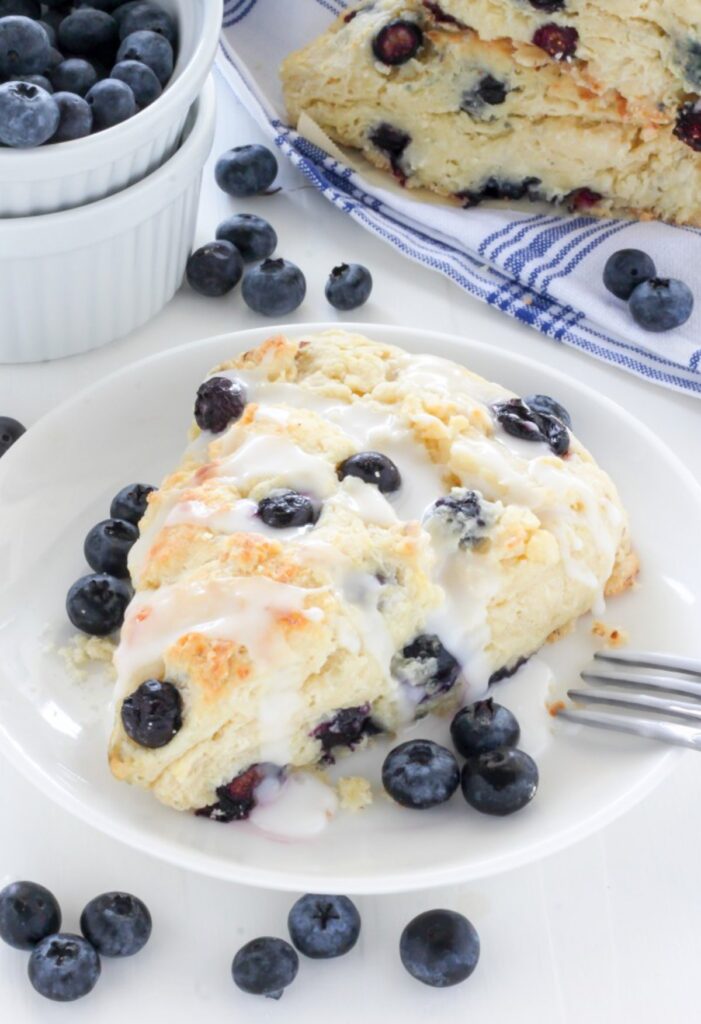 Blueberry Ricotta Scone Recipe
I have been craving fresh blueberries like crazy lately! After eating a few cartons by the handful (they're finally juicy, plump, and on-sale where we live!), I decided to toss the remaining two cartons into a batch of scones. I also decided to toss some Italian ricotta cheese and fresh lemon zest into the scone batter. Best move(s) I've made all week, my friends!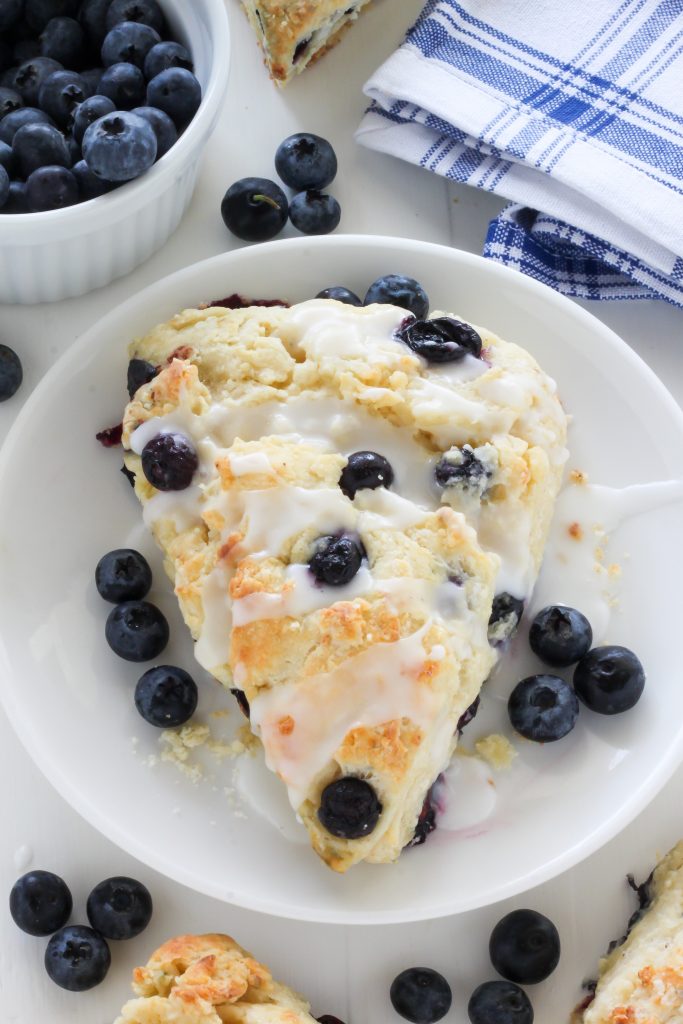 How to Make Blueberry Scones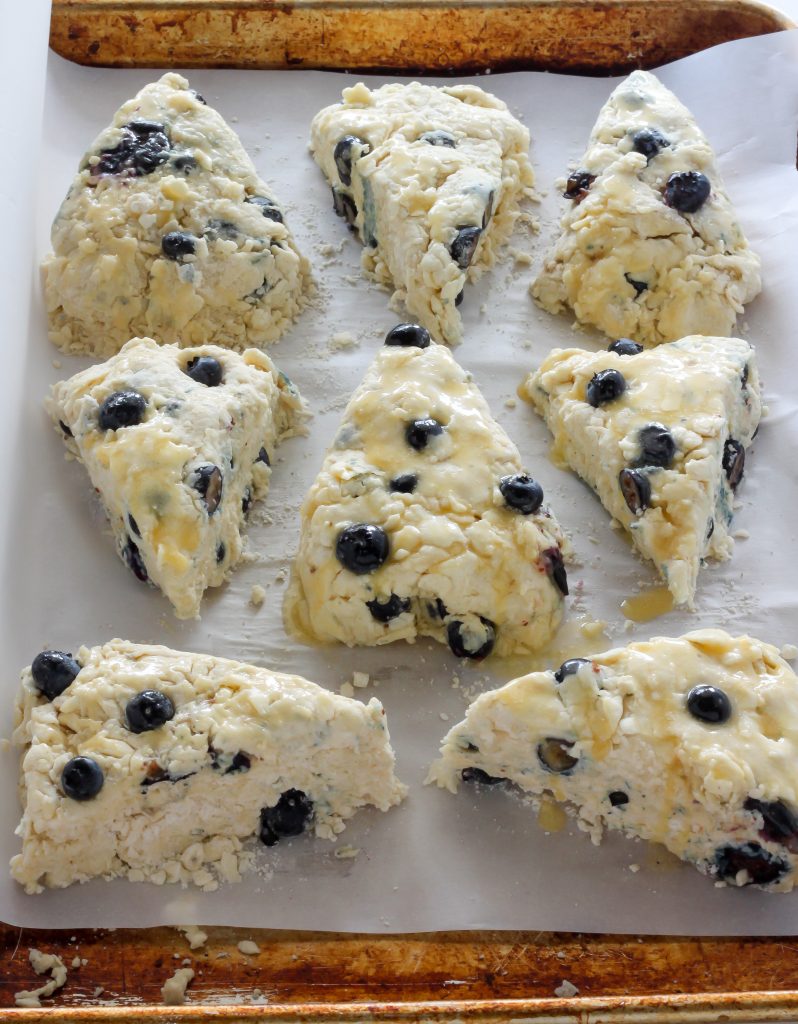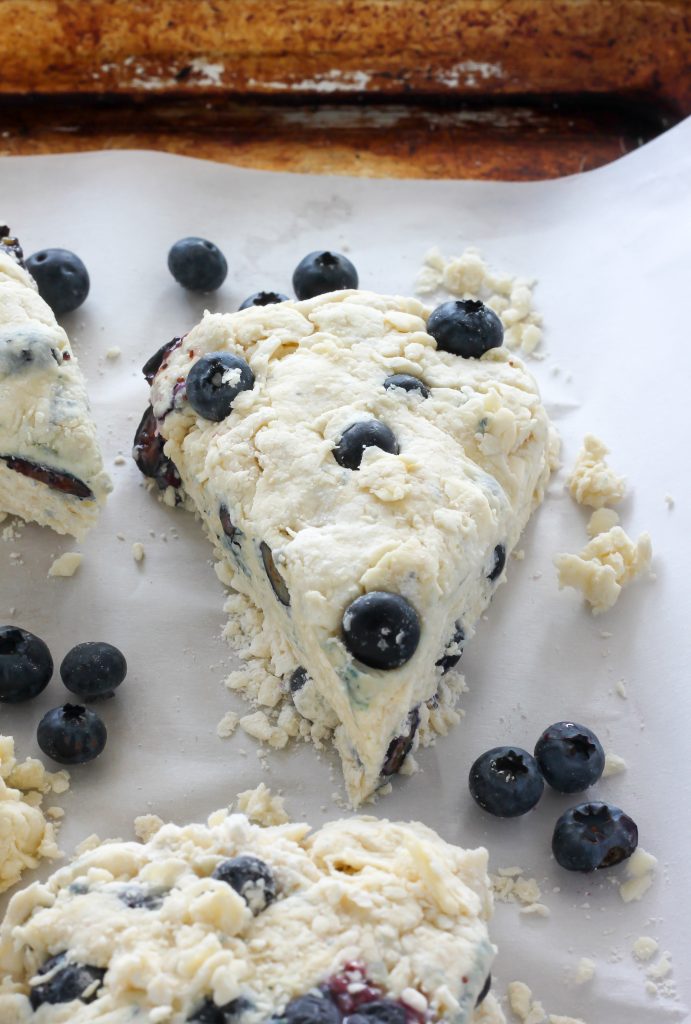 These scones baked up to be complete winners!
They smell AMAZING baking up in your oven and emerge perfectly golden on the outside, dreamily tender on the inside, and exploding with berries in every bite! Pretty much all of the things you want/need/gotta have in a blueberry scone. Win.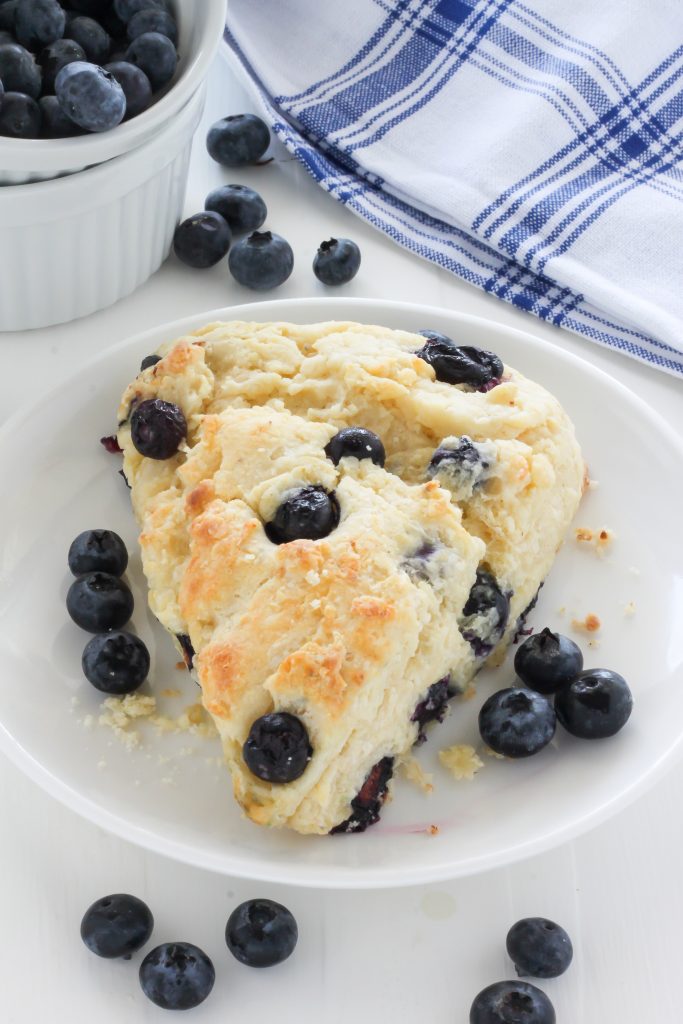 These blueberry ricotta scones are exceptionally simple to make and are sure to perk up any breakfast, brunch, or dessert spread. You can also make them a few hours ahead of time – just glaze right before serving. Make ahead treats always get extra brownie points in my book!
These scones also freeze great (minus the glaze!). I like to pull one out of the freezer in the morning and enjoy it with my coffee as a quick and delicious breakfast treat. Enjoy! xoxo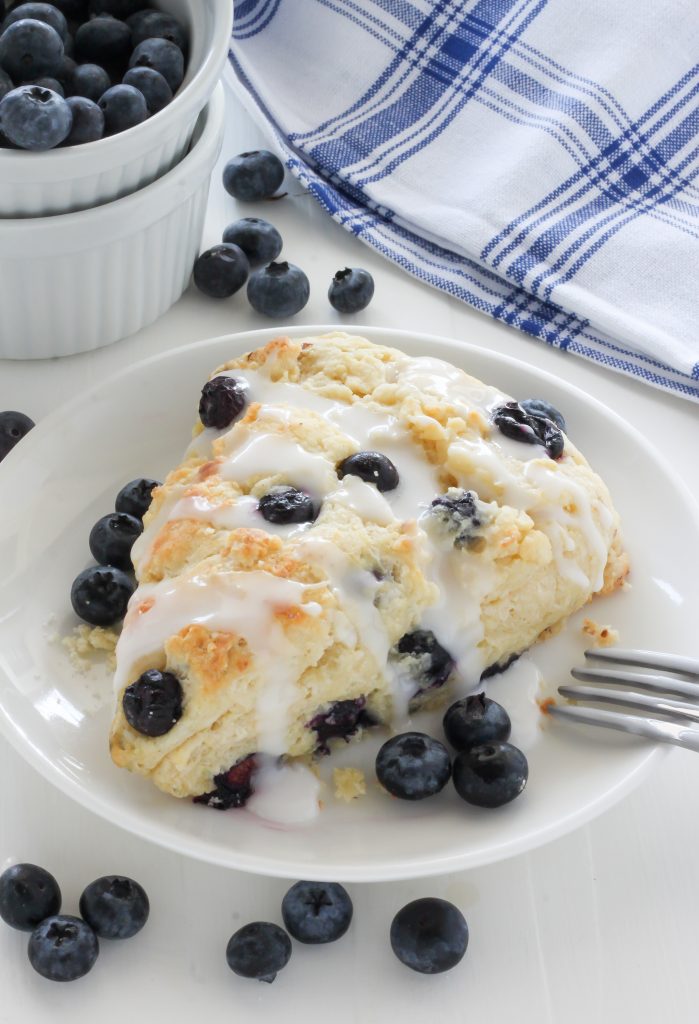 More Blueberry Scone Recipes: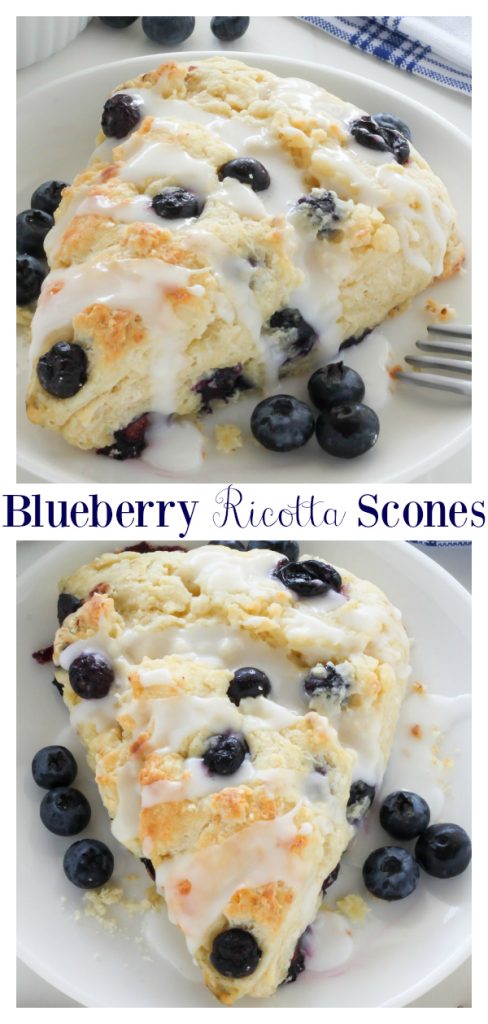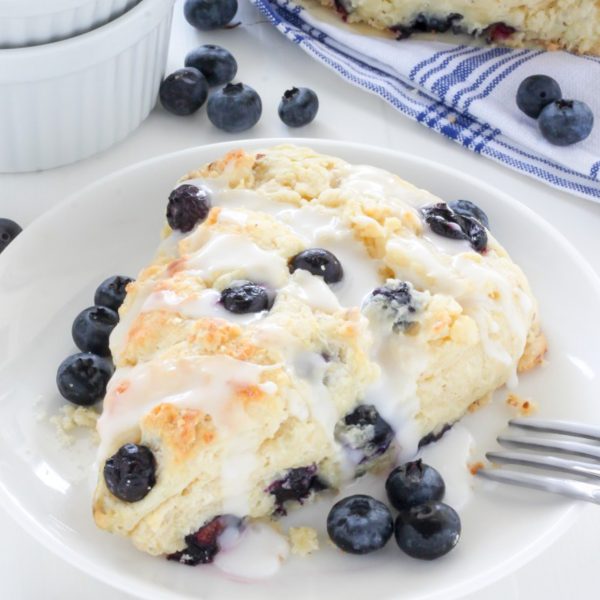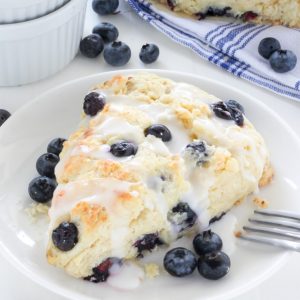 Blueberry Ricotta Scones
Blueberry Ricotta Scones are flaky and bursting with blueberries! So good with a cup of tea! 
Ingredients
2 1/2 cups all-purpose flour
1/2 teaspoon salt
1 tablespoon baking powder
1/2 teaspoon baking soda
1/3 cup granulated sugar
1 teaspoon lemon zest
1 stick (4 ounces) unsalted butter, VERY cold and cut into tiny pieces
1 large egg, beaten
1/2 cup (Whole Milk) Ricotta Cheese
3 tablespoons Whole Milk
8 ounces blueberries, fresh or frozen (If using frozen, do not thaw first)
For the egg wash:
1 large egg, beaten
1 teaspoon milk or water
2 tablespoons sugar, for sprinkling
For the (optional) lemon glaze:
2 tablespoons fresh lemon juice
3/4 cup confectioners sugar
Instructions
Preheat oven to 400°(F). Line a large baking sheet with parchment paper; set aside.

In a large bowl mix together flour, salt, baking powder, baking soda, sugar, and lemon zest.

Cut the butter into small cubes then quickly work it into the mixture (using your fingers) until lit resembles a coarse meal.

In a small bowl, whisk together the egg, ricotta cheese, and milk, then add to flour and butter mixture. Use a fork to stir everything together until just moistened.

Add in the blueberries and gently fold them into dough with a spatula - don't worry if some of the berries break up a bit.

Pour the shaggy dough out onto a clean, floured work surface and shape the dough into an 8-inch circle. Cut the dough into 8 wedges and carefully transfer to the prepared sheet.

Lightly brush each scones with the egg wash, then sprinkle the top of each scone with sugar.

Bake for 18-20 minutes, or until the tops are lightly golden brown.

Cool for about 10 minutes, then make your glaze.
For the glaze:
In a small bowl whisk together the lemon juice and confectioners sugar. Drizzle over warm scones and serve at once.