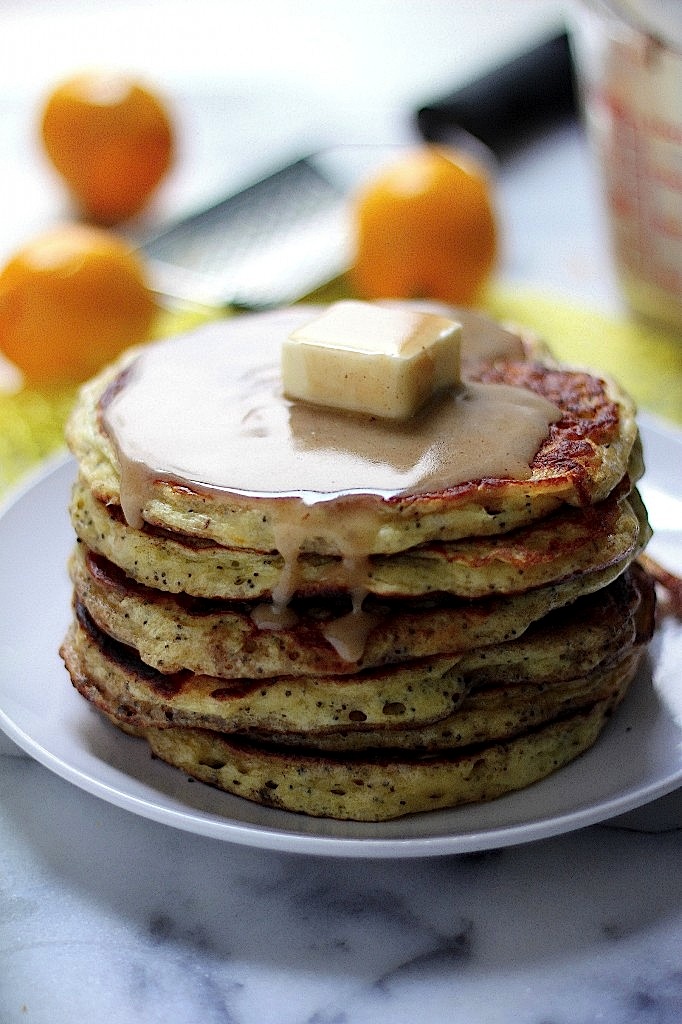 Hi! So I know it's Tuesday and we're probably not supposed to be dreaming about devouring stack after stack of thick, fluffy pancakes drenched in brown butter lemon glaze… but um…
Bow-chicka-wow-wow!!!!
Rules are made for breaking, right?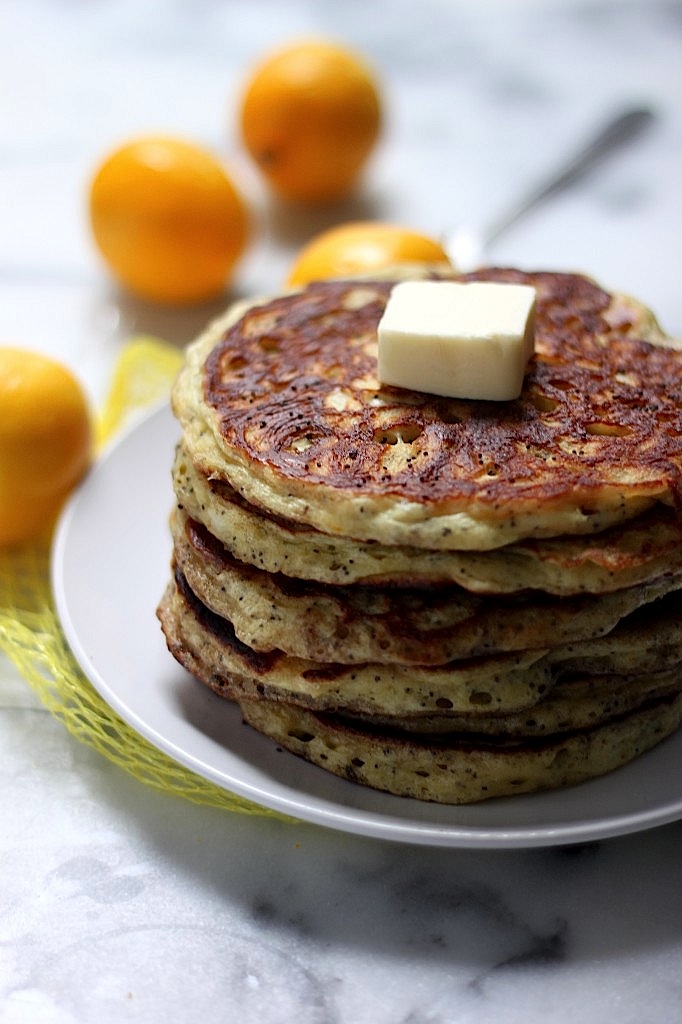 I found these pretty little meyers at the store Sunday night and they straight up seduced their way into my basket. Have you smelled a meyer lemon lately? They're incredible! If you've never played with them before, I strongly suggest you hunt down a (big ol') bag and go crazy! You'll thank me later 😉
Laced with thick and creamy Greek yogurt these luscious lemon pancakes are light, fluffy, and lightly speckled with some toothy poppy seeds. I love the little crunch they add!
I also used the juice of the lemons (and a little vanilla, brown butter, and powdered sugar) to create a simple glaze that compliments this stunning stack perfectly.
Greek Yogurt Meyer Lemon Poppy Seed Pancakes with Brown Butter Lemon Glaze – Baker by Nature
Makes about 8 large pancakes; perfect for two people; double as needed
Ingredients
For the Greek Yogurt Meyer Lemon Poppy Seed Pancakes
1 cup all-purpose flour
1 1/4 teaspoons baking soda
1/4 teaspoon salt
2 teaspoons meyer lemon zest
3 tablespoons granulated sugar
1 cup full-fat greek yogurt
2 large eggs, lightly beaten
1 teaspoon vanilla extract
1 tablespoon poppy seeds
Butter, for frying
For the Brown Butter Lemon Glaze:
3 tablespoons unsalted butter, melted until browned
1 – 2 tablespoons meyer lemon juice (this depends on how thick you want the glaze)
1 teaspoon vanilla
3/4 cup confectioners sugar
Instructions
For the Greek Yogurt Meyer Lemon Poppy Seed Pancakes:
In a small bowl, whisk together flour, baking soda, and salt.
In a separate small bowl, combine the lemon zest with the sugar, and using your fingers, rub together until the lemon zest is fragrant and incorporated in the sugar.
Place Greek yogurt in a large bowl. Add dry ingredients and using a rubber spatula stir until just hardly combined – don't over mix here! Add beaten eggs and vanilla and – switching back to a whisk – beat until just combined. Stir in poppy seeds.
Heat a griddle over medium-low heat and melt about 2 tablespoons of butter in the pan. Drop batter by 1/3 cup servings onto the warmed griddle and cook until bubbles start to form on the surface and the edges are starting to brown; about 2 minutes. Flip to the other side and cook for another minute.
Serve with brown butter lemon glaze (or syrup!).
For the Brown Butter Lemon Glaze:
Melt butter in a small saucepan until just browned. Remove pan from heat and whisk in the lemon juice, vanilla, and confectioners sugar. Add more sugar if the glaze is too thin, and a little more lemon juice if the glaze is too thick.
Pour over warm pancakes and serve at once.