Hey hey hey! I have a spicy little surprise for you today: Healthy 30 Minute Sriracha Teriyaki Meatball Bowls. This recipe is fast, fiercely flavorful, and fun to make! It's win-win din-din all around.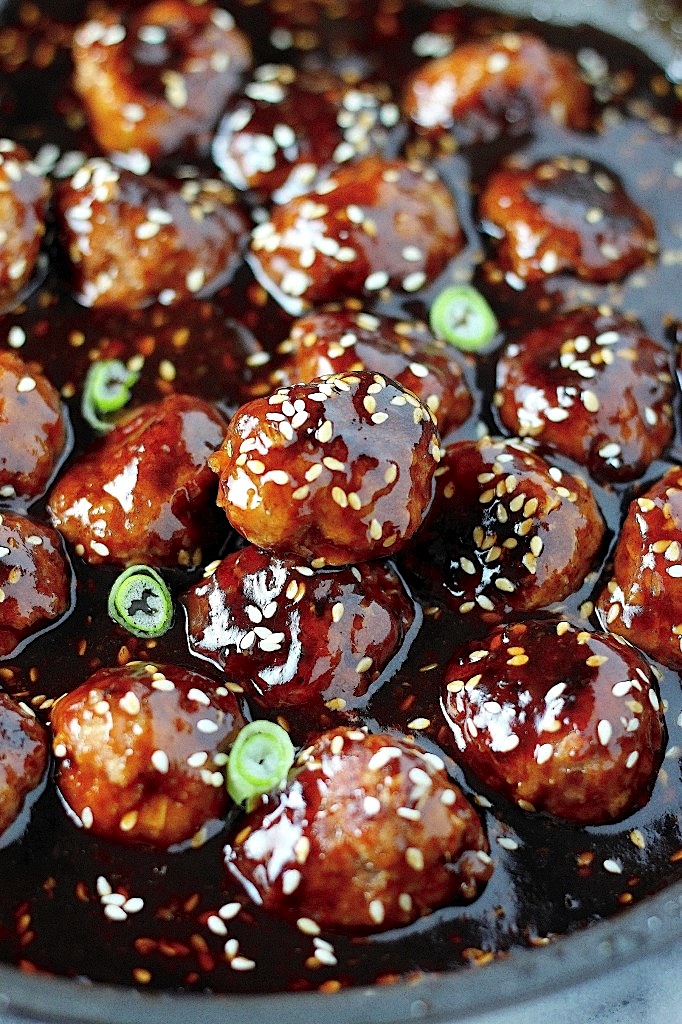 Today is all about this quick, easy, and hella delicious dinner. I have been on a quick and easy dinner rampage the past few weeks because life >>> busy! And after working all day, it's like… you want me to cook you dinner? But then I do because I'm a cool lady like that. Plus delivery has been draining mah wallet and I have a trip to Greece to save for! But enough about mah issues…
This meal in particular is quite wonderful for a whole slew of reasons… below I have listed the top 5!
1) As mentioned earlier, it's a 30 minute meal situation! If you're anything like me, that alone is a major selling point.
2) FLAVOR. Holy cow. This meal has got so much going on in the flavor department. Sriracha and Soy and Ginger! It's an explosion of awesome.
3) Makes a ton —> HELLO, leftovers. I love you.
4) It's pretty darn healthy. I mean, only you can determine what's considered good for you… but this recipe uses ground turkey meat, brown rice, and a homemade teriyaki sauce that's packed with yummy body friendly ingredients like raw honey, ginger, and garlic.
5) Totally adaptable! I am a minimalist come dinnertime, so I was very bare in my bowl making process. Rice + meatballs + scallions = perfection. But! You could add a slew of different veggies to these bowls and really amp them up. I think crunchy carrots and cabbage could be delicious.
So let's talk about the homemade teriyaki sauce for a sec! It's sooooooo easy, so don't be scared off if this is your first rodeo with homemade sauces. I really love making this at home (opposed to buying it pre-made) because I can control what goes into the sauce. I'm always pretty disturbed when I pick up a bottle of teriyaki sauce and see it's loaded with sugar, corn syrup, oils, and other nasty ingredients. I'll save my sugar for cupcakes, thank you very much. So this sauce is made with honey, soy sauce, sriracha, ginger, and sesame oil. There's a little cornstarch whisked in at the very end, just to thicken it up. Be sure to measure accurately when this step comes up; too much cornstarch will leave your sauce a giant goopy mess.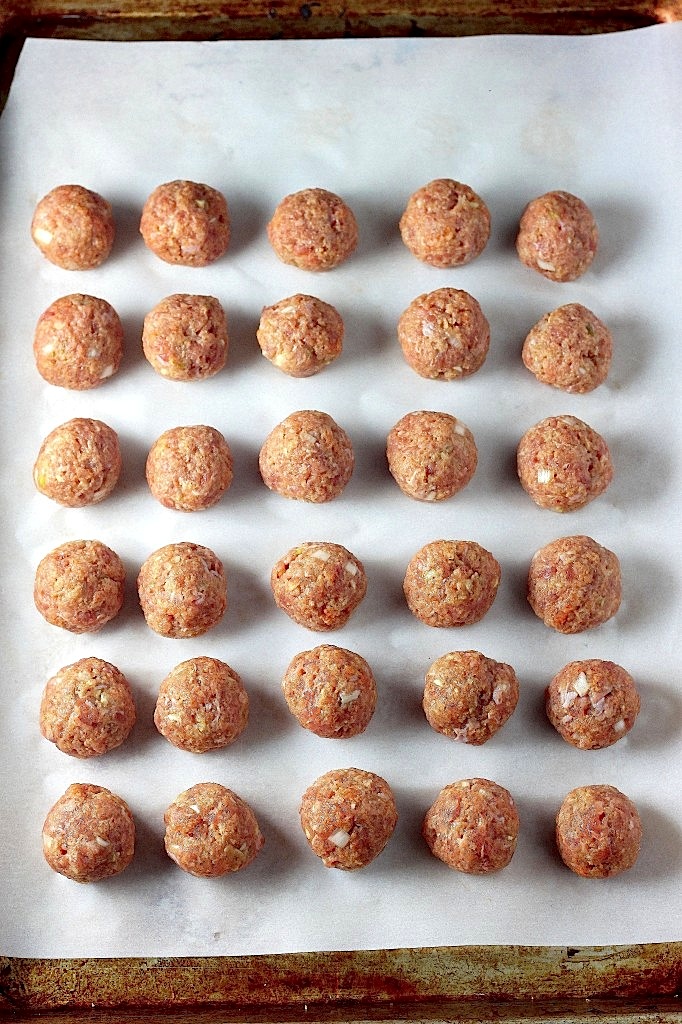 As far as the meatballs go, the process is pretty straightforward. You'll mix all of the ingredients together; roll them out into tiny, bite-sized balls; flash fry them in a VERY hot pan, and pop them in the oven for 10-11 minutes.
Two things to keep in mind here:
1) The meatballs only need to fry for about 1 minute on each side. We're just looking to get a little color on each side, not cook them.
2) Be sure you place the pan with oil in it on the burner before you start making the meatballs. This saves time and allows the oil to really heat up. Hot oil = crispy meatballs. If you're worried about smoke, just crack a window or turn your fan on.
Once the meatballs have cooked, all you do is toss them in the sauce, plop them over the rice, and serve! I should note that I use instant rice in this recipe, which helps keep it under 30 minutes. Trader Joe's sells a variety of microwaveable rice packages that I've come to love (not getting paid to say that!) and they're ready in like 3 minutes. So be sure you either prepare your rice in advance or use instant rice to keep this meal a 30 minute situation.
Ok! So now you have all the details needed to throw your very own meatball bowl party. Go get your groove on. It's gon be delicious! xoxo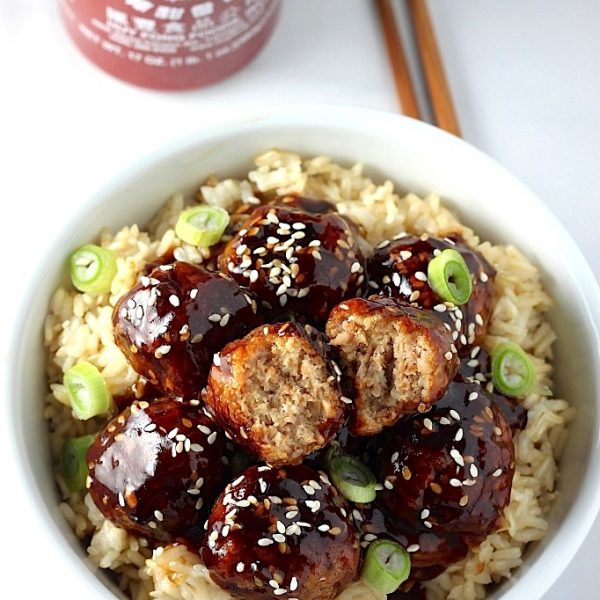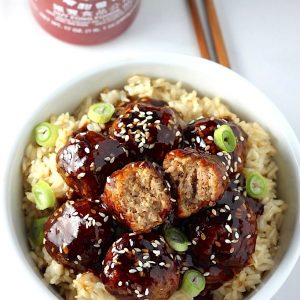 Healthy 30 Minute Sriracha Teriyaki Meatball Bowls
Ingredients
For the meatballs:
1 pound ground turkey meat
3 garlic cloves, minced
1 large egg
2 teaspoons fresh cilantro, chopped
1 tablespoon sriracha sauce
1 teaspoon soy sauce
3 teaspoons fresh ginger, grated
1 scallion, white part only, minced
1 cup whole wheat panko bread crumbs
1/2 teaspoon ground black pepper
1/2 cup lukewarm water
3 tablespoons oil (olive, vegetable, canola) for frying
For the Sriracha Teriyaki:
1/2 cup low sodium soy sauce
1/3 cup raw honey
1/2 cup + 3 tablespoons water, divided
1 tablespoon toasted sesame oil
2 tablespoons Sriracha sauce
2 teaspoons fresh ginger, grated
2 1/2 teaspoons cornstarch
2 tablespoons sesame seeds
For the rice:
2 cups instant brown rice, cooked according to package instructions
Scallions, for sprinkling
Instructions
For the meatballs:
Preheat oven to 400 degrees (F). Line a large baking sheet with parchment paper; set aside.

Heat 3 tablespoons of oil in a large skillet over medium heat. Allow the oil to simmer (you want it very hot) while you prepare the meatballs.

In a large bowl combine ground turkey meat, garlic, egg, cilantro, sriracha, soy, ginger, scallion, pepper, and panko. Slowly add the water, a few tablespoons at a time. The mixture should be very moist but still hold its shape when rolled into meatballs.

Scoop one heaping tablespoon sized round of meat into your palm and roll it into a small ball; repeat until all meat has been rolled into meatballs.

Fry meatballs in batches in the hot oil, 1-2 minutes on each side; or just until lightly browned.

Place semi-cooked meatballs on prepared baking sheet. Once all meatballs have been panfried, place the baking sheet in the oven to bake for 10-12 minutes, or until they're cooked though.

While the meatballs bake, make your sriracha teriyaki!

In a small saucepan combine the soy sauce, honey, 1/2 cup of the water, sesame oil, sriracha sauce, and ginger. Heat over a medium-low flame and stir constantly until the honey is dissolved; about 3 minutes..

In a small dish combine the cornstarch with the remaining 3 tablespoons of water, then pour it into the glaze, stir well to combine.

Increase the heat to medium high. Cook the sauce, stirring constantly, just until thickened. This should only take 2 minutes. Once it's thickened remove from heat and stir in sesame seeds.

At this point the meatballs should be ready to come out of the oven! Transfer them from the baking sheet straight into the pot with the sauce; stir to coat.
Assembly:
Place 1/2 cup of rice in each bowl. Top with a few meatballs, a sprinkle of sesame seeds, and some chopped scallions! Enjoy!