Skip the store bought margarita mix and whip up these easy cranberry ginger margaritas! The homemade ginger simple syrup is made with tons of fresh ginger, so it has great flavor. Garnish with candied fresh cranberries and a lime wedge make a stunning cranberry cocktail everyone will love!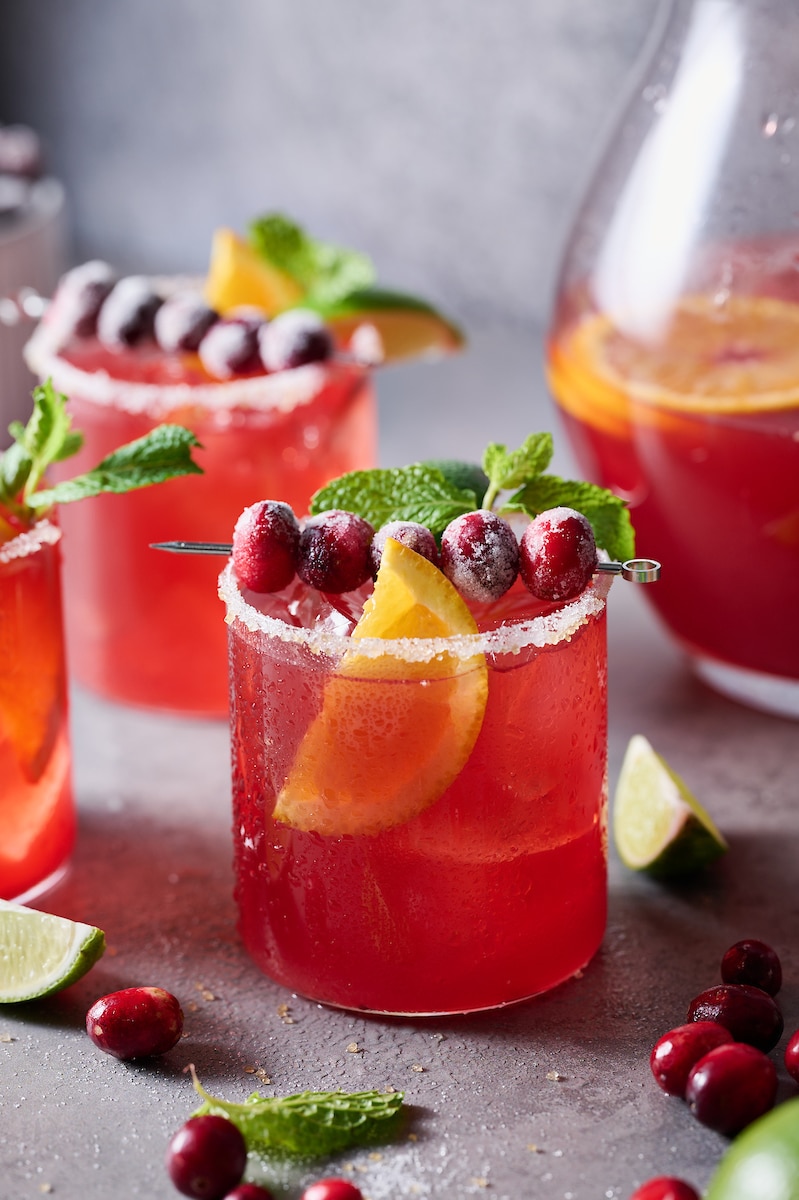 Pitcher Cranberry Margaritas
It's officially holiday cocktail season! And that means we're sipping lots of cozy drinks. A few of my favorites? Easy cranberry apple mules, cranberry cinnamon whiskey sours, Honeycrisp apple cider sangria, and now: cranberry ginger margaritas!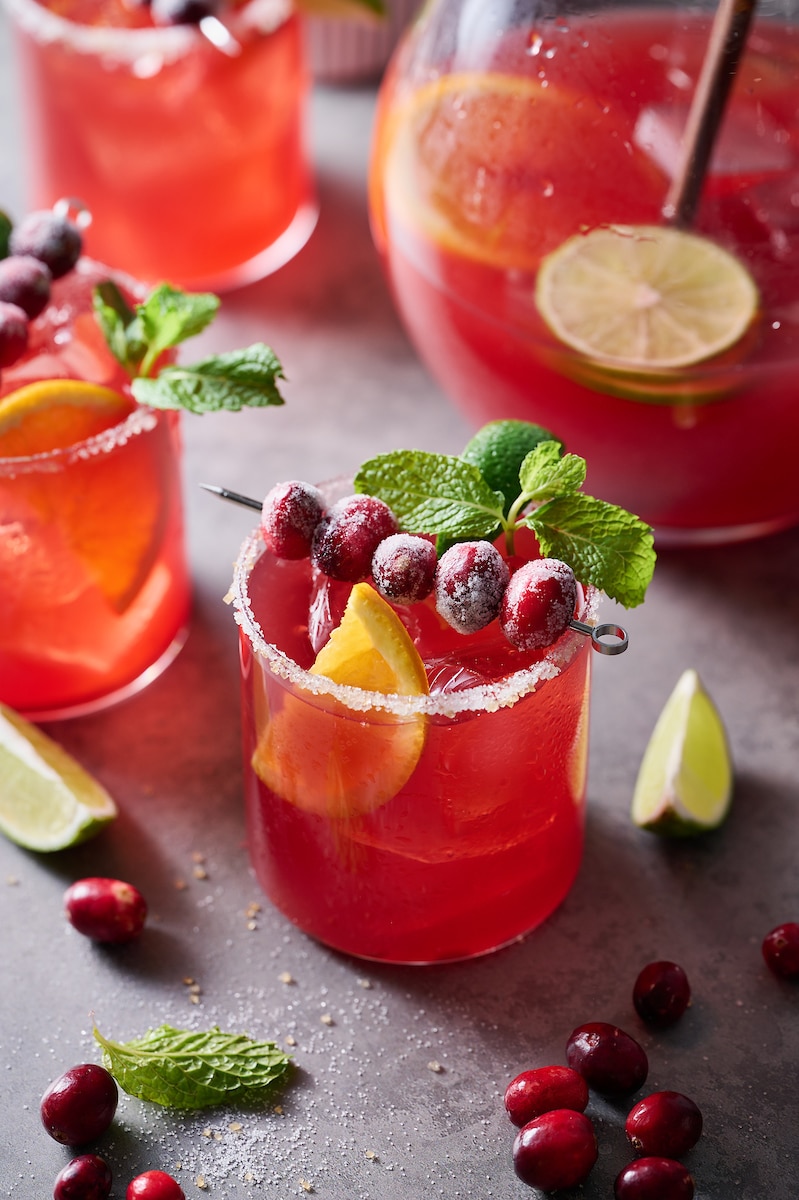 And these aren't just any cranberry margaritas! They're spiked with the most deliciously festive ginger simple syrup, and they're made in a pitcher, which is so much easier than busting out a cocktail shaker and making single serving cocktails for every guest. I'll go into more detail about every ingredient below, but I also understand if you jump to the recipe and get to making these immediately. It IS Friday after all *wink.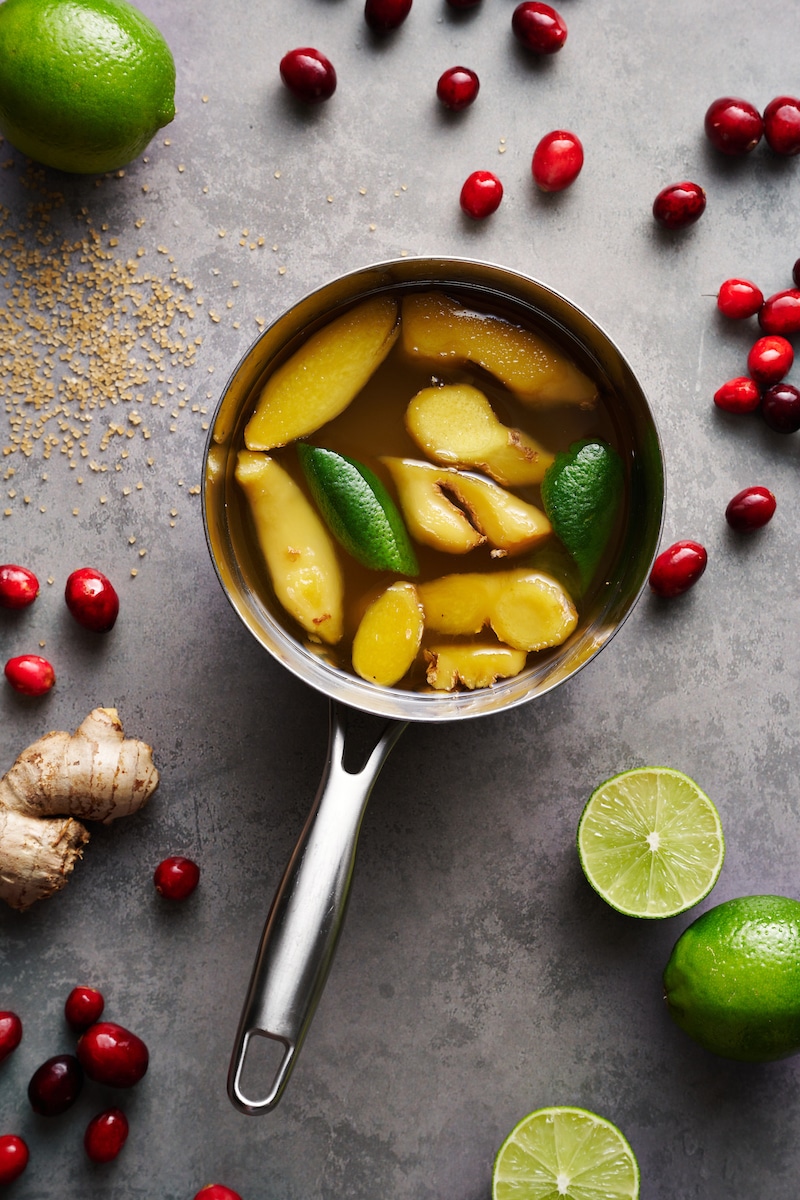 Cranberry Margarita Ingredients
Granulated Sugar: Adds sweetness and balances out the tart cranberry and slightly spicy ginger flavors. Light brown sugar can actually be used, but will alter the flavor and color of this cocktail.
Water: For our simple syrup. Do not sub any other liquid here!
Ginger: Fresh!!! Do not, I repeat DO NOT, sub ground ginger in this recipe. If you really don't want to make the ginger simple syrup or you can find fresh ginger, I'd suggest skipping it and topping the cocktail with ginger ale or ginger beer instead.
limes: you'll need fresh lime juice, you'll also want to grab a couple extras because you'll use the peel in the simple syrup and slices or spirals to garnish!
Tequila: we love using blanco tequila here, and recommend that's what you use too.
Orange Liqueur: Grand Marnier or Cointreau are my top picks!
Cranberry Juice: Because we're adding a simple syrup, I suggest using pure cranberry juice aka unsweetened cranberry juice, and not cranberry juice cocktail, which is loaded with added sugars.
Oranges: You'll use fresh orange juice in the actual margarita mixture, and slices as a garnish, if desired, of course.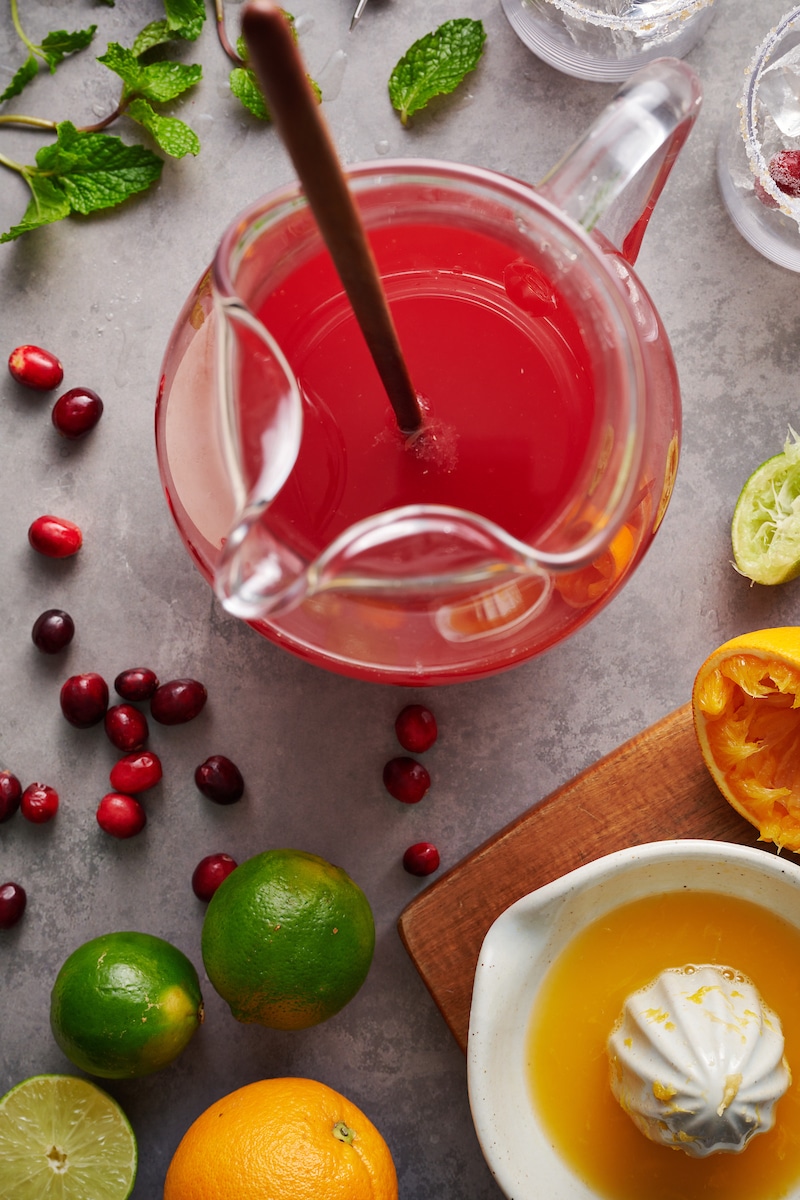 More ways to Add Pizzazz
Sugared Cranberries: Aka candied cranberries! these are so easy to make and take any cocktail from pretty to a total showstopper. They're great on desserts, too.
Rosemary sprigs or Mint: Fresh herbs always make a gorgeous garnish!
Sugar: Feel free to rub a lime or orange around the rim of your cocktail glasses and dip them in sugar. A sugar rim is delicious and definitely elevates the look of your drinks! You can also use salt if you prefer a salty marg.
Citrus Slices: Or spirals, wedges, etc! Use limes or oranges here to add a pop of fresh color to your cocktail.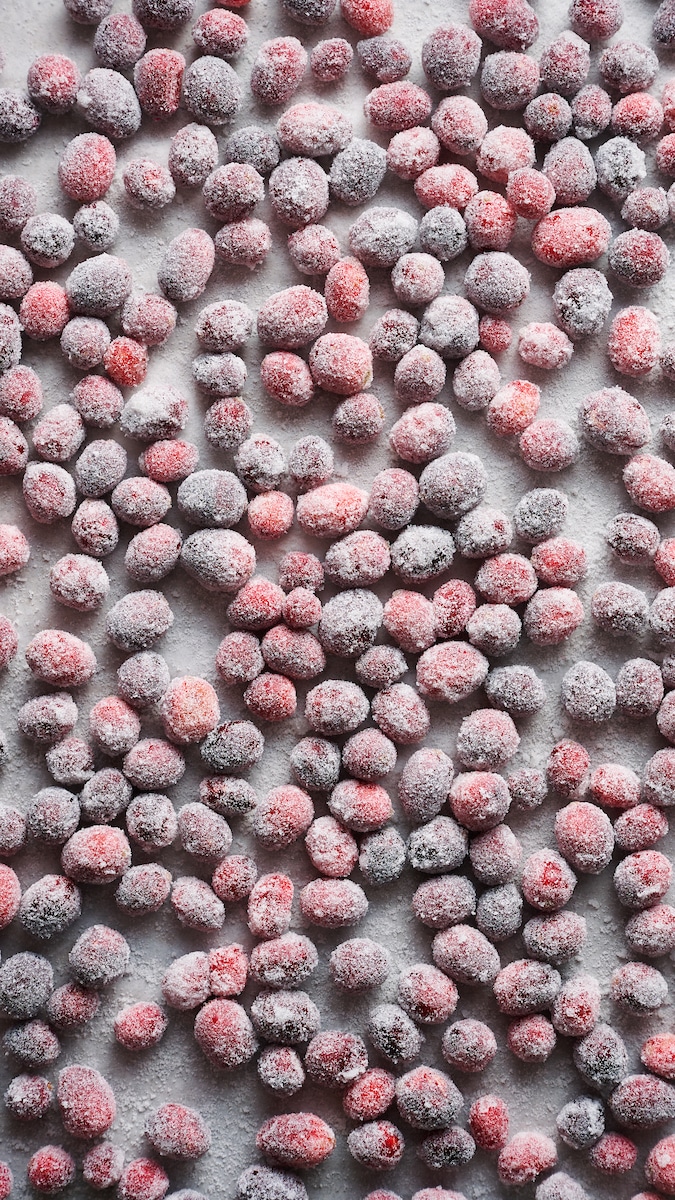 Let's Make Margaritas!
Make the simple syrup! Be sure to cool for at least 30 minutes before adding it to the pitcher. The good news? You can do this up to 2 weeks in advance and store in the fridge until needed.
Bust out your largest pitcher and combine all of the ingredients, including the simple syrup! Stir, stir, stir… you really want all of the flavors to marry and meld together.
Fill glasses with ice, top with cranberry margarita mix, garnish your hearts delight, sip, and repeat!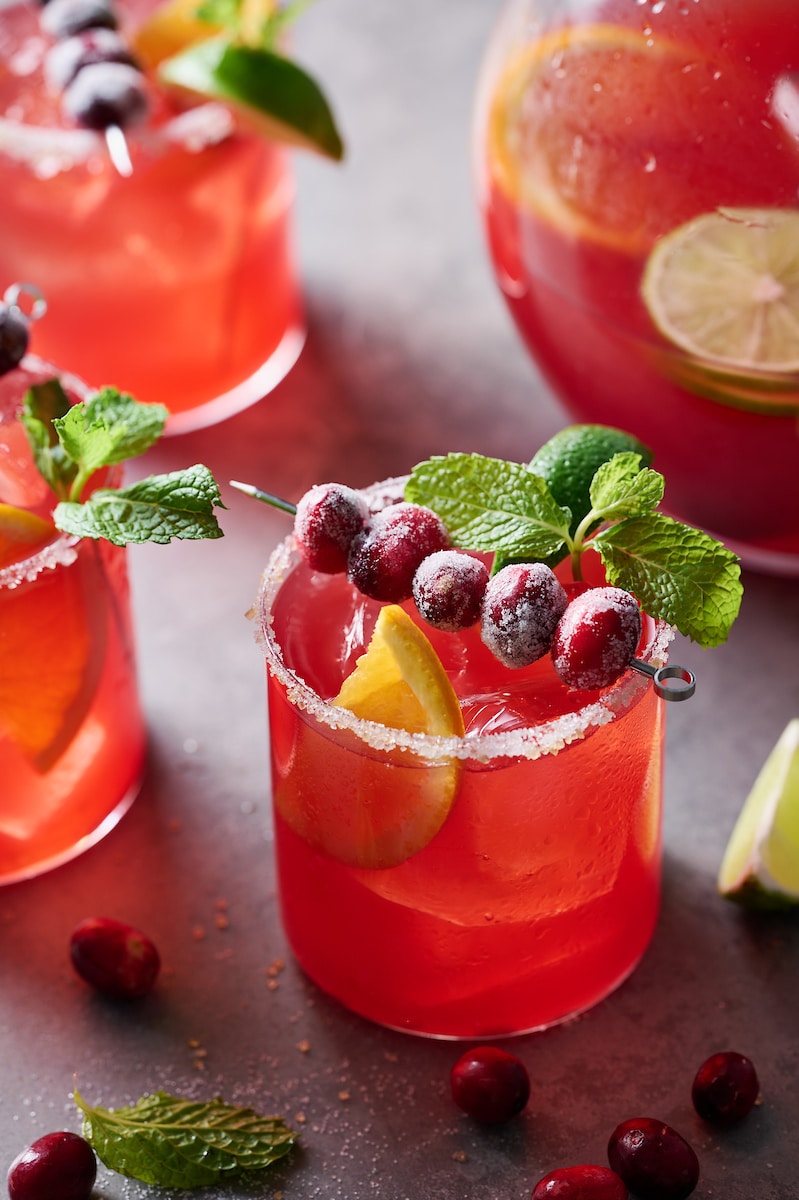 Cheers to the weekend… and to the official start of the holiday season! See you tomorrow with a perfect holiday appetizer.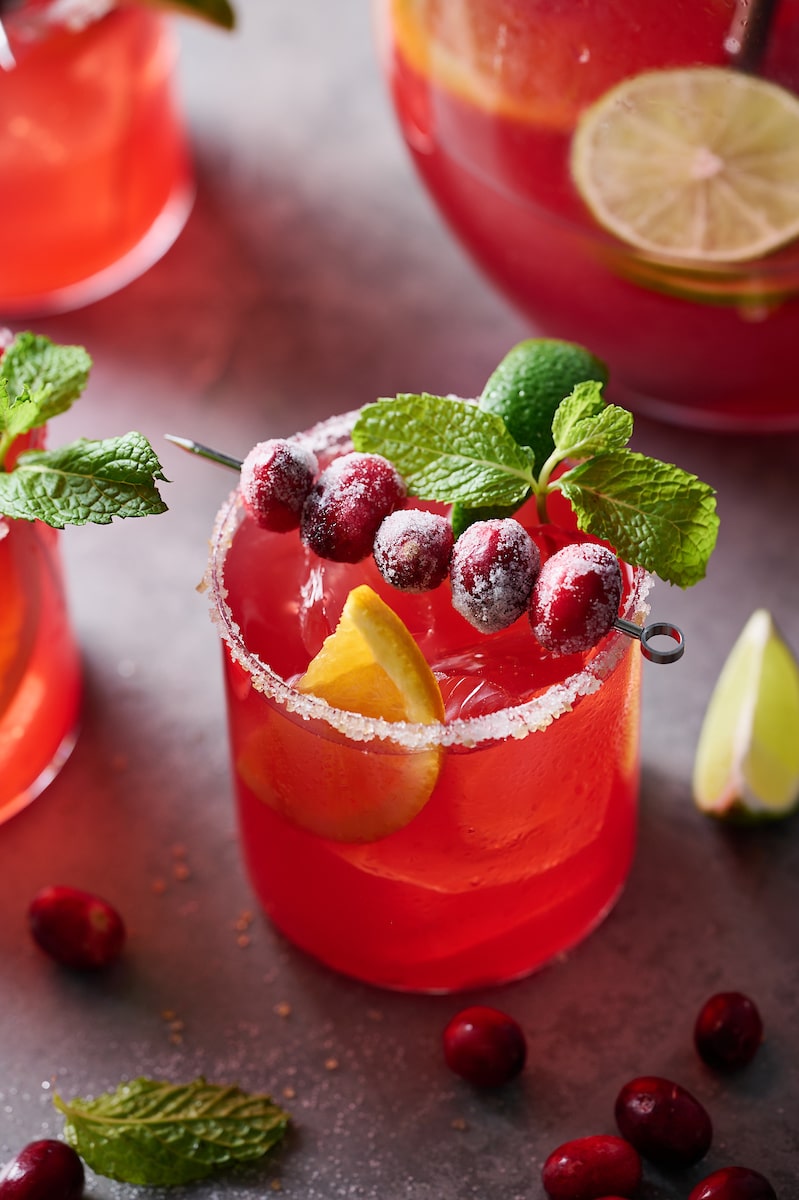 More Margarita Recipes: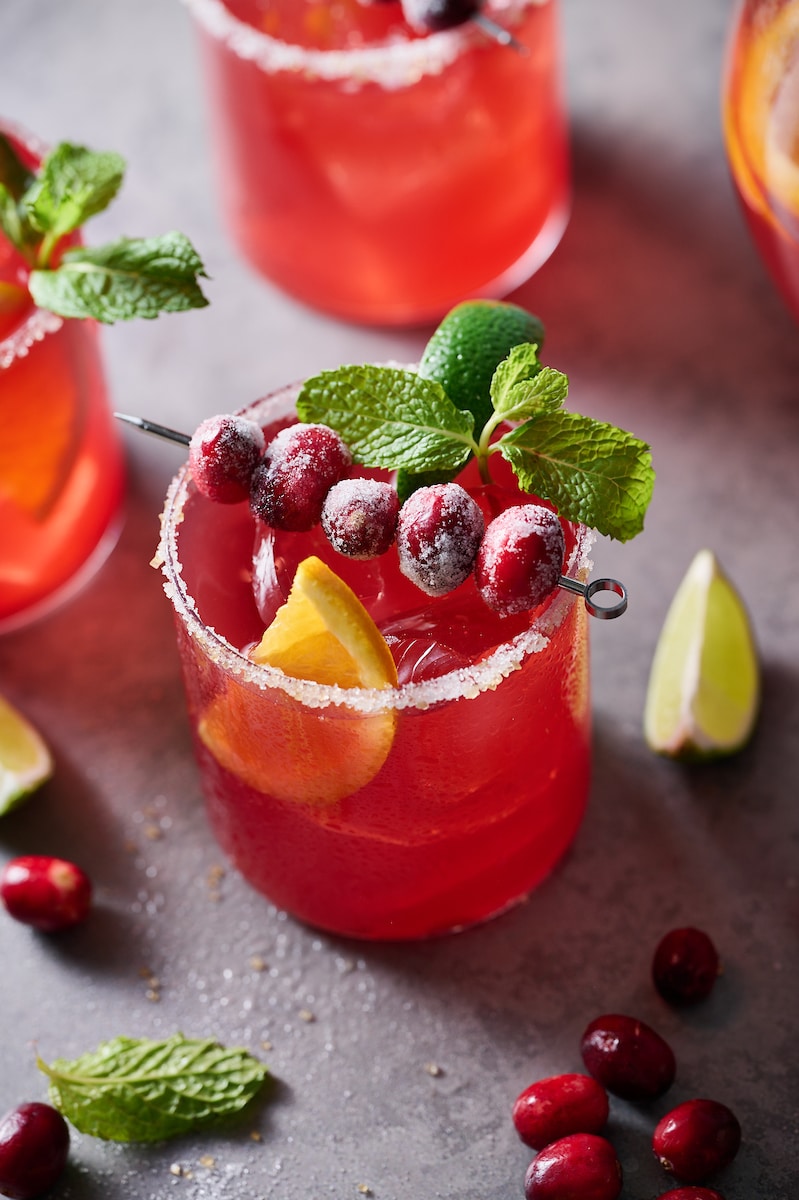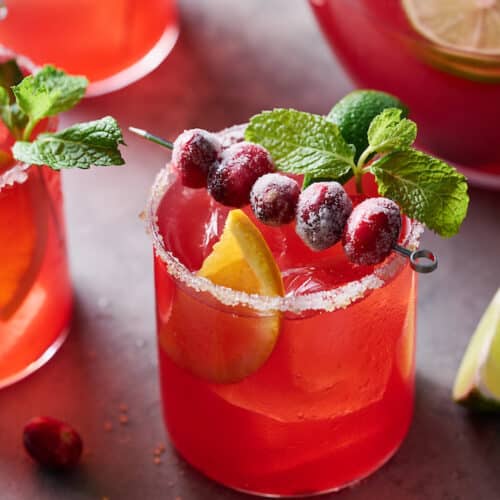 Cranberry Ginger Margaritas
Skip the store bought margarita mix and whip up these easy cranberry ginger margaritas! The homemade ginger simple syrup is made with tons of fresh ginger, so it has great flavor.
Ingredients
For the Ginger Simple Syrup:
1 cup (199g) granulated sugar
1 and 1/2 cups (340ml) water
2 2" strips lime peel
3 ounces fresh ginger peeled
For the Cranberry Margaritas:
2 cups (454ml) blanco tequila
1 and 1/4 cups (284ml) orange liqueur
1 cup (227ml) unsweetened cranberry juice
3/4 cup (170ml) fresh lime juice
1/2 cup (113ml) fresh orange juice
Garnish Ideas:
fresh mint sprigs optional
fresh rosemary sprigs optional
candied cranberries optional
lime slices optional
orange slices optional
Instructions
For the Ginger Simple Syrup:
In a medium saucepan, combine the sugar, water, ginger, and lime peel. Bring to a rolling simmer over medium-high heat and cook, stirring frequently, until the sugar has completely dissolved. Then reduce to medium-low and continue simmering, stirring occasionally, for 15 minutes. 

Remove from heat and set aside and cool for at least 30 minutes. 

Once cool, strain syrup into a large measuring cup, through a fine mesh strainer. Discard ginger and lime peel. Set syrup aside until needed. Or cover and store in the fridge until needed, up to two weeks.
For the Cranberry Margaritas:
In a large pitcher combine all of the simple syrup (above) with the tequila, orange liqueur, cranberry juice, fresh lime juice, and orange juice. Stir well.

Fill glasses with ice, then pour margarita mix on top. Garish suggestions: sugared cranberries, rosemary sprigs, mint sprigs, lime slices, and/or orange slices. Or anything your heart desires. All garnish options are just ideas and totally optional!