This Baked Lemon Ricotta Cheesecake is rich, creamy, and sunshiny sweet! Bonus: it can be made ahead of time and frozen for up to two months. So if you love lemon and cheesecake, you have to try this ricotta cheesecake recipe!
Lemon Ricotta Cheesecake Recipe
Hello my friends! I don't know about you, but lately all I want to do is snuggle up and hide under 400 billion blankets until Spring calls and lets me know it's safe and sunny outside. It has been a hideously cold (and windy!) week here, so I'm using my one free pass to complain about Winter today.
The silver lining? This wicked weather inspired me to bust out the citrus (so fresh, so bright, so vibrant) and bake it up – cheesecake style!
Bold statement right here, but um… this might be my new favorite cheesecake. First, I love lemons. They're my favorite form of citrus as of late. Bright, easily available, and totally affordable – what's not to love?
In Case You Want To Know: I used meyer lemons in the last test-run of this recipe and found them to be a delightful choice! They're a little trickier to hunt down, but I highly recommend using them if you can easily get your hands of em. If not – regular lemons will work perfectly! I tested this recipe twice using the standard lemons found in any produce section and the results were dreamy. I'm really only tossing the meyer lemon thing out there because they're in season right now (you should see how many I swiped at the store yesterday!) and a nice detour from the classic lemons we get to enjoy year-round.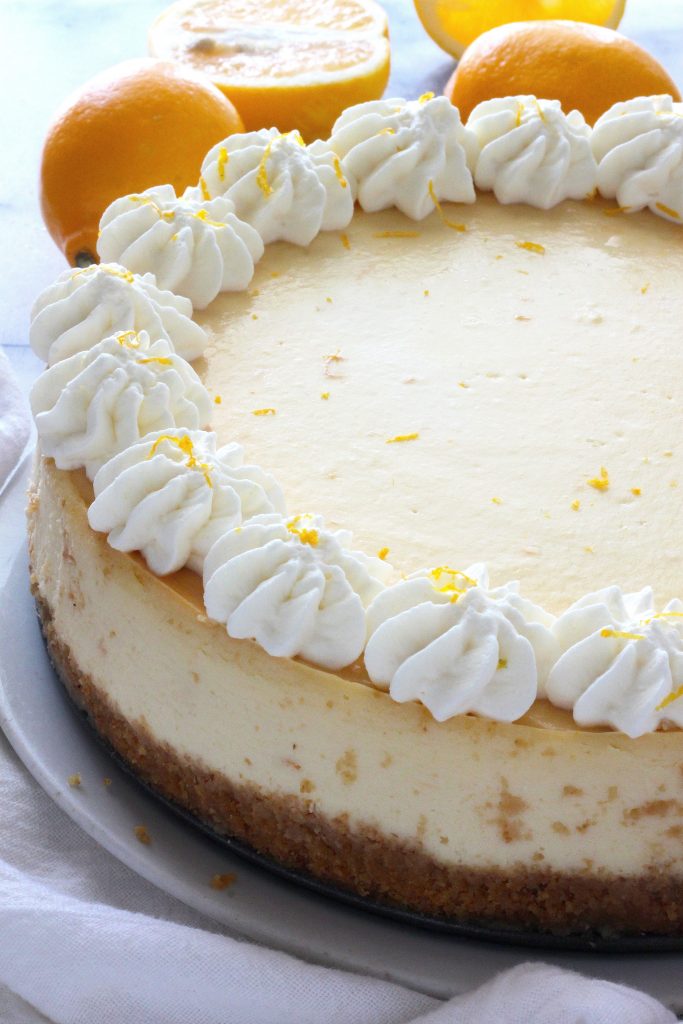 Second, this cheesecake combines vibrant citrus with creamy Italian Ricotta cheese… I mean —-> YES PLEASE!!! This cheesecake has a serious amount of flavor going on – without being overly sweet or tart. All about balance, you know?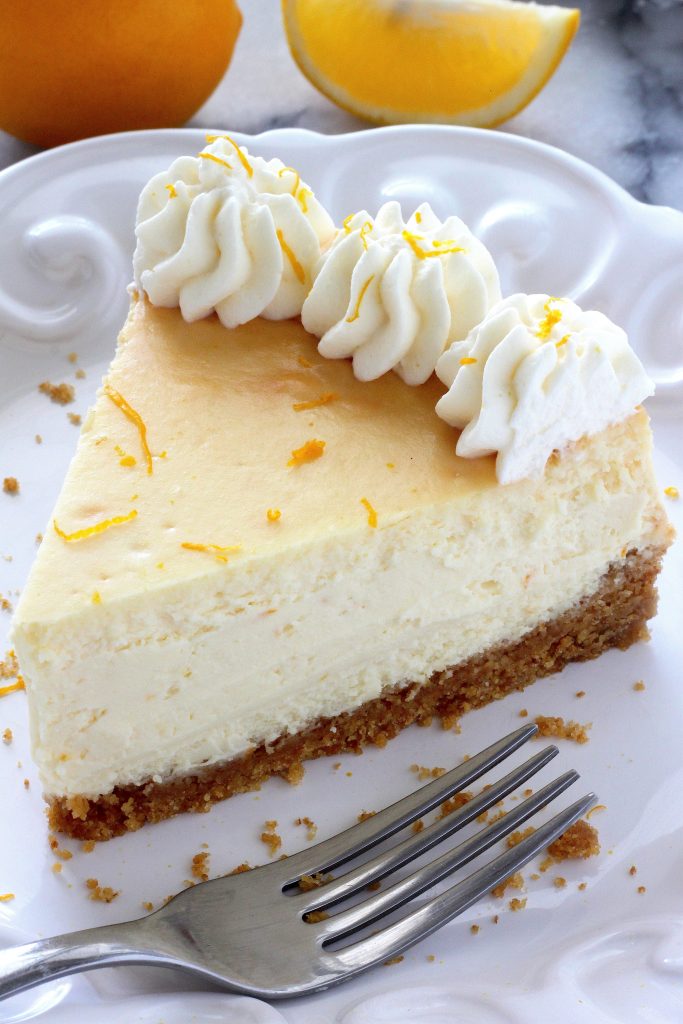 I have a deep love for cheesecake, and I just know you're going to LOVE this fresh and exciting Lemon Ricotta version! It was an instant hit at a brunch we hosted last weekend, and there wasn't a slice left to wrap up. That's how I measure recipe success 😉
HEY YOU: If you've never made a cheesecake before and are feeling a little nervous… my ear is yours. Please feel free to shoot any questions my way (preferably before you actually start making the recipe so I have time to respond) and we'll walk through this baking adventure hand in hand. I've also added some (hopefully) helpful notes below the recipe, so be sure to read over everything before you get started. Once you know your way, making a creamy, crack-free cheesecake is as easy as 1-2-3. xoxo.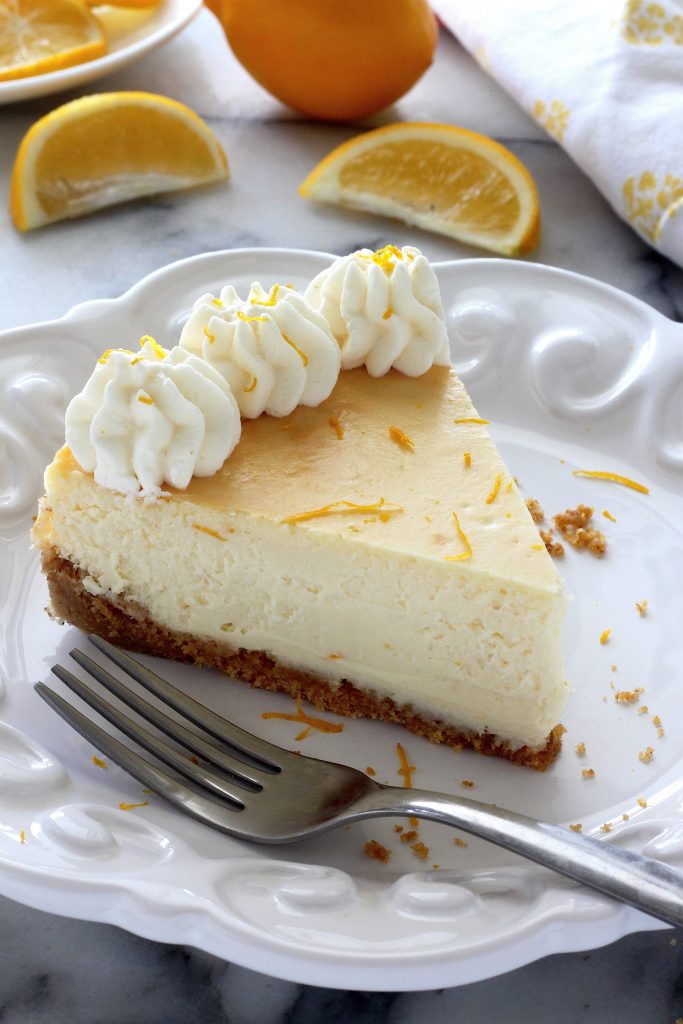 More Lemon Recipes: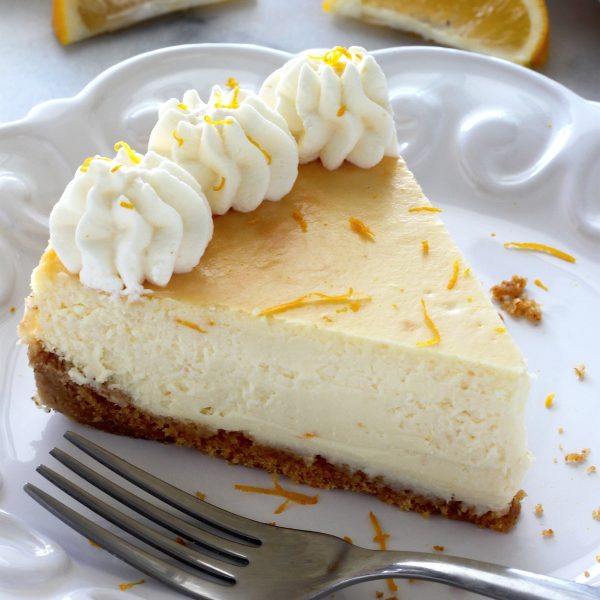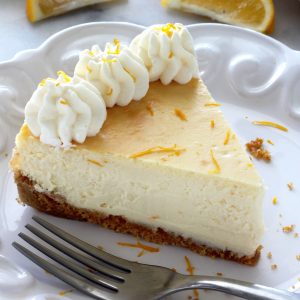 Lemon Ricotta Cheesecake
Sweet and creamy, this easy-to-make Lemon Ricotta Cheesecake is the perfect addition to any dessert table!
Ingredients
For the Crust:
2 cups Graham Crackers crumbs
1/3 cup Granulated Sugar
1/4 teaspoon Kosher Salt
7 tablespoons Unsalted Butter, melted
For the Lemon Ricotta Cheesecake Filling:
3 (8 ounce) packages Full-Fat Cream Cheese, very soft
1 cup Whole Milk Ricotta Cheese, at room temperature
1 1/4 cups Granulated Sugar
2 teaspoons Pure Vanilla Extract
3 large Eggs + 2 Egg Yolks, at room temperature
2 tablespoons All-purpose Flour
3/4 cup Fresh Lemon Juice
2 teaspoons Fresh Lemon Zest
Whipped cream for serving, optional
Lemon zest finely grated, for serving, optional
Instructions
Preheat oven to 350 degrees (F).
For the Crust:
Lightly spray a 9" springform pan with non-stick spray.

Wrap the bottom and sides of the pan with heavy duty tinfoil. I recommend doing several diligent layers here to ensure no water creeps through when you place the pan in the water bath. Set pan aside.

In a large bowl, combine graham cracker crumbs, sugar, salt, and melted butter; stir well to combine. Firmly pat the mixture into the prepared pan.

Bake in preheated oven for 10 minutes. Place partially baked crust on a cooling rack and set aside while you prepare the filling. Reduce oven to 300 degrees (F).
For the Lemon Ricotta Cheesecake Filling:
In the body of a high power blender, food processor, stand mixer fitted with the whisk attachment, or in a very large bowl using a hand held mixer, beat the softened cream cheese and ricotta cheese until completely smooth, scraping the bowl as needed. 

On medium speed, add in the sugar and vanilla and beat until smooth, scraping down the sides and bottom of bowl as needed. Reduce the mixer to the lowest speed possible and add in the eggs and egg yolks; beat until just combined. Don't over mix here!

Using a rubber spatula, stir in the flour, mixing just until combined. Fold in the lemon juice and zest, mixing just until it's incorporated in the batter.

Pour filling into prepared crust, and spread the top smooth.

Place the cheesecake pan into a large, deep pan. Fill the pan with 3 inches of hot water. This is your water bath and will help ensure your cheesecake comes out crack free.

Carefully place the pan in the oven and bake for 1 hour and 25 minutes. Then turn oven off and let the cheesecake sit, undisturbed, for 40 minutes, inside the oven with the door shut. The cheesecake should be still slightly wiggly.

Remove the cheesecake from oven and gently run a knife very around the edge of the cake. Place the cheesecake on a cooling rack and cool completely, then loosely cover the pan with saran wrap and chill for at least 6 hours.

Cheesecake will keep, covered in the fridge, for 5 days. Cheesecake may be frozen for 2 months. Thaw overnight before slicing. 

For a lovely presentation, fill a piping bag fitted with a star tip, with freshly whipped cream. Pipe the whipped cream around the edges of the cheesecake, and top with finely grated lemon zest! Slice and serve at once!
Notes
*It is very important to bring your ingredients to room temperature when baking cheesecake - especially the cream cheese. I recommend sitting the blocks of cream cheese out on the counter for at least 2 hours prior to baking. *Full-Fat cream cheese and Ricotta Cheese is what was used for this recipe and what I find yields the best results. Using reduced-fat or non-fay versions will alter the taste and texture of this recipe. *Meyer lemons may be used in place of regular lemons (In fact, that is what I used the final time testing this recipe). *Cheesecake (without the whipped cream on top) may be sliced and frozen for up to one month. *If you have any questions about the water bath prior to baking, please feel free to ask and I will walk you through it. *Table salt may be used in place of kosher salt.