My Light and Fluffy Chocolate Chip Pancakes are simply the BEST! Just one bite will turn you into a believer.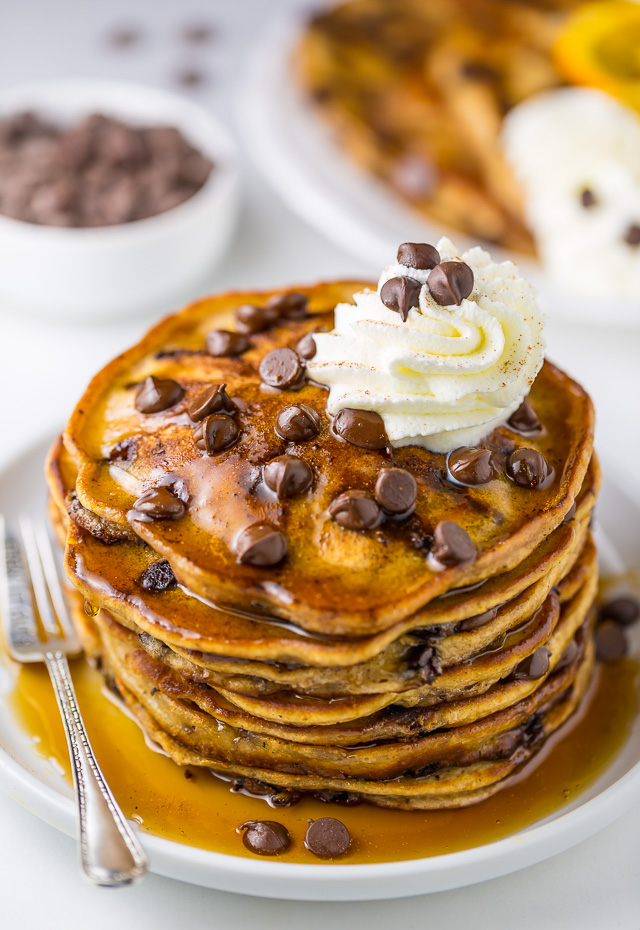 Good morning! I hope your weekend is off to a great start. I'm currently on an early morning Amtrak train, peacefully zipping towards Pennsylvania to spend some quality time with my family. I can't wait to cuddle the twins (they're 3 months already!), shop with my mom, and chill with my brothers. It should be a fun 48 hours!!!
But before I disappear into weekend life, I wanted to pop in, say hi, and share some pancakes with you. ← What are friends for, right?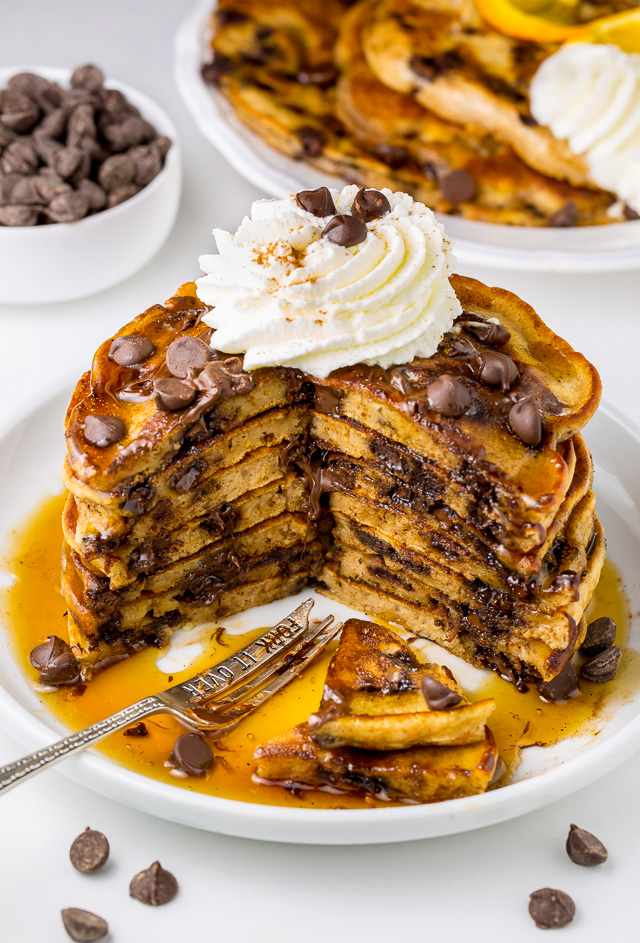 I made these light and fluffy chocolate chip pancakes for dinner a few nights ago and knew after one bite they HAD to be on the blog. Each buttery bite is light as air and BURSTING with chocolate. What more could you want from chocolate chip pancakes?!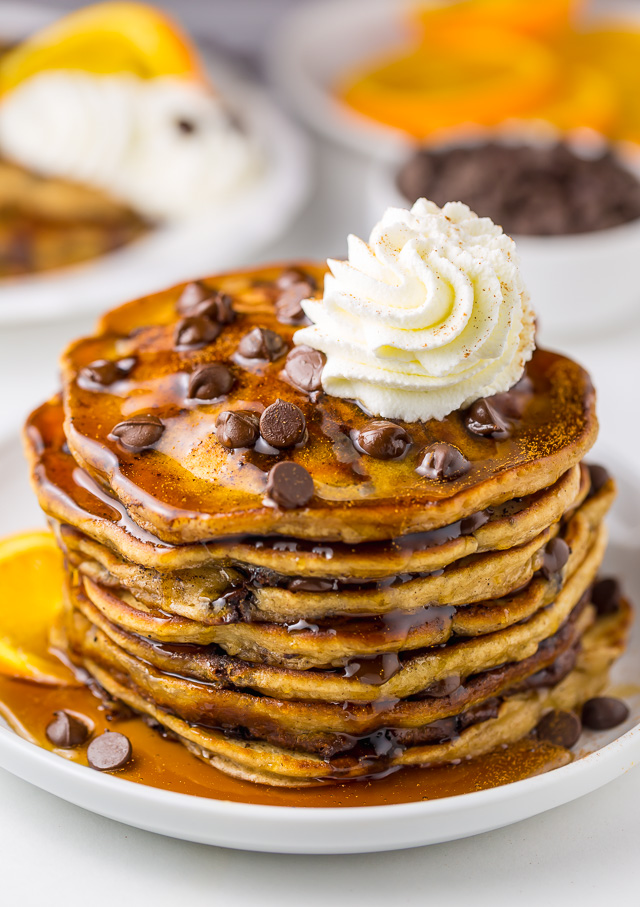 Tips and Tricks for Recipe Success:
This recipe is freezer friendly! Simply place fully cooled pancakes between layers of wax paper, then place them in a freezer-safe plastic bag, and pop them in the freezer! They will keep in the freezer for 2 months.
I've included cinnamon in the recipe, but if you're a purist, feel free to leave it out. Personally I love the subtle flavor it adds.
My little "secret" for keeping pancakes warm while I cook them all is to preheat the oven to lowest setting and place a large baking sheet inside. As the pancakes are cooked, I transfer them onto the baking sheet. Just be sure to use a potholder when removing the pan as it will be very hot!
If you don't have chocolate chips on hand, feel free to use chocolate chunks instead!
I love cooking my pancakes in a cast iron skillet, but a griddle or even just a large non-stick pan will do!
When you're cooking them, keep a close eye. All stove tops run a little different (for instance, even on low, mine runs VERY hot), so you may need to adjust the temperature and/or cooking time a little.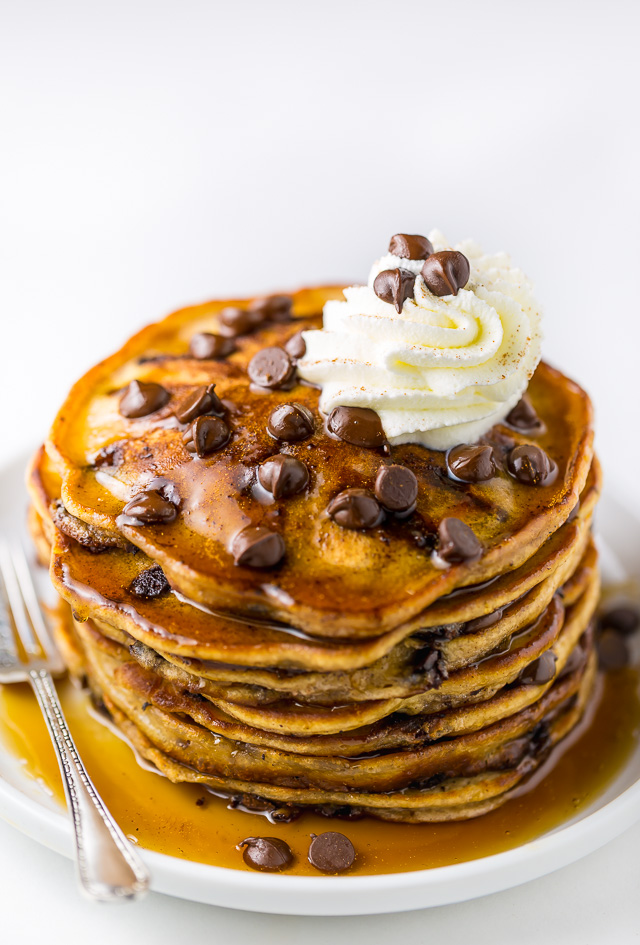 Seriously hope you have the BEST weekend! See you Monday with a NEW recipe 🙂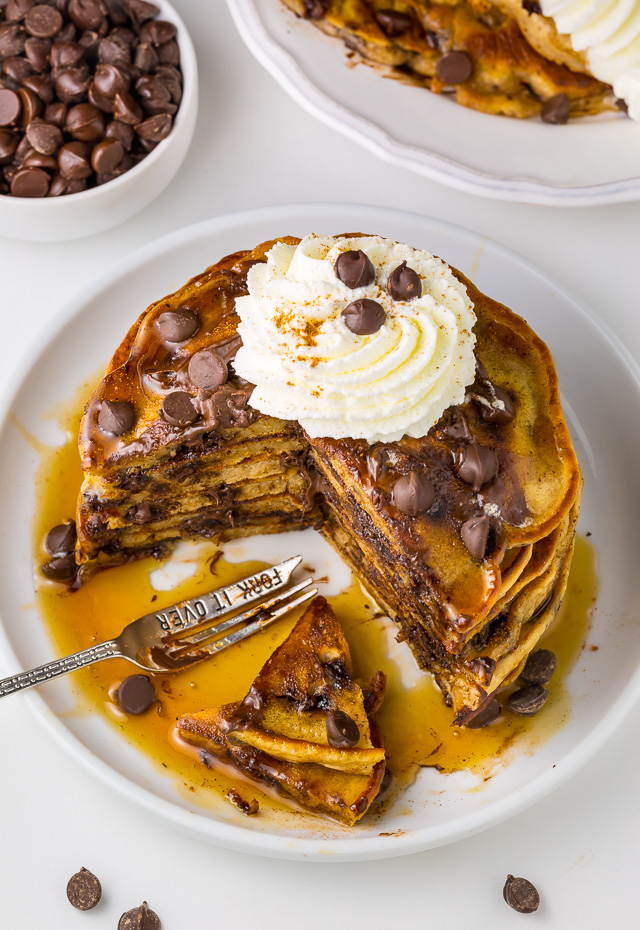 If you try this recipe for Light and Fluffy Chocolate Chip Pancakes, let me know what you think! Leave a comment below, and don't forget to snap a pic and tag it #bakerbynature on instagram! Seeing your creations makes my day ♥
Light and Fluffy Chocolate Chip Pancakes
Ingredients
2 cups all-purpose flour
1/4 cup granulated sugar
1 and 1/2 teaspoons baking soda
3/4 teaspoon baking powder
3/4 teaspoon salt
1/2 teaspoon cinnamon (optional, but I love the depth of flavor it adds)
2 large eggs, at room temperature
1 and 3/4 cups whole milk
1 cup full-fat sour cream
2 teaspoons pure vanilla extract
1 and 1/2 cups semi-sweet chocolate chips, plus more for serving
Maple syrup and/or fresh whipped cream, for serving
Instructions
In a large bowl add the flour, sugar, baking soda, baking powder, salt, and cinnamon (if using); whisk well to combine. In a separate bowl add the eggs and lightly beat them with a whisk. Add in the milk, sour cream, and vanilla and beat until well combined. Stir the wet mixture into the dry ingredients, stirring just until everything is combined. Quickly fold in the chocolate chips, stirring until evenly combined. Be careful not to over mix the batter.
Pour batter by 1/3 cupfuls onto a buttered hot pan or griddle, adding only a few at a time so that they do not blend together. Cook for 3 to 4 minutes before flipping them over, or until small bubbles form on top. Cook on the second side until golden brown, about 2 minutes. Repeat with all pancake batter. Serve pancakes warm, with syrup, whipped cream, and/or extra chocolate chips. See notes for freezing options.
Notes
To freeze: place cooled pancakes between layers of wax paper, then place them in a freezer-safe plastic bag, squeezing out any excess air before sealing the bag and placing it in the freezer. Pancakes will keep in the freezer for 2 months. To reheat, heat your oven to 375 degrees (F). Place the pancakes in a single layer on a large baking pan; cover with tinfoil and heat in preheated oven for 6-8 minutes, or until warm. You may also microwave 3-4 pancakes at a time for about 40 seconds, or until heated through.
Nutrition Facts
Serving Size 2 or 3 pancakes
Amount Per Serving
% Daily Value
* Percent Daily Values are based on a 2,000 calorie diet. Your daily values may be higher or lower depending on your calorie needs.
More delicious breakfast recipes:
My Favorite Buttermilk Pancakes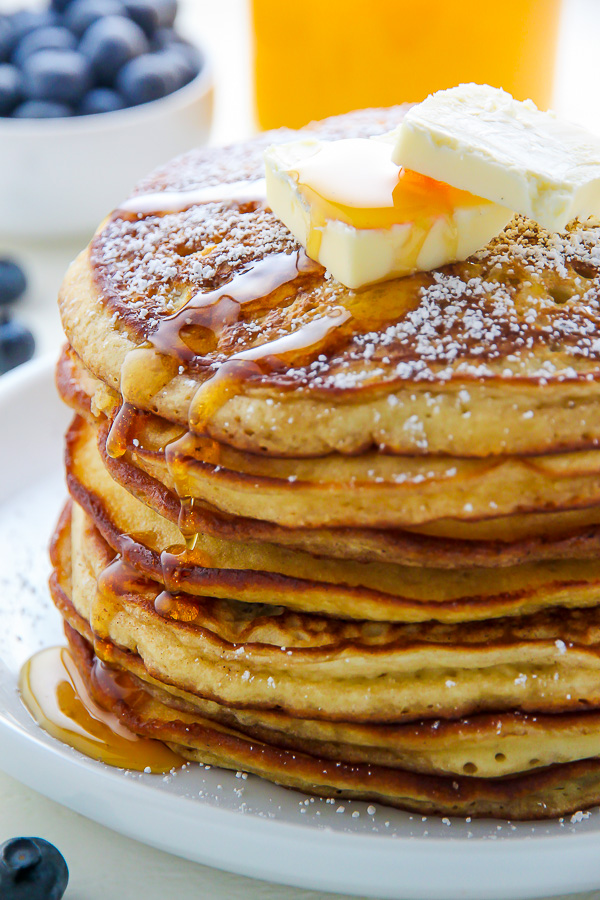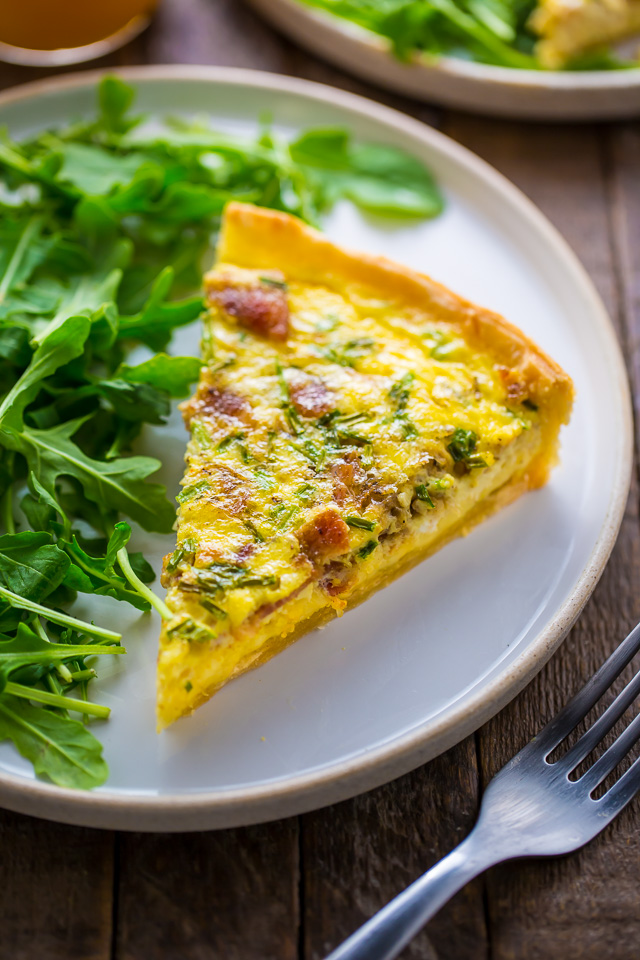 Overnight Pecan Pie French Toast