These Soft and Chewy M&M Cookie Bites are so cute and serve a crowd! Loaded with colorful M&M candies, these are a hit with kids and adults!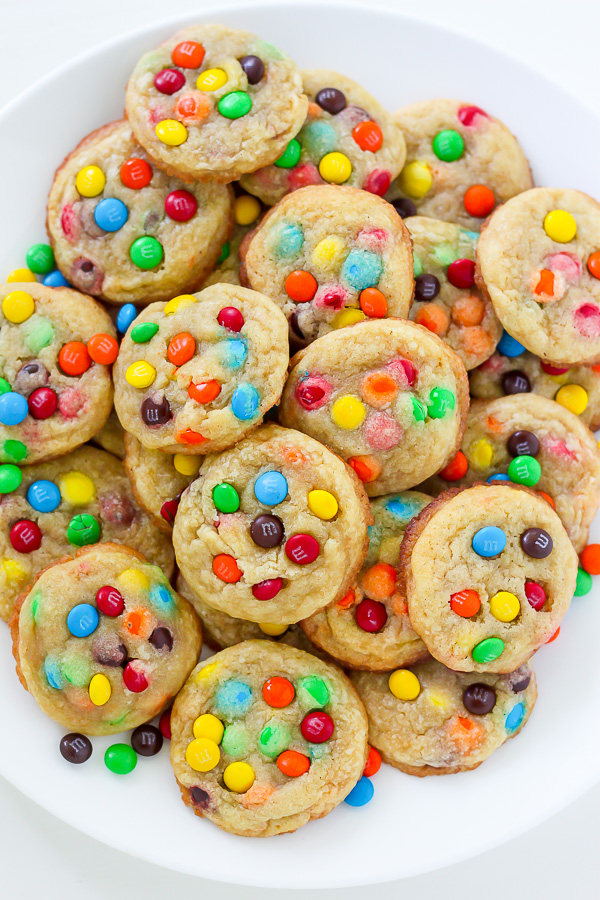 Mini M&M Cookies
I have weakness for bite-sized desserts, and teeny tiny cookie bites are one of my all-time favorites. A few weeks ago I made you Bite-Sized Brown Butter Chocolate Chip Cookies (which lasted all of 3 days in our house) and I've been eager to try my hand at another variation ever since.
Today's fun and delicious M&M Cookie Bites are inspired, yet again, by my childhood. When I was a kid my mom would make a huge batch of M&M cookies any time we had company coming over. Just the thought of those cookies could convince my (typically whiny) brother and I to cheerfully help mom with any chore or tiny duty she might request. We were hooked!
M&M Cookies
Last Christmas I made it my goal to nail down that beloved M&M Cookie recipe once and for all. I have to admit I got pretty close with these Brown Butter M&M Cookies, but I'm still working on perfecting a classic batch that taste just like my moms.
While we wait for that recipe to be procured, we can sit back and enjoy these adorable M&M Cookie Bites! Made with brown butter, M&M minis, and lots of love ♡♡♡ <—- These babies are perfection!
More M&M Recipes:
Thick, chewy, M&M Cookie Perfection! Bursting with sweet buttery flavor and exploding with M&Ms, these bite-sized treats are a dreamy addition to any dessert spread. We like to eat them fresh from the oven, but you could also freeze them and use them as the base for an ice cream sandwich situation 😉 I say do BOTH. And Enjoy! xoxo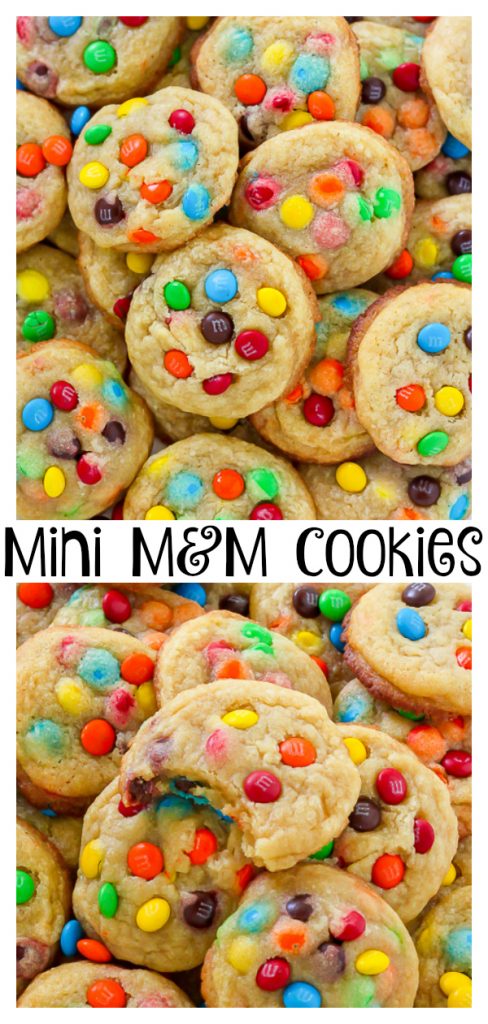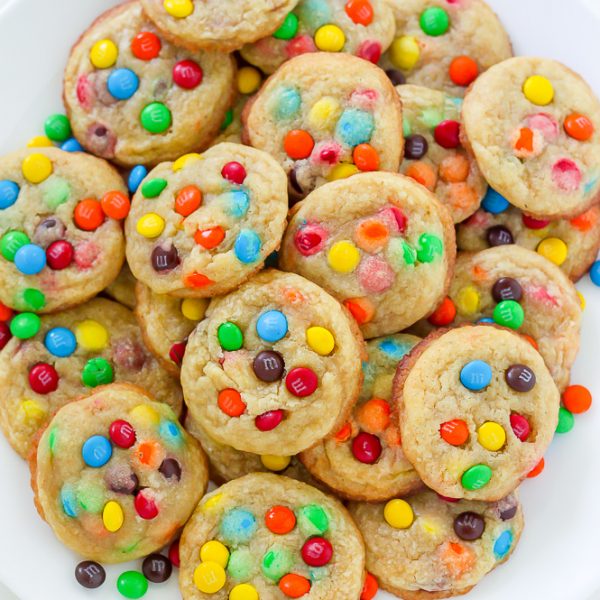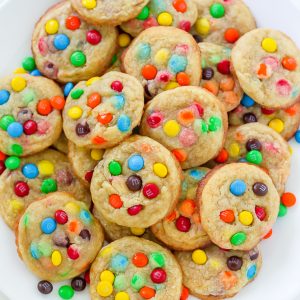 M&M Cookie Bites
M&M Cookie Bites are cute, colorful, and loved by all! 
Ingredients
2 1/2 cups all-purpose flour
1 teaspoon baking soda
1/2 teaspoon fine sea salt
2 sticks (16 tablespoons; 8 ounces) unsalted butter, browned and brought back to room temperature
1 cup + 2 tablespoons dark brown sugar
1/2 cup granulated sugar
3 teaspoons vanilla
2 large eggs, at room temperature
2 cups m&m minis
Instructions
Preheat oven to 375 degrees (F). Line 2 large baking sheets with parchment paper; set aside.

In a medium-sized bowl whisk together the flour, baking soda, and sea salt; set aside.

Place one stick of butter in a small sauce pan over medium-high heat and cook for about 3 minutes – stirring almost constantly – or until the butter has browned. Remove from heat and stir in remaining stick of butter; whisk until completely smooth. Pour the hot butter into a heat proof bowl, then place the bowl in the refrigerator or freezer and bring the butter back to room temperature. *You'll know the butter is at room temperature when you press a finger into the top and it makes a slight indentation.

Once the butter is at room temperature…

Add the sugars and the vanilla to the browned butter and beat on medium-speed until light and fluffy; about 2 minutes (you may use a stand mixer/ handheld mixer to help if you have one). Add the eggs and beat quickly – for only about 30 seconds – until they're just combined; scrape down the sides of the bowl with a rubber spatula. Let the mixture rest for 5 minutes, then beat the eggs for another 30-45 seconds. Gently fold in the flour mixture with a wooden spoon, stirring only until the flour begins to disappear. Fold in the m&m minis.

Roll scant tablespoon sized balls of dough between your palms to form a ball, then place on prepared sheet (make sure to leave a little bit of room in between each cookie for inevitable spreading). Continue this process until all the dough has been rolled. Place baking sheets, one at a time, in preheated oven and bake for 7-8 minutes, or until golden at the edges but still soft in the middle. Let cookies cool for 15 minutes on the sheet before transferring to a wire wrack to cool completely.