My Favorite French Onion Soup is perfect for chilly Winter nights!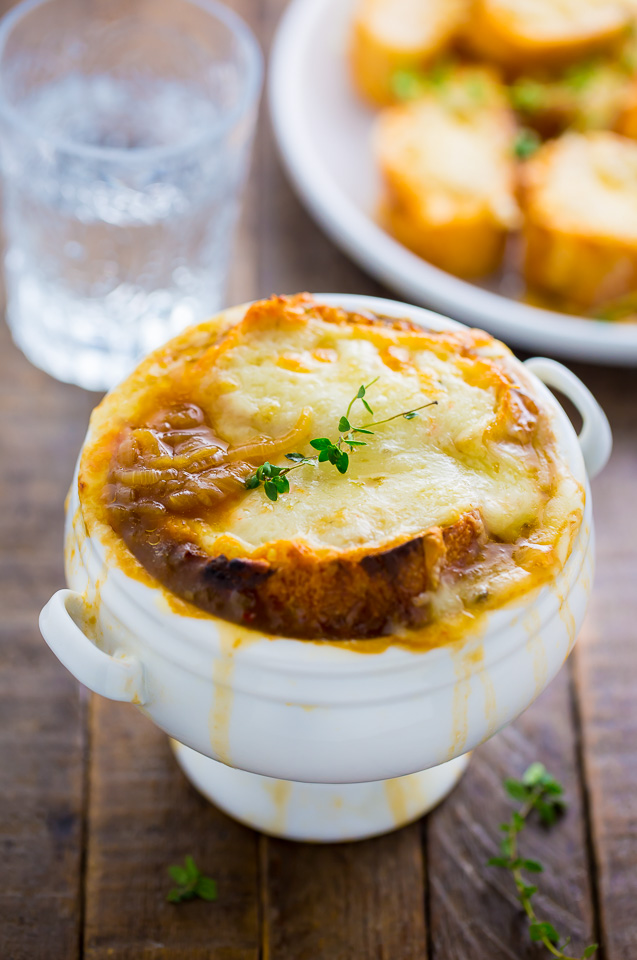 It's probably no surprise that the best bowl of French Onion Soup I've ever had was in France. At Bistro A La Renaissance, to be exact. The broth was deep, rich, and loaded with melt-in-your-mouth caramelized onions. The bowl was generously topped with crispy pieces of baguette covered in a mountain of melted cheese. It was love at first bite.
I went back for that soup 3 times during my week long vacation and promised myself I would recreate it when I got home. Finally, after little tweaks and changes, I made a pot that upon first bite transported me back to that dark, dreamy little bistro. This is my favorite french onion soup… and I have a feeling after one taste it'll be your favorite too.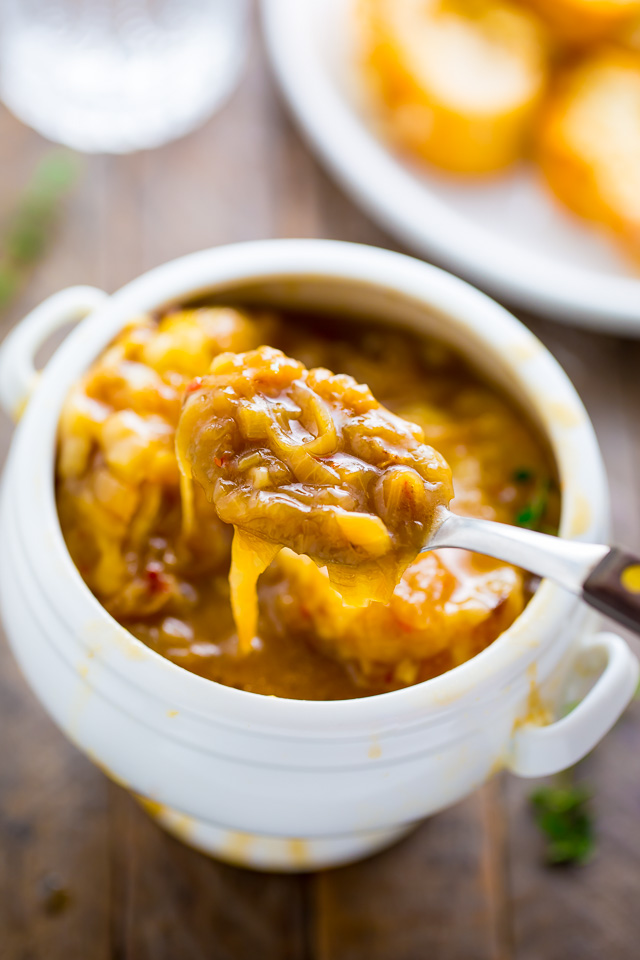 True story: I got the onions for this soup from an actual ONION FARM!
Last week I took a field trip to Minkus Family Farms. During my visit I learned a lot about onions as well as the Empire State Development's New York State Grown & Certified program, which they are a part of. Farms that hold this certification are inspected for safe food handling and environmental stewardship, and their products must meet the highest quality standards. Additionally, the farms and farmers must be certified for Good Agricultural Practices and participate in Agriculture Environmental Management. By certifying food at this level, New York provides its consumers with an assurance of quality in how and where the food is grown. It also helps promote New York State producers who are meeting a high demand for food that is safely handled and grown in an environmentally responsible manner. As someone who takes great interest in knowing where and how my food is grown, I'm proud to help promote this program!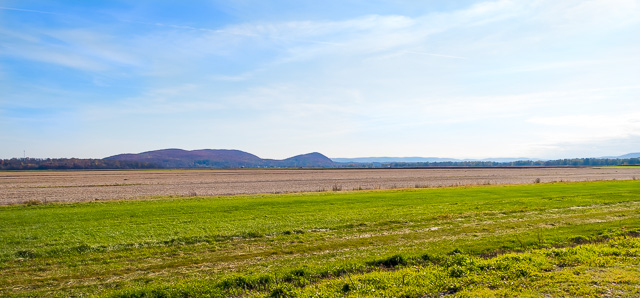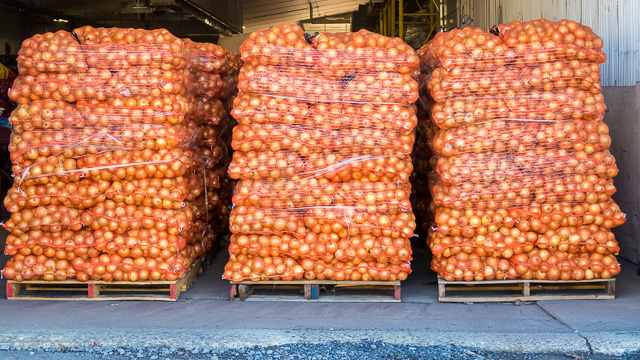 After a long day on the farm I truly felt like an onion connoisseur. I also felt like making a big batch of my favorite french onion soup. Lucky for me the kind folks at Minkus Family Farms sent me home with 10 pounds of onions!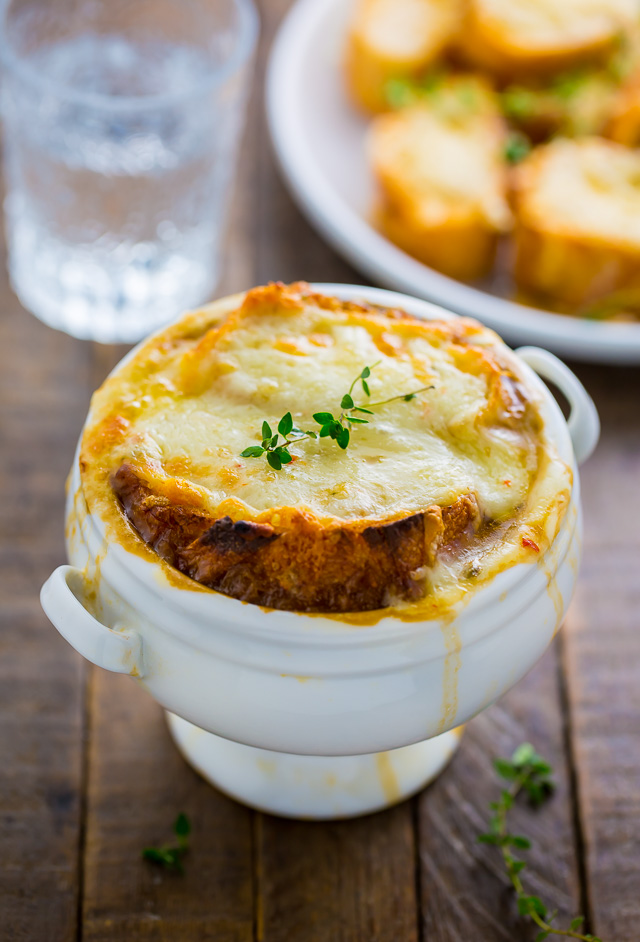 Tips and Tricks for Recipe Success:
Don't skimp on time when it comes to caramelizing the onions. You want them to get super soft and golden, which takes at least 45 minutes. 90% of the flavor for this french onion soup comes from this step, so you really don't want to cheat yourself out of that fabulous flavor.
For the best possible flavor, use a high-quality beef stock.
If you cannot stand any spice in your soup, omit the red pepper flakes and add a little black pepper instead.
If you cannot find Gruyère cheese, you may use Swiss cheese instead.
There's nothing better than ending a long day with a big cozy bowl of french onion soup! And the leftovers (if there are any…) are even better the next day. Enjoy!

If you try this recipe for My Favorite French Onion Soup, let me know! Leave a comment below and don't forget to snap a pic and tag it #bakerbynature on instagram! Seeing your kitchen creations makes my day. ♥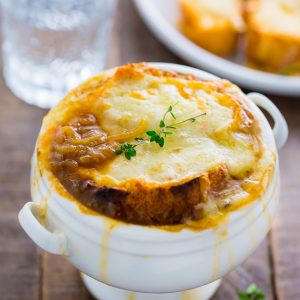 My Favorite French Onion Soup
My Favorite French Onion Soup is rich, hearty, and perfect for chilly Winter nights.
Ingredients
5 tablespoons unsalted butter
4 pounds yellow onions, thinly sliced
8 sprigs fresh thyme
1/4 teaspoon crushed red pepper flakes
3/4 teaspoon salt
1 tablespoon all-purpose flour
1 cup dry white wine
(1) 32 ounce container beef stock
1 small baguette, sliced
2 cups Gruyère cheese, shredded
Instructions
In a large, heavy bottomed pot melt the butter over low heat. Add the onions, thyme, crushed red pepper flakes, and salt; cook, stirring occasionally, until the onions are deep amber in color and very soft, about 45 minutes. Add the flour and cook for 1 to 2 minutes, then add the wine; increase the heat and let the wine simmer for 2 to 3 minutes, stirring constantly. Add the beef stock and bring soup to a boil, then reduce to a simmer and cook for another 45 minutes.

Remove thyme sprigs from the soup and discard. Season to taste.
When ready to serve:
Preheat oven to broil. Arrange a rack in the middle of the oven. Arrange the baguette slices on a baking sheet and place in the oven for 2 minutes, or until toasted. Keep a close eye here so they don't burn!

Divide the soup among 4 ovenproof bowls. Place a few pieces of toasted baguette on top of each bowl, then cover with a thick layer of Gruyère cheese. Place the soup bowls on a large baking sheet, then carefully place the baking sheet under the broiler for 3 to 5 minutes, or until the cheese is fully melted and golden. Serve at once.
Notes
This recipe will make 4 dinner sized potions, or 6 appetizer sized portions.
This is a sponsored conversation written by me on behalf of Empire State Development . The opinions and text are all mine.