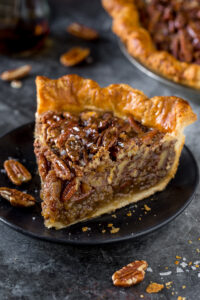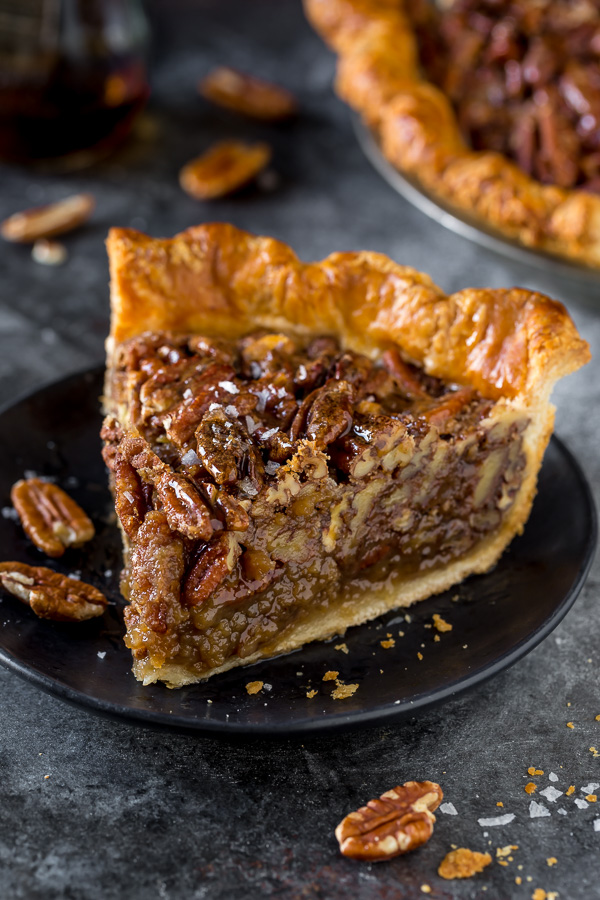 No Corn Syrup Pecan Pie
Yield 9" Pie
If you've been searching for a no corn syrup pecan pie that tastes AMAZING, look no further! Because this recipe is pure perfection. And sure to be a hit at your holiday celebrations!
Ingredients
My Foolproof All-Butter Pie Crust (or your favorite pie crust) 
10 ounces Pecan Halves 
1/2 teaspoon salt
1/2 teaspoon ground cinnamon
2/3 cup dark brown sugar, packed 
1/3 cup granulated sugar
3/4 cup real maple syrup 
2 Tablespoons bourbon
1 teaspoon vanilla extract 
4 large eggs, at room temperature, lightly beaten 
4 Tablespoons unsalted butter
2 Tablespoons flour
Instructions
Preheat oven to 400°F. Have ready and refrigerated one pastry-lined 9-inch pie plate (see foolproof all-butter pie crust). *Optional: Sprinkle the bottom of the pie crust with 1 teaspoon of flour and 1 teaspoon of granulated sugar. I find this helps prevent the crust from getting soggy. 
Spread the pecans evenly inside the unbaked pie crust and place the crust in the fridge to chill while you prepare the filling.
In a large bowl combine the salt, cinnamon, and both sugars. Mix well, breaking up any large clumps of brown sugar with your hands. Whisk in the maple syrup, bourbon, and vanilla. Whisk in the lightly beaten eggs. Set aside.
In a small saucepan over medium-low heat, melt the butter. Stir in the flour and cook the mixture, whisking constantly, for 30 seconds. Remove from heat and whisk the mixture into the maple syrup/egg mixture, whisking until ingredients are evenly combined.
Remove the pie crust from the fridge. Pour the filling into the prepared pie shell (right on top of the pecans) and bake in preheated oven for 10 minutes. Then reduce the heat to 350°F and continue baking for 55 minutes, or until the edges are set and the center barely moves when you gently shake the pan back and forth.
Place the pie plate on a wire rack and cool for 4 hours.
Slice and serve. Or store the pie, covered in the refrigerator, for up to 3 days. Bring to room temperature before serving. 
Courses Dessert
Cuisine Pie
Recipe by Baker by Nature at https://bakerbynature.com/no-corn-syrup-pecan-pie/