If you've been searching for a no corn syrup pecan pie that tastes AMAZING, look no further! Because this recipe is pure perfection and is totally corn syrup free. Made with pure maple syrup and plenty of crunchy pecans, this pie is sure to be a hit at your holiday celebrations!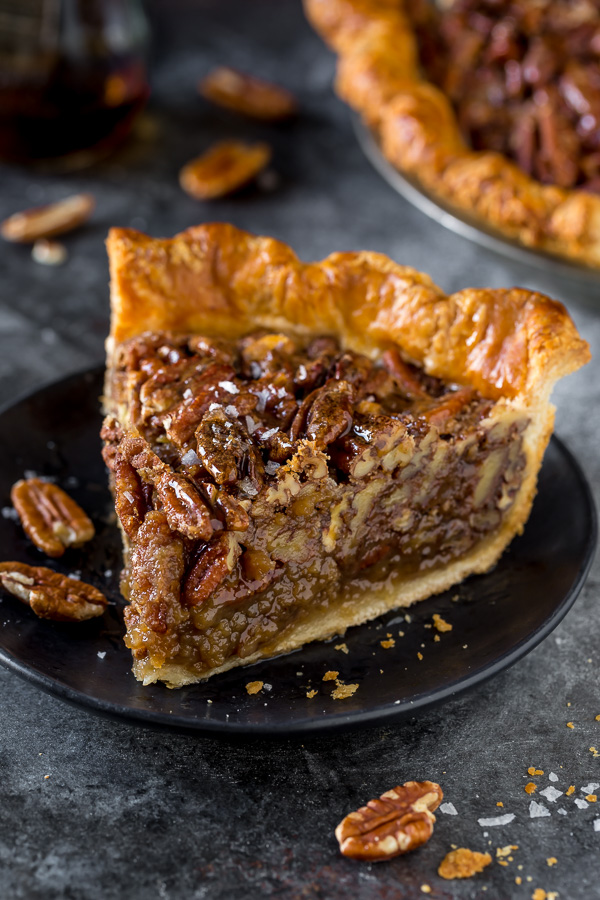 Pecan Pie without Corn Syrup
Thanksgiving is right around the corner, and you know what that means, right?! It's officially pie season! In preparation for this, I spent my weekend making batch after batch of my foolproof all-butter pie crust and freezing them for later in the month. I'll be very glad I did that come Thanksgiving eve! Especially since we're hosting dinner at our house this year. Exciting… and – if I'm being completely honest – a little stressful!
But I have a few foolproof recipes in my back packet to keep the stress at bay. And this No Corn Syrup Pecan Pie is one of them! It's crunchy, gooey, and sweet. And tastes just like the pecan pies we all know and love. The only real difference is it's made without corn syrup! Instead of the corn syrup, this recipe uses pure maple syrup. Which adds a wonderfully rich flavor to the pie! And after tasting it… I'm curious why everyone isn't using maple syrup in their pecan pie recipes! It tastes SO good!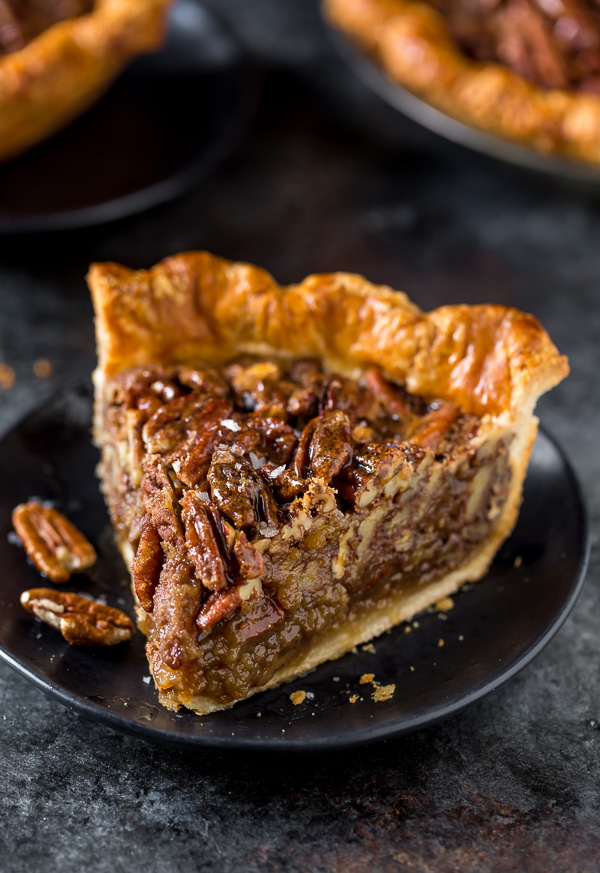 Pecan Pie Recipe without Corn Syrup 
Ingredients:
This no corn syrup pecan pie is made with just a handful of simple ingredients! To make this pecan pie you'll need maple syrup, eggs, brown sugar, granulated sugar, flour, salt, cinnamon, vanilla, butter, bourbon and pecans! The bourbon is a totally optional ingredient, so if you don't drink, feel free to leave it out. If you do drink but don't have bourbon, whiskey or dark rum make excellent replacements.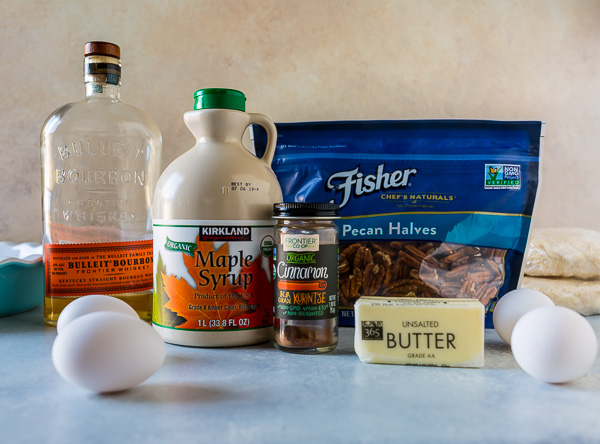 Moving on to the maple syrup! You're going to want to make sure you use real maple syrup in this pecan pie, not pancake syrup. Trust me!!!
Of course you'll also need a pie crust. You can use my all-butter pie crust recipe or use your favorite recipe. But I do suggest using a homemade crust, if possible. I know it can be a lot of work but you can make them in advance and it makes such a difference!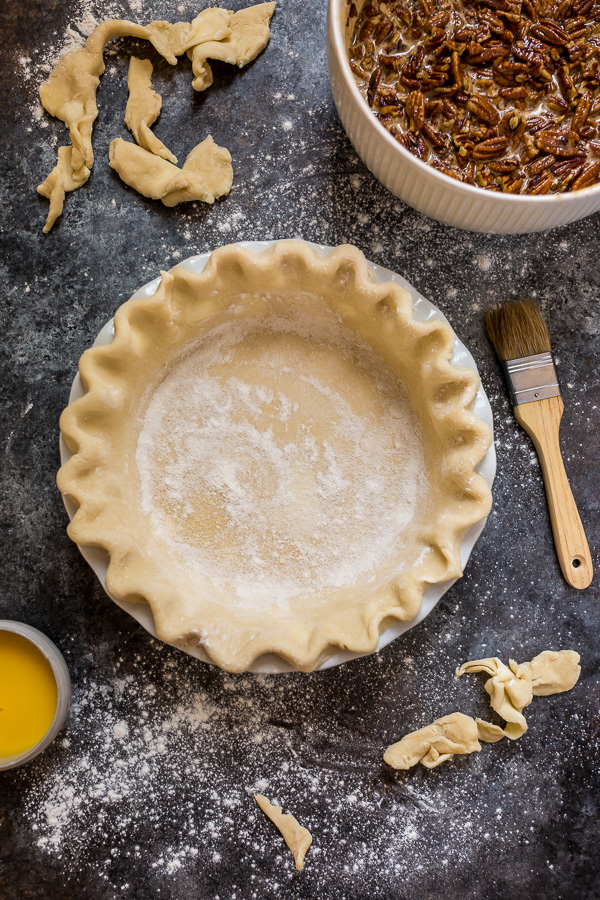 Assembly:
Assembling this couldn't be easier! You'll simply place the pecans inside the pie crust, pour the filling on top, and lightly brush the edges of the crust with a little egg wash! That's it.
Baking:
Good news… there's no need to blind bake the pie crust for this recipe! But you will need to start the pie off at a higher baking temperature, and then lower the temperature after 10 minutes of baking. Be sure to set a timer so you don't forget!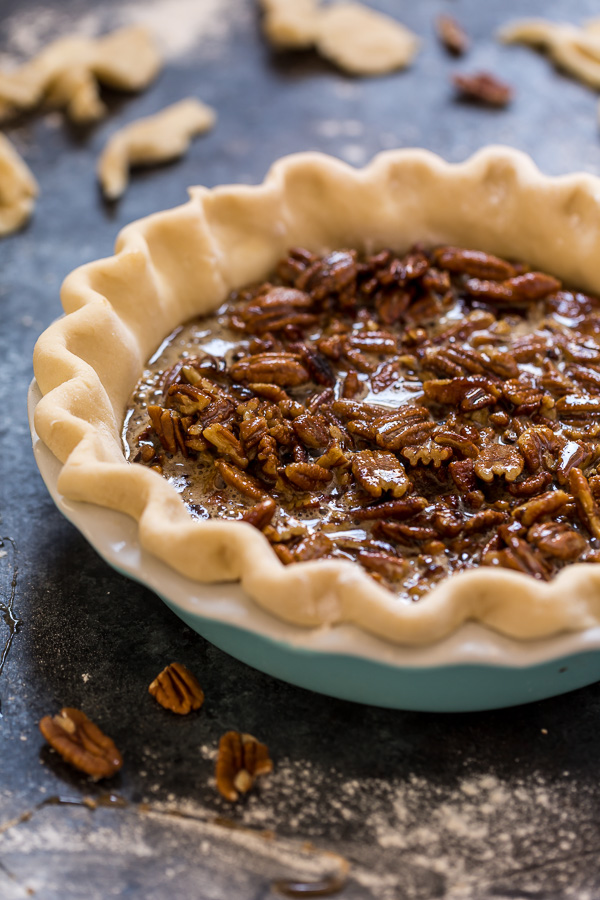 Cooling:
This pecan pie needs to cool for at least 4 hours, so be sure to plan ahead time wise! The good news? It can be made up to 3 days in advance and stored in the fridge.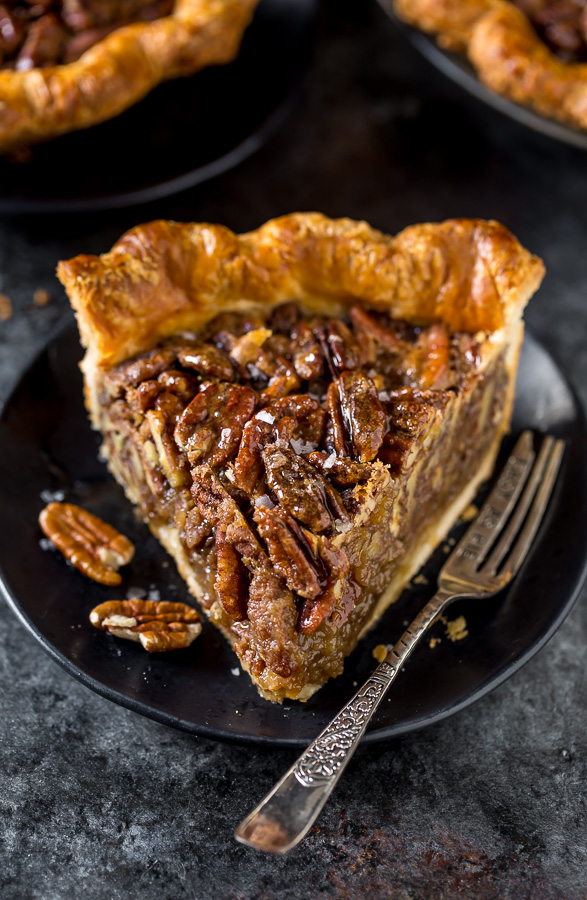 Can I freeze pecan pie?
YES! Fully baked and cooled, this pecan pie can be frozen for up to 2 months! Simply wrap it tightly in several layers of saran wrap (or aluminum foil) and pop it in the freezer until needed. You'll want to thaw the pie in the refrigerator for at least 8 hours (or overnight) and then allow it to come to room temperature before serving.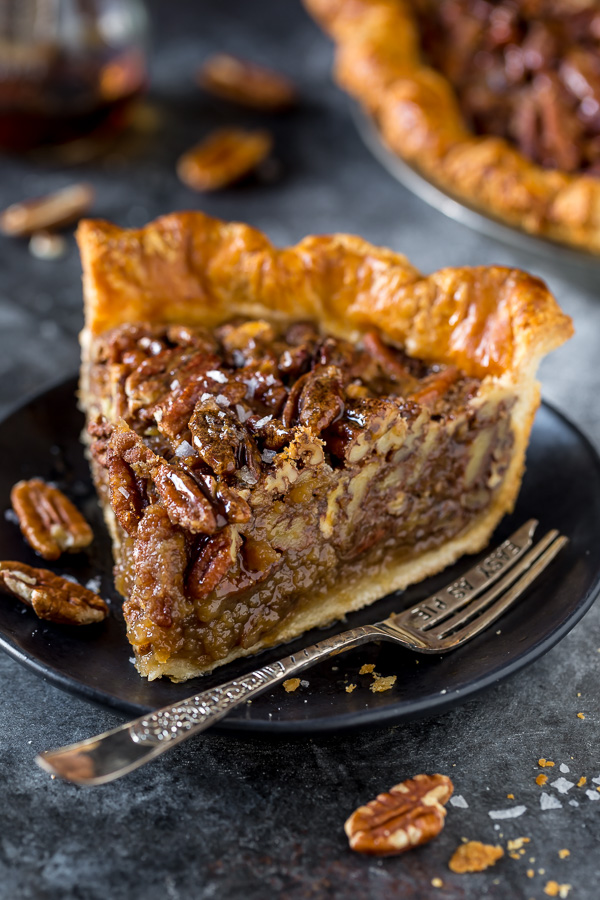 I love serving this No Corn Syrup Pecan Pie with a giant scoop of salted caramel ice cream, but classic vanilla ice cream is also a great choice! And of course, you can't go wrong with a dollop of fresh whipped cream. But between me and you… this pie is so good it really doesn't need to be served with anything! So feel free to serve it "naked". I guarantee you won't hear any complaints 😉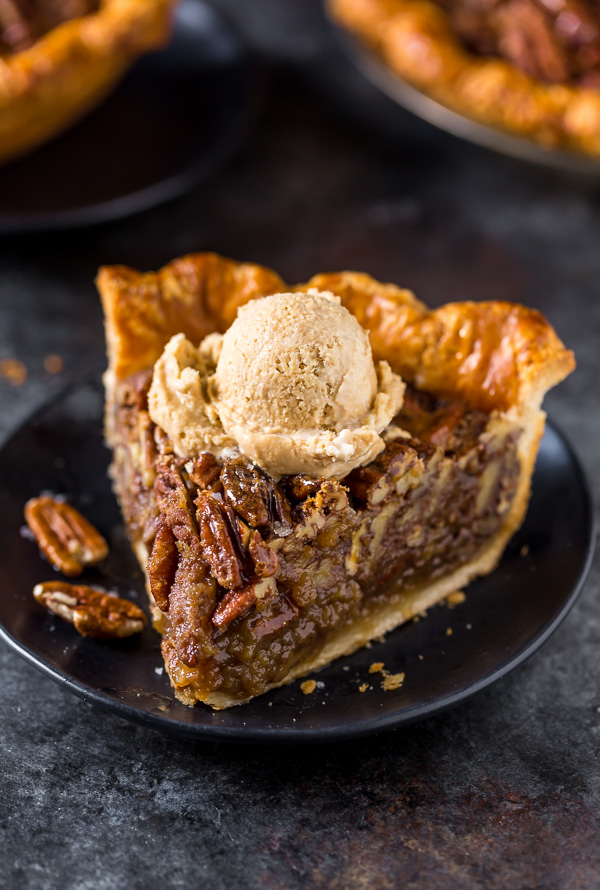 So if you're baking a pecan pie for Thanksgiving (or Christmas!), I hope you'll make it my Maple Pecan Pie! Crunchy, gooey, and sinfully sweet… I know you'll love it.
More Pecan Pie Recipes:
IF YOU TRY THIS PECAN PIE RECIPE WITHOUT CORN SYRUP, PLEASE LET ME KNOW WHAT YOU THINK! LEAVE A COMMENT BELOW, AND DON'T FORGET TO SNAP A PIC AND TAG IT #BAKERBYNATURE ON INSTAGRAM! SEEING YOUR CREATIONS SERIOUSLY MAKES MY DAY ♥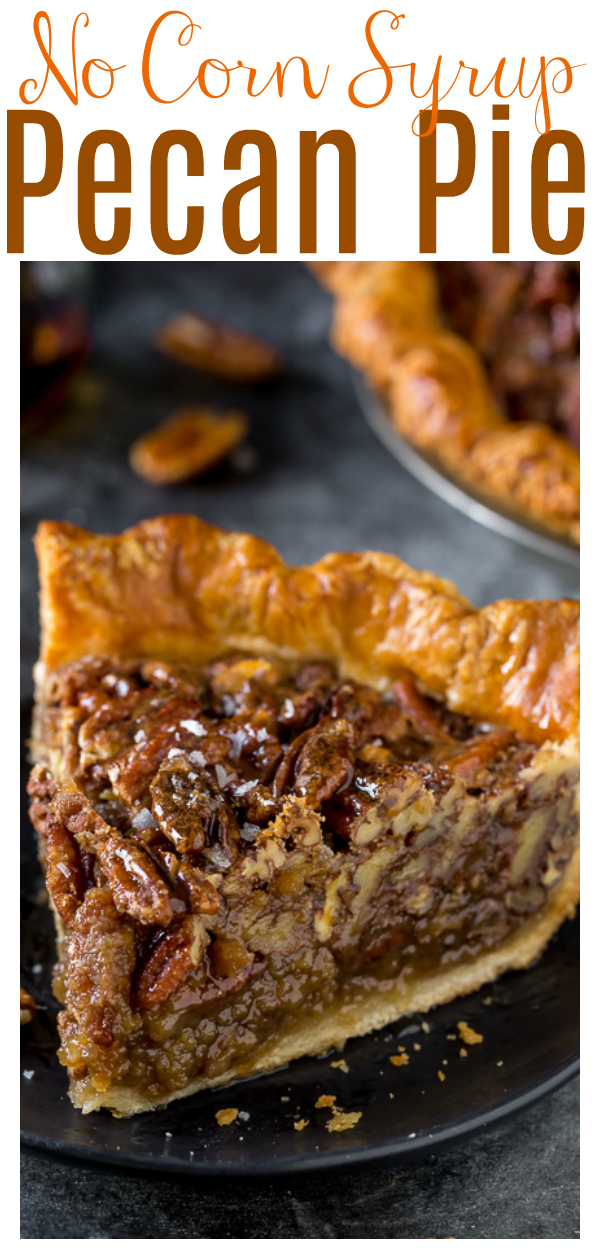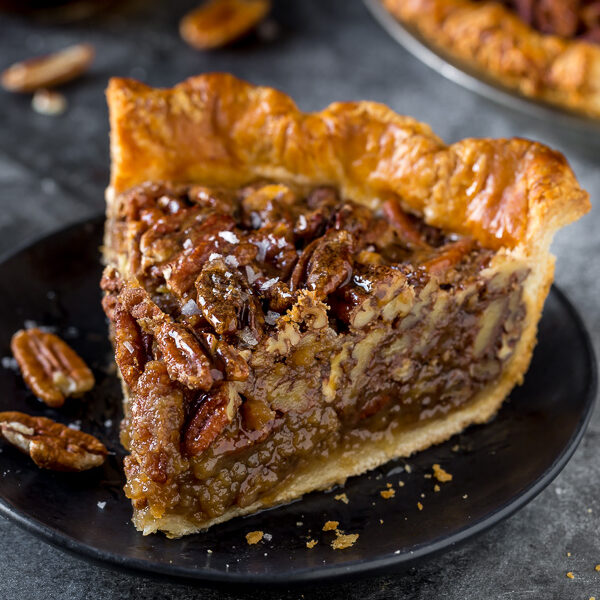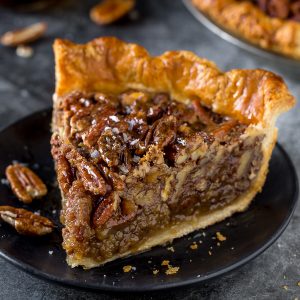 No Corn Syrup Pecan Pie
If you've been searching for a no corn syrup pecan pie that tastes AMAZING, look no further! Because this recipe is pure perfection. And sure to be a hit at your holiday celebrations!
Ingredients
My Foolproof All-Butter Pie Crust (or your favorite pie crust)
10 ounces Pecan Halves
1/2 teaspoon salt
1/2 teaspoon ground cinnamon
2/3 cup dark brown sugar, packed
1/3 cup granulated sugar
3/4 cup real maple syrup
2 Tablespoons bourbon
1 teaspoon vanilla extract
4 large eggs, at room temperature, lightly beaten
4 Tablespoons unsalted butter
2 Tablespoons flour
Instructions
Preheat oven to 400°F. Have ready and refrigerated one pastry-lined 9-inch pie plate (see

foolproof all-butter pie crust)

. *Optional: Sprinkle the bottom of the pie crust with 1 teaspoon of flour and 1 teaspoon of granulated sugar.

I find this helps prevent the crust from getting soggy. 

Spread the pecans evenly inside the unbaked pie crust and place the crust in the fridge to chill while you prepare the filling.

In a large bowl combine the salt, cinnamon, and both sugars. Mix well, breaking up any large clumps of brown sugar with your hands. Whisk in the maple syrup, bourbon, and vanilla. Whisk in the lightly beaten eggs. Set aside.

In a small saucepan over medium-low heat, melt the butter. Stir in the flour and cook the mixture, whisking constantly, for 30 seconds. Remove from heat and whisk the mixture into the maple syrup/egg mixture, whisking until ingredients are evenly combined.

Remove the pie crust from the fridge. Pour the filling into the prepared pie shell (right on top of the pecans) and bake in preheated oven for 10 minutes. Then reduce the heat to 350°F and continue baking for 55 minutes, or until the edges are set and the center barely moves when you gently shake the pan back and forth.

Place the pie plate on a wire rack and cool for 4 hours.

Slice and serve. Or store the pie, covered in the refrigerator, for up to 3 days. Bring to room temperature before serving.